Easy and Quick Vegan Mayo in 1 Minute
This post contains links to affiliate websites, such as Amazon, and we receive an affiliate commission for any purchases made by you using these links. We appreciate your support!
Looking for an easy and quick vegan mayo recipe? You've come to the right place! Our delicious vegan mayo is made with just three simple ingredients and can be whipped up in less than two minutes! So grab your blender and get ready to enjoy some creamy, plant-based goodness!
Traditional mayonnaise is made with egg yolks, vinegar, and olive oil. They are blended or whisked together at high speed until they start to amalgamate, thicken and produce a rich, unctuous sauce, or emulsion. Shop-bought mayo has preservatives in it to render the raw egg yolk harmless to people who may be vulnerable. I love to use it in my spicy taco slaw or on potato salad. Spread it on your favorite sandwich or add it to a salad dressing. I also love to dip papas arrugadas in it!
My recipe is nut-free and is not made with tofu or chick peas. I love telling people that I made my own vegan mayo, and when they try it, they cannot tell the difference between shop-bought!
A (very) Brief History of Mayonnaise
An emulsified sauce made from egg, vinegar, and oil was first mentioned in 1750, by a Valencian monk called Francesc Roger Gomila. However, he referred to it as Aioli, which is in fact, a very similar sauce. Aioli takes its name from its two constituent ingredients, oil and garlic (all e oli), and the recipe for Aioli has changed little since then.
But we're talking about Mayonnaise, not Aioli, and despite their very obvious similarities, the sauce that we now know as Mayonnaise was, according to the legend, discovered by the Duke of Richelieu during the French invasion of Menorca in 1756. He seized control of the Spanish Port, Mahon, and during this time discovered the delicacy that was Aioli. So enamoured was he of this thick, creamy sauce, that on his return to Versailles, he insisted upon his court chefs replicating it, renaming it mahonnaise, after the Port he had claimed.
Since then, Mayonnaise has never dropped out of culinary fashion, instead of becoming more popular in the 20th and 21st Centuries, as iconic in many ways as Coca-Cola or the Hamburger.
Ingredients and Substitutions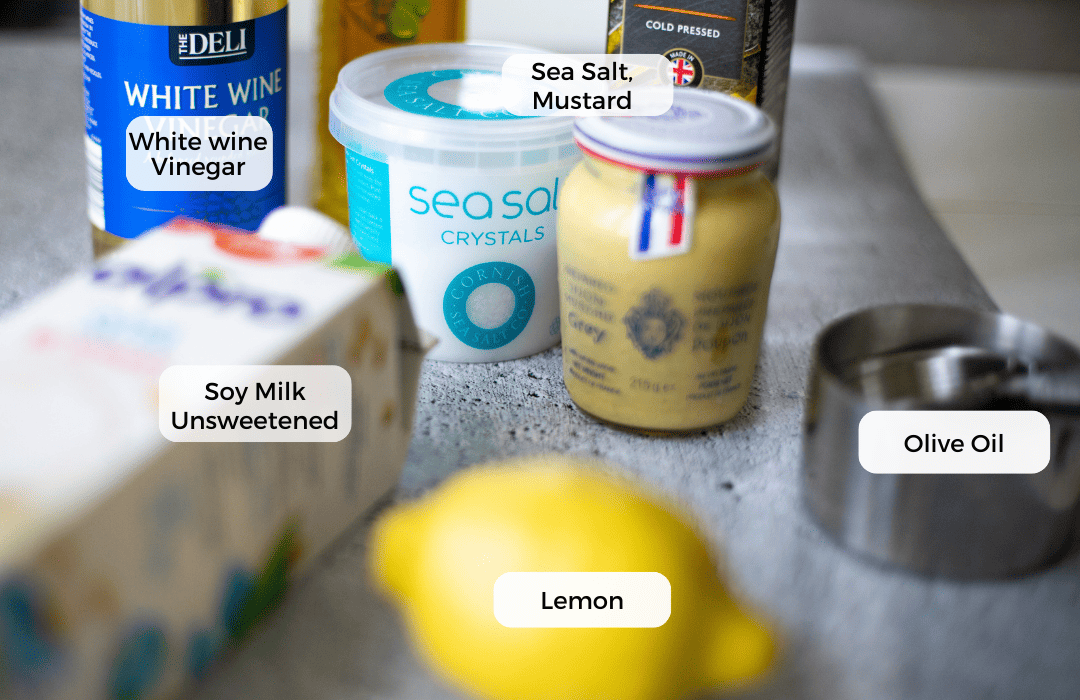 Unsweetened Soy Milk. I have had a couple of comments noting that other plant-based milks do not work, so please only use soy. It's better to add your sweetener afterward if you want to.
Oil. I used a blend of Olive and Canola Oil, and I didn't think it had a particularly overpowering taste at all. However, you could use vegetable oil, or avocado oil (like Loving it Vegan). Alternatively, you can use a neutral oil, like sunflower oil.
Vinegar. I used White Wine Vinegar. You could also use Apple Cider Vinegar if you prefer, but I wouldn't recommend Balsamic, Red Wine, or Malt Vinegar. They will be too heavy for the delicacy of the flavor, and/or will also change the pale lemon color of the mayo.
Sea Salt
Additional Flavours
In this vegan mayonnaise recipe, I used Dijon mustard (you could use dry mustard too) and lemon juice. You could also add fresh herbs like dill or basil, chili sauce, or some vegan smoky seasoning to make a Baconaise-style flavor.
This is ONLY a list of ingredients for the recipe; please see recipe card below for complete printable recipe.
Method
This is the best part of all. So, imagine a mayo that tastes just like shop-bought (only better!) and is vegan and cruelty-free, plus it takes less than a minute to make. It uses simple ingredients in your store cupboard.
I was googling how to make vegan mayo the other day because my boyfriend, who is egg intolerant, but on a keto diet, was dolloping Hellmann's Vegan Mayo on everything, and it seemed like it was quite an expensive habit. I found this recipe from the Loving It Vegan and made a few little tweaks (I removed the maple syrup element completely, and used half Canola (Rapeseed) Oil and half Olive Oil. The main ingredient that is completely non-negotiable is unsweetened soya milk.
The most important thing is that it has a blade or a blade attachment. I don't see why you couldn't use it in a smoothie maker too.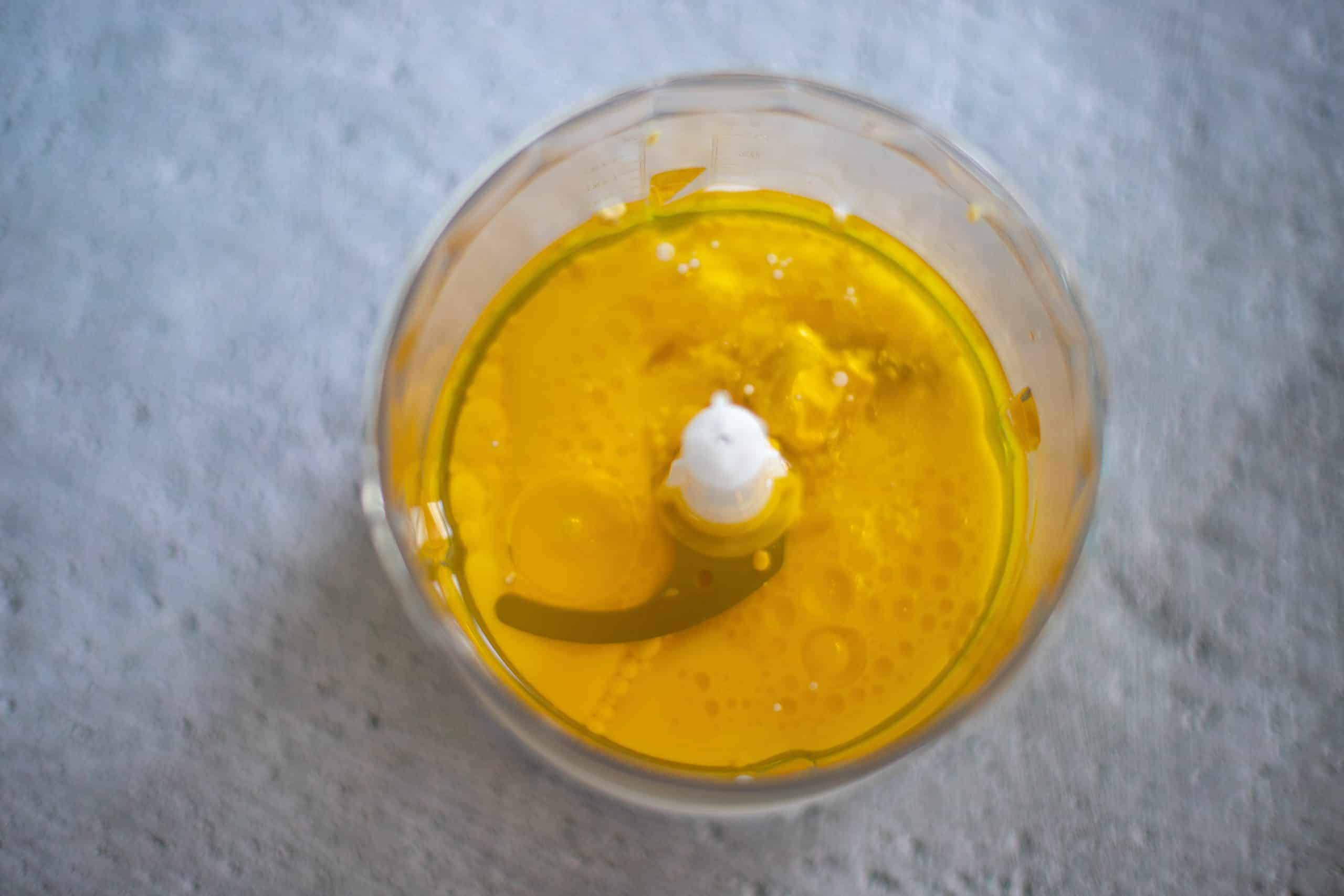 There is one piece of equipment you do need to make this mayo successfully, and that's a food processor or immersion blender with a blade. It works to emulsify all the ingredients in a way that a hand whisk can't.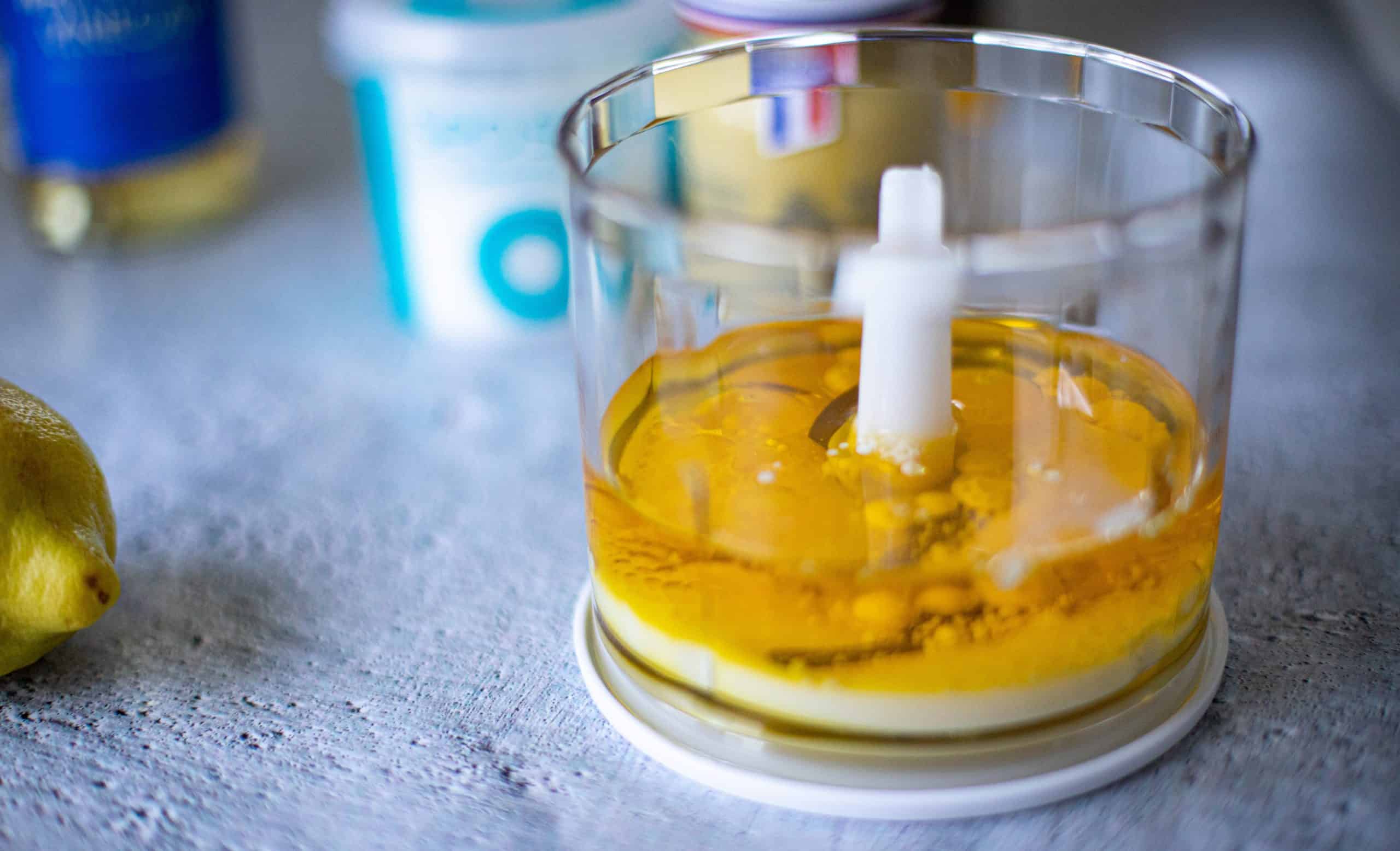 Add the oil, milk, vinegar and salt (and mustard/lemon juice if using) to a jug or your bowl of your food processor.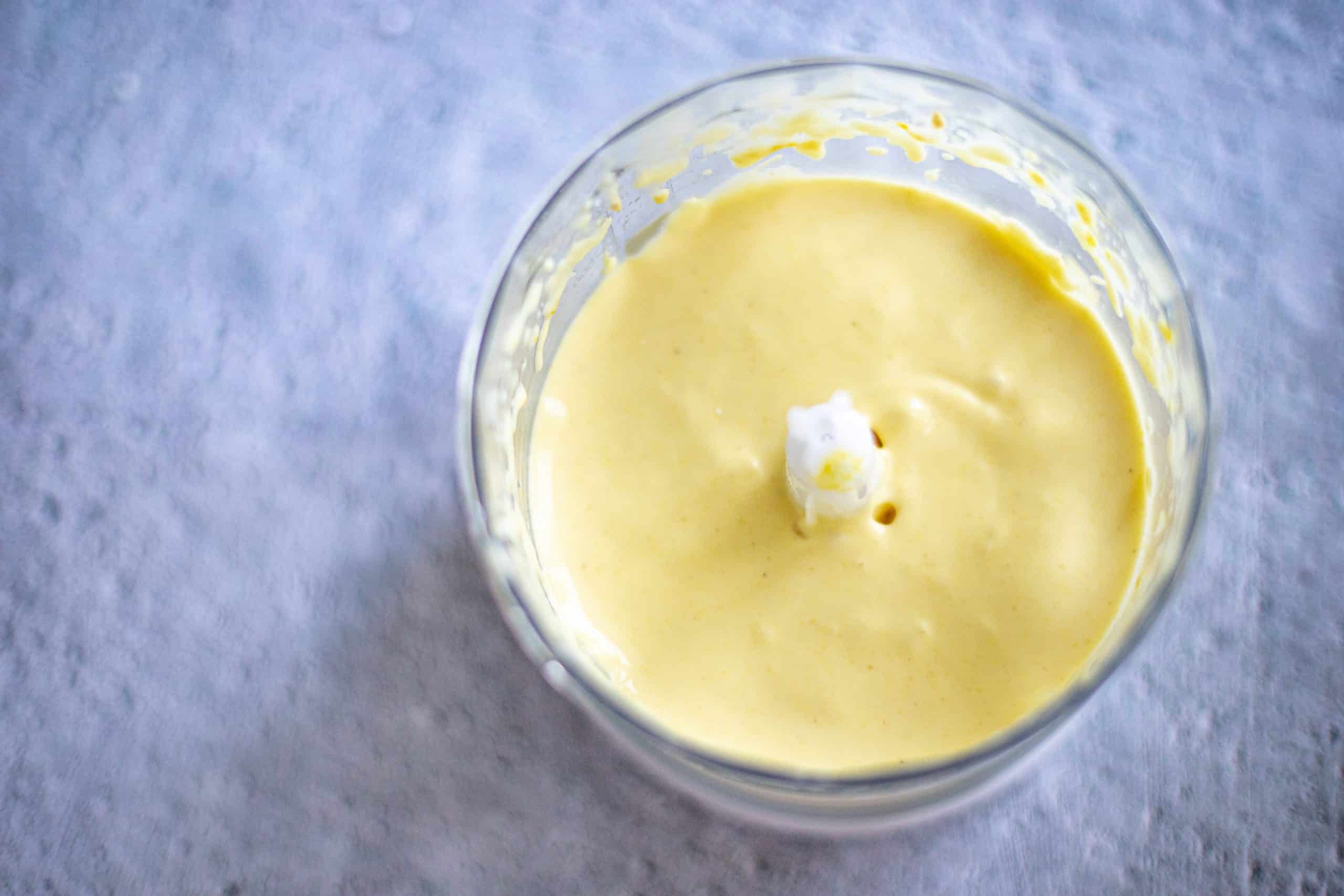 Once you have your ingredients in the jug, simply blend and you will have creamy, thick mayo in less than 60 seconds! And it tastes just like the real thing!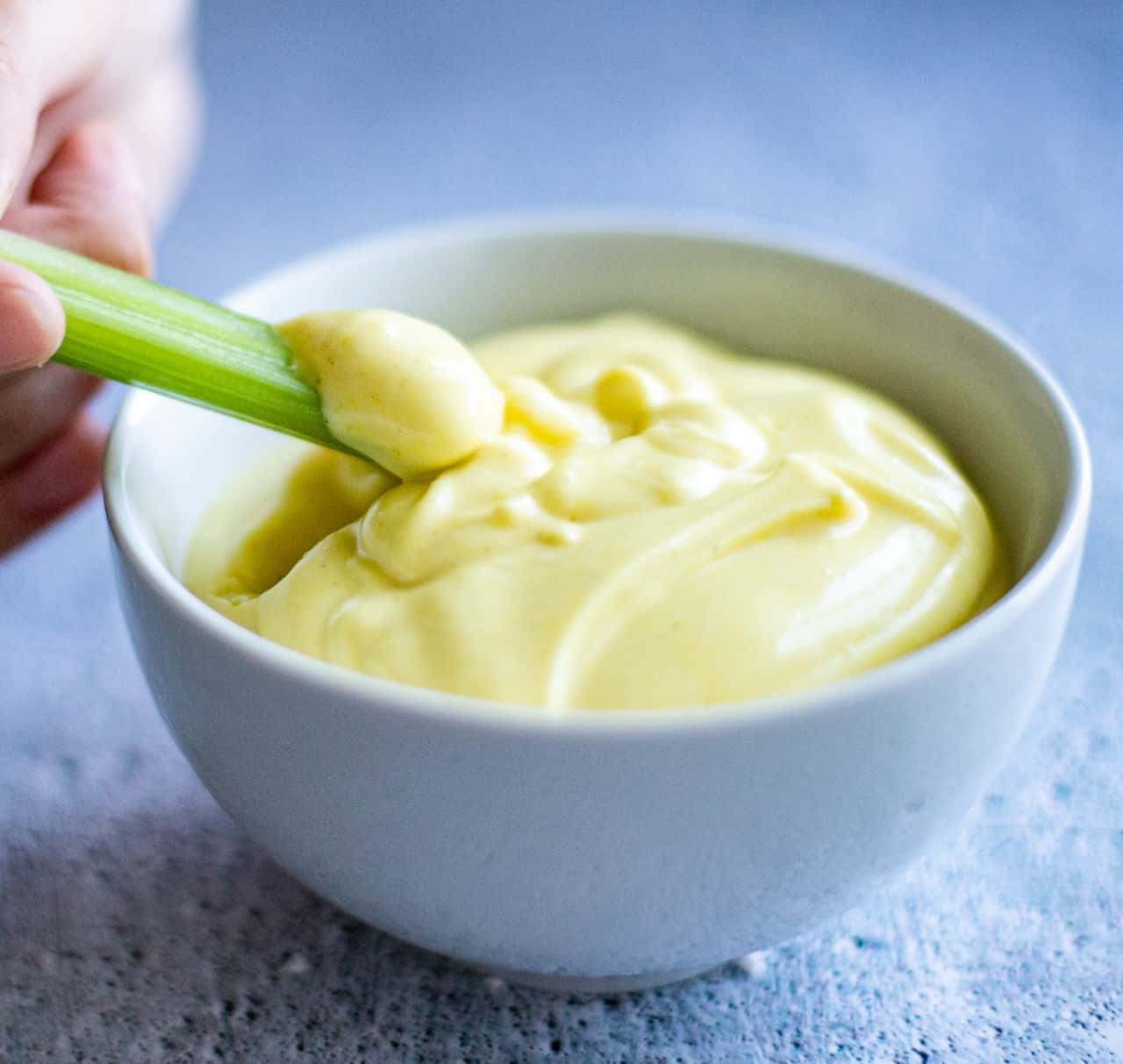 Taste for seasoning and keep chilled.
How Long Will My Vegan Mayo Last in the Fridge?
Because it is 100% fresh, it will only last 4 days or so in a mason jar. So, if you don't think you'll be using as much as this recipe makes, go ahead and halve this easy recipe.
Try my delicious vegan mayo with these vegan salad ideas
One Minute Vegan Mayo Recipe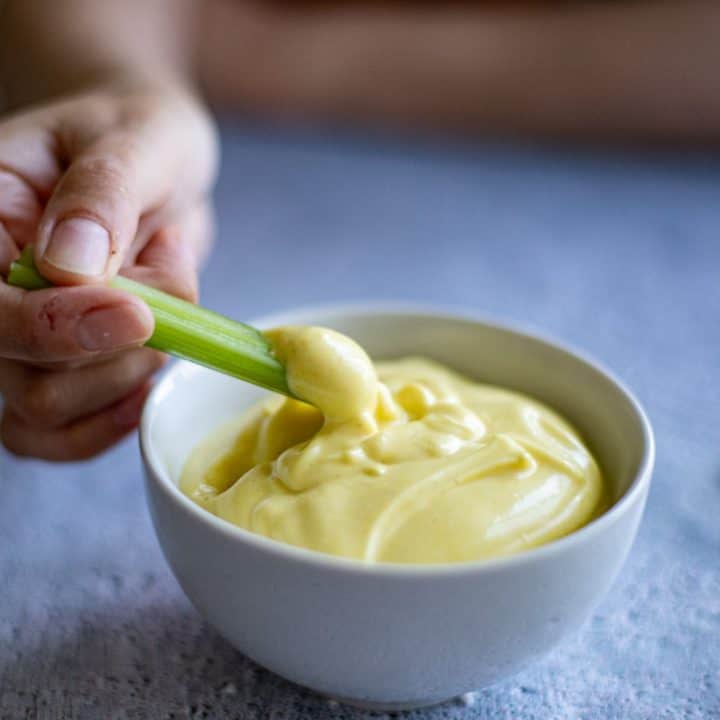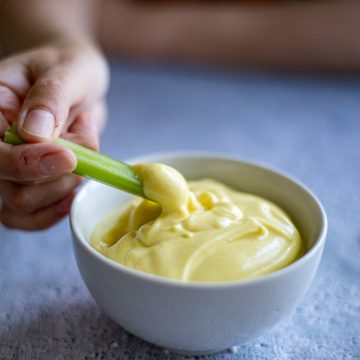 How to make the world's easiest vegan Mayonnaise!
Equipment
Immersion Blender or Food Processor
Ingredients
1

cup

Olive Oil

-

or oil of your choice

½

cup

Soy Milk

-

Unsweetened

2

tsp

White Wine Vinegar

1

tsp

Salt

1

tbsp

Mustard

-

(optional)

1

tbsp

Lemon Juice

-

(optional)
Instructions
Add the oil, milk, vinegar and salt (and mustard/lemon juice if using) to a jug or your bowl of your food processor

Process for about a minute or until thick and creamy. This will happen very quickly.

Turn off blender and taste the mayo for seasoning. Add a little more if necessary.

Store in a jar in the fridge for 4 days.
Please note that where the recipe asks for milk, butter or yogurt, this refers to any plant-based version that you prefer.
Nutrition Facts
One Minute Vegan Mayo Recipe
Amount per Serving
% Daily Value*
* Percent Daily Values are based on a 2000 calorie diet.