The Most Delicious Vanilla Poached Pears
Vanilla poached pears recipe – a classic (some may say retro) dessert, that is so easy to make, delicious to eat and can be made in advance! The perfect dessert!
Whilst pears are typically in season in the Autumn, you can buy them all year round in the supermarket, so you can enjoy this sweet and simple dessert whenever you like!
Served with my homemade gluten-free granola and some natural yogurt, my vanilla poached pears recipe is a luscious breakfast treat too!
I am a pear convert. That funny grainy texture that they had, the tough skin and the fact that they were either hard or beyond the point of eating. I like fruit that is reliable, and pears are often not. Take the ones I used for this recipe. They were packaged as "Ready to Eat" but they were still too hard. However, when I poached them, they were ready within 10 minutes!
Despite pears being unpredictable, they have the most beautiful, fragrant flavour, and I think they could be considered the refined sibling of the apple. The older sister who has gone away to uni and always looks perfectly put together, alluring but somehow indefinable.
There are over 3000 varieties of pear, all waiting out there to probably disappoint me with how unripe/too ripe they, but I would love to try just a handful of them. Knowing how much region, rainfall, sunshine and a host of other factors affect the flavour of this beautiful fruit, they must all taste so subtly different.
The word pear comes from the Germanic word, pera, meaning fruit, which suggests that perhaps this was one of the first fruits discovered (although this could also be considered the quince). Evidence exists that the humble pear has been consumed by man since prehistoric times. It was introduced to Britain by the Romans and has become one of our most beloved fruits.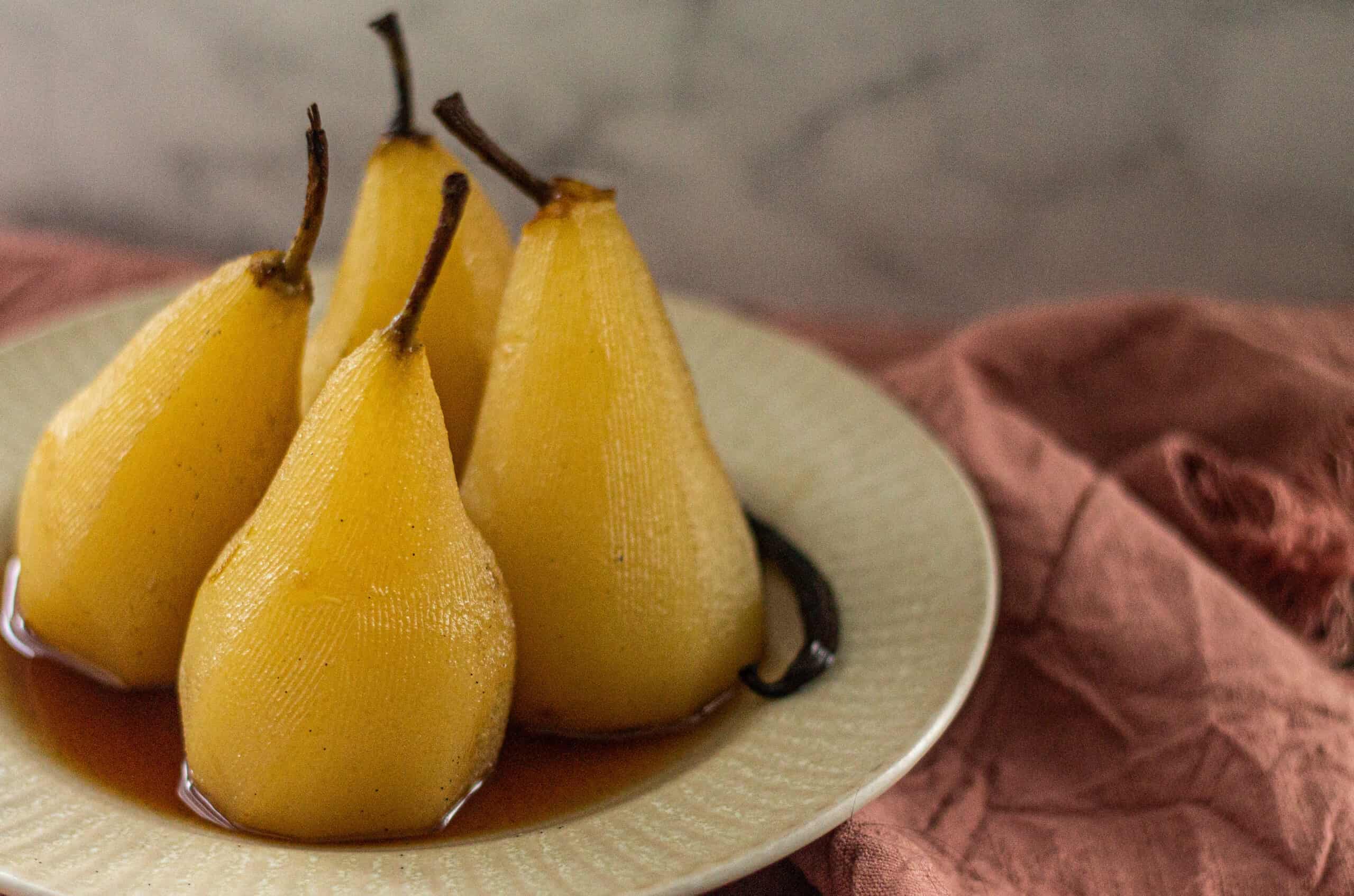 If you find that pears are unsatisfying to eat raw (reminder: I'm in the UK, fruits here can be hit or miss, to say the least), then try my simple poached pears method. When pears are slightly unripe, this method tenderises the pear and brings out the natural, slightly perfume-y taste.
Vanilla has a natural affinity with the scented pear, and my vanilla poaching syrup has enough flavour to enhance but not overwhelm. I love to see the pears dotted with the tiny black vanilla seeds.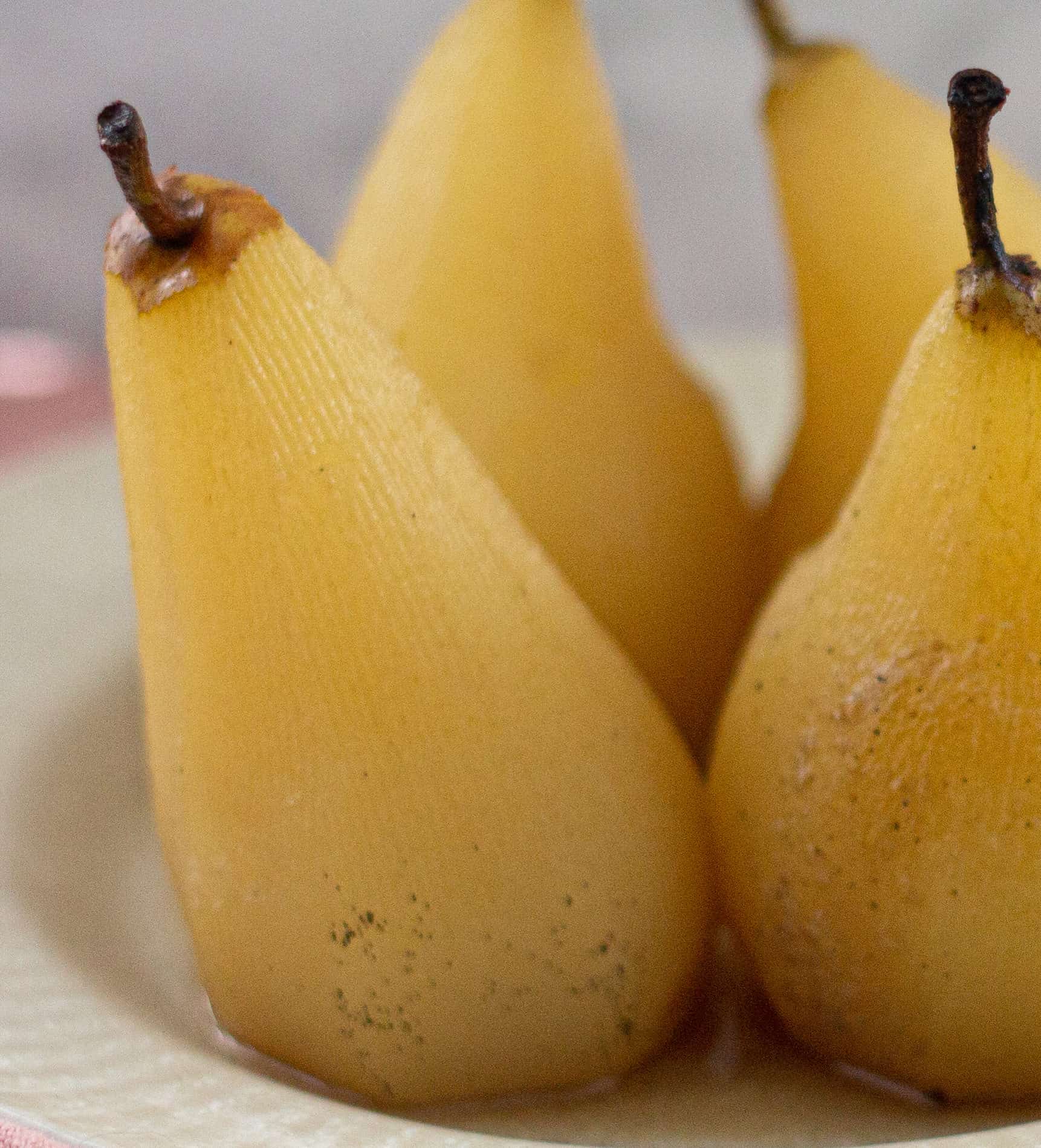 To serve my vanilla scented poached pears. These are just perfect with the syrup thickened up and then poured over them and finished with a generous dollop of vegan whipped cream, but they are just as good served with yogurt for breakfast.
Ingredients
Pears. Use a nice firm fleshed pear, I used Conference, which are also a nice shape
Sugar. I use two types, white and brown. The soft brown sugar helps the sauce reduce to a nice, sticky, almost caramel flavour. You could also use my homemade vanilla sugar
Vanilla pods. These add an indefinable flavour that vanilla extract can't, plus you get the beautiful tiny black dotting of the seeds on the pears – a sure sign that something is going to taste good.
See recipe card for quantities.
Instructions
Simmer the pears in a saucepan with the sugar, water and vanilla pod until tender.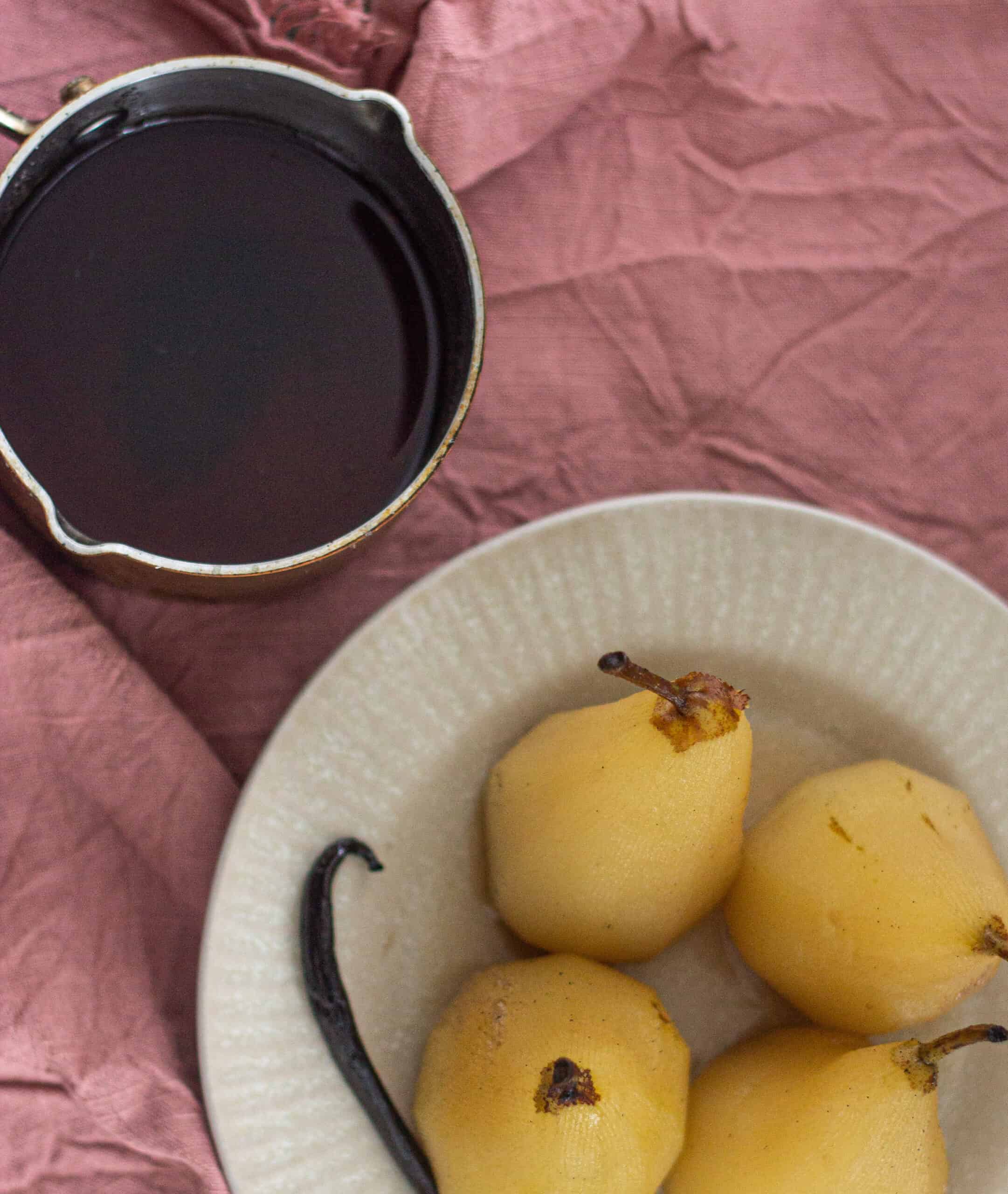 Remove the pears from the pan and reduce the syrup down until it is thick and sticky. Serve poured over the pears
Hint: Poach the pears in the morning, if you need them for an evening meal. Once cooked, you can leave the pears in the syrup (heat turned off) and reheat when needed!
Substitutions
Pears – try plums, peaches, apricots or even quinces. I wouldn't use apples as they tend to break up during poaching.
Vanilla – use a cinnamon stick and some cloves for a warming, spiced syrup instead
Storage
My vanilla poached pears last for several days in the refrigerator, covered and kept in the syrup, which means it's perfect to cook them if you have a glut of pears.
I don't recommend freezing poached pears.
Vanilla Poached Pears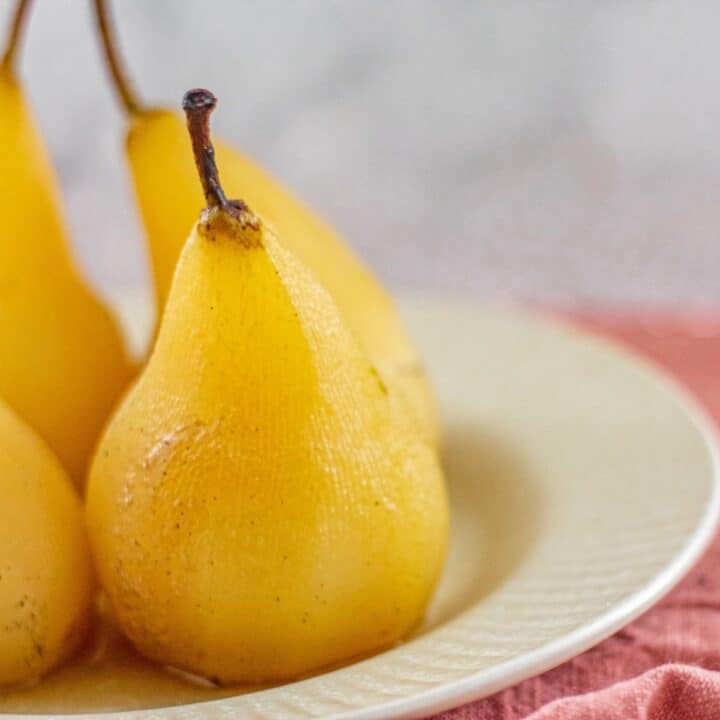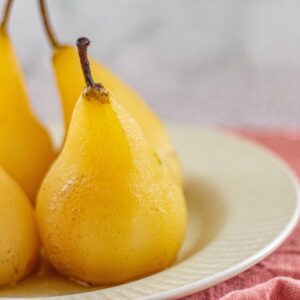 A simple, understated dessert that is full of flavour
Ingredients
4

Pears

peeled, stalk left on, but bottom sliced off, just to make sure they stand up

2

cups

Water

¼

cup

Brown Sugar

soft

¼

cup

White Sugar

1

Vanilla Pod

small pinch of salt
Instructions
Peel the pears until they are completely free from peel, leaving the stalk at the top.

If the pear does not stand up on its own, slice a small piece from the bottom to make it level.

In a pan large enough to hold the pears snuggly if laid down on their side, add the water, sugars and vanilla pod.

Now add the pears and bring the pan up to a gentle simmer.

If the pears are not quite covered by the water, just make sure to turn them periodically, so that all sides get completely poached. I initially stand the pears up in the pan, and then lay them on the side.

Test the pears after 15 minutes to see how cooked they are. The tip of a sharp paring (no pun intended) knife should pierce easily through to the centre if they are done. If not, keep poaching and testing until they are.

Once cooked, you can leave them in the poaching liquor if you don't intend to serve them straight away, reheating them when needed.

If you do want to serve them straight away, place the pears on the serving plates, and quickly bring the remaining cooking liquor up to a rapid boil to reduce to a thick, sticky syrup. This will take about 5 minutes or so.

Pour this syrup over the pears and serve with a little whipped vegan cream if you like.
Nutrition Facts
Vanilla Poached Pears
Amount per Serving
% Daily Value*
* Percent Daily Values are based on a 2000 calorie diet.