How to Make Easy Vegan Levain Cookies
This post contains links to affiliate websites, such as Amazon, and we receive an affiliate commission for any purchases made by you using these links. We appreciate your support!
How to make easy vegan Levain style chocolate chip Cookies. Despite lockdown and the popularity of the Great British Bake Off, us Brits still haven't embraced baking in the same way as Americans (or Canadians). Perhaps it's too easy to buy sub-par cakes from the local supermarket or over-priced pastries from the local bakery. The real truth is, the more you bake, the easier it becomes. And, if, like us, you have a small family, most cookies or muffins can be frozen for future snacking. Furthermore, for the price of a box of cakes from the bakery, you can buy the foundation ingredients for several dozen more sweet treats.
It is my experience through speaking with inexperienced cooks (and it must be something in the water – the only people I have ever spoken to who share my passion for baking and cooking in general have been online.) that they feel baking is an insurmountable challenge or a relic from the 1950s – and one that should stay in museums. This is a pity because making a batch of cookies or muffins is so easy that even young children can do it. Not only this, you can control exactly what goes into your recipes: no preservatives, no colourings (Red Velvet Cake excepted), no hidden baddies. You can sneak healthy things into baking that taste delicious but that would otherwise be shunned by fussy children. The Carrot Cake is a perfect example.
But, I'm not here to proselytise about baking, those who want to bake will do so, those who don't, won't and they won't be here reading my tirade anyway. They'll probably be at the gym.
What you want to is how to make these Levain Cookies vegan, right?
Levain Cookies have been flooding social media for the last couple of years now, although they've only just appeared on my radar. I'm always a bit behind the times.
What Are Levain Cookies?
Levain Bakery is US based bakery with 8 stores, most of them in New York. They were established in 1995, and have been seducing New Yorkers with their famous huge ass cookies, each weighing 6oz (160g to us Brits) each! That is huge! These cookies are (allegedly) made for sharing. They are also famous for having a soft, gooey filling. This is what the internet is going made trying to replicate. You can also buy them in the supermarkets too, ready to bake at home. And why wouldn't busy people do this? I know I would!
However, we don't have Levain in the UK, nor are they vegan, so it seems only obvious to recreate them in my own kitchen.
I know, I know. Now I'm waffling. I have a love/hate relationship with American cookies (biscuits). They are usually too soft for my liking and when I visit the US, I have to bring my own secret stash of Digestives or Bourbons (like a nicer version of Oreos, sans the whiskey content, alas) so I don't feel too homesick. To me, a soft cookie (biscuit) means a stale cookie (biscuit) and only fit for the consumption of those weirdos who love soft cookies (biscuits).
When I bake cookies (biscuits) from an American cookbook, I always cook them for several minutes longer than recommended so that they become crisp and crumbly. I took a risk with this recipe though, because I wanted that ooey gooey middle. And after all, didn't I almost overcome my soft biscuit phobia the day I bit into a Ben and Jerry's Ice Cream Sandwich?
Levain-style Cookies are easy to make but taste (and smell) sensational. Vegan Butter creamed with sugar (two types!), mixed with egg replacer, flour, chocolate chips and walnuts, rolled into four large balls, then baked until softly golden. These are not healthy biscuits, but they do make a wonderful treat and if you freeze them, you have a little something to look forward to if you're feeling like you just have to have something sweet now! And the smell when you open the oven door is just wow! If you prefer a smaller cookie, click here for my delicious vegan peanut butter chocolate chip cookies!
How Do You Make Vegan Levain Cookies?
Easy! You simply replace the butter with your favourite vegan butter, and replace the egg with egg replacer. My favourite is Orgran, which is really easy to use, and works perfectly in cakes and cookies.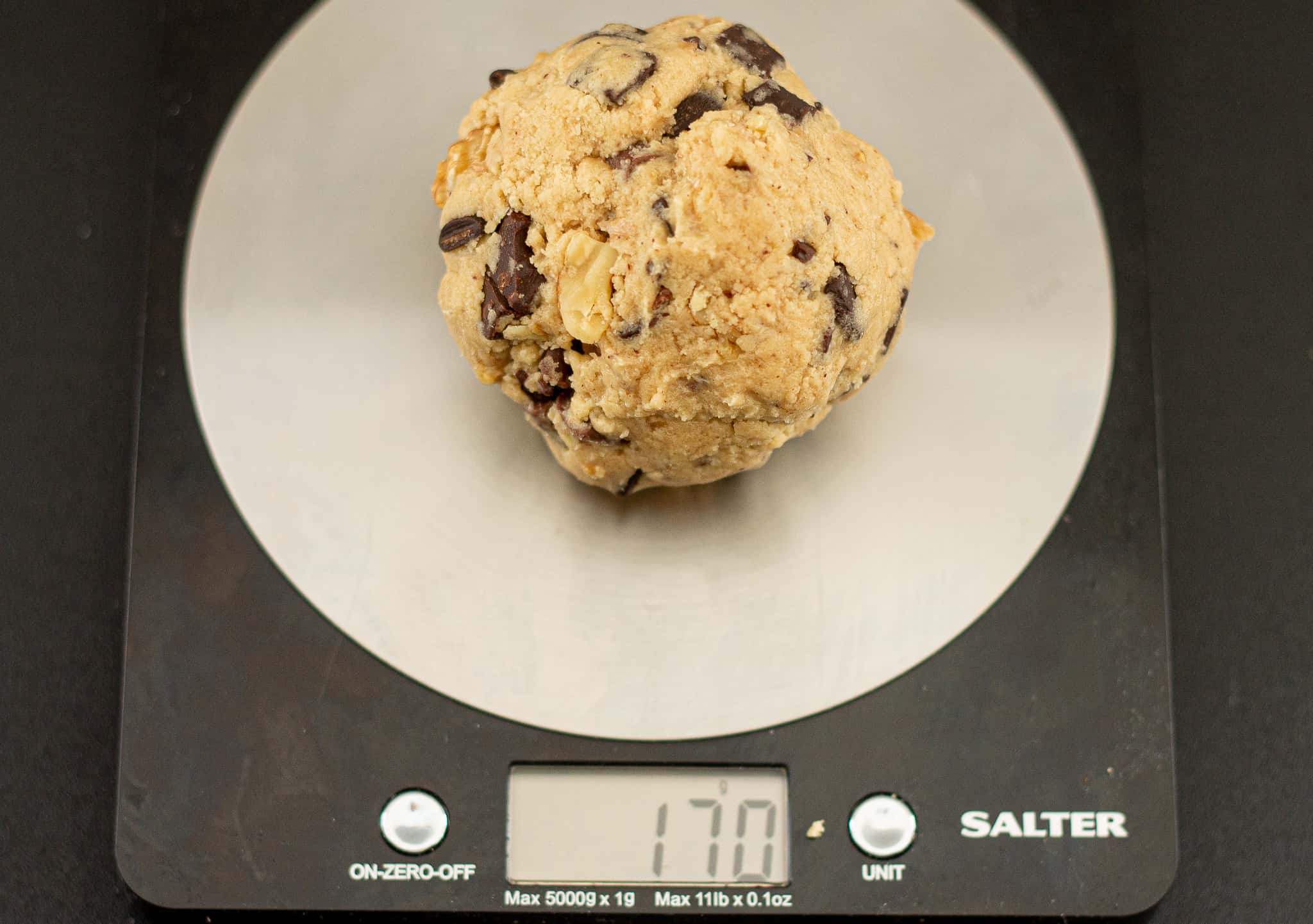 I modified a recipe by Kirbies Cravings, halving it and then veganising it. She also has a few other interesting variations of the Levain Cookie that I'll be trying.
I halved her recipe to make just four large cookies. This is plenty for myself and to take into work. My boyfriend is currently on the keto diet, so cookies are an absolute no-no for him right now! I'm need to work on a keto Levain cookie!
How Do You Make Cake Flour?
We don't have cake flour in the UK, so to replicate it, follow these ratios and you can make cake flour anytime you like:
1 cup plain flour – (remove 2 tbsps) + (then add in) 2 tbsps cornflour
It is just a slightly lighter flour mix, using cornflour to give a tender crumb to baking. It isn't essential, but takes 30 seconds to do.
Modifications
I wouldn't recommend removing the chocolate, as these add to the gooey element of the cookie but try these add-ins:
Pecans
Pistachios or a mixture of different nuts
Cranberries
Vegan White Chocolate or Milk Chocolate Chips (or a mixure!)
Dried Cherries
Salty Peanuts
Try my other delicious vegan chocolate recipes
Vegan Levain Cookies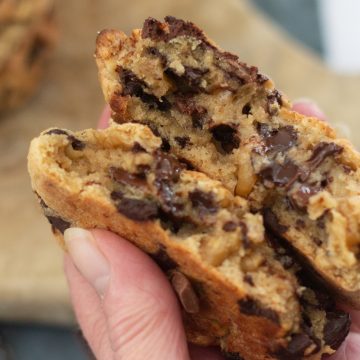 adapted from a recipe by KirbieCravings.com
Equipment
Mixing Bowl

Baking sheets lined with greaseproof paper

Scales
Ingredients
½

cup

Butter

-

cold, vegan, cubed

6

tbsp

Brown Sugar

-

soft

¼

cup

White Sugar

1

tbsp

Egg Replacer

-

whisked up 2 tbsp water

½

cup

Cake Flour

-

(i use ½ cup plain flour minus 2 tbsp, then replace with 2 tbsp cornflour)

1

cup + 6 tbsp

Plain Flour

½

tsp

Cornflour

½

tsp

Baking Powder

¼

tsp

Table Salt

2

tsp

Soy Milk

-

or dairy-free of your choice

1

cup

Walnuts

-

chopped

1

cup

Dark Chocolate chips

-

vegan
Instructions
Using a hand whisk or standalone mixer, blend together the sugars and the butter, until light and fluffy (a couple of minutes).

Add in the egg replacer and mix for another minute

Scrape down the bowl, then add in the flours, baking powder, and salt. Mix on a low speed until it just starts to come together. Don't overmix.

If the mixture is not coming together, you may need to add a couple of teaspoons of milk. I added this before the nuts and chocolate.

At this point, you may find it easier to use a spatula or your hands to

fold

in the nuts and chocolate chips.

Divide your mixture into four balls. Each one should weight about 160g or thereabouts. Place on your prepared baking sheet(s), 2" apart. Gently press down slightly.

Bake for 10-12 minutes, or until lightly golden. I left my second batch a couple of minutes longer and they caught, so keep a close eye on them.

Remove tray from oven and leave to cool for about 10 minutes before eating!
Please note that where the recipe asks for milk, butter or yogurt, this refers to any plant-based version that you prefer.
Nutrition Facts
Vegan Levain Cookies
Amount per Serving
% Daily Value*
* Percent Daily Values are based on a 2000 calorie diet.