Delicious Vegan Apple Pie Oatmeal
My cosy Apple Pie Oatmeal bowl will remind you of a chilly fall day. Scented with cinnamon and vanilla, and just a little maple syrup, the little bites of apple will make you feel virtuous and satisfied.
I have a love/hate relationship with oatmeal. When I'm in the mood for it, I love it every single day. When I'm over it, I won't touch it for another 6 months. I'm kinda weird like that. So when I'm in an oatmeal kinda mood, I love to make different porridge bowls.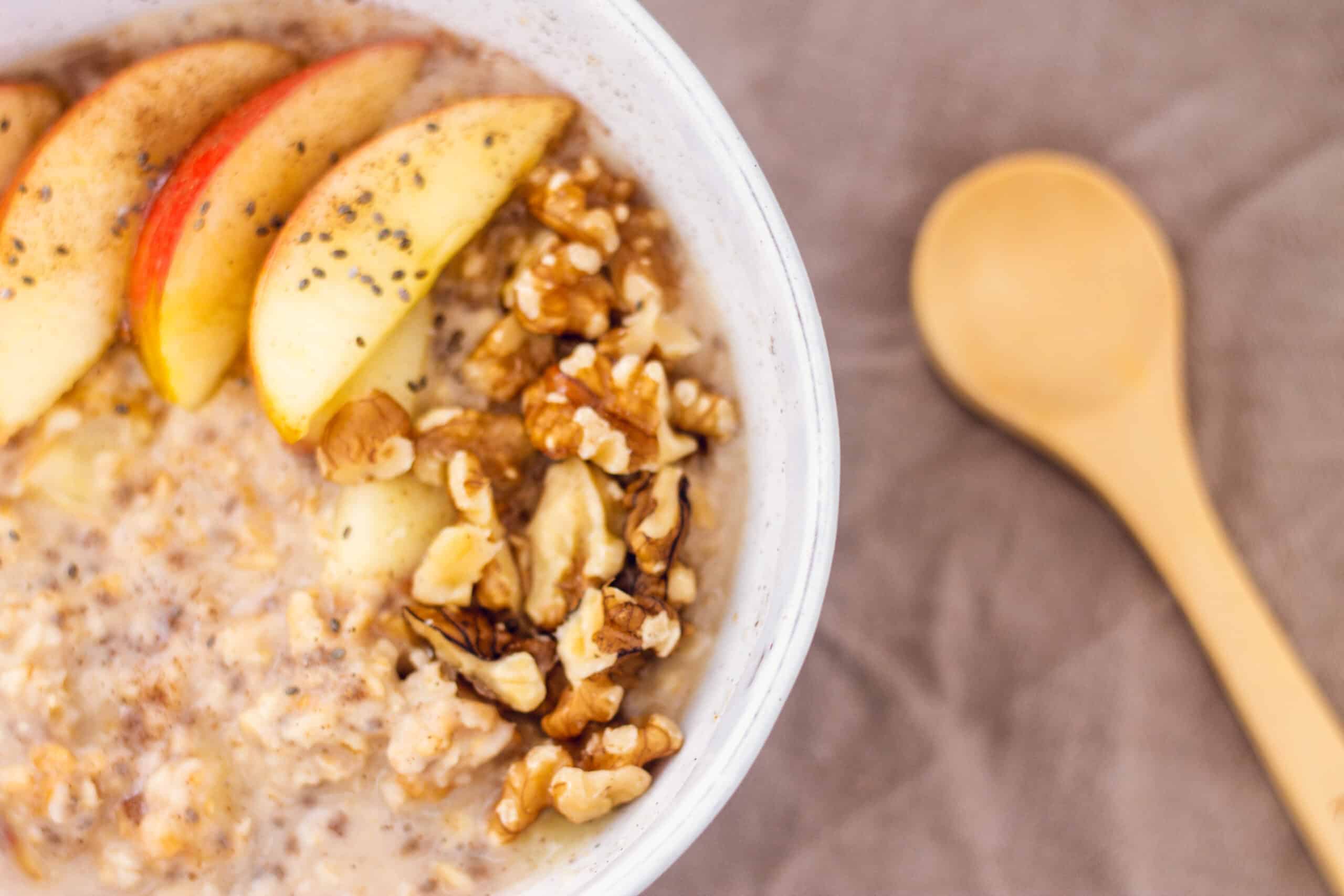 My go-to porridge bowl is a very simple one, just peanut butter, maple syrup and a cube of vegan milk chocolate, slowly melting into the warm oats, but sadly, I can't eat that everyday.
My apple pie oatmeal recipe is tasty, full of texture, and delicious fall flavors from the apple pie spice mix. I sometimes like to make it as a comforting evening treat when I just can't be bothered to cook.
Ingredients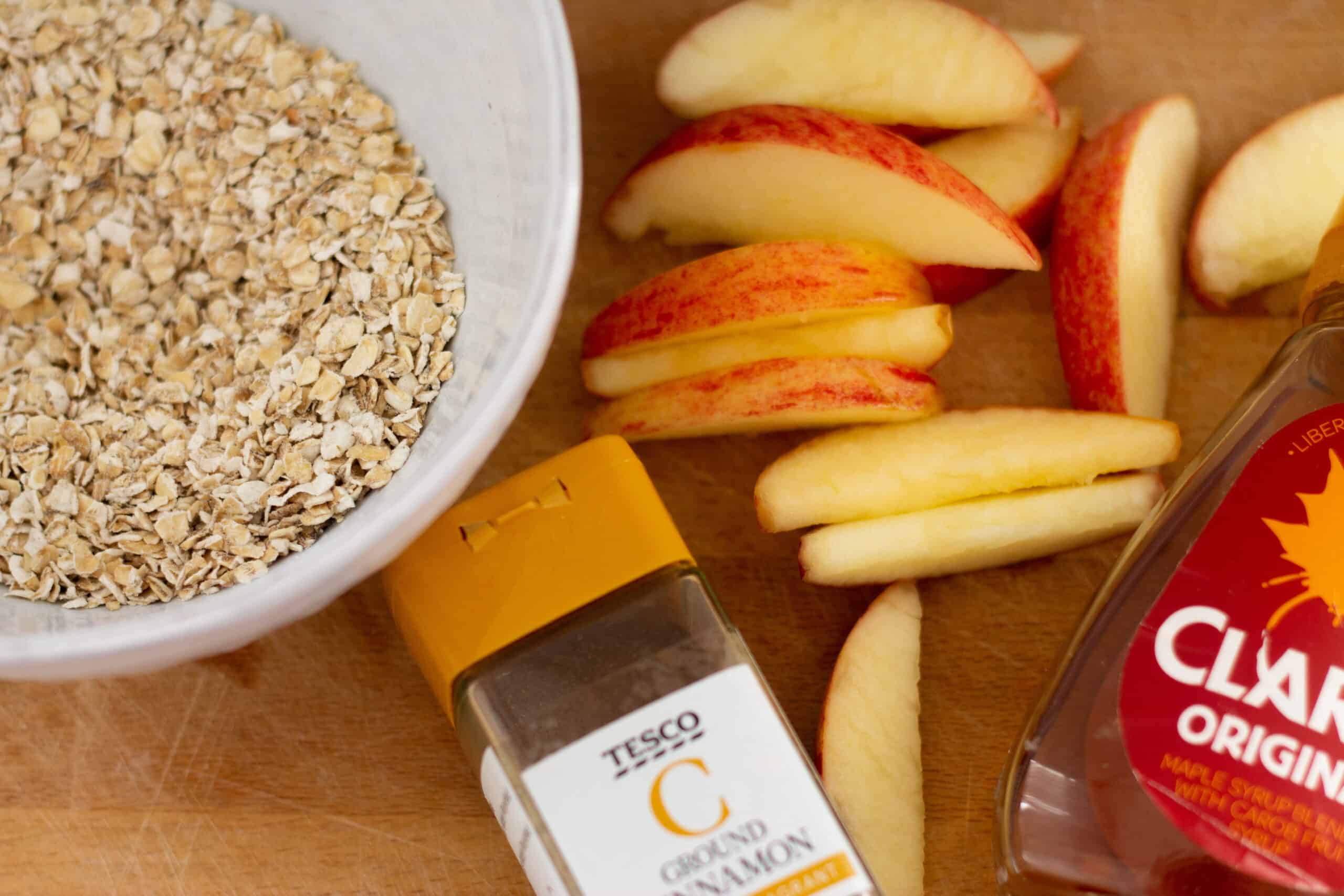 Apples. My apple pie oatmeal uses fresh apples, diced, and tossed with a little brown sugar or maple syrup, plus a dash of cinnamon. Note: Some recipes cook the apples first, but I prefer to add my diced apple to to the porridge and cook it all together. I find that apples can go a little too pulpy if you cook them too long, and this method retains that delicious, tender texture. Use whichever apples you prefer best (except maybe not cooking apples!), if you prefer tart apples (for example, granny smith apples), use those, or if you prefer sweet apples, go for those instead!
Oatmeal. You can use steel cut oats but I prefer rolled oats, which have a creamier texture. I discuss the different types of oats in my post on overnight oats.
Chia Seeds. These add a delicious little crunch. Not essential by any means, but do add a little additional nutritional benefit too.
Cinnamon or apple pie spice. I don't like spices to be too overpowering in my breakfast bowl so I just add a small dash of cinnamon to the apples, however, add as much as you like!
Pure Maple Syrup or other sweetener of your choice. You could also use brown sugar if you prefer.
Water/Milk. I like to use water with my oatmeal, as I think it's creamy enough, but you can use your favourite plant-based milk, or use half water half milk.
Peanut Butter. Again optional but I love to add peanut butter to all my bowls of porridge. If you do, stir it through at the end.
Method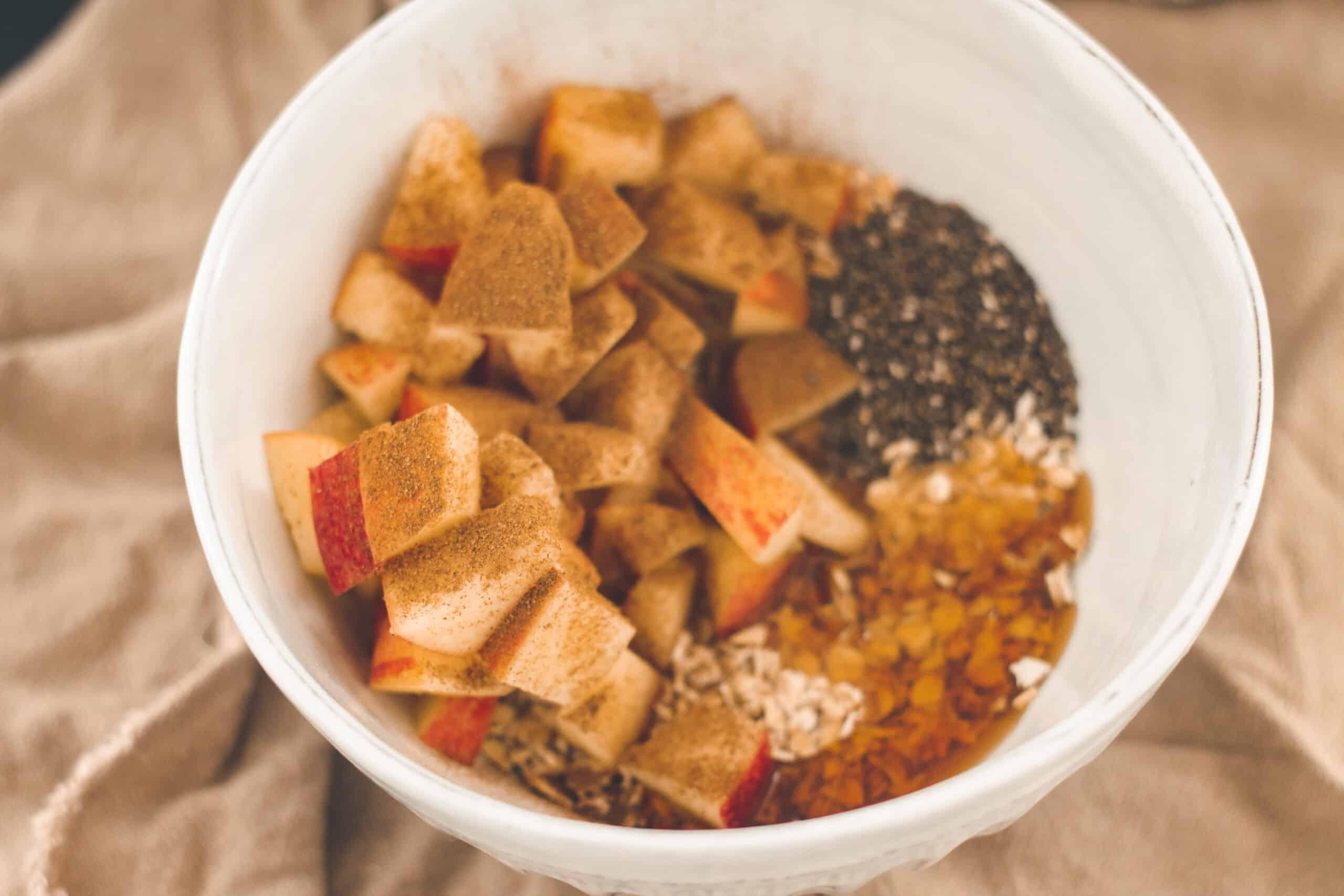 Place all the ingredients (except peanut butter) into a small saucepan and very gently bring to a simmer.
Cook until the apple oatmeal is tender.
Stir through peanut butter if using, taste for extra sweetness and serve.
Try my other delicious vegan breakfast ideas
Try my other delicious vegan apple recipes
Delicious Vegan Apple Pie Oatmeal
A quick and yummy breakfast, full of nutritious oats, healthy apple and cinnamon
Ingredients
½

cup

Oatmeal

rolled oats

¼

cup

Apple

chopped into small cubes

1

tsp

Chia Seeds

1

tbsp

Peanut Butter

(optional)

1

tsp

Maple Syrup

or to taste

pinch

Salt

⅛

tsp

Cinnamon

½

cup

Water

or plant-based milk
Instructions
Place all your ingredients, including the water, into a small saucepan

Bring to a gentle simmer and stir constantly until the oatmeal is thick and creamy.

Serve in a bowl with a little more maple syrup and cinnamon if desired
Nutrition Facts
Delicious Vegan Apple Pie Oatmeal
Amount per Serving
% Daily Value*
* Percent Daily Values are based on a 2000 calorie diet.