Vegan Pasta Salad – Quick, Creamy and full of Hidden Veg!
This post contains links to affiliate websites, such as Amazon, and we receive an affiliate commission for any purchases made by you using these links. We appreciate your support!
If you're looking for a delicious creamy vegan pasta salad recipe – you've found it! Ready in under 30 minutes, this is full of crunch, flavor and creamy pasta goodness!
This was inspired by my hot pasta dish, pasta primavera, and pairs well with my amazing vegan quiche for a perfect summer meal! I also highly recommend my vegan gnocchi with garlic, sausage and broccoli for a quick supper idea!
In my ongoing pursuit of finding the ultimate quick, yet homemade, supper (I'm aiming at speed of light cooking with zero preparation and as fast and nourishing as breathing), I have discovered another pasta dish to add to my burgeoning repertoire of "to be repeated" recipes.
n.b This is in addition to my "For One Night Only" recipes, which is to say, recipes that were either completely disastrous, just plain horrible, or price prohibitive. Thankfully, there aren't too many of them although my mind is sent spinning back, Alice in Wonderland style, to that meal I cooked for my family, preparing a different meal for each person; starters, mains and desserts. What the hell was I thinking?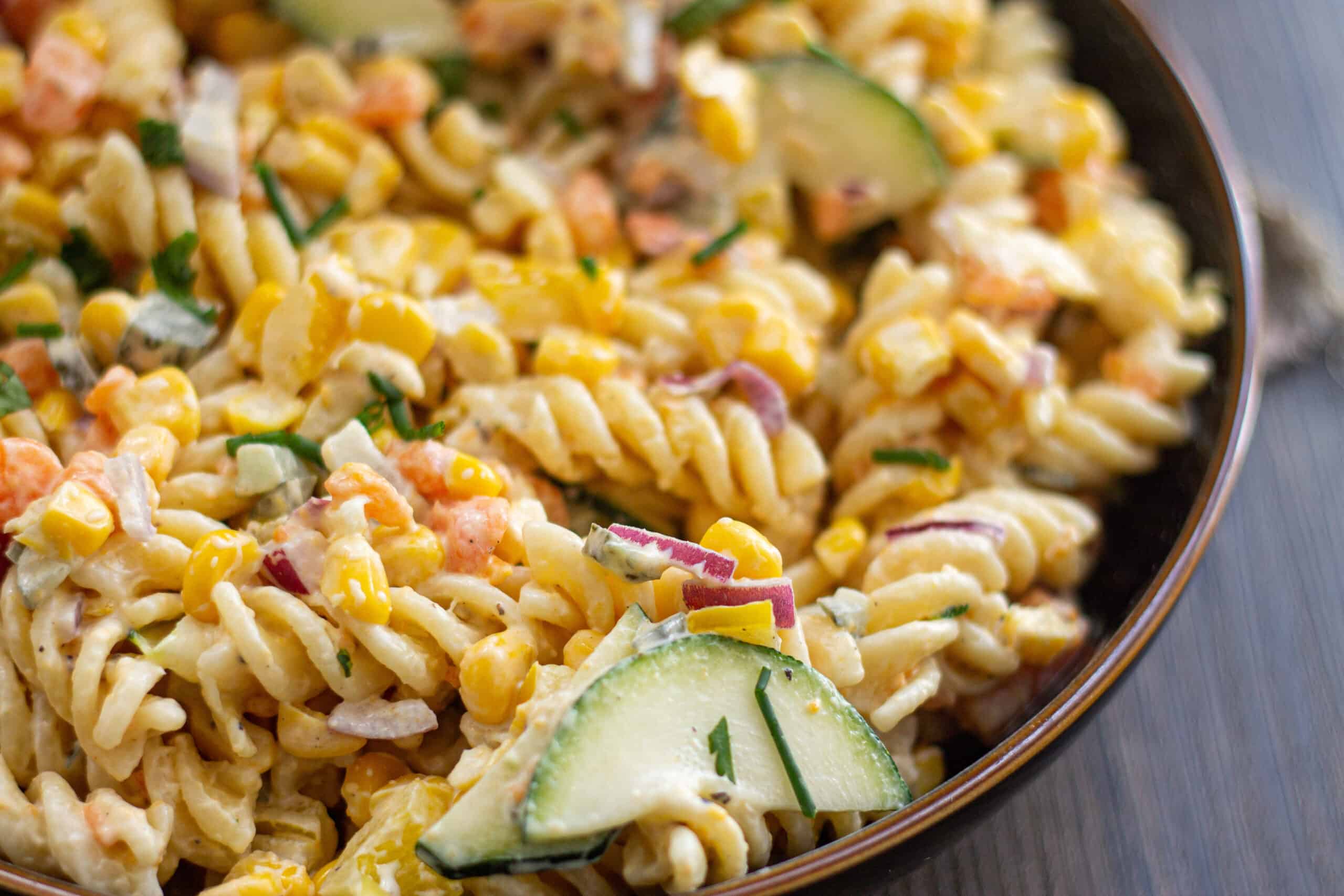 Creamy vegan pasta salads are a vision of pale perfection, rustically garnished, not by a gruesome bunch of red currants, but with a simple salad, and studded with bright dashes of color from bell peppers, sweetcorn, red onion and zucchini.
How do you make Vegan Pasta Salad?
Pasta Salad is so easy to make, with just a little tiny bit of cooking and quite a lot of chopping. After that, it's stir, mix and you're good to go!
Ingredients
The great thing about making a vegan pasta salad is that the ingredients can be interchangeable depending on what you have in your fridge. I leave out fresh tomatoes and cucumber as I don't particularly like them in this dish, however, feel free to add them if you love them!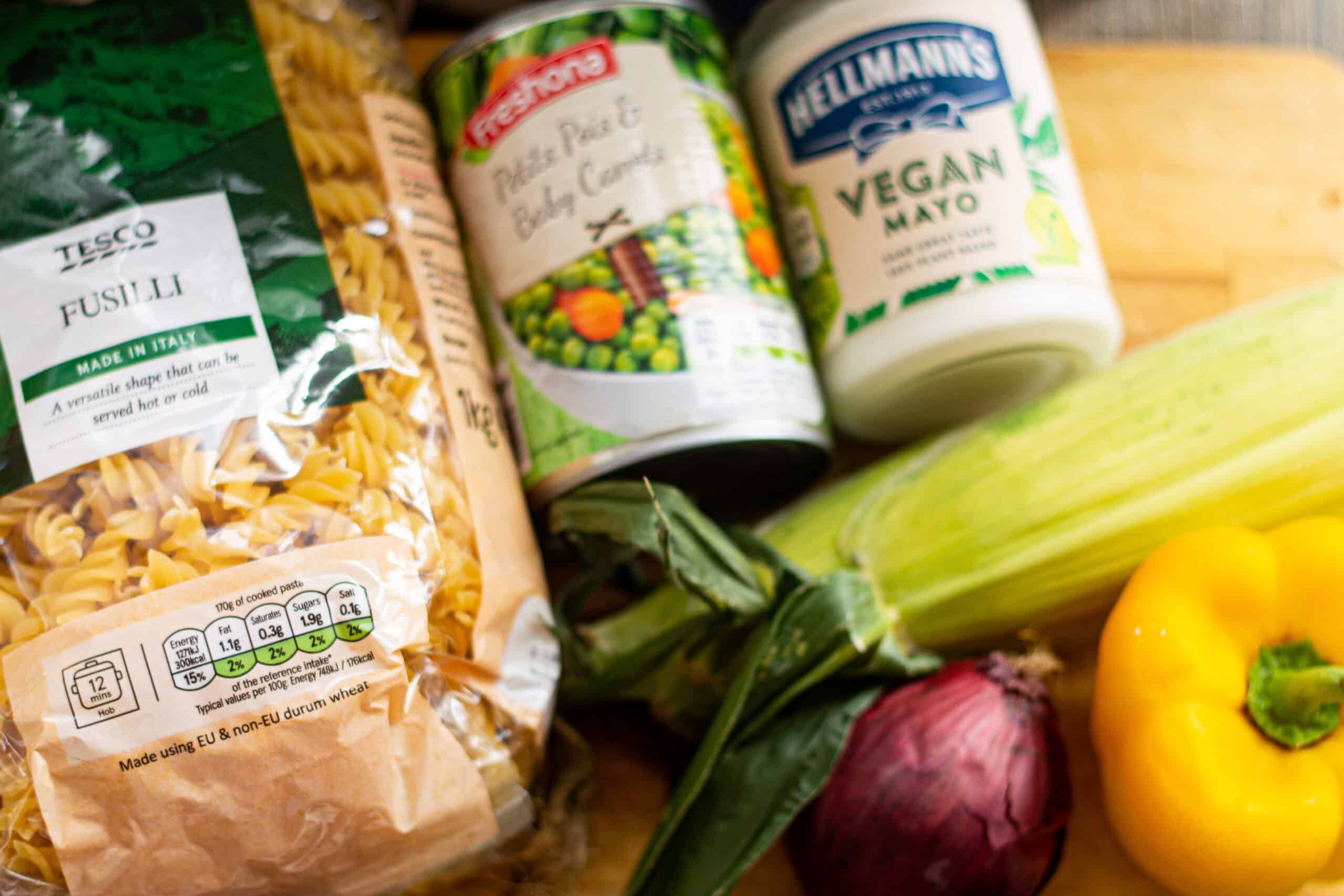 Pasta. Use dried. I love fusilli because the little ridges really take up all the flavors. However, farfalle is also lovely.
Tinned carrots. My secret ingredient! I used to have a work colleague who introduced this ingredient to me when, one year, he made pasta salad for a summer work event. It adds, not only color, but a gently sweetness. Feel free to use fresh cooked carrots if you have them too.
Veggies! You can use your favorite veggies in this: chopped celery, spring onion or scallions, bell peppers, chopped tomatoes, cucumber, zucchini, avocado. Just go to town! I love to add a chopped gherkin for a little astringent pop!
Mayo. I use Hellmanns as that's my favorite vegan mayo. Use your own preferred brand of vegan mayonnaise.
Instructions
Cook your pasta according to manufacturers directions, drain and leave to cool whilst you chop the veggies.
Cook the corn if you're using fresh.
Chop everything up into uniform small diced, except the zucchini, which I love in larger pieces.
Combine veggies in a large mixing bowl, then add the cooked pasta, mayo and taste for seasoning. Done!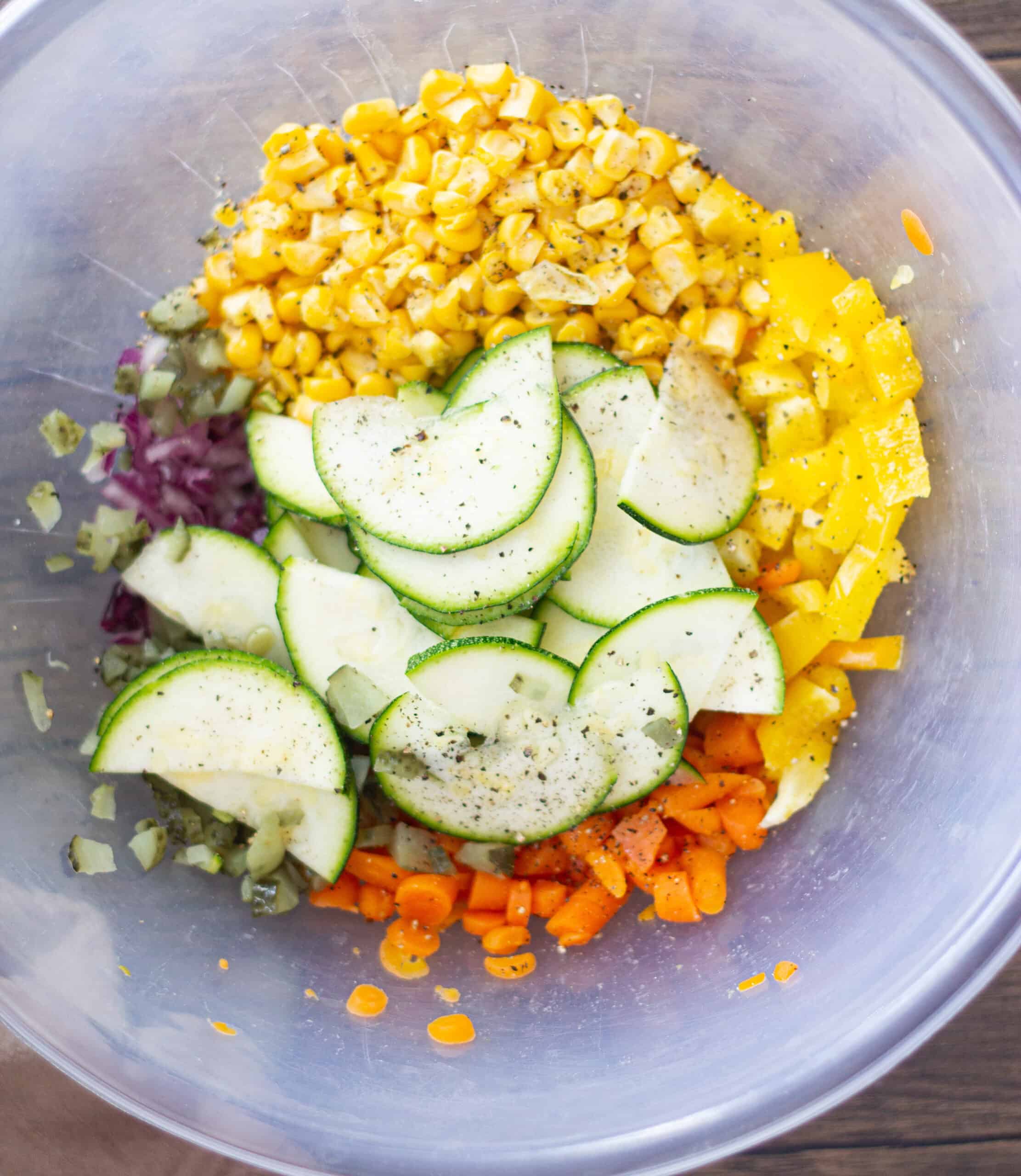 Combine all your veggies in a large mixing bowl
Mix the pasta and mayo into the veggies
Substitutions
Veggies – replace with whatever you have in your fridge, my list is just a guide!
Pasta– use gluten free pasta instead of normal pasta to make this gluten free
Variations
Spicy – add chili pepper flakes or chopped banana peppers to add a little kick!
Deluxe – add some crispy fried onions or some grated vegan blue cheese
Kid friendly – add a little vegan cheese sprinkled on top
Storage
Store in a shrink-wrapped bowl in the fridge for a couple of days but no more. The veggies start to break down a little in the mayo and it's not really much good after that!
This vegan pasta salad doesn't freeze.
Top tip
For best results served chilled, sprinkled with some chopped fresh chives and wedges of lemon! This salad definitely tastes better if left for a while to let the flavors mingle.
Creamy Vegan Pasta Salad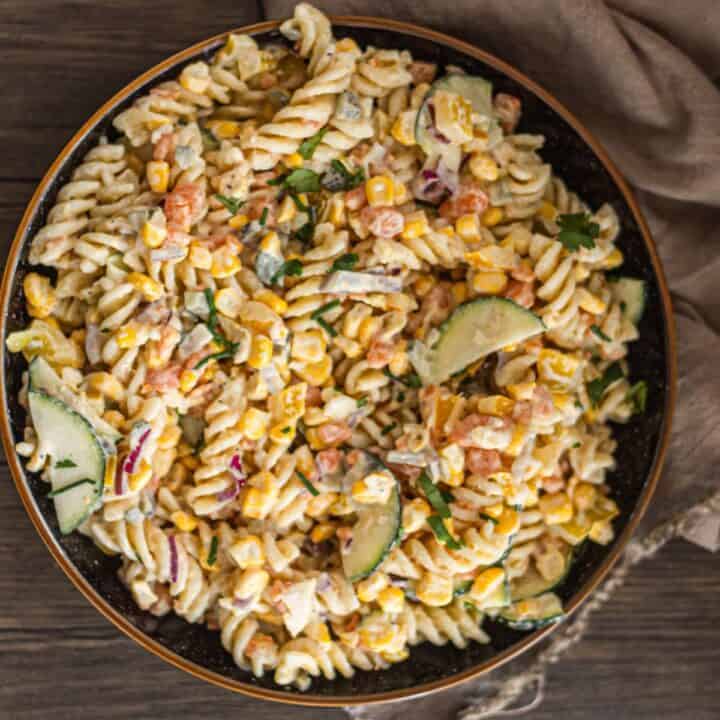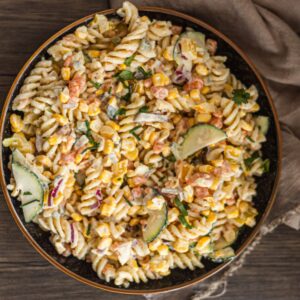 A quick and easy dish to prepare that is perfect for a summer party or lunchboxes
Ingredients
3

cups

Pasta

-

dried, I use fusilli because I love how it looks

1

Corn on the Cob

-

head, husk removed and kernels stripped off. Alternatively, use a 7oz can, drained

1

Red Bell Pepper

-

cut into tiny dice

1

Zucchini

-

small, cut into thin slices, then halved into crescents

1

Red Onion

-

small, peeled and cut into small dice

1

Carrots

-

small tin, drained, finely chopped

1

Gherkin

-

finely chopped (optional)

4

tbsp

Mayonnaise

-

vegan

2

tsp

Salt

1

tsp

Black pepper

1

tsp

Parsley

-

fresh, chopped

½

Lemon

-

juice only
Instructions
Firstly, cook your pasta in accordance with manufacturers recommendations. Drain and leave to cool whilst you prep all the other veg.

If you're using canned corn, just drain. If you're using fresh, strip from the cob and then place in a pan of cold water. Bring up to a boil then turn off. The corn is now cooked. Drain and place in a large bowl to cool whilst you chop the raw veg.

Chop all the other veg, parsley and gherkin up finely. Place in the bowl with the cooked corn.

Add the pasta and then the mayo. Mix gently but thoroughly.

Taste for seasoning. I often find this needs more seasoning than you think!

Add the lemon juice, taste again and you can either serve now, or chill until ready.
Please note that where the recipe asks for milk, butter or yogurt, this refers to any plant-based version that you prefer.
Nutrition Facts
Creamy Vegan Pasta Salad
Amount per Serving
% Daily Value*
* Percent Daily Values are based on a 2000 calorie diet.
FAQ
Can I make pasta salad with gluten-free pasta?
Yes, you can. Please cook according to manufacturers directions.