Easy and Delicious Vegan Spaghetti Carbonara, 10 Minute Recipe (Keto option too!)
This post contains links to affiliate websites, such as Amazon, and we receive an affiliate commission for any purchases made by you using these links. We appreciate your support!
If you love creamy pasta dishes that are ready in less time than it takes you to kick your shoes off after work, put on your comfies and fire up the latest crime drama on Netflix, then my easy vegan spaghetti carbonara is just the dish for you!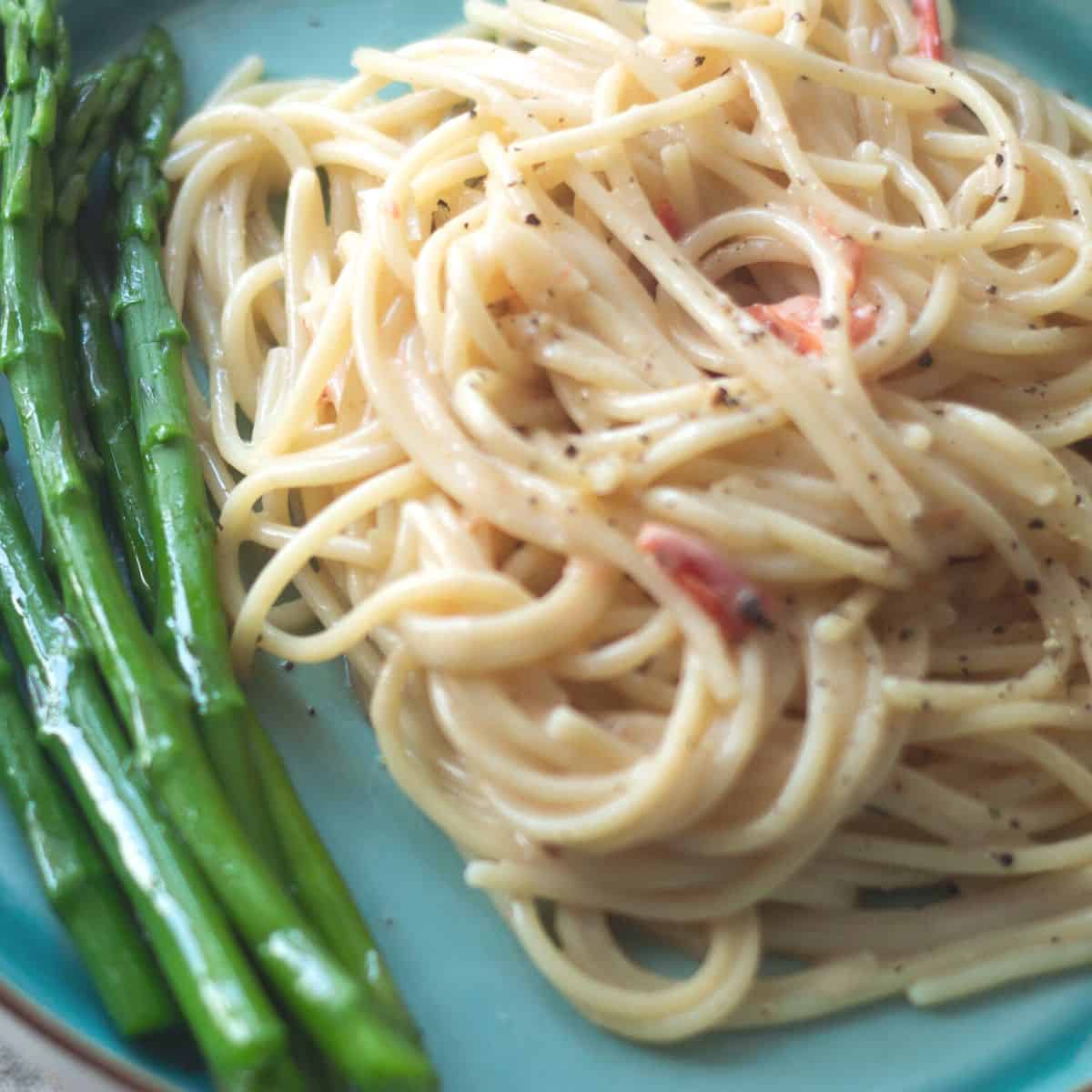 Lately this is my go-to "to-tired to properly cook after work" meal, but it doesn't feel like I'm compromising on taste.
Love pasta dishes? You might also like my vegan spaghetti bolognese, my classic vegan Lasagne or my penne with zucchini and peas.
I write a food blog but I am often a very lazy cook, particularly when I'm on my own, or having a bad day. It is sometimes all too easy to open up the Deliveroo app and order something, but of course, this costs money.
The other night, I was thinking about what to eat, should make some toast or instant noodles? I decided instead on this, my version of a vegan spaghetti carbonara.
A traditional carbonara sauce, of course, has bacon or pancetta in it, and is enriched with egg yolks and double cream. My version takes quite a lot of liberties with original, using oat milk cream (which has a fairly neutral flavour) but a velvety texture, lots of sliced garlic, some chopped tomato and is seasoned with nutritional yeast, vegan cheddar (comparably closer in flavour to parmesan than other vegan-style cheeses) and chives. The chives seem to add an additional element to the flavour which isn't oniony at all, but just deeply savoury.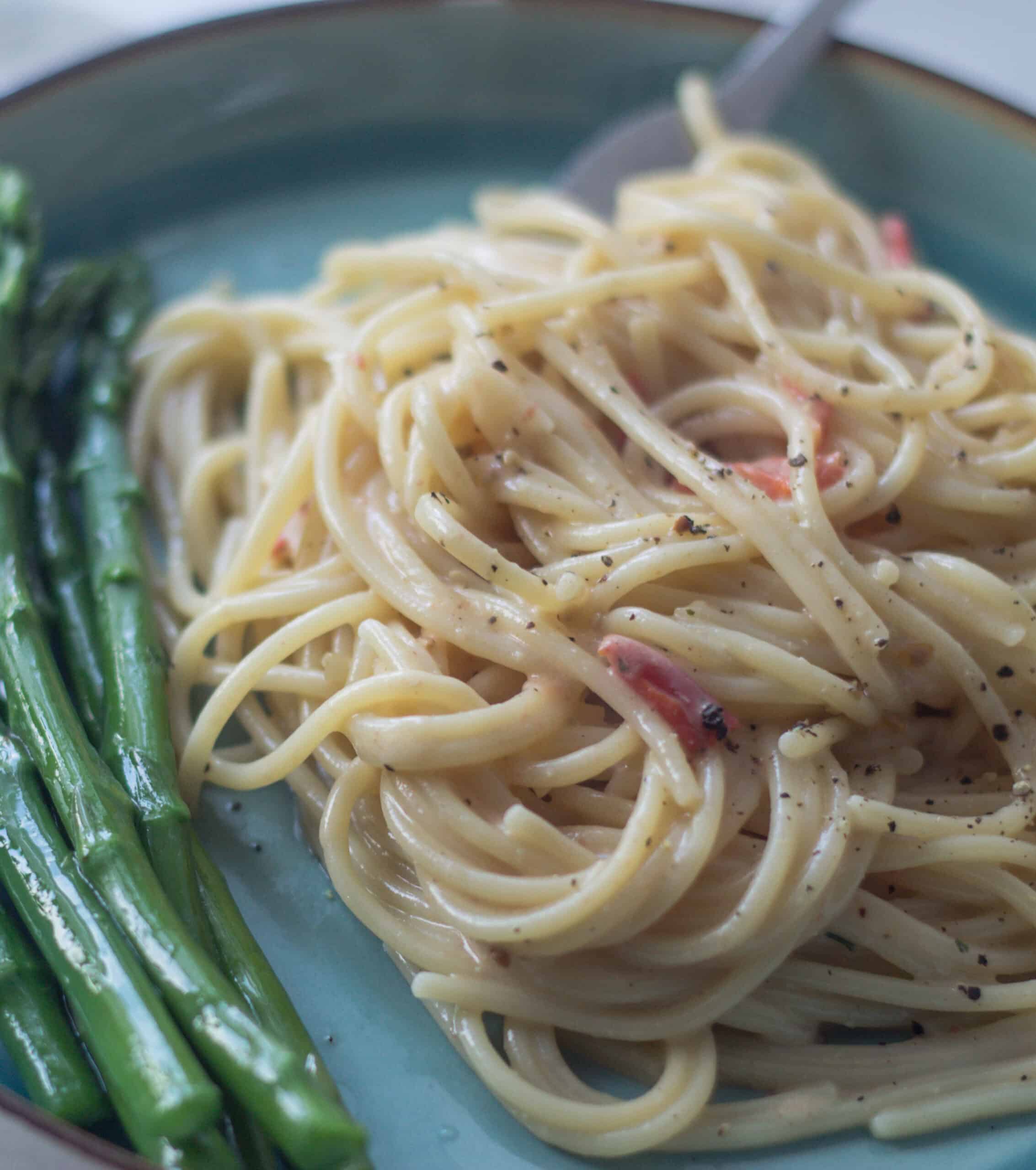 Don't panic if the sauce doesn't quite thicken up too well. I like to add my cooked pasta to it, toss it gently, then leave it to stand for a few minutes to absorb and thicken the sauce.
Also, do not omit the black pepper, it adds that certain something to the flavour. I didn't add any additional salt as nutritional yeast is quite salty and strong, but feel free to season and adjust the final dish as you need.
Ingredients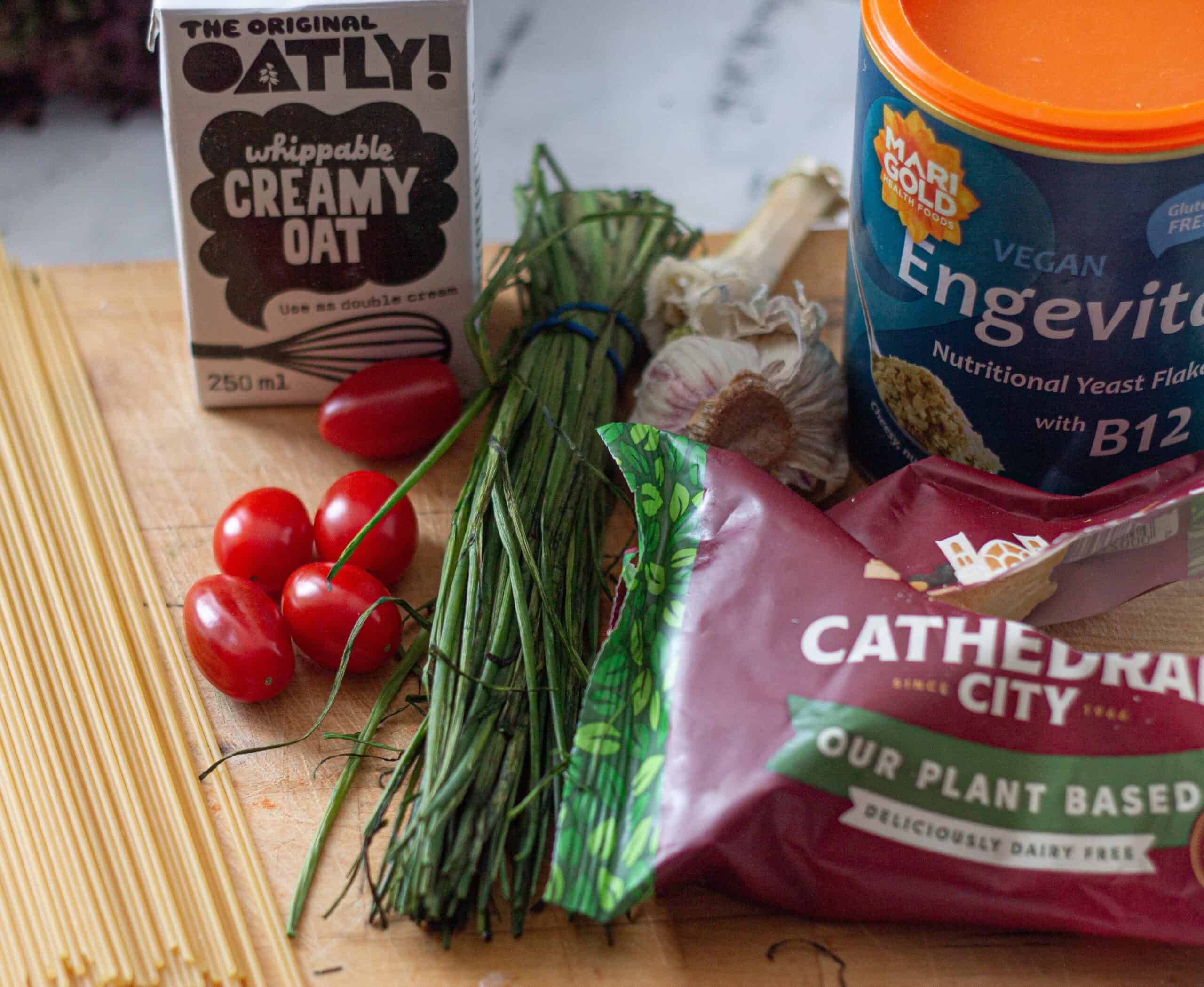 spaghetti or just zucchini noodles for a keto version
garlic, chives and tomatoes
vegan cream
vegan cheese
This is ONLY a list of ingredients for the recipe; please see recipe card below for complete printable recipe.
Instructions
Sauté garlic in a little olive oil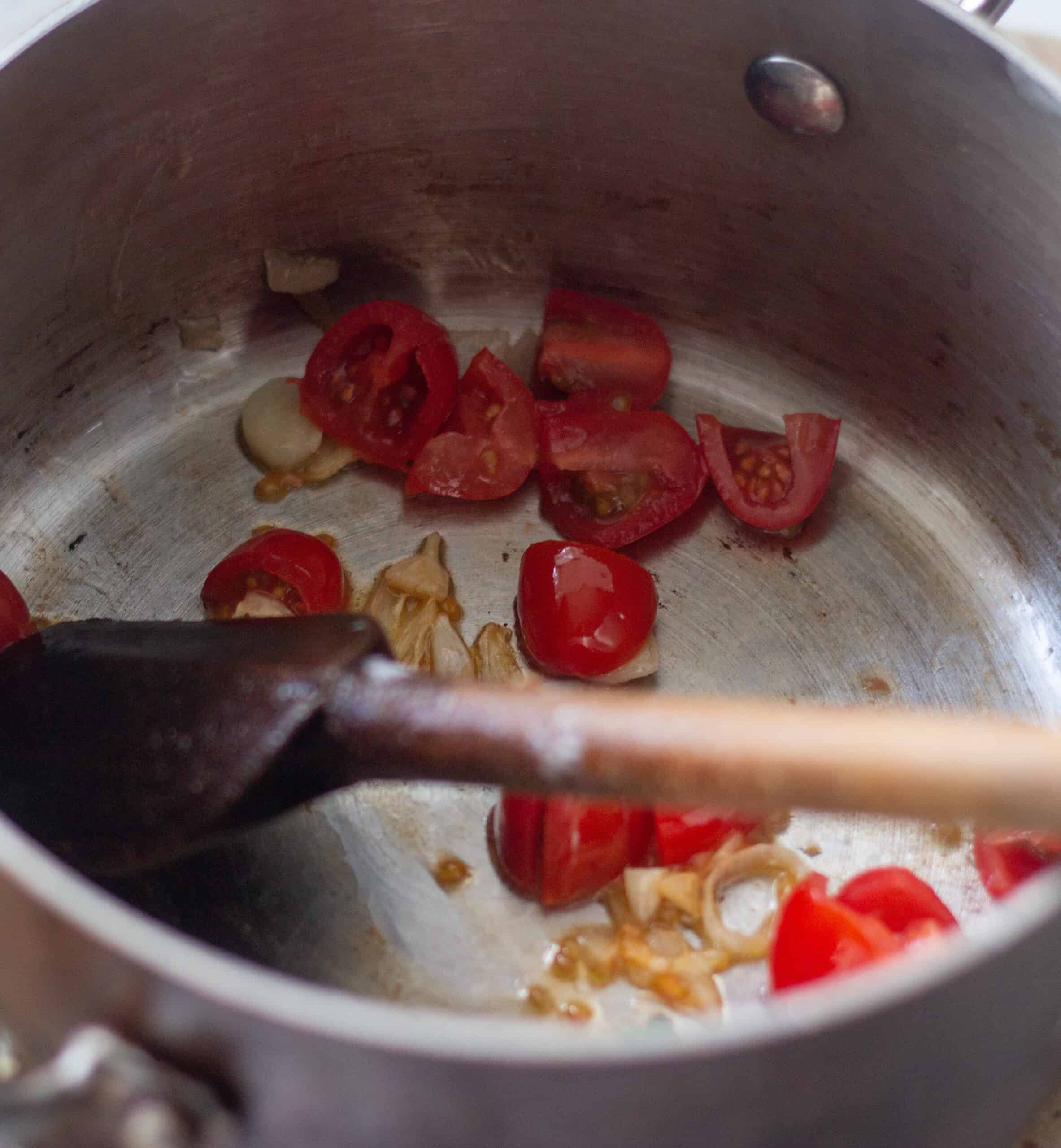 Add the chopped tomato and sauté for a couple more minutes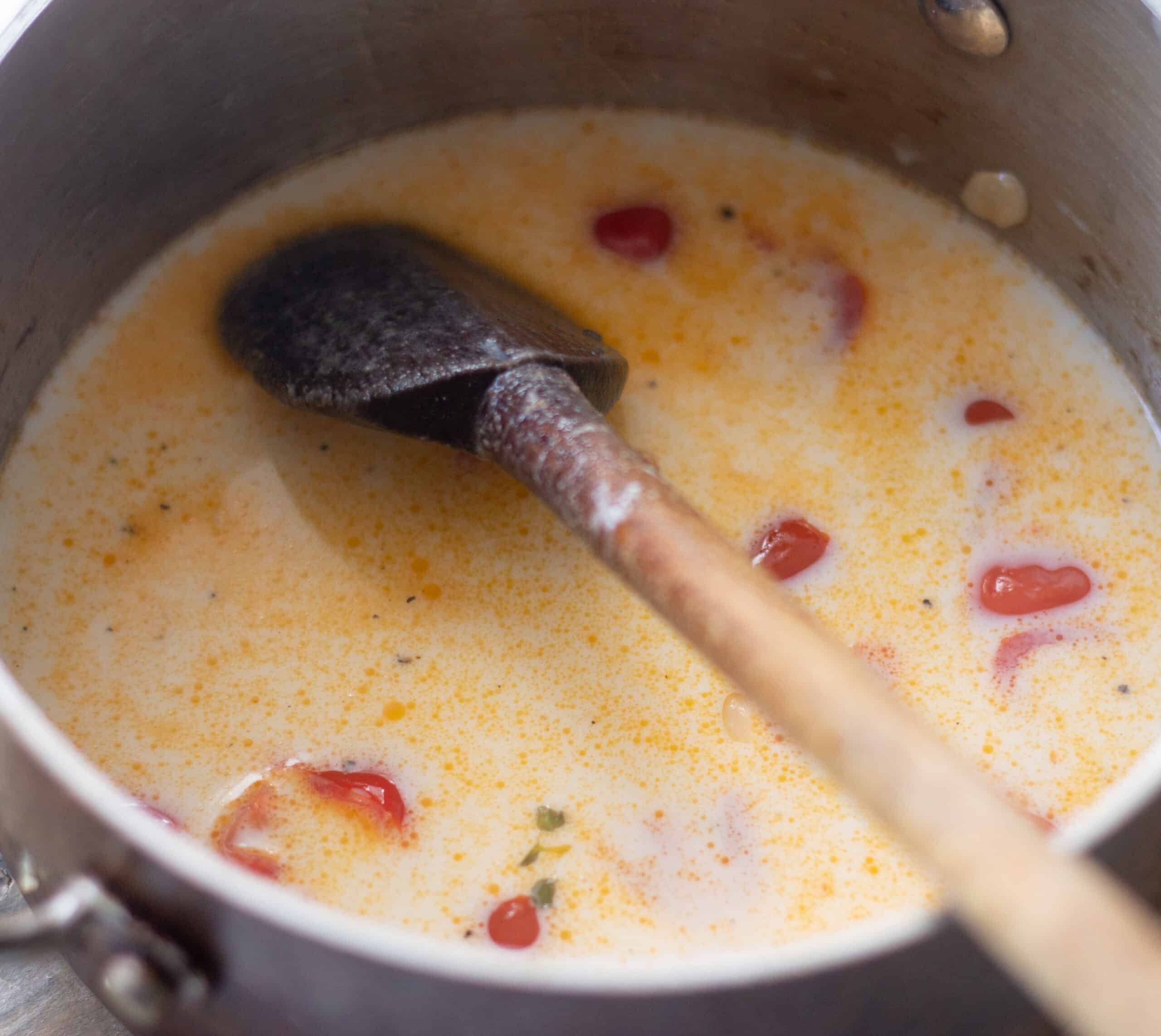 Add the cream and stock to the garlic/tomato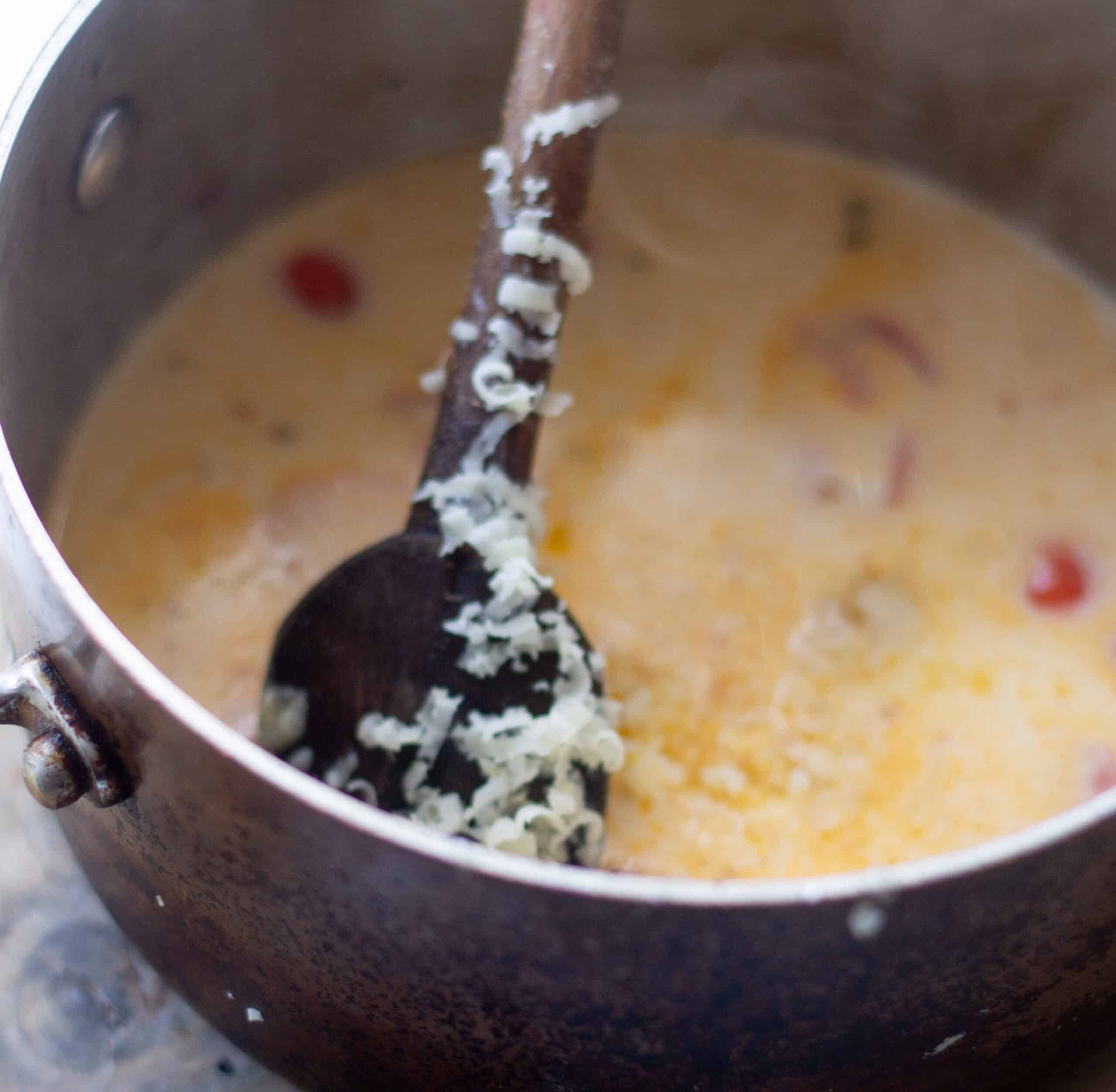 Add the vegan cheese, chives and nutritional yeast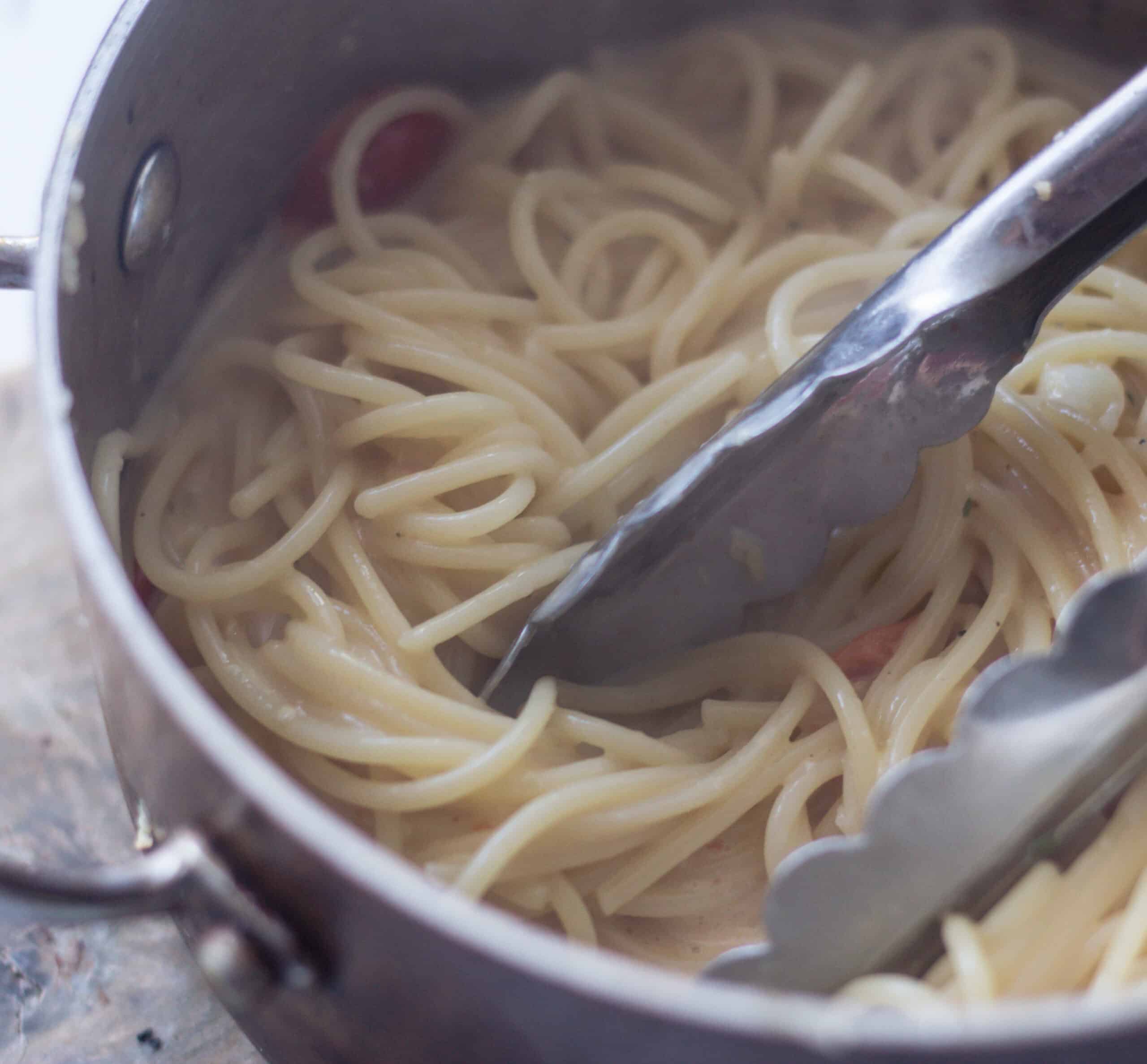 Add the spaghetti to the sauce and mix thoroughly but gently
Substitutions
Gluten-Free – to make this gluten free, just use your favourite GF pasta.
Keto – To make it keto, use zoodles instead of spaghetti
Variations
Protein – add your favourite meat substitute chunks for a more filling meal (I love to add plant-based chicken pieces!)
Storage
This dish doesn't keep particularly well, but because it's so quick to prepare, it's easy to make it to order!
FAQ
What is Carbonara Sauce?
Carbonara is a traditional Italian dish, from Rome, that consists of pancetta, cream, egg yolks, parmesan and of course, spaghetti. This version is a one dish meal, with the eggs and cream being cooked in the heat of the drained spaghetti.
Quick and Easy Vegan Carbonara style Pasta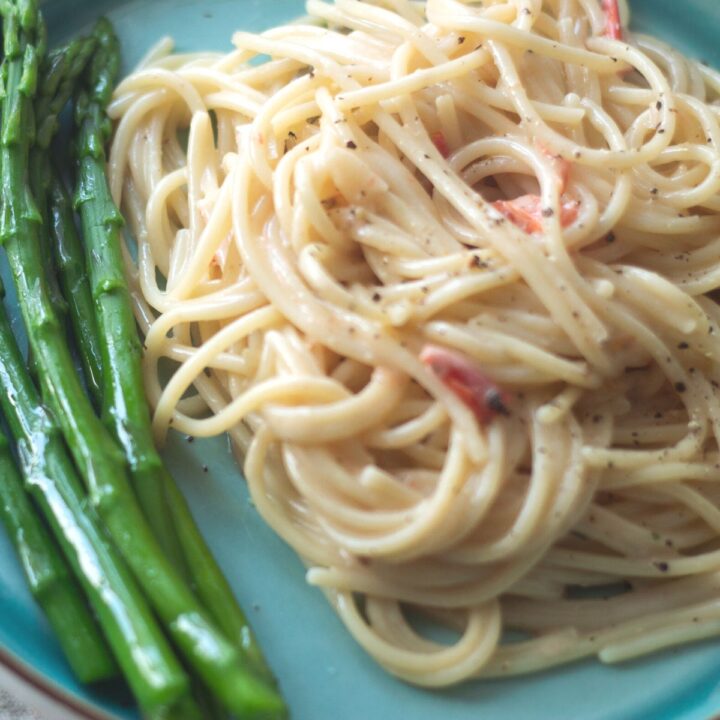 A delicious vegan spin on the original Italian classic
Ingredients
120

g

Spaghetti

-

dried weight

¼

cup

Double Cream

-

plant-based, I like Oatly

1

tsp

Olive Oil

2

Garlic Cloves

-

peeled, finely chopped

1

Tomato

-

large, diced (or 5 small ones, chopped in half)

¼

cup

Vegetable Stock

1

tbsp

Nutritional Yeast

2

tbsp

Cheese

-

plant-based, grated

1

tsp

Chives

-

fresh, chopped

Seasoning to taste
Instructions
Cook the spaghetti, according to the instructions on the packet. I normally bring a pan of salted water to boil, then add the spaghetti and cook to my desired consistency.

Reserve half a cup of the pasta water once cooked. Drain the rest.

Whilst the pasta is cooking, heat the olive oil in a small pan and lightly

sauté

the garlic until translucent and fragrant.

Add the tomatoes and cook for a couple more minutes, adding a good grind of black pepper.

Stir in the cream and stock and bring to a gentle simmer for a couple of minutes.

Remove sauce from the heat and stir in the nutritional yeast, grated vegan cheese and chives, until the cheese has melted into the sauce. Taste for seasoning.

If the sauce is too thick, add a little reserved pasta water.

Stir the spaghetti into the sauce and serve!
Please note that where the recipe asks for milk, butter or yogurt, this refers to any plant-based version that you prefer.
Nutrition Facts
Quick and Easy Vegan Carbonara style Pasta
Amount per Serving
% Daily Value*
* Percent Daily Values are based on a 2000 calorie diet.