Easy Classic Vegan Lasagne (or Lasagna) Recipe
This post contains links to affiliate websites, such as Amazon, and we receive an affiliate commission for any purchases made by you using these links. We appreciate your support!
This classic vegan lasagne recipe puts a delightful twist on the traditional Italian dish. With flavourful veggies, fragrant herbs, and rich tomato sauce, it is a perfect option for those following a plant-based diet. Whether you're a vegan or simply looking to enjoy a meatless meal, this lasagne is sure to satisfy your taste buds and leave you reaching for seconds. Get ready to indulge in a comforting and delicious homemade lasagne that rivals any non-vegan version.
I once had a work colleague who was proud of her lasagne. She declared that it had a "vegetarian layer" of fresh spinach". I questioned her time and again on this "vegetarian layer".
"Don't you mean it's a layer of vegetables? Because you can't serve an otherwise meat-based lasagne to vegetarian friends, vegetable layer or not." I suppose she knew a lot of happy but confused meat eaters!
But she remained adamant – and proud – of her invention of the vegetarian layer. My lasagne truly is vegan but the addition of mushrooms (long known as the vegetarian's meat) and courgettes (zucchini) would fulfill even the most fervent carnivore. I bulk it out with some TVP too.
I have yet to meet someone who doesn't enjoy lasagna, the rich tomato sauce, blending with the velvety bechamel sauce and pasta is truly a family favorite. I'm sure most people say this, but I think this is the best vegan lasagna recipe, one that the whole family will love.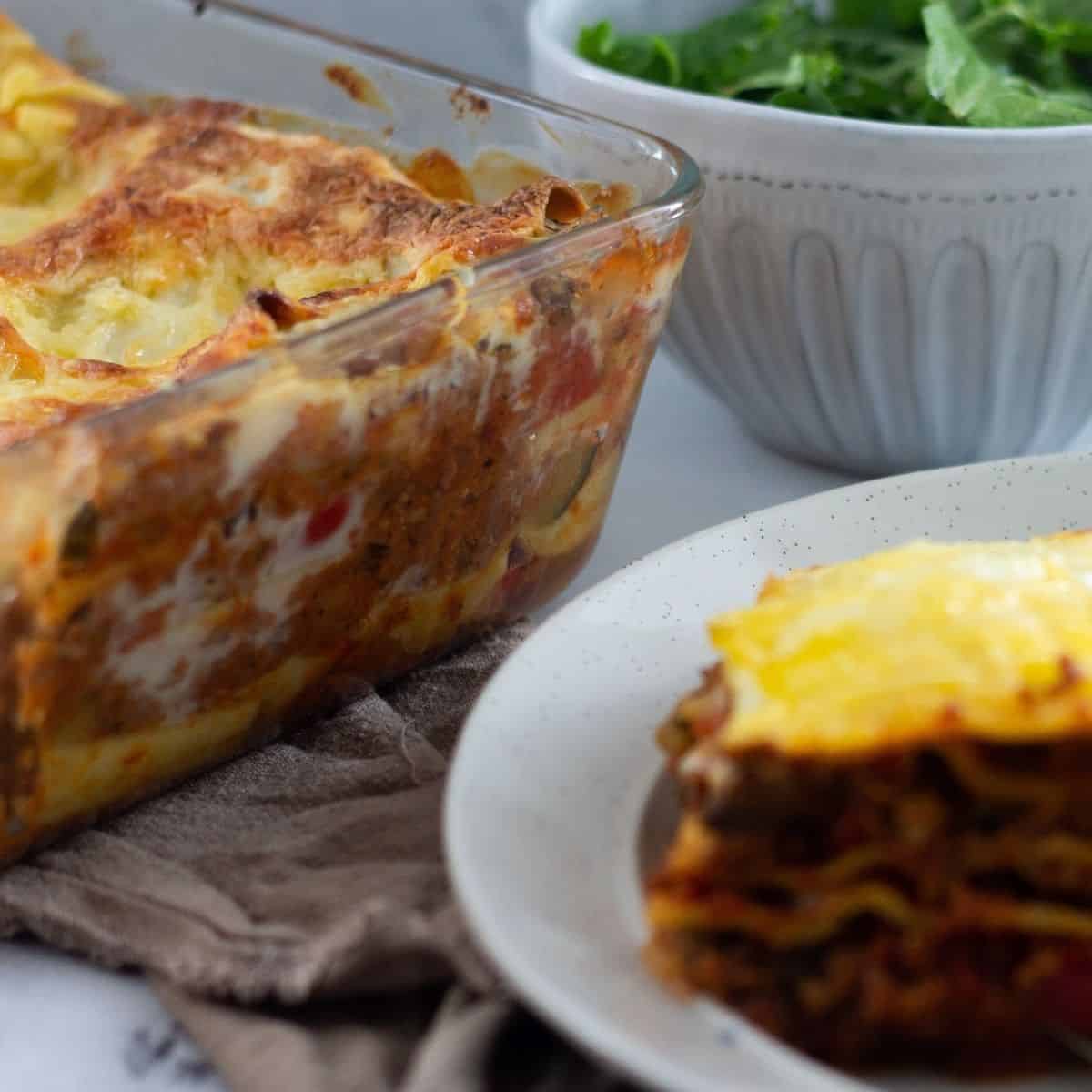 I think it was the perfect summer alternative to the richer, traditional lasagna. There are no hard and fast rules with this recipe though, if you have a favorite tomato sauce recipe, then use that. It is a great dish to showcase seasonal vegetables – thin layers of squash would make this a lovely, warming Autumnal dish, whilst chargrilled peppers, yellow squash, or slices of sautéed aubergine are perfect for the summer.
You can also assemble the whole lasagne (or just the tomato sauce) well in advance before baking. If you are making it the day before, make sure to cover it with tinfoil or Clingfilm and refrigerate. I like to make mine in an aluminum foil dish so there's no chiselling the bottom of the pan to clean the dish later on! If you want a simpler version, you could try my vegan sheet pan lasagne recipe!
What's the Difference Between Lasagne and Lasagna?
I have seen both spellings, and it seems that lasagna, is an American variant, whereas Brits use the version that ends in an 'e'. According to this article in Better Homes and Gardens, the version ending in an 'a' is a singular lasagna sheet, the version ending in an 'e' is plural. Whichever version you prefer to use, it refers to the delicious layered Italian classic though.
Because this is based on a traditional lasagna recipe, there is no ricotta cheese equivalent used. If that's your jam, you could use cashew ricotta or tofu ricotta.
The best thing about lasagne is leftovers! I have yet to meet a lasagne that doesn't taste even better the next day, and it's worth layering up your lasagne in the baking dish the night before you want to bake it, allowing all the flavors to mingle.
This veggie lasagne recipe is really simple to make, and I've sometimes double up the batch and made two lasagnes, freezing one for later. This easy vegan lasagna recipe is also super adaptable, you could try adding different veggies to your sauce, spinach, aubergine, chopped carrot.
Ingredients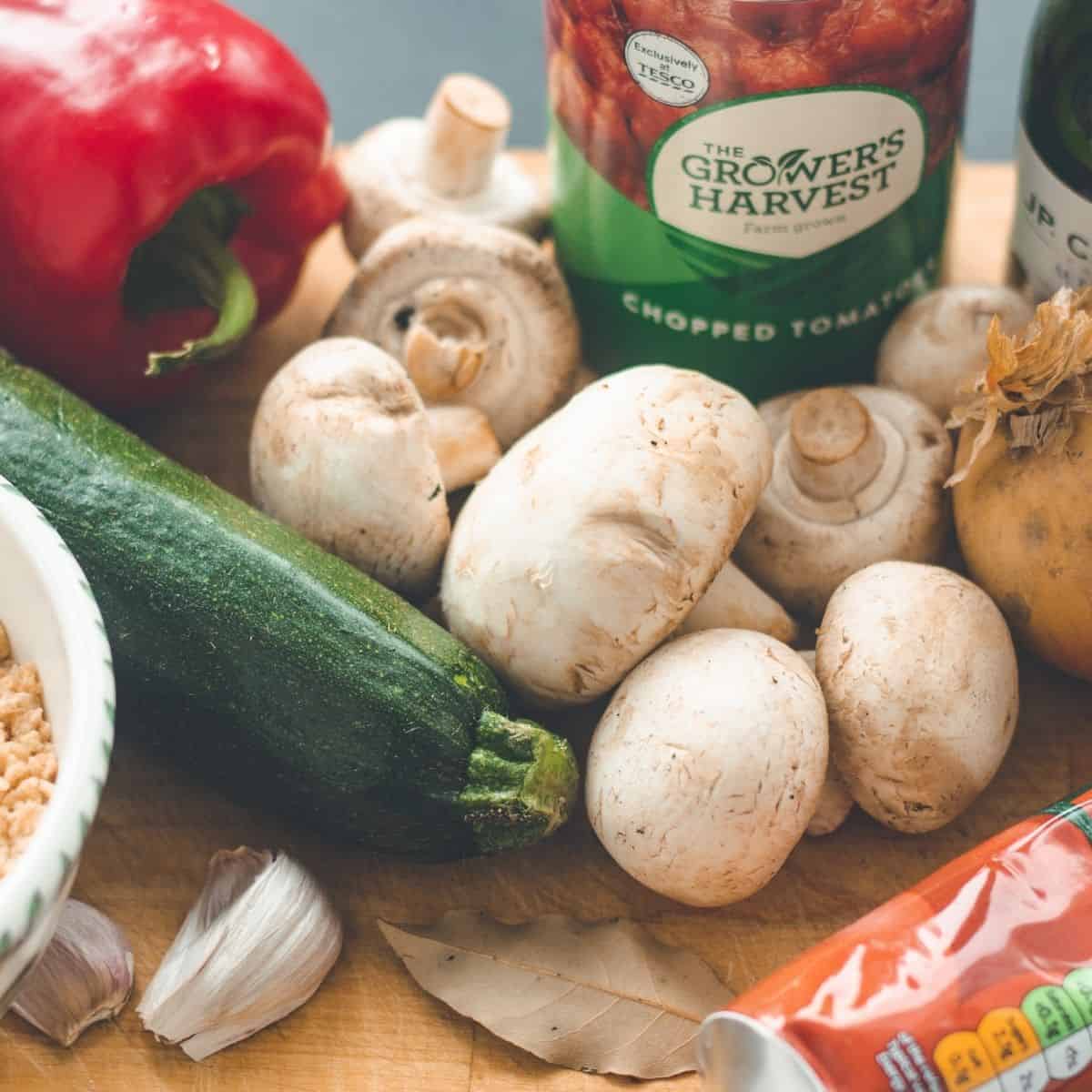 Dried lasagne sheets, egg-free or gluten-free, make sure that you get no boil lasagna noodles as it makes it much quicker and easier to assemble. If that is all you can find though, just make sure to follow the package directions for prepping them, whether you boil noodles first.
Grated vegan cheeze of your choice, I like to use a vegan cheddar-style or vegan parmesan.
Tomato Sauce
Tinned tomatoes, I use chopped.
TVP. I use TVP here because I like the texture of it; however, feel free to use your favourite vegan ground beef substitute. Soak the TVP in a little water, not too much as you don't want to make it mushy, less than 1/8 cup.
Onion and garlic, peeled and finely chopped
Courgette (zucchini)
100ml red wine (optional). I used the dregs of a bottle I had opened. Red wine gives a rich depth of flavor to a ragu, but don't feel that you have to use it if you don't have any wine.
Soy milk. This is an interesting ingredient. Milk coats the ingredients and offers a "shield" from the sharpness of the tinned tomatoes, mellowing out their flavor. It also makes the sauce unctuous.
Mushrooms
Bell Pepper
Sugar. A pinch of sugar in any tomato sauce is crucial to round out the flavor, just as salt does.
Vinegar, use whatever vinegar you have, it doesn't have to be a fancy one. This adds the classic Italian agrodolce (sweet and sour) taste to the ragu.
Tomato paste (puree), boosts the flavor that tinned tomatoes alone often are missing.
Olive Oil
Oregano or Italian Seasoning or fresh basil
Cheats bechamel sauce (you could also use a jar of vegan bechamel or white sauce)
Tofutti sour cream. Make sure you use a large tub, and at room temperature.
Nutmeg
Seasoning
20g grated vegan cheese
This is ONLY a list of ingredients for the recipe; please see recipe card below for complete printable recipe.
Method
Prepare your ragu first. You can make this 2 or 3 days in advance, just make sure you refrigerate it once completely cool. You can also freeze this sauce in ziplock bag.
Soak your TVP in a little water, just enough to moisten it.
In a large pan, heat olive oil over medium heat.
Add you chopped onion and garlic, and saute until softened and transluscent.
Add the zucchini, mushrooms, red peppers and cook until they are now softened.
Add the TVP and stir well until everything is amalgamated.
Turn up the heat and add the red wine (if using. If not, skip this step). Let bubble up until the red wine is absorbed, a minute or 2.
Now add the milk, then the tinned tomatoes and puree (in this order). Again, let bubble for a minute or two.
Add the sugar, vinegar, salt and pepper. Mix well, then turn down to a gently simmer.
Leave for about half an hour or until the sauce has thickened and is glossy and unctuous.
Taste for seasoning: you may want to add more salt or sugar.
Leave to cool whilst you prepare the white sauce.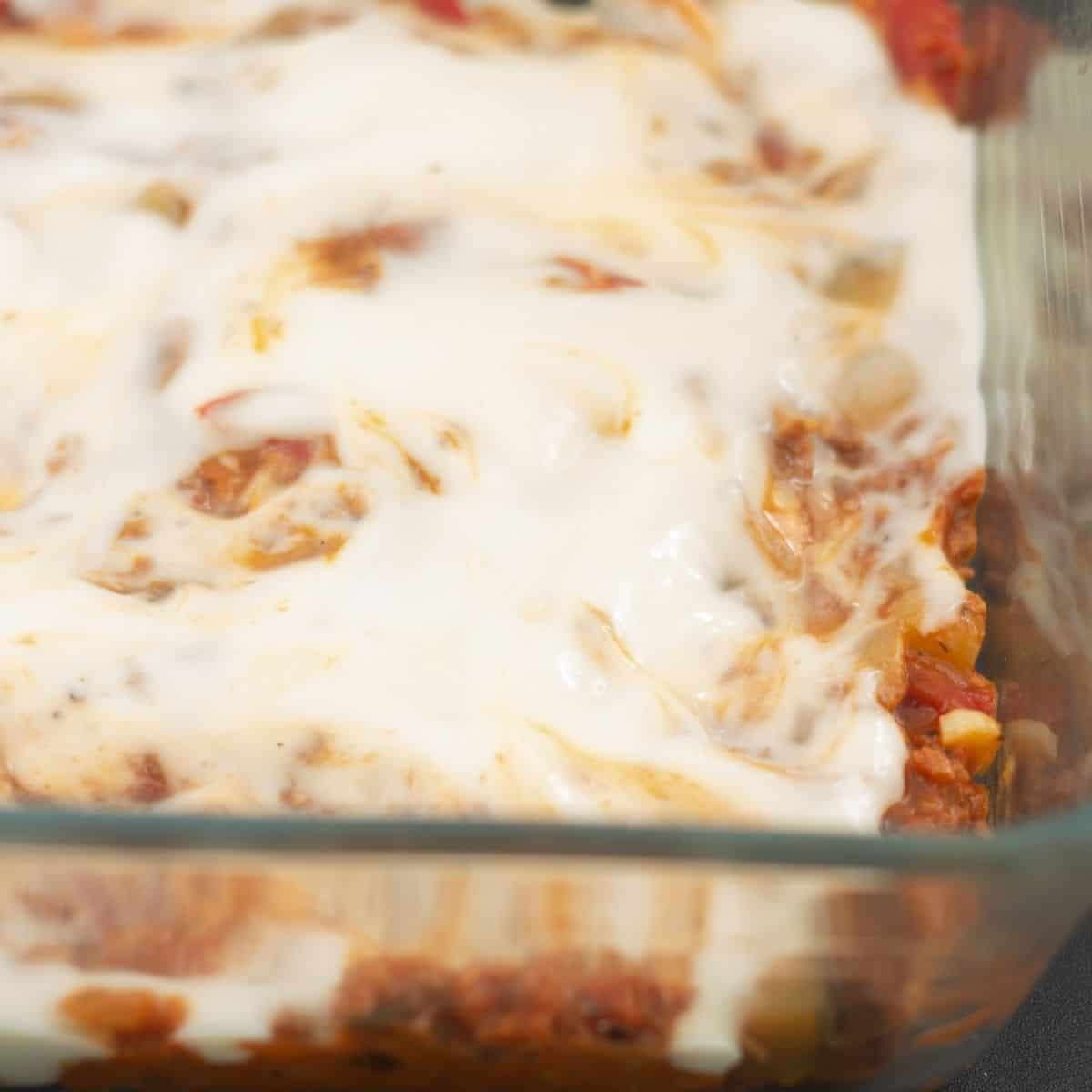 To make the cheats ragu, simply beat together the vegan sour cream, vegan cheese, nutmeg and salt and pepper. Taste for seasoning. If the sauce seems very thick, you can add a little unsweetened soy milk. You want a spreadable consistency.
To assemble your lasagne:
Add a thin layer of your ragu in the bottom of your baking dish
Add a single layer of lasagna noodles
Add another layer of the tomato sauce (ragu), then add a layer of your white sauce
Keep repeating this process until you have used up all of your sauces, making sure you end with a top layer of bechamel.
Sprinkle with vegan cheese and bake for about 45-50 minutes or until bubbly and golden.
Remove from the oven and leave to cool for at least 15 minutes, before serving with a green salad and some crusty bread.
Store vegetable lasagna leftovers in an airtight container in the fridge.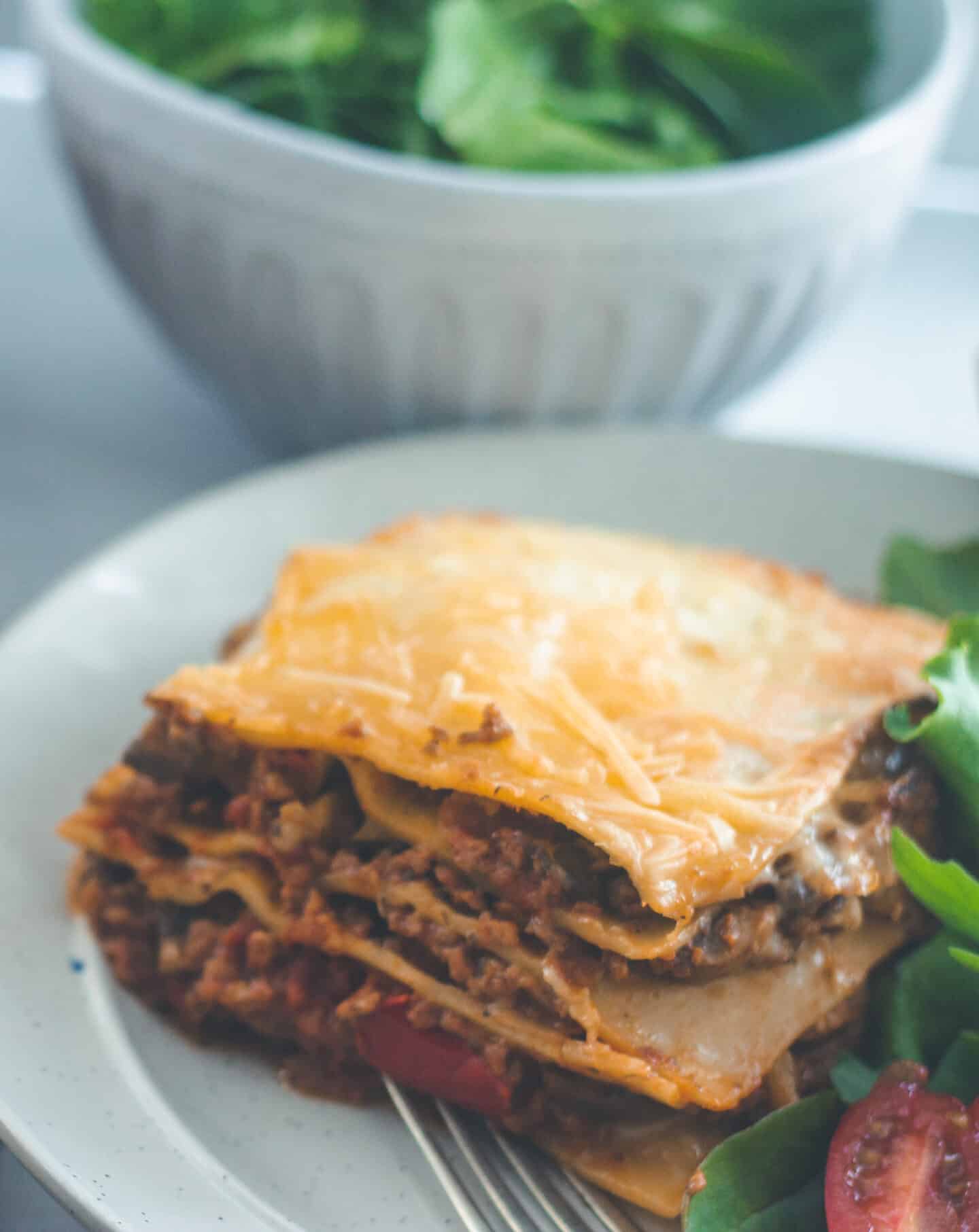 Try my other hearty vegan suppers
Vegan Lasagne Recipe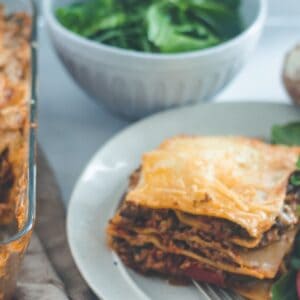 A vegan version of the traditional Italian classic
Ingredients
1

Lasagne

-

dried, egg-free or gluten free, about 10 sheets

Vegan Cheese

-

grated, for the top
Ragu
14

oz

Tomatoes

-

tin

1

cup

TVP

-

moistened with a little cold water

1

Onion

-

peeled and finely chopped

2

cloves

Garlic

-

peeled and finely chopped

1

zucchini

-

cut into cubes

1

bell pepper

-

cut into cubes, I like red peppers

100

g

mushrooms

-

sliced

1/4

cup

Soy Milk

100

ml

Red Wine

-

optional

1

tsp

sugar

1

tsp

vinegar

4

tbsp

Tomato Puree

Salt and Pepper

-

to taste

Olive oil

1

tsp

oregano
Cheats Bechemal Sauce
1

Sour cream

-

large tub, I like Tofutti (or use a bought vegan bechamel sauce)

Nutmeg

Salt and pepper

20

g

Vegan Cheese

-

grated
Instructions
To make the Ragu
Moisten your TVP in a little cold water, less than 1/8 cup water.

Soften the onions and garlic in a little warm olive oil in a large saucepan. Add the zucchini, mushrooms and diced red pepper. Saute until the veg is starting to wilt.

Add the red wine and let bubble up.

Now add milk, tinned tomatoes and puree. Again, let bubble up for a minute or so.

Now add the vinegar, sugar and a little seasoning.

Squidge the tomatoes down if they are whole so that they break down into the sauce quite quickly. You can play safe and chop them up in the can first, but I always like to avoid the little squirts of tomato juice that comes shooting out at you when you pop them with a wooden spoon.

Bring the sauce up to the boil, then turn down to a brisk simmer.

Leave to cook for about half an hour or until thickened and reduced slightly.

Add the herbs and taste for seasoning. Add more salt, sugar, pepper if necessary. You may even need to add another squirt of tomato puree if it's not tomato-y enough for you.

Leave to cool slightly.
To make Bechamel Sauce
Whisk together the sour cream, cheese, a good grating of Nutmeg and seasoning to taste.
To assemble
Place a thin layer of the ragu sauce onto the base of your lasagne dish, then add a layer of the Pasta sheets.

Put another layer of the red and white sauce.

Continue until you have used up all your sauce ensuring that you end with a layer of the white (or mixed) sauce.

Smother with grated cheeze.

At this point you can now bake the Lasagne in a hot oven (about 200c) for between 30-45 minutes or cover and refrigerate until you are ready to cook.

Once cooked, remove from the oven and leave to stand to set up for about 10 minutes or so. This makes removal from the baking dish much easier.

Serve with a salad and some crusty bread.
Please note that where the recipe asks for milk, butter or yogurt, this refers to any plant-based version that you prefer.
Nutrition Facts
Vegan Lasagne Recipe
Amount per Serving
% Daily Value*
* Percent Daily Values are based on a 2000 calorie diet.