How to Make Delicious Vegan Green Chilli Soup with Hominy
This post contains links to affiliate websites, such as Amazon, and we receive an affiliate commission for any purchases made by you using these links. We appreciate your support!
Vegan green chilli soup with hominy. I have written more words extolling the joys of soup than any other dish. I never tire of them: delicate Miso-style broths, bolshy spicy meals-in-a-bowl, more stew than soup, or for ladies who lunch – purees of vegetables, extracting the sheer essence of asparagus, Jerusalem artichokes, or broccoli, to be sipped daintily.

Because I am on a strict (read: no chocolate, biscuits, cake, crisps or butter) but sensible diet, soups often appear on our evening dinner table (or rather, tray on lap, in front of telly): I have 'cleansed' my body with Miso Soup, made more substantial with sprinklings of spring onion, glass noodles, little prawn dumplings, beansprouts, tofu and Wakami (dried seaweed, packed with nutrients). I have also added highly nontraditional green beans, chopped in bite size pieces, frozen broad beans and shredded greens and red chillis. Herbs always make an aromatic brew, and coriander and mint are particularly alluring.
Miso Soup can be surprisingly filling and feels incredibly nourishing. For flavour, I recommend the Miso Paste which comes in a jar in your local Health Store, but the instant sachets are OK if you're pressed for time. Hidden at the bottom of your mug, within the murky depths, are vivid green flecks of Wakami. I am constantly amazed at how the minuscule pieces of shrivelled seaweed swell and flourish when you pour hot water on them.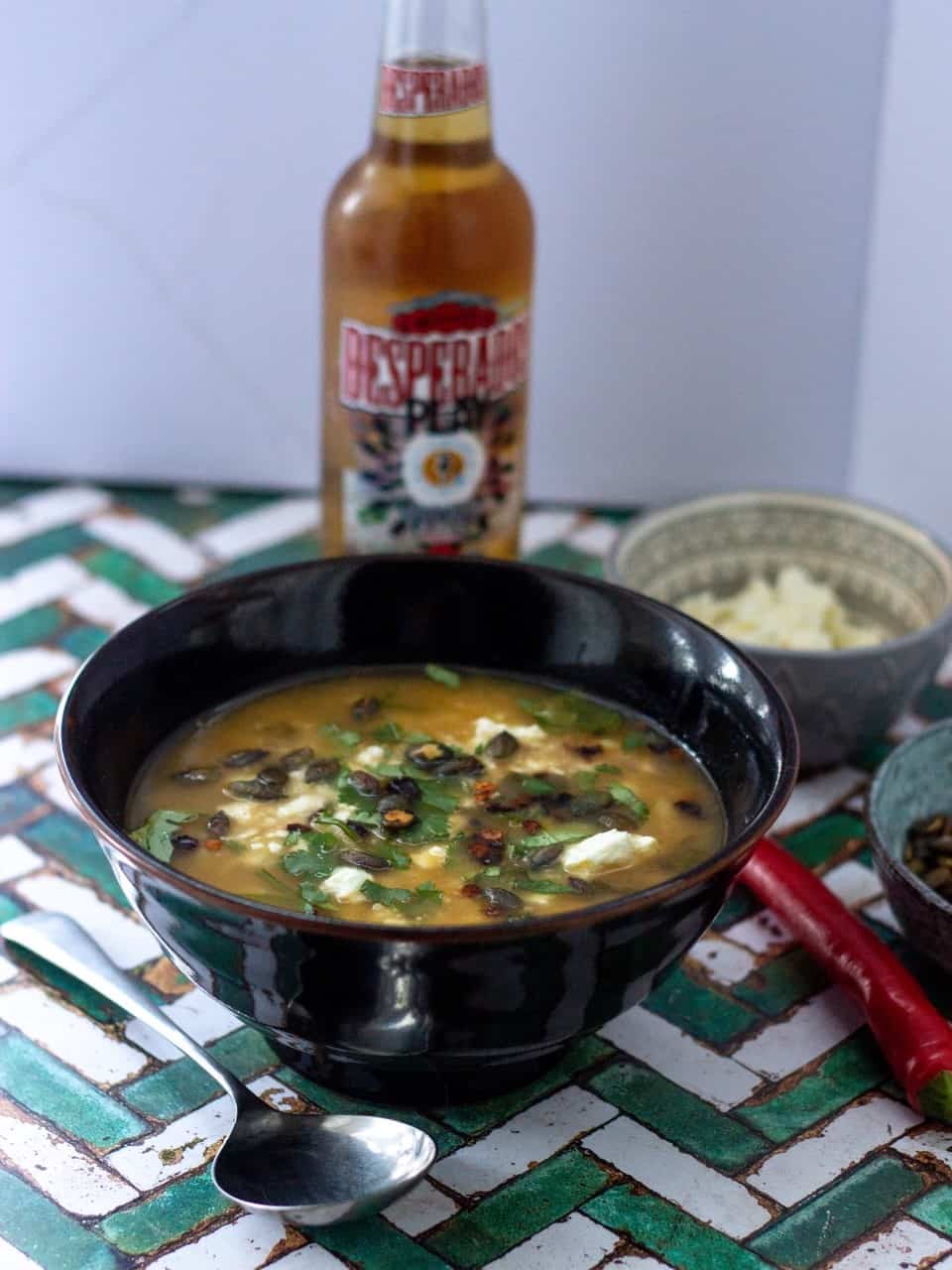 For a slightly more substantial but no less nourishing soup, I made my own variation of a Green Chili recipe, taken from Gourmet Magazine (February 2007).
I am thrilled to discover that there are now several online suppliers of Mexican food in the UK. One company, Lupe Pintos, sell a vast array of the La Preferida range (which I used to bring back with me in my suitcase after a trip to see the US). Unfortunately this stuff doesn't come cheap, but it's worth experimenting with if you're feeling particularly flush. The canned Chipotles in Adobe Sauce give real pep to a chilli that's just missing something. I'm also a huge fan of the Refried Chipotle Beans and the Mexican Breadcrumbs make an awesome coating for tofu fingers (cut a block of firm tofu into 3" x 1" pieces, dip into seasoned flour, soy milk, then the breadcrumbs, fry for 2-3 minutes until golden brown and deliciously most. Serve in white bread with lettuce and mayo).
But, aside from the hottest potato chips I have ever tasted (Death Rain Habenero Chips – seductively hot), the product I was most interested in, and finally got around to using last night, was the White Hominy.
What is Hominy?
On first impressions, Hominy looks as though someone dropped their popcorn into 7-Up, literally soggy popcorn. Not surprising as it is actually dried corn kernels, soaked in an alkaline mixture (originally wood ash) until the husks are removed. The resulting nude kernel is then ready for use. This process goes by the catchy name of Nixtamalization, but despite the retro-trendy moniker, Hominy has been prepared in this manner since 1200BC. Curiously, this basic chemical process renders the kernel far more nutritious (and easier to digest) than nature originally intended.

It has a distinctive smell that reminded me of the Mexican food aisle in American supermarkets, but when used in a spicy soup or stew, it lightens a dish with its not-unpleasantly bland flavour and boiled potato texture.
It was, then, with great pleasure that I could finally bust open this enormous tin of white Hominy for use in the aforementioned vegan green chile soup.
The original recipe uses ground pork but I felt with the flavours already there, meat could be removed entirely from the recipe without any fuss whatsoever.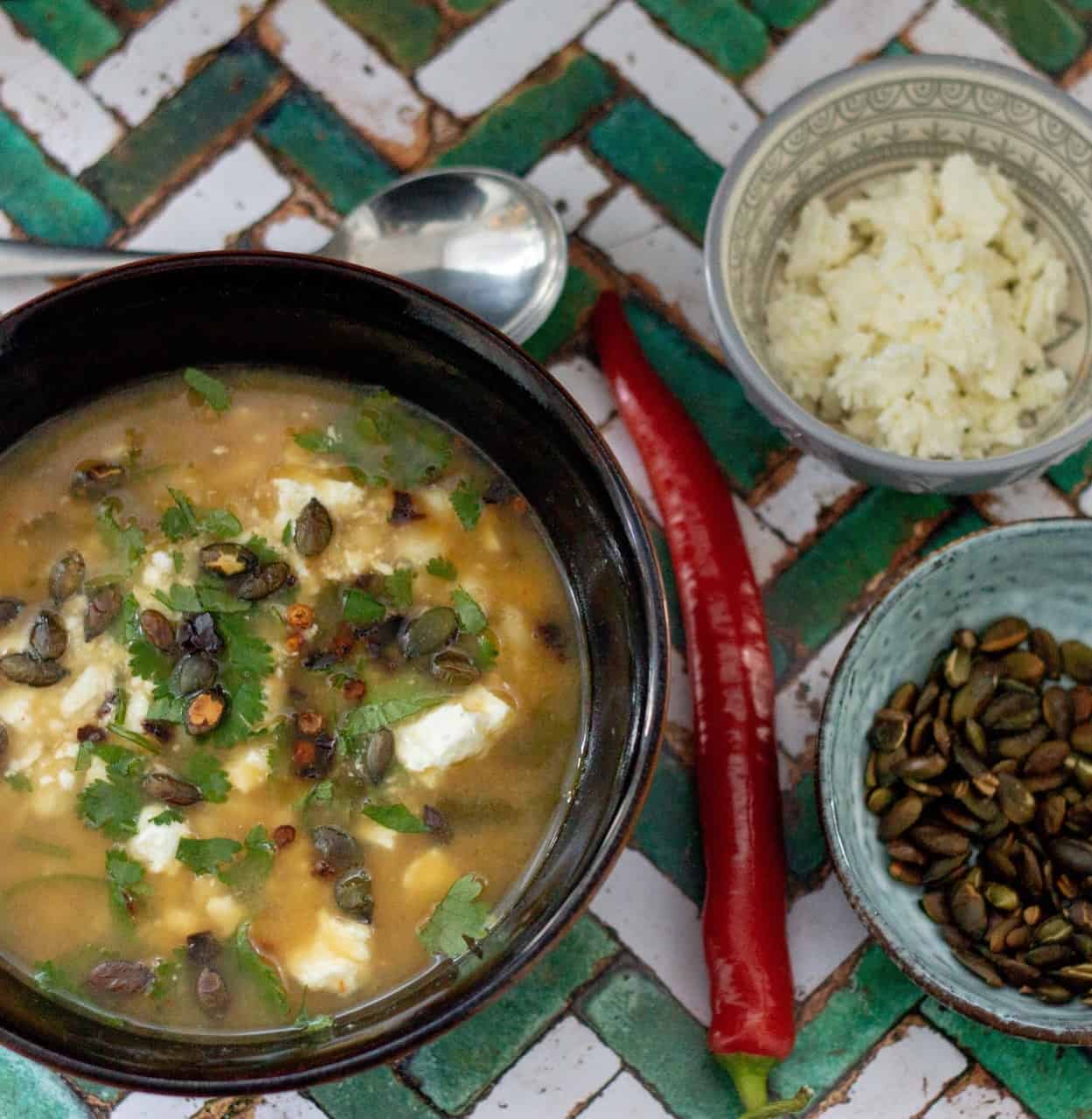 What's so special about this recipe, you're wondering. How about, a soup so fragrant with chilli and coriander and cumin that you can feel it behind your eyes. Every spoonful makes you smile and feel peaceful whilst simultaneously exciting your taste buds. Don't panic: I'm not slipping over to the hippy darkside, I just found the soup wondrous. If you can find them in the UK, a can of Hatch green chiles will elevate this soup even higher.
So, enough wittering, you're all thinking. We just want the recipe. OK. But, one last piece of advice that I would urge you to take: the garnishes of the toasted pumpkin seeds and sprinkled feta cheese are not optional. The lactic bite of the cheese and the crunch of the seeds are as intrinsic to the dish as the fresh coriander (cilantro), chillis or cumin.
Oh, if you can't find Hominy, I'm not sure what else to suggest. Canned sweetcorn would be too sweet and overpowering, chick peas which look similar but are too firm and nutty. Just order a can of Hominy from either of these two online emporiums (if you're in the UK, that is), Lupe Pintos or MexGrocer.co.uk or from amazon:
Try my other delicious vegan soups
Vegan Green Hominy Soup Recipe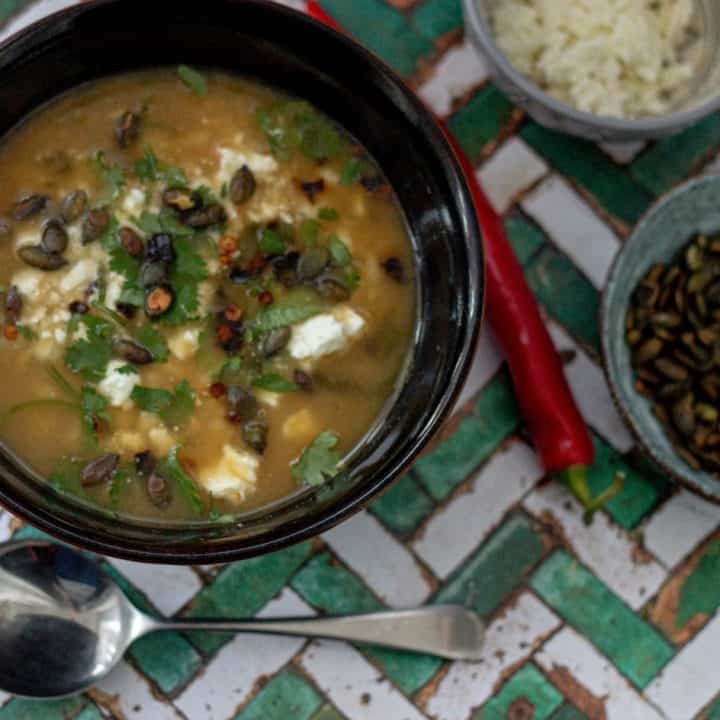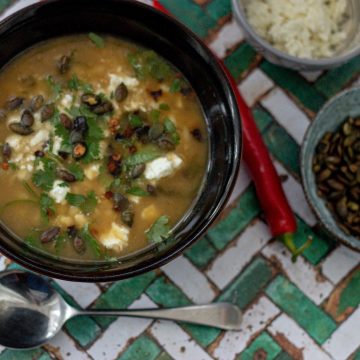 A delicious and unusually flavoured soup, perfect for cold days
Ingredients
1

Onion

-

peeled and cut into quarters

1-4

Jalapeno Chillis

-

I used the 3" chillis you can get in the supermarket in the UK, but I wussed out and de-seeded it. My heat tolerances are on go-slow at the moment, topped and cut into large chunks

2

cloves

Garlic

-

peeled and squashed with the back of a knife

2

cups

Vegetable Stock

1

Teaspoon

Cumin

-

I had run out of cumin powder so I toasted some seeds and ground my own in a pestle and mortar – the smell was heady and intoxicating, everyone should try it

½

Teaspoon

Salt

-

or to taste

400

g

Hominy

-

drained and rinsed

Cilantro

-

fresh, (coriander) a couple of tablespoons, chopped

3

tbsp

Vegetable Oil

Feta Cheese

-

vegan, for crumbling

Toasted Pumpkin Seeds

-

for Sprinkling
Instructions
Throw the quartered onion, chopped chilli, squashed garlic and quarter cup of stock into a food processor or blender and puree until smooth.

Add the remaining oil, heat over medium high heat and stir in the onion/chilli/garlic puree mush. It will sizzle frantically for a few seconds.

Cook over a relatively high heat until the liquid has evaporated, stirring frequently, about 5-10 minutes.

Add the rest of the stock, the cumin, salt and hominy, stir well and leave to simmer gently for about 5 more minutes more or until thickened.

Serve in large deep bowls, sprinkled generously with the feta cheese and toasted pumpkin seeds.
Please note that where the recipe asks for milk, butter or yogurt, this refers to any plant-based version that you prefer.
Nutrition Facts
Vegan Green Hominy Soup Recipe
Amount per Serving
% Daily Value*
* Percent Daily Values are based on a 2000 calorie diet.