How to Make Easy Vegan Cheese Scones
How to make easy vegan cheese scones. I love scones. The buttery, flaky, melt-in-the-mouth texture is so utterly irresistible. I love sweet scones, filled with sultanas, with a sugary crusty top, and then I love these savoury cheese scones, flavoured with mustard, chives and vegan cheese
PIN my Vegan Cheese Scones to make later
And then of course, there's other scones. Plain scones, ready for whatever you want to throw at them, be it jam, or cream or just dipped daintily in tea, or even filled with cream cheese maybe. But then we have the cheese scone. Here's how to Make Easy Vegan Cheese Scones
I honestly thought for many years that cheese scones could not be veganised, that vegan cheese was just not flavourful enough, that the shortening wouldn't work and you wouldn't pack a whole lot of flavour in them. I mean, I wanted a huge cheesy flavour in my scone!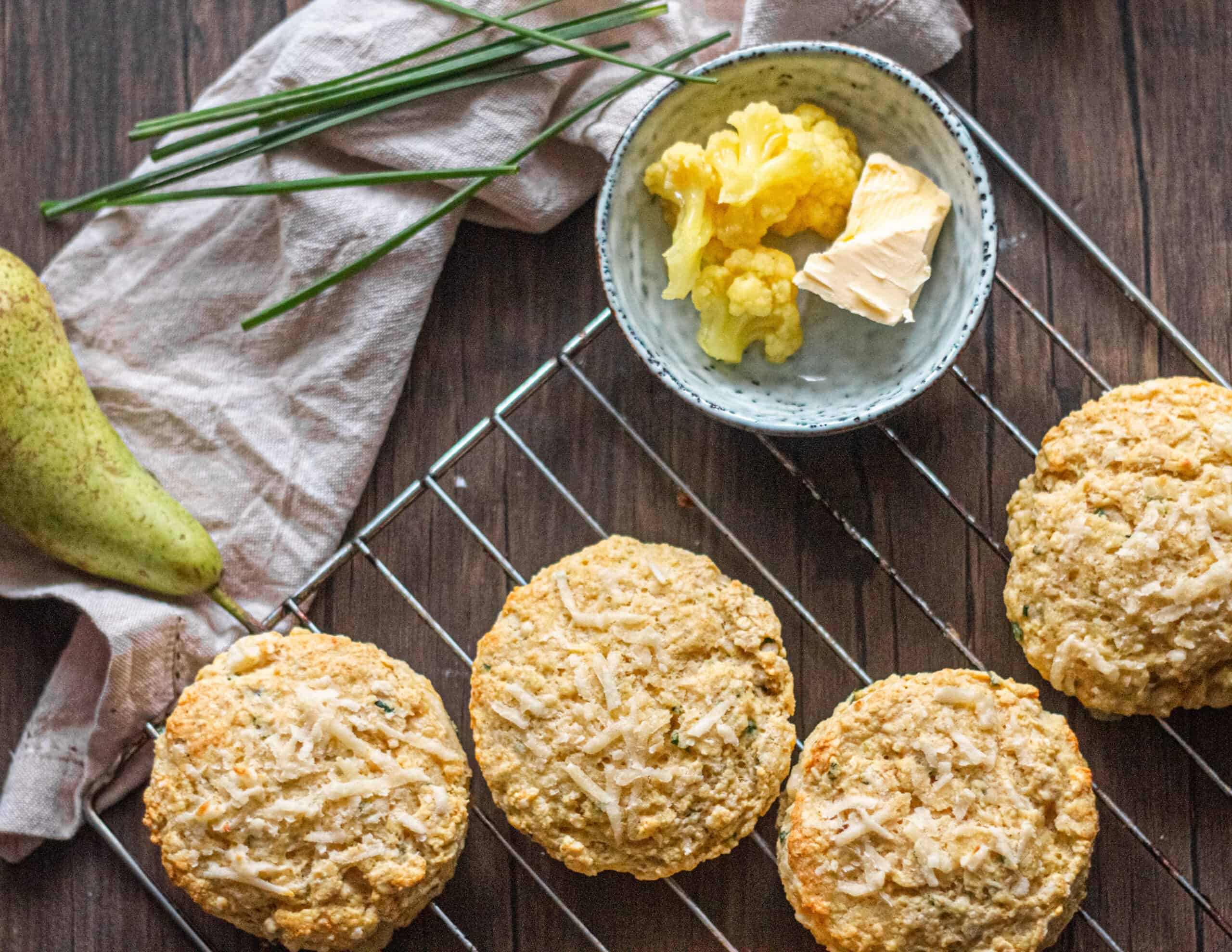 To digress slightly, I have always wondered what the difference is between a scone, and it's American counterpart, the biscuit. If you are a Brit, you will know a cookie as a biscuit, and a biscuit as a scone. And Cookie/Biscuits are nothing at all like scones.
However, the American Biscuit is like a flakier scone, they often come cut into wedges, rather than circles, and are found with a myriad of different flavours. And so I think the main difference is simply a ratio thing: there is more fat to flour content, so you have a much flakier dough. The British Scone is sturdier, less flaky and more primed to hold copious amounts of filling. Dawn Perry wrote a very funny article on Scones vs Biscuits for Bon Appetit, you can read it here.
When I was first vegan, some 10 years ago, plant-based cheese was not as entirely successful as it is today. It didn't really melt and it could taste kind of funky. It is really amazing how much plant-based food has improved over the years, and I am so thankful for the vegan consumer market increasing and forcing this demand and quality to be constantly improved.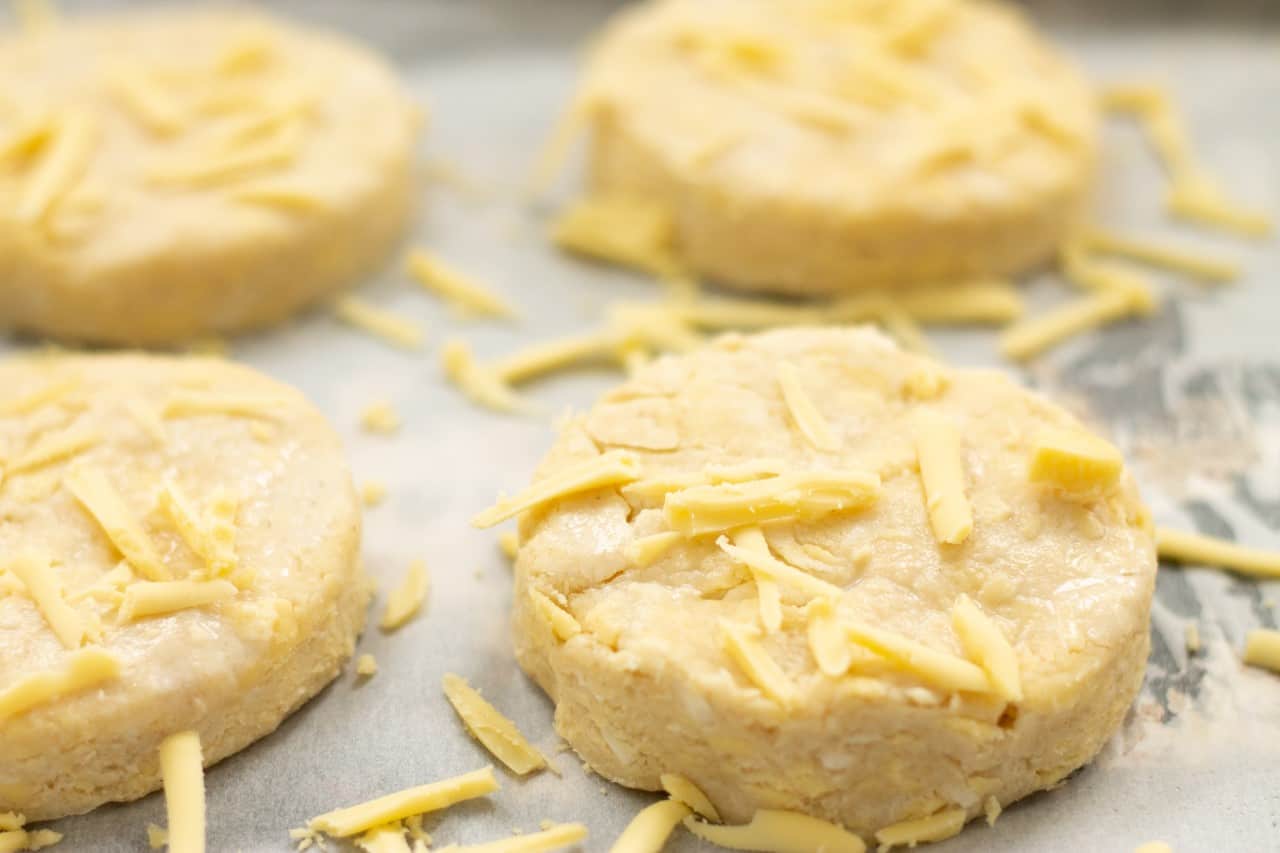 Today though, you can take your pick of vegan cheese, and use your favourite. There is blue cheese, spicy cheese, red cheese, greek-style cheese, you name it! I like a combination of blue and cheddar style cheeses for scones, they have the right amount of flavour and melt.
The recipe I'm using here is a version of Mary Berry's, refined by the English Kitchen and veganised by myself. I originally used an online recipe for just vegan cheese scones and it turned out horribly. I won't name the website I got the recipe from. I have an inkling that I had an ingredient issue (Flora Plant-Based Butter is not very good in baking) and an overworking issue. My mum sensed by inherent annoyance at a spoiled batch of scones (no rise, rock hard, still tasted good), and suggested "good old Mary Berry", so that's who I turned to.
My veganisations for how to make easy vegan Cheese Scones were fairly simple: the cheese and the egg, which I replaced with 1/4 cup of vegan yogurt (make sure to use plain, preferably not coconut, and as thick as you can get it).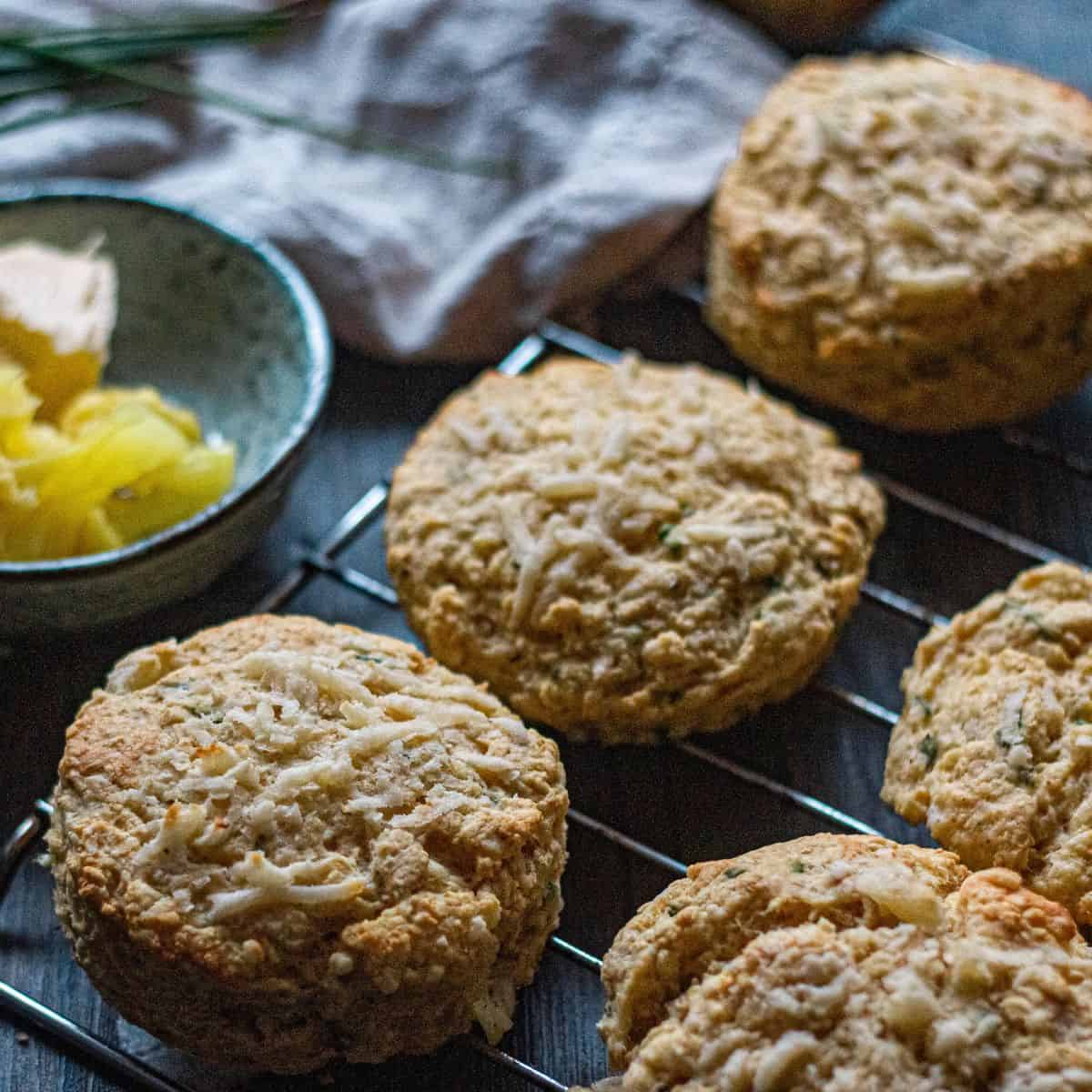 I also added an additional half teaspoon of baking powder (soda), to help with the rise. The result was a delicious, flaky (but not too flaky) scone, with a deliciously savoury flavour. They lasted a couple of days in the fridge, and are also freezable!
I recommend if you want to keep them in the tin for longer, they will be fine, but will start to get a little dry, so just microwave them for 10-15 seconds or so and that will refresh them.
Try my other delicious vegan baked recipes
How to Make Easy Vegan Cheeze Scones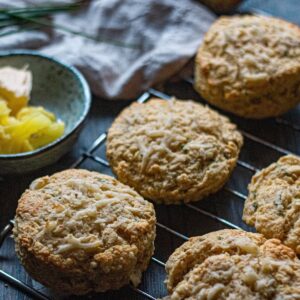 A quick recipe to whip up a delicious batch of vegan cheese scones!
Ingredients
2

cups + 1 tsp

Self-raising flour

2

tsp

Baking Powder

½

tsp

Mustard

-

Dijon is great

2

tbsp

Chives

-

fresh, chopped

½

tsp

Cayenne Pepper

2

tbsp

Margarine

-

or vegan butter, very cold

1¼

cups

Vegan cheese

-

grated. (I like to use a mixture of blue and cheddar-style), plus a little extra for grating on top

¼

cup

Yogurt

-

vegan, unsweetened

¼

pint

Soy Milk

-

unsweetened
Instructions
Line a baking tray with greaseproof paper, or lightly grease a non-stick sheet.

Sift the dry ingredients into a large bowl.

Using a gentle rubbing motion between your fingertips, rub the margarine into the flour until you have a sandy texture. Work quickly and lightly so as not to melt the margarine.

Stir in the cheese and chives very gently.

In a jug, mix together the yogurt, mustard and milk.

Pour this into your dry mixture, and using a knife, cut into the mixture until it starts to form a crumbly dough.

If you find your dough is still very crumbly and will not come together, add a little cold water, a half teaspoon at a time.

Once the dough starts to form, turn out onto a floured surface.

Roll it gently into a round, about an inch deep.

Cut out rounds using a pastry cutter or even, as my grandma used to use, a glass! You may need to push the dough together to get 6 scones out of the mixture.

Place on your prepared baking sheet and brush with some soy milk. Sprinkle with a little grated cheese.

Bake for 15 minutes until risen and lightly golden.

Remove from the oven and enjoy warm and spread with some vegan butter!
Please note that where the recipe asks for milk, butter or yogurt, this refers to any plant-based version that you prefer.
Nutrition Facts
How to Make Easy Vegan Cheeze Scones
Amount per Serving
% Daily Value*
* Percent Daily Values are based on a 2000 calorie diet.
Try my fruit scones here or Floured Frame's amazing Sweet Vegan Matcha Scones here!