The Best Vegan Chocolate Chip Oatmeal Cookies
This post contains links to affiliate websites, such as Amazon, and we receive an affiliate commission for any purchases made by you using these links. We appreciate your support!
These Vegan Oatmeal Chocolate Chip Cookies are a delightful treat for anyone looking to indulge in delicious plant-based baking. Made with wholesome ingredients, these cookies are not only vegan but also incredibly tasty. The combination of chewy oatmeal and rich chocolate chips creates the perfect balance of flavors. Whether you follow a vegan lifestyle or simply want to try something new, this recipe will surely satisfy your sweet cravings. Grab your apron and get ready to bake these irresistible cookies!
Pin my Vegan Chocolate Chip Oatmeal Cookies to make later!
There is nothing more comforting than vegan chocolate chip oatmeal cookies: they taste so much better when they're vegan. There a lot of vegan oatmeal cookie recipes out there, but this one is particularly delicious.
I used to love spending every spare minute cooking. I pickled Piccalili, I stirred-up on Sunday, I glaced marons, I candied peel and I'm pretty sure I even brandied quinces. I did all this whilst working full-time and blogged about it every day too, hundreds of words at a time!
Where did I find the energy? Fourteen years ago, I was a housewife, working in a dull office, living in a tiny unrenovated terrace cottage, thinking all the time about cooking and baking. If I found a recipe at lunchtime I liked, I'd be cooking it by 7pm that night.
These days I'm a little more careful, a bit more considerate with my time and what I cook. I was known amongst the blogging community as an adventurous cook, and I made such interesting delicacies as pigs head, trotters, goat, laverbread. Anything weird (for the early 2000s at least) I could find, I would cook it. As most of you know, I am pretty much entirely plant-based now, although I do still eat the odd piece of cheese or milk chocolate. I like to cook food I know I'll enjoy, I want to spend my time on yummy not weird.
Although my brain still conjures up crazy ideas apace, my medication is a timely reminder that I need to sometimes step back and assess things before I jump. Cooking is less impromptu for me now, and I find I need to plan more, and muster up a bit more energy than I did in those hedonistic pig-trotter days. My medication also reminds me that I don't have to do everything at breakneck speed (although the idea that every minute needs to be utilised in a functional manner will never leave me), and that cooking is a hobby, a love: a love to be savoured and enjoyed.
These holidays I baked cookies. Nothing flashy, just Oatmeal Cookies, some chocolate, some raisin. Of course, I've photographed them (food is art too!), and will share the results with you. I baked some Linzer Cookies, which I love, and the texture is challenging for the vegan cook. I also made some Florentines, their delicious chewy, poshness woo everyone at Christmas or if you give them as a gift.
I have also been working on a very special vegan cookbook, just cookies, and just one dough. You will be able to subscribe to that shortly and, best of all, it's free! It's a thank you for everyone's ongoing support for this little foodie blog. For now, enjoy the photos that I spent some time on, but more importantly please: read on to see how to make delicious vegan chocolate chip oatmeal cookies.
What are Vegan Oatmeal Cookies?
Of course, my best vegan oatmeal chocolate chip cookies are simply delicious, comforting, homely cookies, filled with old fashioned oats, sometimes (in this case) vegan chocolate chips and often walnuts or raisins. They have a chew middle and crispy edges: the perfect texture for a cookie.
They are a drop cookie, which means no moulding or rolling. They have a quick baking time so you can have a batch ready almost as soon as the craving has hit. Simple and yummy.
Ingredients and Substitutions
This recipe uses simple ingredients that we all have in our store cupboard.
Oats or oatmeal. I like to use old-fashioned rolled oats but you can use quick oats. You could also use steel cut oats but they do have a coarser texture, so the overall cookie may be a little denser.
Soft brown sugar and white sugar. One adds flavour and chewiness, the other adds a deeper sweetness and crispness. You could use coconut sugar instead.
Flour. I use plain flour, you could use gluten free all purpose flour, or even oat flour for an additional oaty hit!
Baking Powder
Vegan Butter: use your favourite brand.
Maple Syrup. Again this adds texture and chewy texture to the cookie, along with it's distinctive flavour.
Flax egg made with 1/2 tbsp ground flaxseed whisked up with 1 tbsp water.
Vanilla Extract. I can't think of any vegan cookies that don't use vanilla extract!
Dairy-free Chocolate Chips, vegan
Walnuts (optional)
This is ONLY a list of ingredients for the recipe; please see recipe card below for complete printable recipe.
Method
In a large mixing bowl whisk the flour, salt and baking powder.
Stir in one cup of the oatmeal.
In a blender, whizz up the sugars and remaining oatmeal.
Using a hand whisk, stand mixer or electric mixer, blend butter and maple syrup in a large bowl for a couple of minutes.
In two lots, add the dry ingredients of flour, salt, baking powder and unprocessed oatmeal.
Then mix in the flax egg, vanilla and sugar/oatmeal blended mixture.
Fold in the chocolate chips and walnuts (if using).
You will have a very stiff cookie dough. Note: if dough seems too thick or you still have patches of flour showing (you shouldn't), add a little almond milk or non-dairy milk.
Line a cookie sheet with parchment paper.
Using a cookie scoop or spoon, scoop dough, dropping them onto the baking tray. You can make larger or small cookies, depending on how many you want to make.
Side note: If you want your cookies to be a little more uniform, lightly dust your hands with flour, and roll between your hands into cookie dough balls.
Gently flatten cookies a little.
Bake cookies for between 10-12 minutes or until lightly golden brown.
Leave to stand for a minute before placing on a wire rack to cool.
These will keep for 7-10 days in an airtight container
FAQ
Can I make the dough beforehand?
Yes you can make the dough the night before: cover dough in the bowl with clingfilm and refrigerate.
Can I Freeze this Cookies?
Yes! Wrap tightly in clingfilm, then place in a ziplock bag and freeze for up to 2 months.
Try my other delicious vegan cookies
Vegan Chocolate Chip Oatmeal Cookies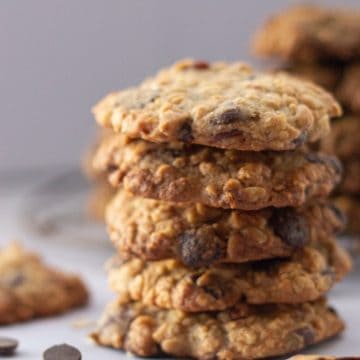 A simple and delicious oatmeal cookie
Equipment
Mixing Bowl x 2

Electric Whisk

Baking Sheets and Paper
Ingredients
1¼

cups

Oatmeal

coarse

6

tbsp

Brown Sugar

soft

⅙

cup

White sugar

¾

cup

Plain Flour

or Gluten Free

½

tsp

Salt

¼

tsp

Baking Powder

100

g

Butter

vegan

1

tbsp

Maple Syrup

½

tbsp

Ground Flaxseed

whisked with 1 tbsp water

1

tsp

Vanilla Extract

1

cup

Chocolate Chips

1

cup

Walnuts

or pecans, coarsely chopped
Instructions
In a bowl, sieve together the flour, salt and baking powder. Add 1 cup of the oatmeal and mix.

In a blender, process the white and brown sugars, along with remaining ¼ cup of the oatmeal, until fine.

In a large bowl using hand whisk or food mixer, blend butter and maple syrup. Then add the blended oatmeal/sugar mixture in two lots until blended. Add flax egg and vanilla, mix for another minute.

Incorporate the dry ingredients in two lots until thoroughly mixed, then, using a wooden spoon, fold in the chocolate chips and nuts. The mixture will be pretty stiff at this point.

Roll the mixture into balls, you can make them as large or as small as you like, I like to make them slightly smaller than golf balls. Place them onto a lined baking sheet and flatten them down. They won't spread out much during baking, so again you can choose to make them as chunky or flat as you want.

Bake for between 10-12 minutes or until just turning light golden. Don't overbake!

Cool on a wire rack, then eat!   
Nutrition Facts
Vegan Chocolate Chip Oatmeal Cookies
Amount per Serving
% Daily Value*
* Percent Daily Values are based on a 2000 calorie diet.