Ninja Air Fryer Roasted Carrots with Vegan Labneh
Roast air fryer carrots with vegan Labneh. I love finding new things to cook in my air fryer, and to be able to roast veg on a warm day without putting the oven on is a dream come true!
I don't know about you, but sometimes I just don't know what to cook at weekends. Do I want to spend a long time cooking, or do I want something quick and satisfying? The days when I could spend all weekend cooking and blogging are long past, and now I'm happy to utilise tools to make cooking easier for me.
Ninja UK (affiliate link) recently gifted me a Foodi Max 9 in 1 Multi Cooker, and I've been experimenting with different ways to use it.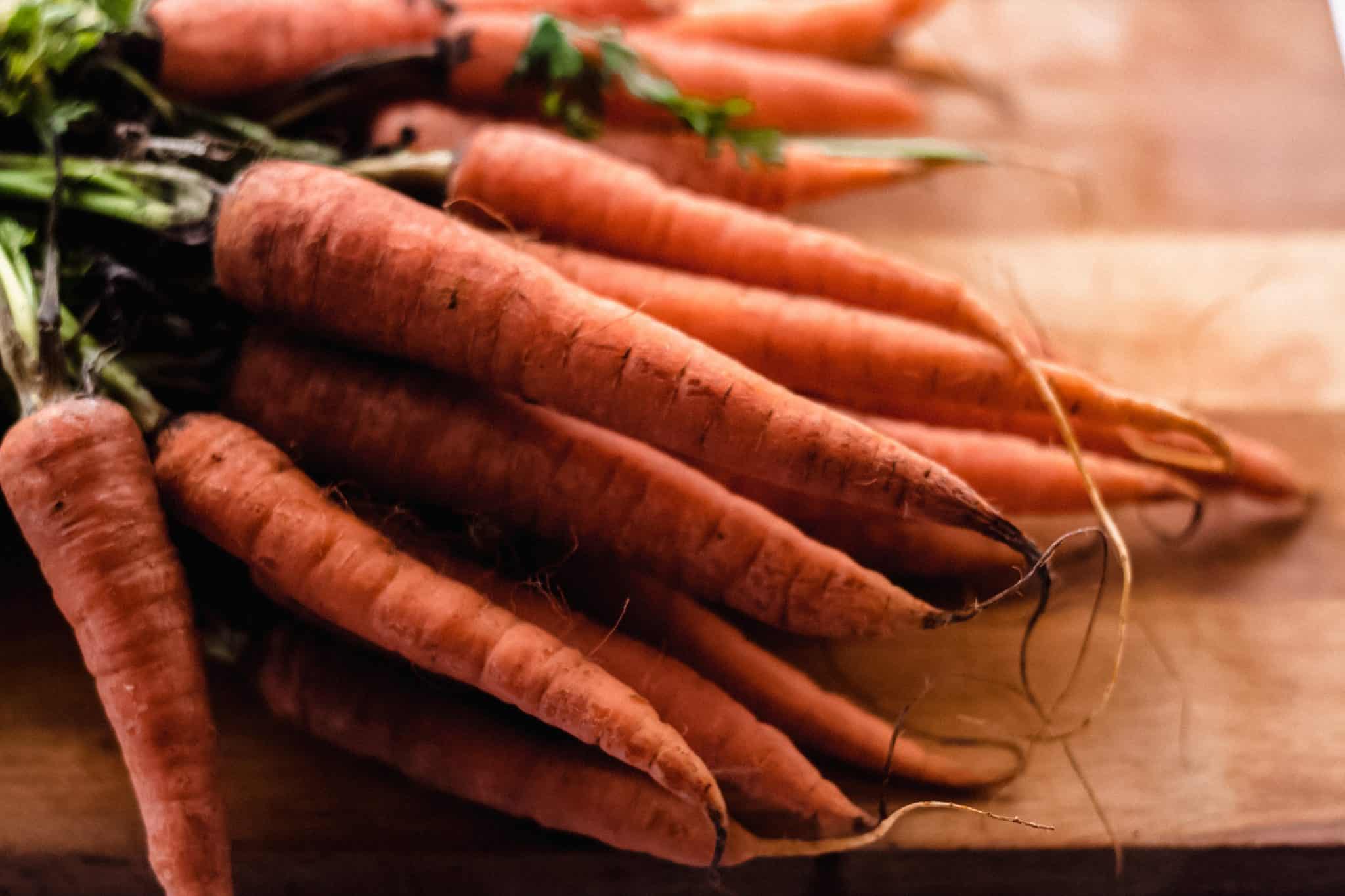 The Multi Cooker has pros and cons, as with any "do it all" kitchen gadget. I love that it is versatile, and that everything I have cooked in it has been cooked quickly and exactly as I want it. However, I find it cumbersome and unsightly in my tiny kitchen. Because it is pretty heavy, once you have it place, you don't really want to move it.
So, I'm very torn about it and I think it's important to note that, despite being great at cooking, it might not be aesthetically suitable for everyone or the size might not be convenient.
For those of you who are on the fence about purchasing one, I'm going to share some of my successful recipes here, and hopefully make them adaptable for people who don't have a Ninja and want to use an oven instead.
My cumin-spiced easy air fryer roast carrots with Labneh is a perfect dish for when you want to serve something a bit different to just usual hummus and veg, and has a perfect autumnal feel. The high heat of the air fryer ensures that the carrots are perfectly roasted, sweet, caramelised and delicious!
I have made my recipe to serve two people, it doubles up easily for more.
Ingredients
Carrots. I like to use baby carrots, but if you prefer, use a larger carrot cut into chunks for a quick cooking time. They will still be deliciously sweet and tender!
Olive Oil, or cooking oil of your choice.
Cumin Seeds. These add a subtle middle-eastern flavour to the carrots. You can use your favourite spice mix instead!
Sea Salt and Black Pepper, for seasoning.
How do you make Roast Carrots in a Ninja 9 in 1 Air Fryer (or any air fryer)
This is an incredibly easy recipe.
Set your Ninja to Air Fry, 200c. Preheat for 5 minutes whilst you prep carrots.
Clean and trim your carrots. I love to use the spindly baby carrots that come tied in bunches, but any will do. If they are larger, you will need to adjust your cooking times slightly.
Dry them on kitchen roll.
In a large bowl whisk together olive oil, salt, pepper and cumin seeds. Feel free to change this up and add your own favourite seasonings.
Throw in the carrots and coat well in the mixture.
Place carrots in the basket of the Air Fryer, in one layer, and cook for about 15 minutes, depending on how well done you like your carrots, or the size of them.
That's it! I love to serve my roasted carrots with my vegan Labneh and vegan beetroot knodel!
I don't have a Ninja, can I use my own air fryer for this?
Yes! The settings should be the same, 200c on air fry or roast function.
Air Fryer Roast Carrots with Cumin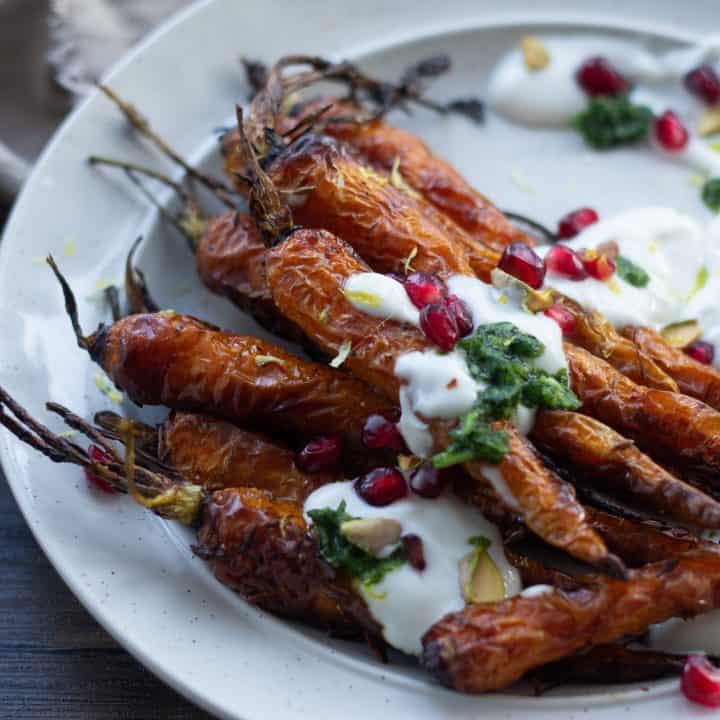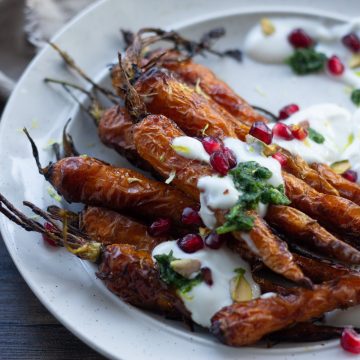 A quick and easy recipe that could be served as a side or a main
Ingredients
Roast Carrots
300

g

Carrots

thin, baby ones preferably

½

teaspoon

Cumin Seeds

1

tablespoons

Olive Oil

½

teaspoon

Sea Salt

Black Pepper
Instructions
Preheat your Air Fryer (set to the Air Fryer function) to 200c whilst you prep the carrots

If necessary, wash your carrots and dry them thoroughly on some kitchen towel

In a large bowl, whisk together the cumin seeds, salt, pepper and olive oil

Toss the carrots in the mixture, making sure they are thoroughly coated

Drop them carefully into the air fryer basket and cook for 15 minutes. If you prefer a crunchier carrot, you may want to cook them for a shorter time. Conversely, if you are using larger carrots, you may need longer.

Once they are roasted, they are ready to serve!
Nutrition Facts
Air Fryer Roast Carrots with Cumin
Amount per Serving
% Daily Value*
* Percent Daily Values are based on a 2000 calorie diet.