How to Cook Salsify
This post contains links to affiliate websites, such as Amazon, and we receive an affiliate commission for any purchases made by you using these links. We appreciate your support!
How to cook Salsify. It's another instalment of cooking with unusual and seasonal ingredients, featuring Salsify this week! With this series, I like to demystify and cook with those ingredients you might have seen at your local farmers market or deli, and had no idea how to use them! Read on to find out what salsify is and for some recipe ideas for salsify.
What is Salsify?
Salsify (Tragopogon porrifolius) is a seasonal root vegetable, belonging to the dandelion family. It has a long tapered root and is either creamy white in colour, or the Spanish variant, which is black (scarzonera). It is easily identifiable in the summer by the pink, daisy-like flowers.
You can eat the leaves raw and freshly picked, but it is the root that was once a highly prized food source, dating back to Roman times. It was thought in the middle ages that it could even cure snakebites!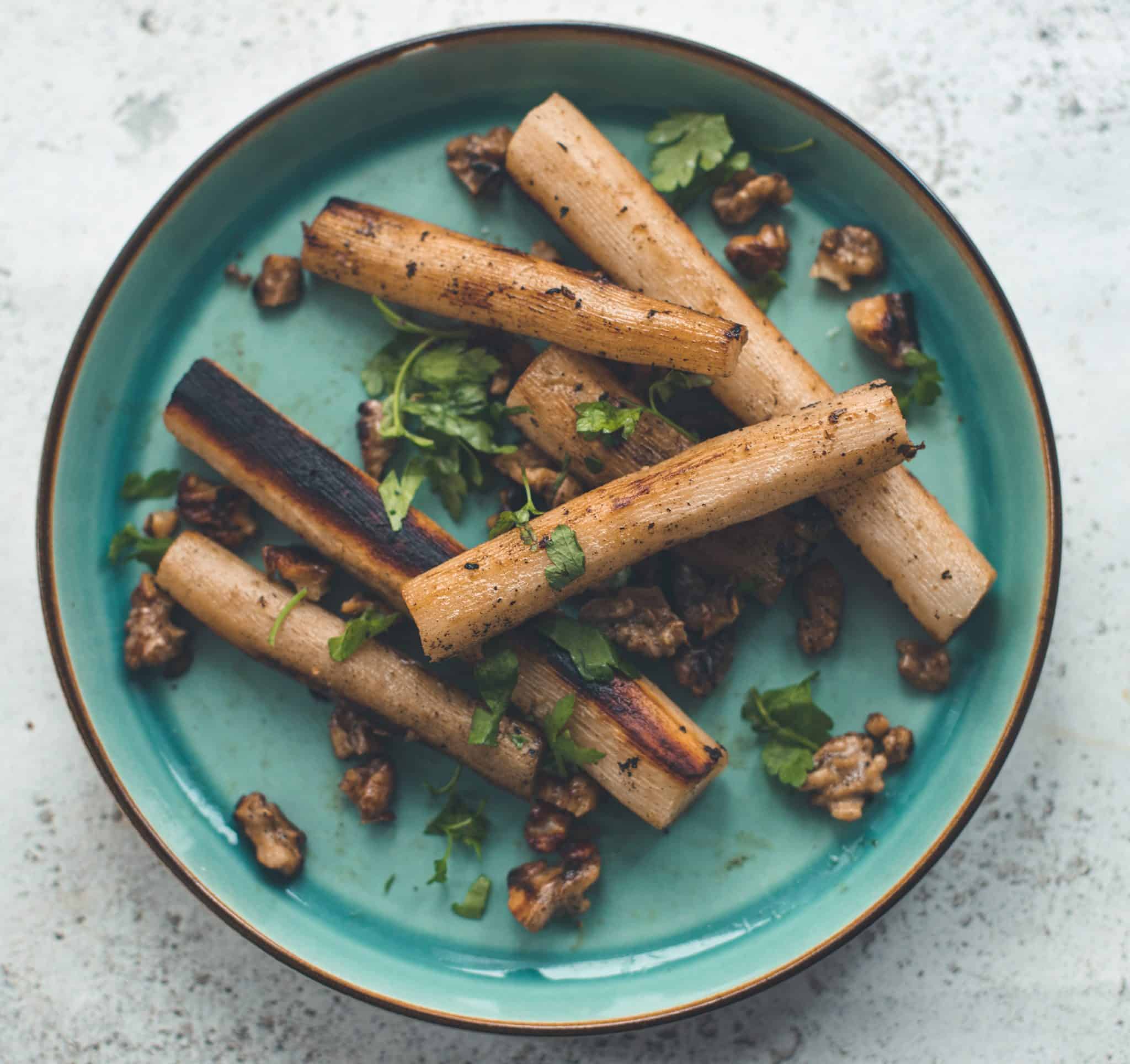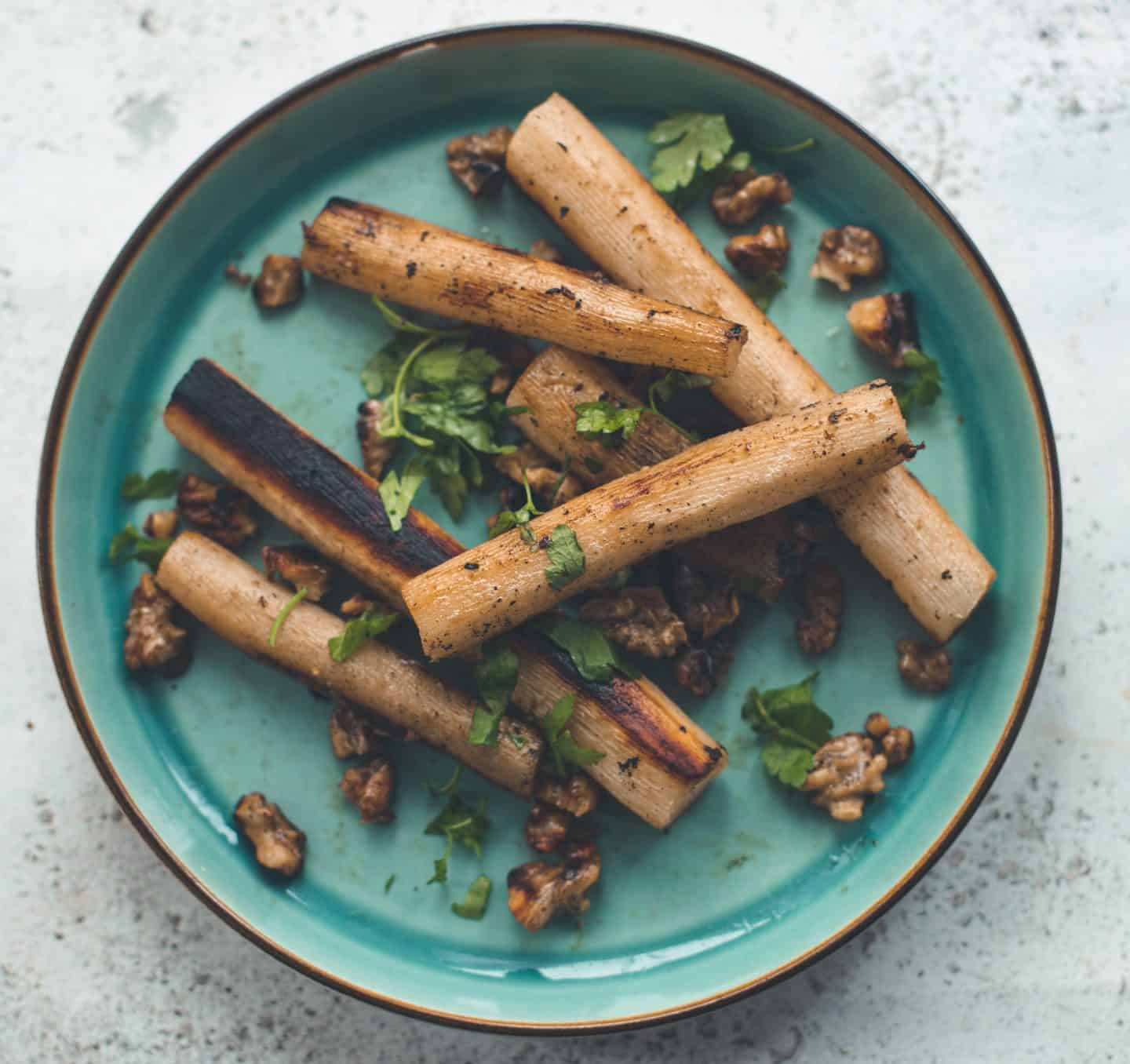 It is very high in minerals, much like carrots and parsnips, and has a similar flavour and texture, although less sweet. In fact, it is more akin to the subtle, nutty taste of Jerusalem Artichokes. It is sometimes referred to as the "oyster plant" because of it's visual similarity to oysters when prepared.
Today it is not a plant that you will see lining the shelves of your local supermarket, but you might be lucky and catch some from a particularly adventurous deli or, like me, buy from Natoora. I am also in the process of persuading a work colleague to try and plant some seeds for me in her allotment, so watch this space.
How do you prepare Salsify?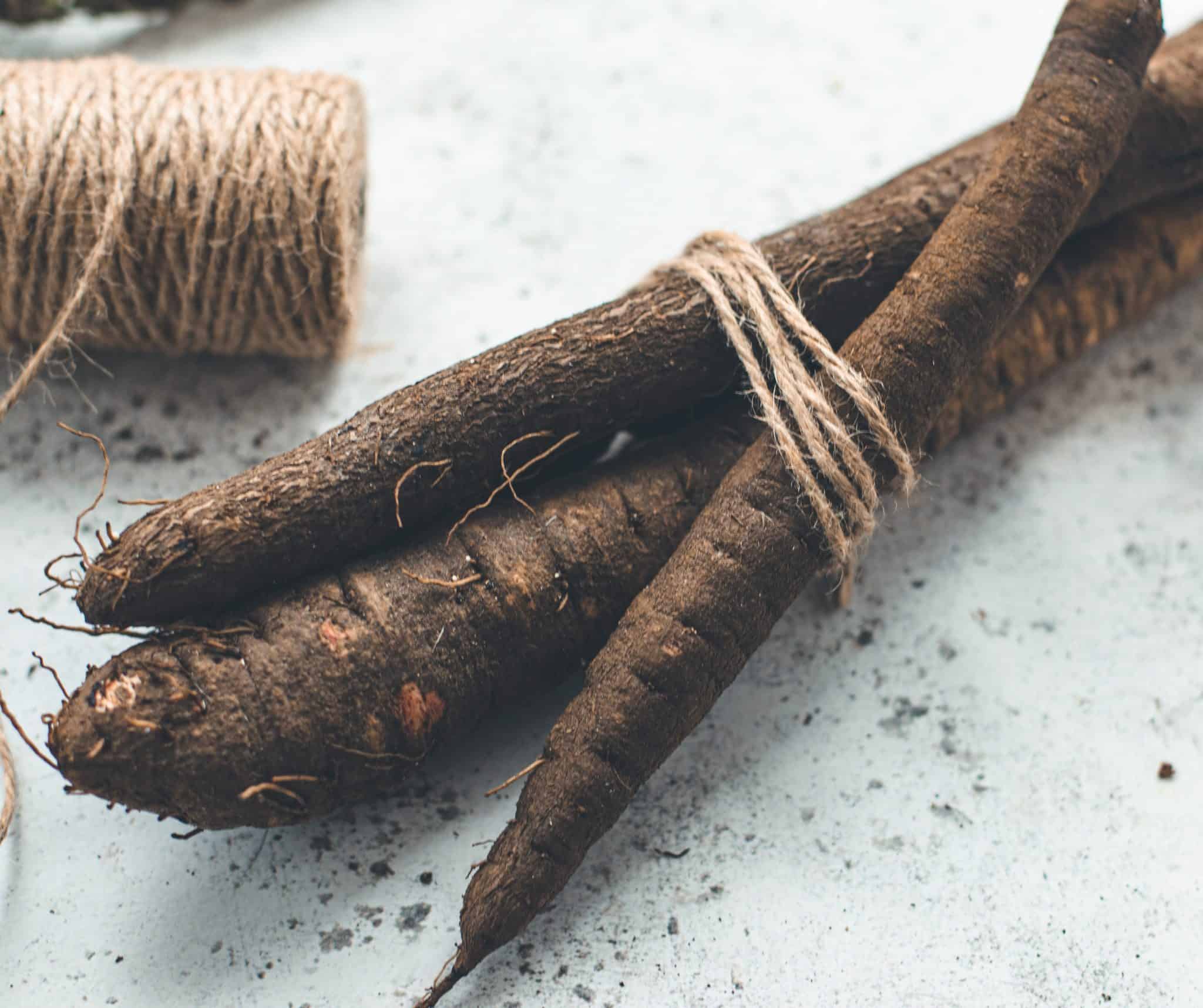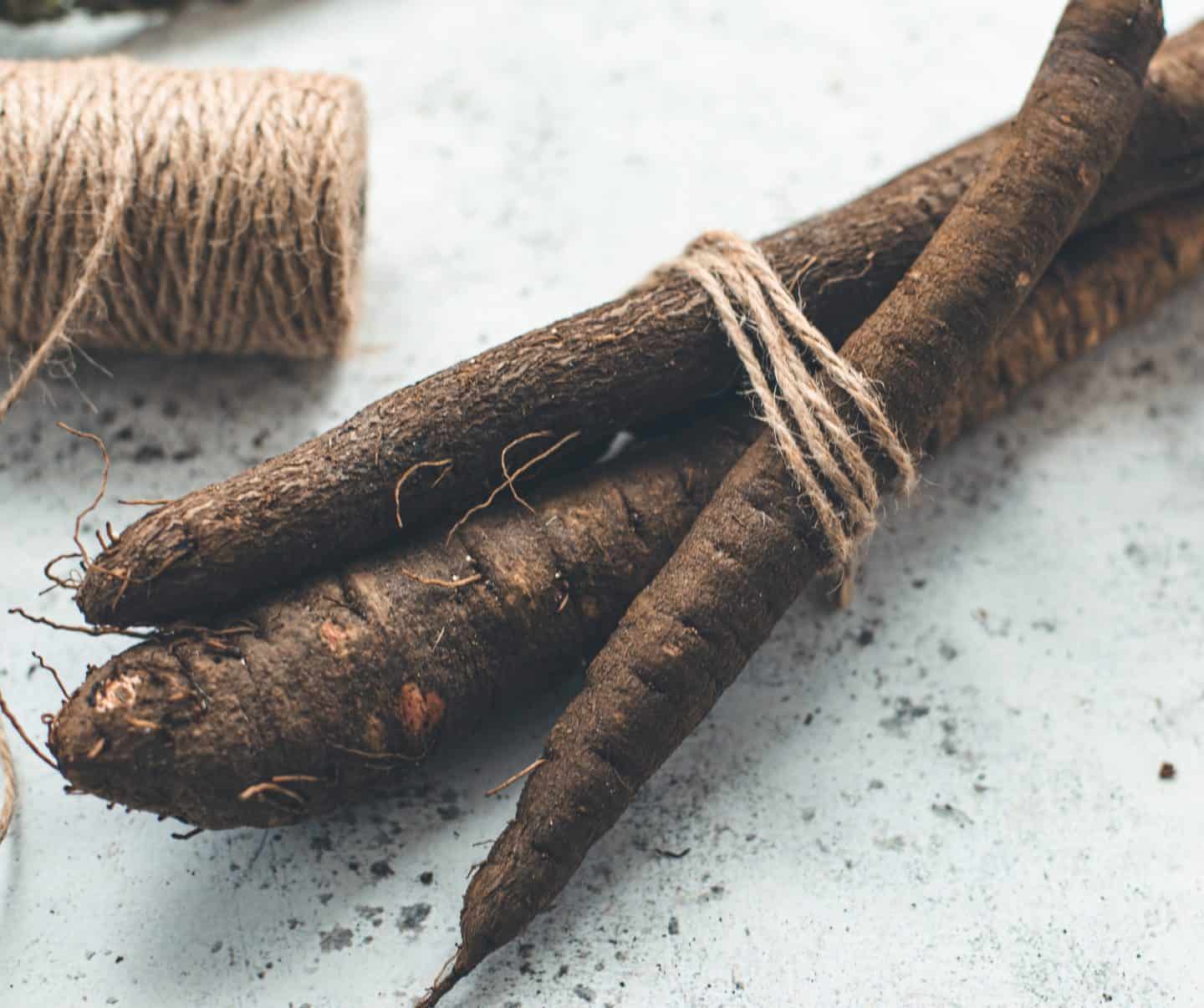 Again, like parsnips or carrots, they are best roasted or mashed. However, I have given two recipes below for braised and "chipped" salsify.
To prepare salsify, you need to give it a good scrub to remove any loose soil, then, using a vegetable peeler, remove the outer peel.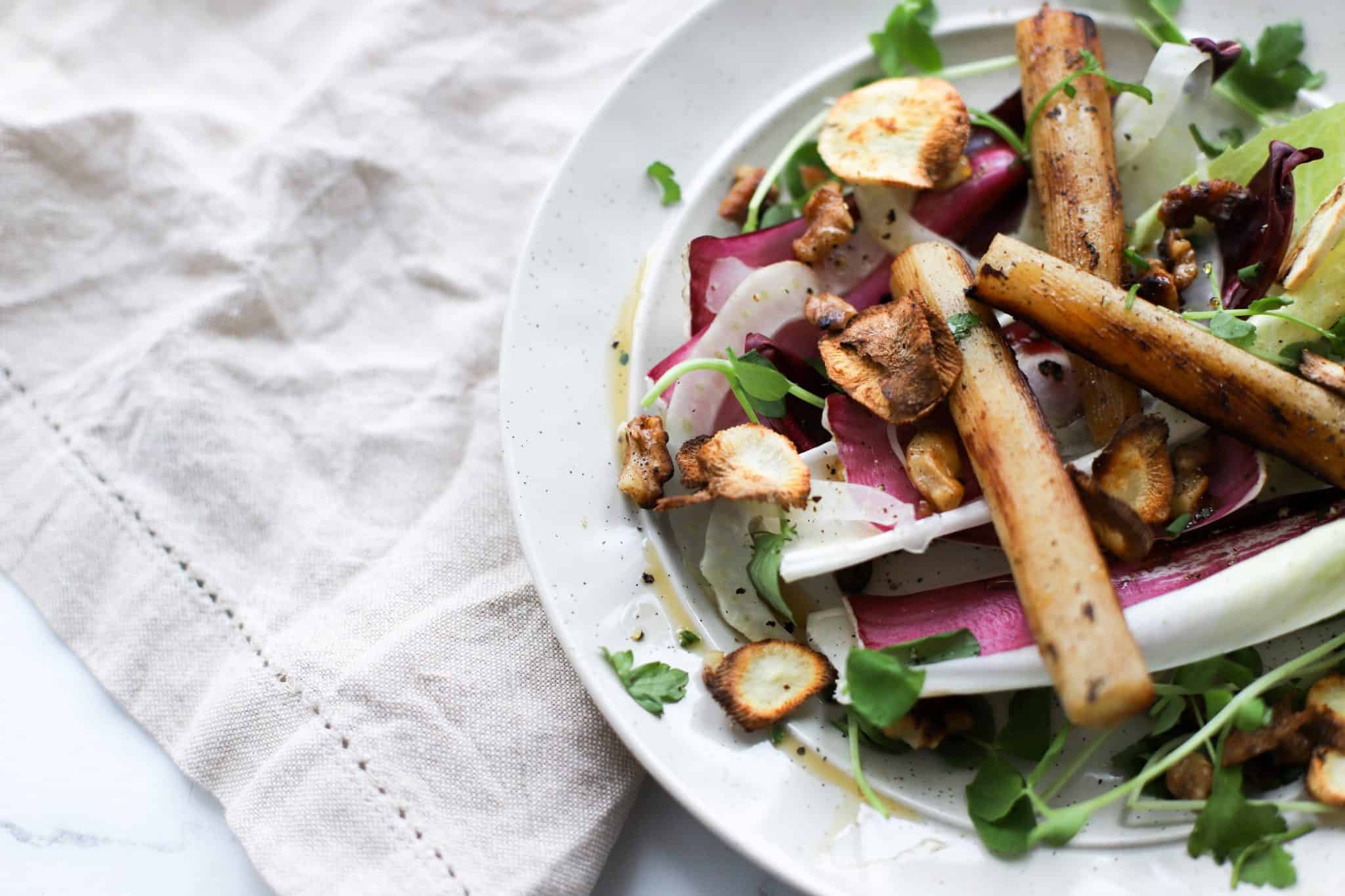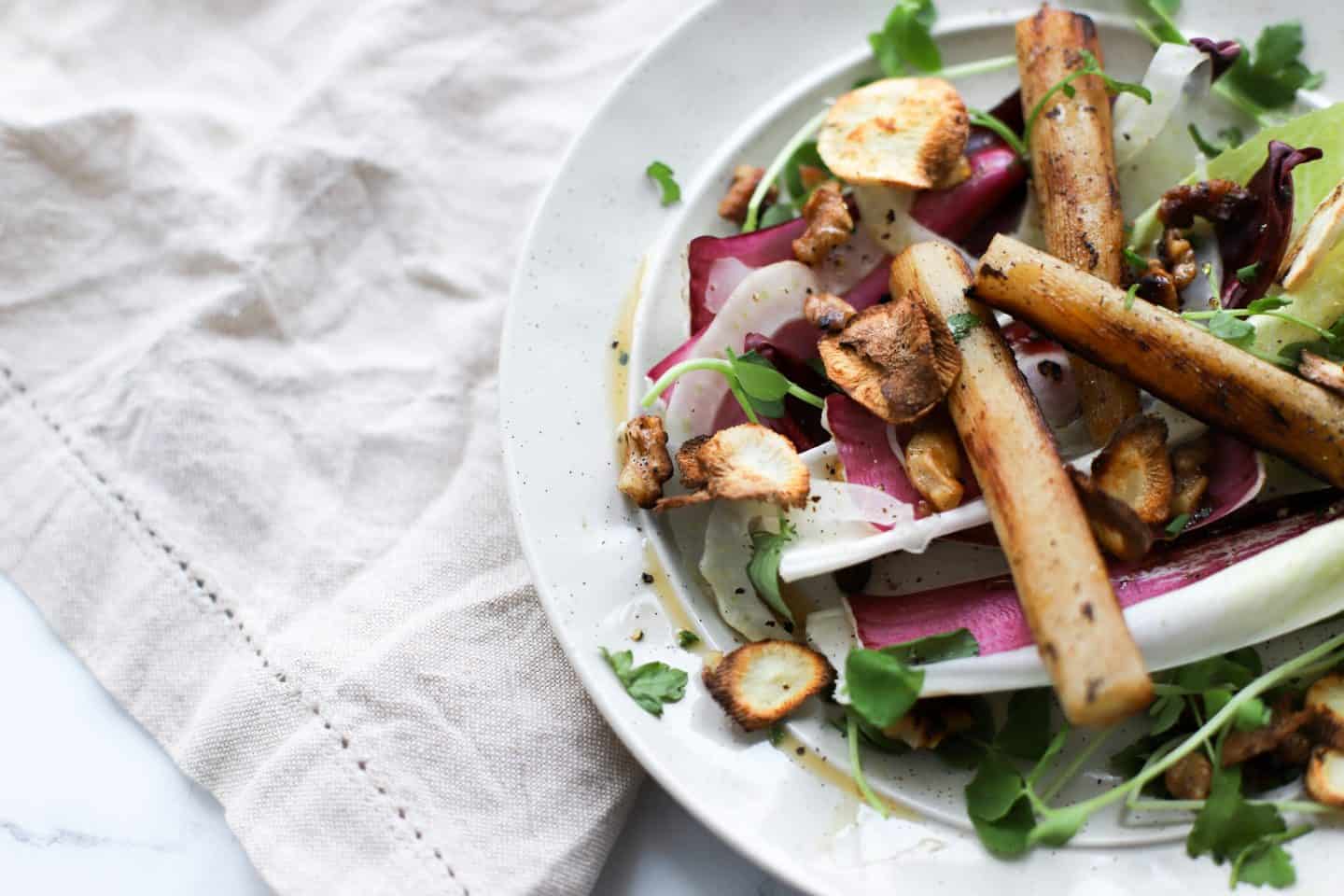 This is the stage where you can either cut into chunks ready to boil in salted water (for mashed salsify), or parboil and then roast them in a hot oven. I think they would also be delicious prepared like vichy carrots, simmered with vegan butter and brown sugar. Of course, in my kitchen, there is very little that brown sugar and vegan butter can't improve!
For my braised Salsify, I steamed them first, rather than boil. Steaming gives you a similar texture to boiling but you retain the nutrients. When you boil veg, you lose a lot of the useful minerals in the water.
Once the salsify is knife-tip tender, I sauté them in olive oil, then add some maple syrup and walnuts. Much like parsnips, Salsify becomes alive when you add something sweet to it!
I then serve these braised, toasty lengths of salsify on a bed of bitter salad leaves, like chicory or radicchio.
Try my other delicious vegan vegetable recipes
Or follow my unusual ingredient journey here!
Braised Salsify with Maple Walnuts and Salsify Chips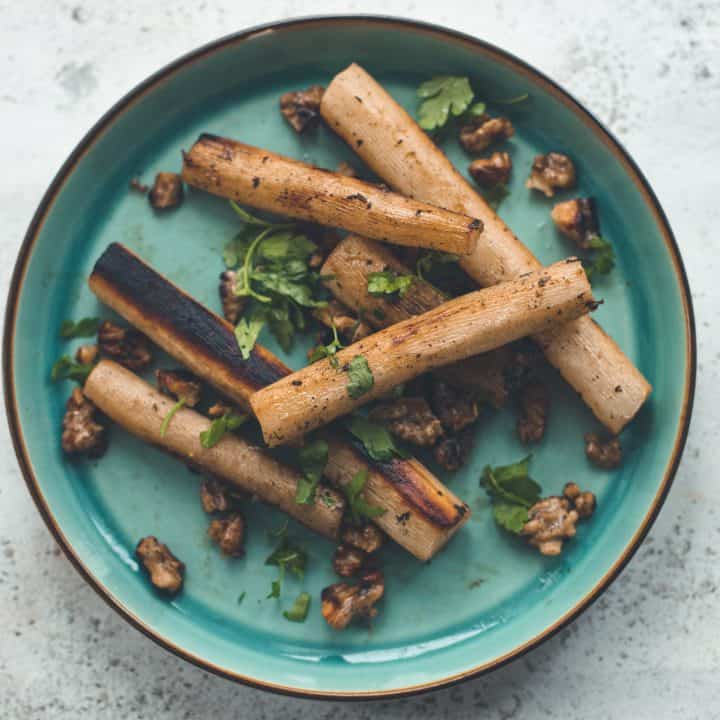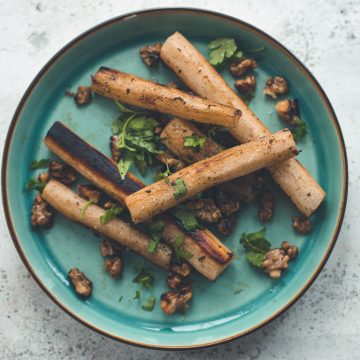 How to prepare Salsify two ways
Ingredients
4

Salsify

roots

2

tbsp

Olive Oil

1

tbsp

Maple Syrup

3

tbsp

Walnuts

chopped

1

tsp

Parsley

finely chopped

Salt and Pepper
Instructions
To make Braised Salsify with Maple Walnuts
Peel your salsify, and cut it 3" long chunks

Steam it for about 10 minutes, or until knife tender. I steamed mine in my Ninja Foodi but however you steam veg is fine.

Drain and dry on paper towel.

Heat olive oil over medium heat in a frying pan and add the salsify.

Saute on all sides until it is golden in colour.

Add the walnuts and maple syrup to the pan and quickly toss everything together.

Sprinkle with chopped parsley and season for taste.

I love to serve this on a bed of leaves, but it also makes a delicious side dish.
To make Air Fryer Salsify Chips
Cut your prepared salsify into thin rings.

Soak in a bowl of cold salt water for 15 minutes. This removes the starch and prepares them better for crisping.

Preheat Air Fryer to 190c.

Drain and dry your salsify rings on kitchen paper.

Place in a bowl and sprinkle with salt, pepper and spray with a little oil

Arrange in your air fryer in one layer, and cook for between 10-15 minutes, or until golden. Repeat if you have more salsify to cook.
Nutrition Facts
Braised Salsify with Maple Walnuts and Salsify Chips
Amount per Serving
% Daily Value*
* Percent Daily Values are based on a 2000 calorie diet.