Broad Bean and Pea vegan Pesto recipe. I have never really been a fan of traditional pesto. Of course, I haven't been able to eat the parmesan-seasoned version for years, but I just dislike the heady, overpowering basil flavour. I know this probably makes me some kind of foodie outcast, but if I see anything with pesto in it, I just envision how that flavour is so strident over everything else.
Jump to:
Don't get me wrong, I love basil, the flavour of it so redolent of summer, and it perfectly complements a Caprese Salad, or other tomato-based dishes. It is also a delightful foil for strawberries, much in the same way that balsamic vinegar is.
It's June, and the fresh peas and broad beans are everywhere right now. If you're lucky, you might know someone who has a huge glut of them they want to unload on you: grab them up! They're easy to pod, blanch and freeze for later on. I found mine in the local farm shop, Stonefields. They are always amazing for their seasonal produce, they are really friendly and open 6 days a week. Furthermore, they are a 2 minute drive from where I work: win/win!
How do you prepare Broad Beans?
I love broad beans, they are so delicious, but honestly, they are the gift that keeps taking, rather than giving! Firstly you have to pod them from their thick, wooly pod, where they're kept together, all rather snuggly. This is how you buy them loose in the supermarket or food market.
Then, cook the podded broad beans in a little salted water (optional). I put them in cold water, bring them up to a brisk boil for a minute or two and then drain them and plunge them into cold water.
Then, you have to pod them a second time! This is also optional, and some people enjoy the taste of them unpodded, but I find the skin on the individual beans is a little tough and is almost impossible to bash up for a pesto. Just gently squeeze each pod, and the brightest green bean will slip out of it's pale green jacket.
As you can see, there is a little effort involved with preparing broad beans. You can buy them frozen, but you will still need to pod the individual beans after cooking. That's why I've made an easy Broad Bean and Pea vegan Pesto recipe: all your effort is concentrated in podding, then you can just blitz the other ingredients together in seconds!
What Is Pesto?
Pesto is a traditional Italian Basil-based sauce, originating from Genoa (hence the name you might see on jars, Pasta alla Genovese). It comprises of Basil, Pine Nuts, Parmesan, Garlic and, of course, Olive Oil to emulsify everything.
Interestingly, the name Pesto is derived from the Genoese Italian, pesta, or to pound or crush. This same derivative also gave us the word pestle, as in pestle and mortar.
Pesto is in fact, a generic term for anything pounded or crushed (in a pestle and mortar, usually), but has become synonymous with the traditional Basil flavour.
Why Isn't Traditional Pesto Vegan?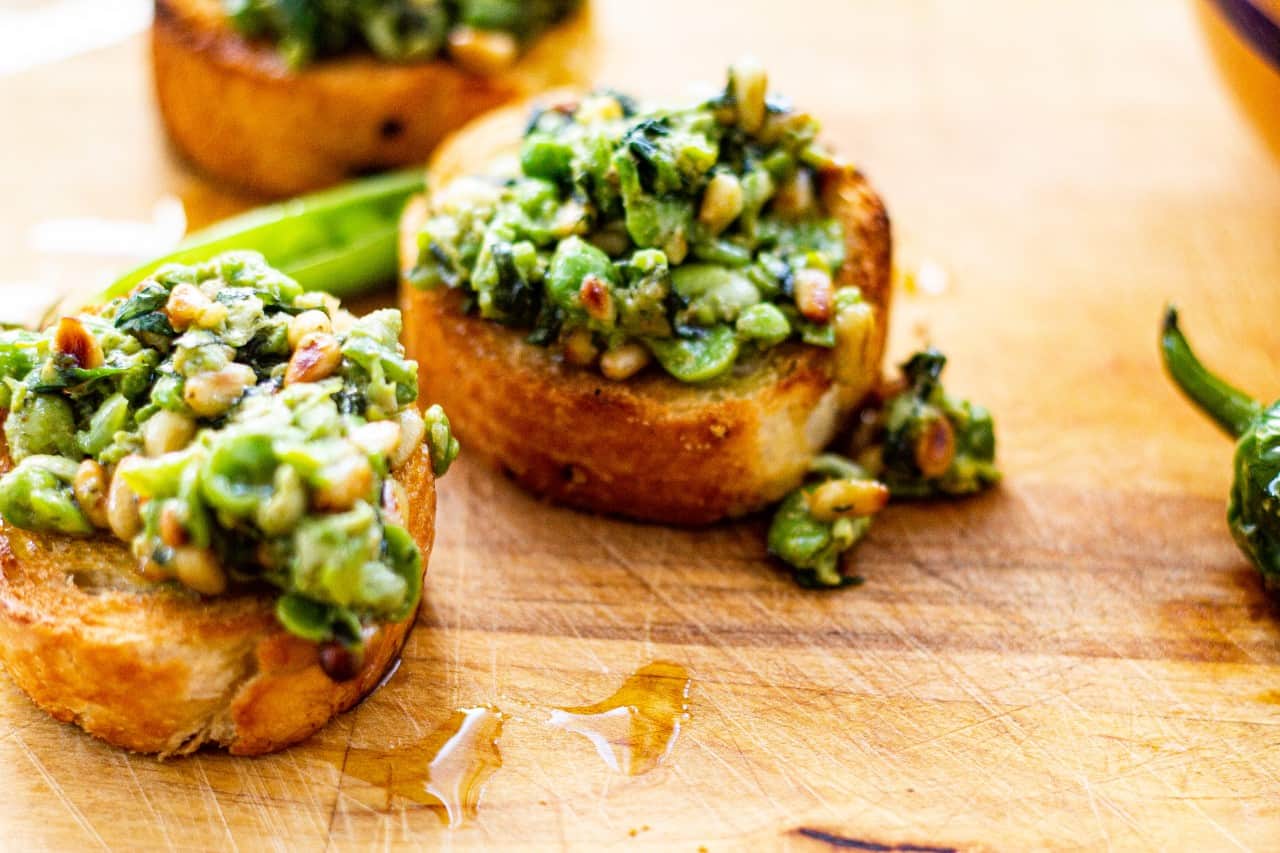 Because one of the constituent ingredients of Pesto is Parmesan (also known as Parmagiana Reggiana) or Pecorino Cheese, many shop bought pestos are not vegan. If you want to try a traditional vegan Genoese Pesto, Seggiano do a fabulous one, available from Amazon (link below), that uses cashew nuts instead cheese.
How Do You Serve Broad Bean and Pea Pesto?
I love to buy a baguette, or any long artisanal bread, cut it into rounds and then toast them. Rub a peeled clove of garlic over the hot toast and then top with the pesto.
Try serving with a variety of different vegetable crudites
Serve as an alternative to guacamole (my boyfriend can't eat avocado so loves this alternative!)
Dolloped in Baked Potatoes
Stirred through hot pasta
Try my other delicious vegan side dishes
📋 Recipe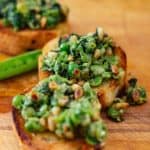 PRINT
Broad Bean and Pea Pesto (Vegan)
A quick and delicious vegan alternative to the normal Basil Pesto!
Equipment
Pestle and Mortar or Food Processor
Ingredients
100

g

Broad Beans

podded and podded again (as above) or use frozen

50

g

Peas

(you can use fresh or frozen)

1

tablespoon

Extra Virgin Olive Oil

1

tablespoon

Nutritional Yeast

1

tablespoon

Pine Nuts

toasted

¼

cup

Fresh Basil

¼

cup

Fresh Mint

salt and pepper to taste
Instructions
Prepare the Peas and Broad Beans as above

In a pestle and mortar, or food processor, add the cooked and podded peas and broad beans, the mint, basil, nutritional yeast, olive oil, pine nuts and a little salt and pepper.

Either bash this mixture up until you get a nubbly texture and everything is amalgamated (if using a pestle and mortar) or blitz just a couple of times in the food processor. You may need to add a little more olive oil if the mixture seems a little dry.

Taste for Seasoning and adjust as necessary

Serve on toasted slices of Baguette to make Bruschetta, or just serve as a dip, with toasted pita bread or tortilla chips.
Nutrition
Nutrition Facts
Broad Bean and Pea Pesto (Vegan)
Amount per Serving
% Daily Value*
* Percent Daily Values are based on a 2000 calorie diet.
Nutritional Information Disclaimer
The automated nutritional information on my recipes can often be inaccurate due to the limitations within the programming. For exact measurements, there are lots of apps and websites that can calculate this information more accurately.
Tried it and Loved it?
Mention @sweeterthanoats or tag sweeterthanoats!