How to make Vegan Lefse
This post contains links to affiliate websites, such as Amazon, and we receive an affiliate commission for any purchases made by you using these links. We appreciate your support!
Vegan Lefse Recipe. A family friend's remembrance of Lefse served during the winter months:
"We're Ericksons. Of course we're gonna add a Swedish dish or two. You may be thinking this pronouncement is a good way to introduce you to lefse, but no. Apparently lefse is Norwegian, technically, not that a technicality ever stopped me from eating it as a kid, but, you know, I had to point it out.
Swedish food always brings back memories of my grandpa Ralph and trips to Al Johnson's Swedish Restaurant with its sod roof populated by frenzied goats, frantically eating grass while balancing precariously.
As a kid, I probably didn't have an appreciation for the boiled potatoes and pickled beets, but I always loved the lefse and nobody questioned the origin then. Who am I to break this tradition?
This vegan lefse recipe comes from my friend Angela Stein in Baraboo. It's her mother's recipe, actually, now veganised. Thanks Angie's Mom!"
What are Lefse?
Lefse are a traditional Norwegian flatbread, made with mashed potato, buckwheat flour and milk. They are rolled out thinly, then cooked quickly, at high heat, on a griddle or, in my case, a large frying pan. They are traditionally served hot, smeared with butter or jam and cream, and are completely delicious!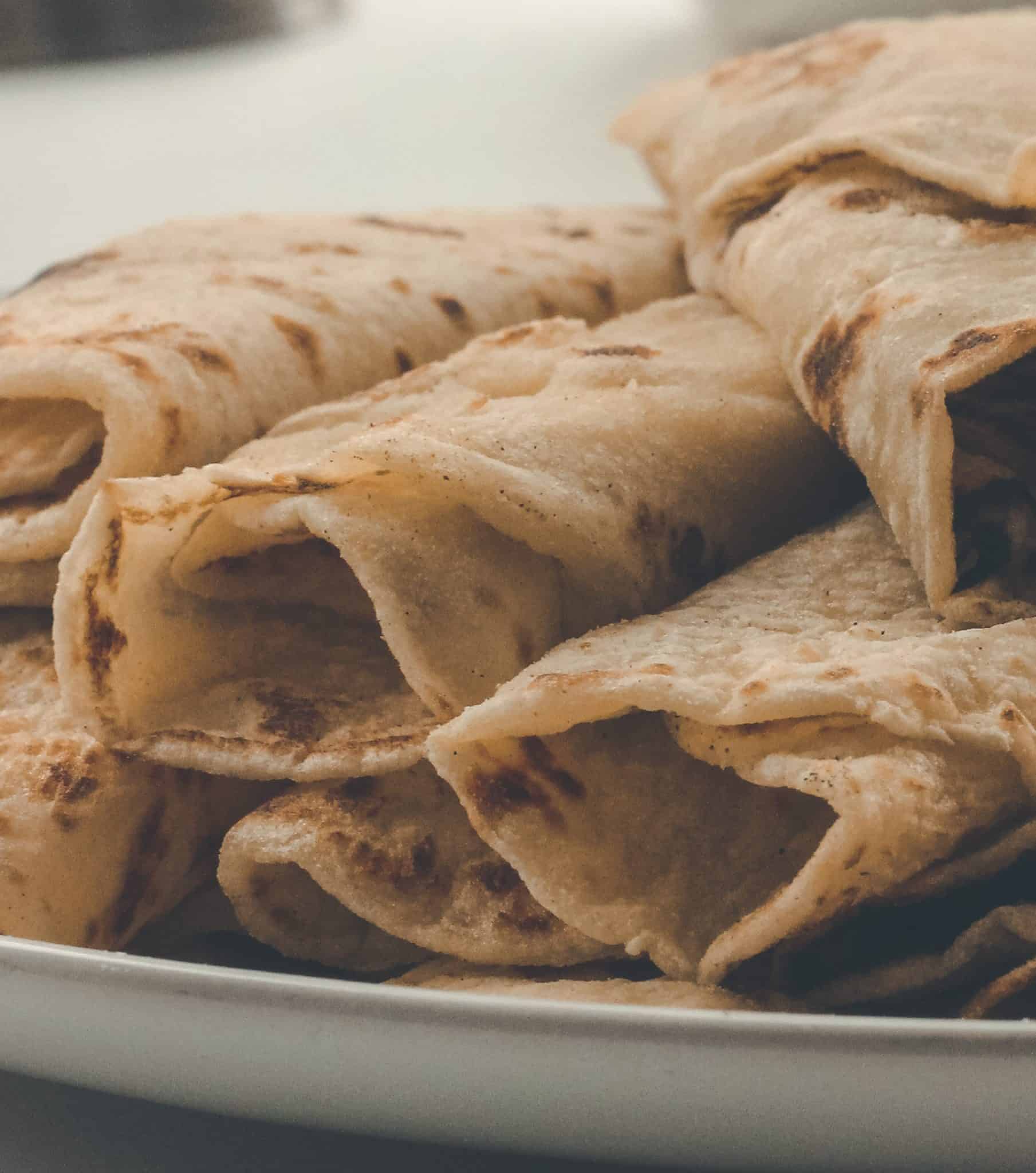 Norwegians don't tend to eat Lefse as much these days, preferring to buy them ready made, but Norwegian-American (like my ex father-in-law) families brought different recipes over with them when they first settled in the US. It has become a popular dish to cook with your family during the festive season.
Megan Walhood discusses growing up with the comforting taste of Lefse, here in this article, and it might give you an idea of how important the idea of tradition still is.
How do you make Vegan Lefse?
They are a flatbread, so no yeast is involved. You take boiled potatoes, mash them up, then make a thick dough by adding flour and milk, a little salt and sugar. Roll out balls of the dough to the thickness of a tortilla, and then cook at high heat on a griddle or frying pan (no oil).
The dough is very soft, so you will need to flour your hands and the surface frequently, try to handle the dough as little as possible.
Can I Use Gluten Free Flour in my Lefse?
Yes, feel free to use your favourite gluten-free brand of plain flour! You may need to add more/less flour though.
Try my other easy vegan breads
Vegan Lefse Recipe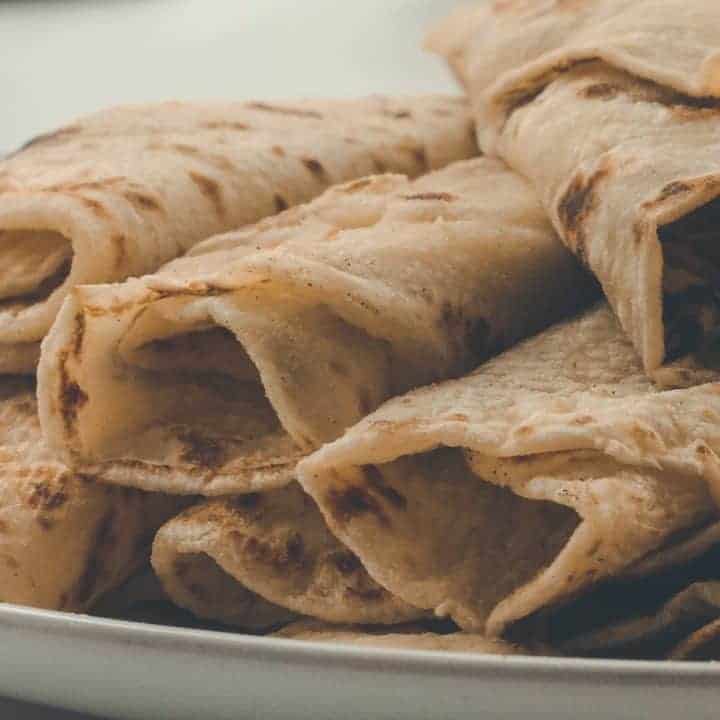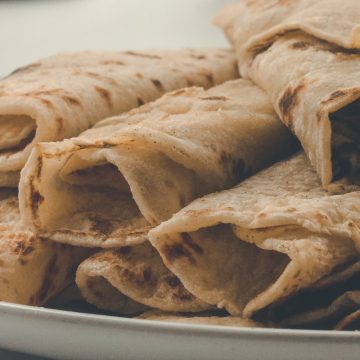 A simple recipe for vegan Lefse
Ingredients
5

potatoes

-

medium, peeled and cubed

¼

cup

butter

-

vegan, cubed

¼

cup

Almond milk

2

tsp

sugar

1

tsp

salt

1½

cups

plain flour

-

or use gluten free flour
Instructions
Cook potatoes in water until tender.

Drain and mash thoroughly into a mixing bowl. You can use a ricer or hand mixer.

Mix in the butter until melted through.

Cool thoroughly in the fridge for at least four hours.

Knead in the flour, milk, sugar and salt until you have a thick dough.

Now pinch off pieces of the dough, about the size of golf balls.

On a lightly floured surface, swiftly roll out each ball to 1/8" thick disk. Avoid handling dough as much as possible.

Flip briskly and carefully into a dry, hot frying pan or griddle.

Do not try to manipulate the disk once in the pan as that will create holes.

Cook for about 30 seconds each side.

Keep them wrapped in a damp towel whilst you finish the batch, and afterwards.

Serve with butter or powdered sugar and jam.
Please note that where the recipe asks for milk, butter or yogurt, this refers to any plant-based version that you prefer.
Nutrition Facts
Vegan Lefse Recipe
Amount per Serving
% Daily Value*
* Percent Daily Values are based on a 2000 calorie diet.