Easy Delicious Vegan Pancakes (sugar-free)
This post contains links to affiliate websites, such as Amazon, and we receive an affiliate commission for any purchases made by you using these links. We appreciate your support!
Looking for an easy and delicious vegan pancake recipe that's also sugar-free? You've come to the right place! These pancakes are not only quick to make, but are also completely plant-based and free from any added sugars. Enjoy a guilt-free breakfast with these scrumptious pancakes that are sure to satisfy your cravings!
PIN my vegan pancake recipe to make later
If you're looking for my vegan crepe recipe, click here!
It seems to me that the short time at the beginning of the month when we have spare cash is over within 24 hours, a bit like the summer equinox. A fleeting, beautiful time where frivolity and reckless spending is encouraged. And then it's back to paying with cheques and eating dried pulses and pasta.
Sometimes though, it's not just the end of the month that makes me more inventive than usual. Sometimes I forget to take that evening's meat out of the freezer. And when you want dinner in a hurry, nothing takes longer to defrost than a concrete hard block of veggie lasagne. And when you're at the point where you're blowtorching your food to try and defrost it, you know you probably need pancakes!
Why You'll Love my Easy Vegan Pancakes
Make ahead mixture, mix up the night before
Store cupboard ingredients
Quick to prep
Eggless and Dairy free recipe
No-Sugar Recipe
Actually I had been craving pancakes, so this was as good excuse as any to make them and I certainly cannot wait until next Pancake Day which is sometime in February 2024.
I managed to utilise some leftover ingredient: an opened pot of Alpro Yogurt with a teaspoon taken out of it (don't ask me the reasoning behind that), and a couple of rashers of vegan bacon.
What makes your pancakes vegan?
It's easy! Simply replace the egg element with a flaxseed egg, and the buttermilk or yogurt with a dairy-free substitute! That's all there is to it! I use melted coconut oil or vegan butter instead of regular butter to enrich the batter.
Are pancakes just for breakfast?
Pancakes for supper: they're not really a starter nor a dessert but remember I was craving them, hence this simple and quick recipe. This should be a no-brainer of a dish. It is a simple 'stir and drop in hot oil' meal, but somehow in my frantic rush to make myself pancakes, I screwed up, although not to the detriment of the dish. I almost forgot my flax eggs that I had diligently whisked up and were sitting doing their thing whilst I prepped everything else! So, as I'm just about to ladle in a spoonful of batter onto my frying pan, I spy my little dish of flax egg sitting there, untouched! That was definitely good timing. I dumped the ladleful of mixture back into the bowl and gently stirred the flax egg into my batter.
Worry not though, once the whole lot was combined and cooked, the pancakes were actually really very delicious and fluffy.
Ingredients and Substitutions
Plain or All purpose flour. You can also make these pancakes gluten-free by simply replacing the flour with your favourite gluten-free mix.
Baking Powder, to help ensure a fluffy pancake
Bicarbonate of Soda (Baking Soda)
Pinch of salt
Soy Milk, or you could use almond milk, coconut milk, oat milk, the plant milk of your choice.
Vegan Yogurt, I like to use Alpro.
Coconut Oil, or you can use unflavoured oil or melted vegan butter
This is ONLY a list of ingredients for the recipe; please see recipe card below for complete printable recipe.
Method
Prepare your flax egg by whisking 1 tbsp ground flaxseeds with 2 tbsp cold water.
In a large mixing bowl, sift in all your dry ingredients, the flour, baking powder, sea salt and bicarb. Whisk to make sure they're all combined.
In a large jug, whisk together the milk, yogurt, flax egg, vanilla extract and coconut oil.
Pour the wet ingredients into the dry ingredients and whisk until just combined.
At this point you can cover and refrigerate to make pancakes the next day.
Alternatively, let batter rest for 5 minutes. This allows the baking powder (the leavening agent) to activate and create light, airy, fluffy pancakes.
In a large nonstick skillet, griddle or frying pan, heat a little vegetable oil over medium heat.
Using a ladle, spoon in portions of the pancake batter, leaving to cook on the first side until you start to see small bubbles appear on the surface and the batter looks like it's drying out.
Carefully flip onto the second side and cook for another couple of minutes.
Repeat until you have used up all the batter.
You can store any leftover pancakes in an airtight container, or freeze them in a ziplock bag. Reheat them in a toaster oven.
Variations to Vegan Pancakes
Try adding fresh fruit: diced apple, banana, chopped strawberries or blueberries or even peaches to your batter
Add vegan chocolate chips to your batter.
Try half whole wheat flour and half white flour for a healthier, nuttier pancake. Other flours also give a great taste and texture, try Buckwheat, barley or oat flour.
Add a dash of vanilla, a teaspoon of cinnamon, some ginger powder, or all three!
Try 1/2 can pumpkin to replace 1/2 cup of yogurt, mixed with some pumpkin pie spices for a seasonal twist!
Make your pancakes festive! Add a little red or green food colouring at Christmas time, or pastels at easter to get in the seasonal vibe! You can even add sprinkles to the batter!
My favourite way to serve pancakes though is with pure maple syrup and some melted butter poured over them.
Try my other Vegan Pancake Recipes!
Easy Vegan Pancakes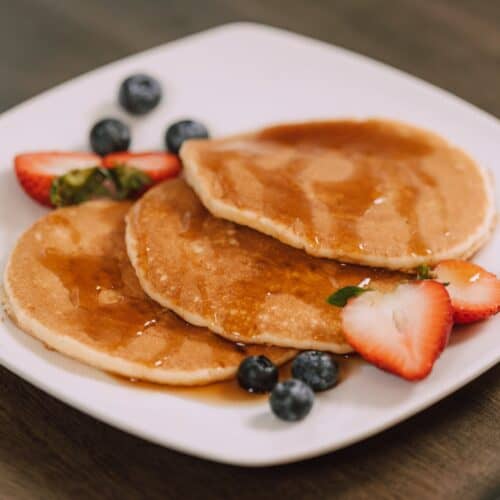 The fluffiest vegan pancakes!
Ingredients
1

cup

Plain Flour

1

Teaspoon

Baking Powder

1/4

Teaspoon

Bicarbonate of Soda

1/4

Teaspoon

Salt

1/2

cup

Soy Milk

-

or plant based of your choice

3/4

cup

Yogurt

-

plain, vegan

1

tbsp

Coconut Oil

-

melted

1

flax seed egg

-

(1 tbsp ground flax whisked up with 3 tbsp water)

1

tsp

Vanilla Extract
Instructions
In a large bowl, whisk together the dry ingredients.

In a jug, whisk together the wet ingredients, including the egg replacer.

Make a well in the middle of the dry ingredients and pour in the wet.

Don't overstir, a few lumps are ok and will ensure a light, fluffy pancake.

Heat a little knob of butter in a large frying pan or griddle.

Drop a little bit of batter into the pan. If it sizzles, it is ready.

Using a 1 cup measure, ladle a portion of the batter into the centre of the pan.

Tilt pan as needed to form a uniform circle of batter.

Wait until bubbles begin to form on the surface of the batter.

Carefully and gently flip the pancake over.

Do not press down on the pancake or try to move around in the pan.

Lift an edge of the pancake after 45 seconds to check for browning.

Remove from pan when both sides appear uniform.
Please note that where the recipe asks for milk, butter or yogurt, this refers to any plant-based version that you prefer.
Nutrition Facts
Easy Vegan Pancakes
Amount per Serving
% Daily Value*
* Percent Daily Values are based on a 2000 calorie diet.