Easy Vegan Sausage and Cabbage Bake
This post contains links to affiliate websites, such as Amazon, and we receive an affiliate commission for any purchases made by you using these links. We appreciate your support!
Looking for a tasty and hassle-free dish? Try my vegan sausage and cabbage bake recipe! This easy-to-make dish is perfect for those who are following a plant-based diet. The combination of savoury vegan sausages and tender cabbage creates a delightful, complex flavour that will satisfy your taste buds. This recipe is straightforward and requires minimal effort. Gather the ingredients and get ready to enjoy a delicious vegan meal the whole family will love!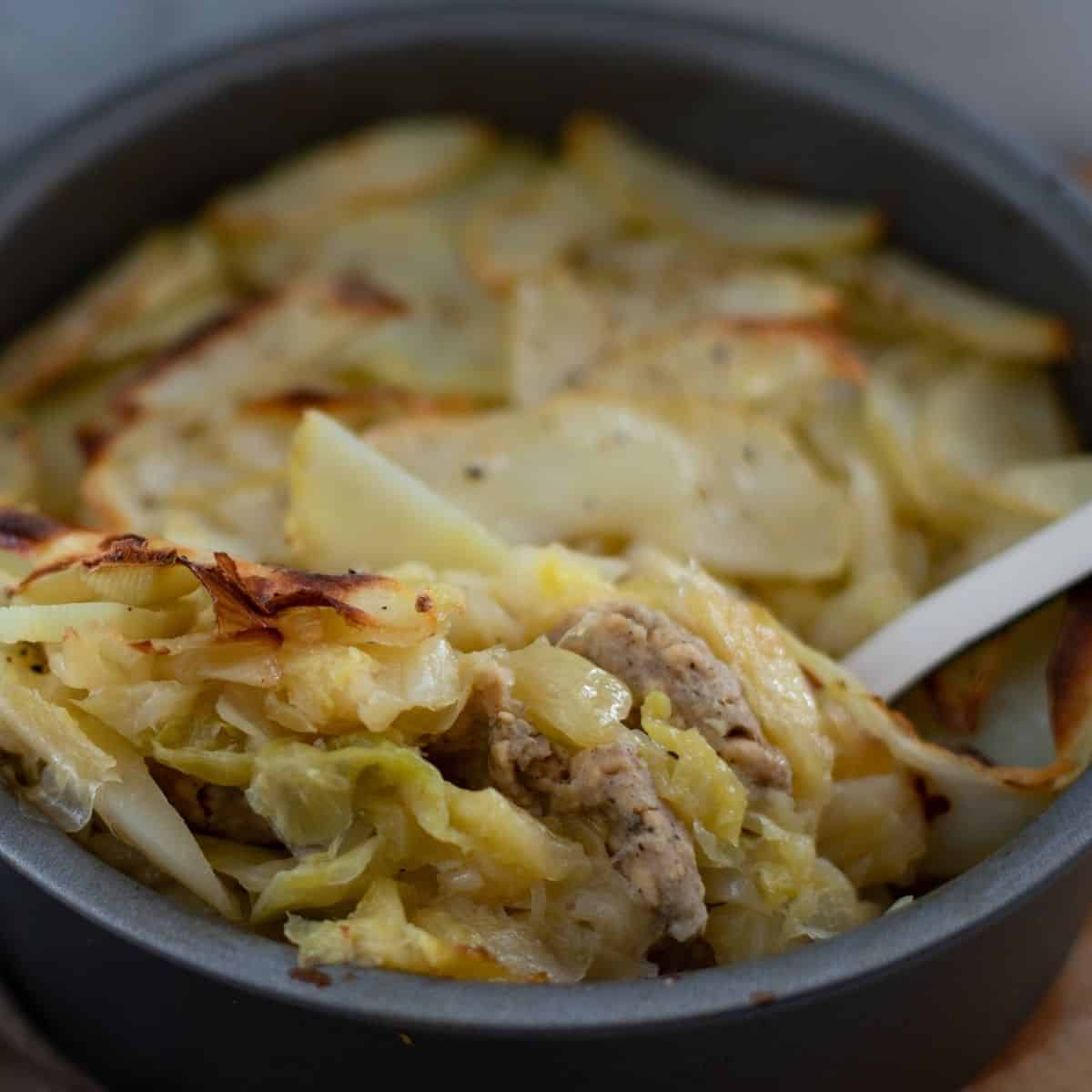 Stuffed cabbage in the Troo style from Tamasin Day-Lewis's Good-Tempered Food, (but is in fact a Jane Grigson recipe) is such an auspicious dish. Layers of blanched savoy cabbage and good quality sausage meat, seasoned and dotted with butter, baked in a moderate oven for two hours. Less a vegan sausage casserole and more of a bake, this nonetheless produces a delicious "jus" which is perfect poured over the top.
I veganised this family favourite by using vegan sausages (my favourite are Richmond) and, of course, vegan butter!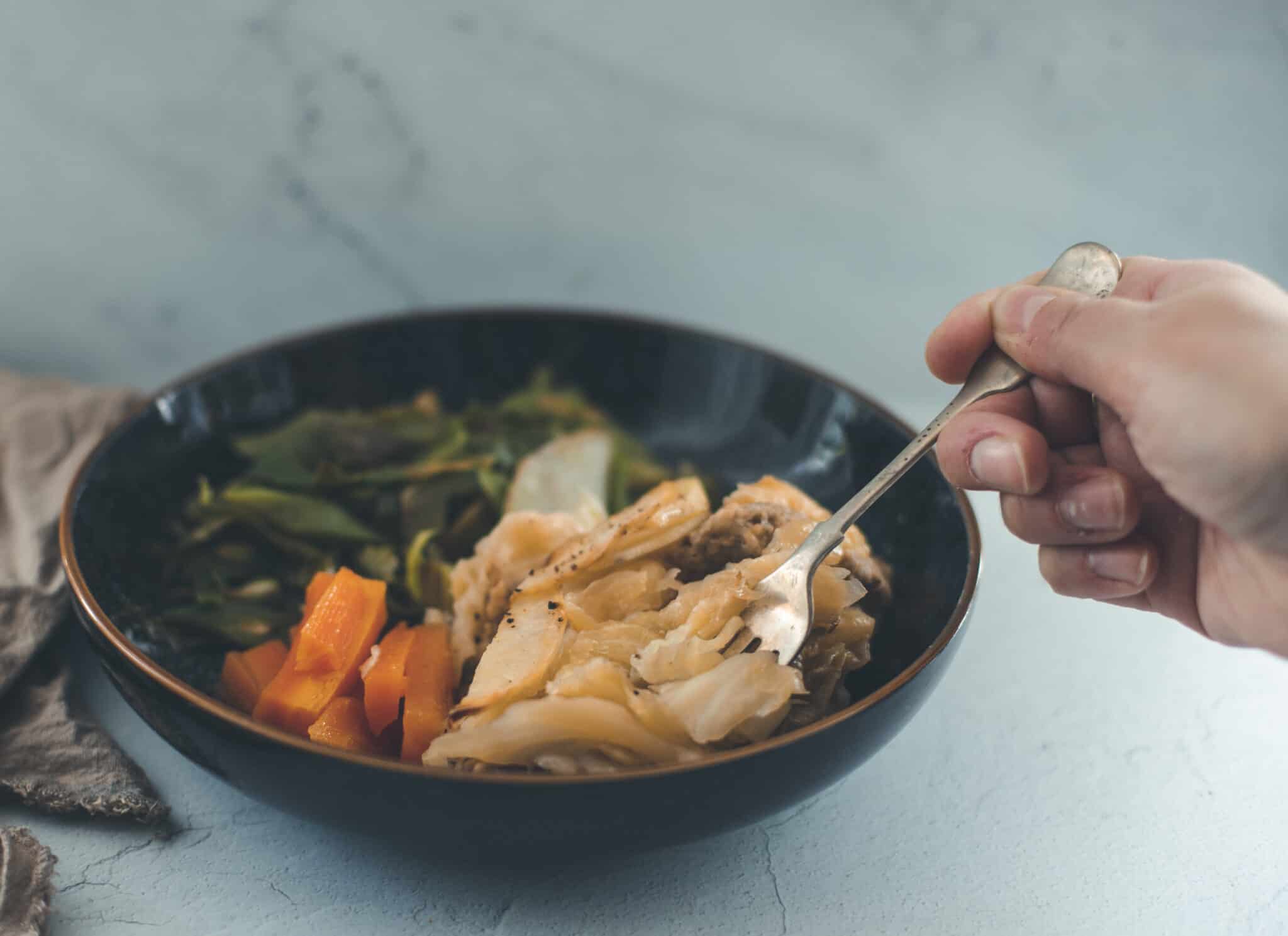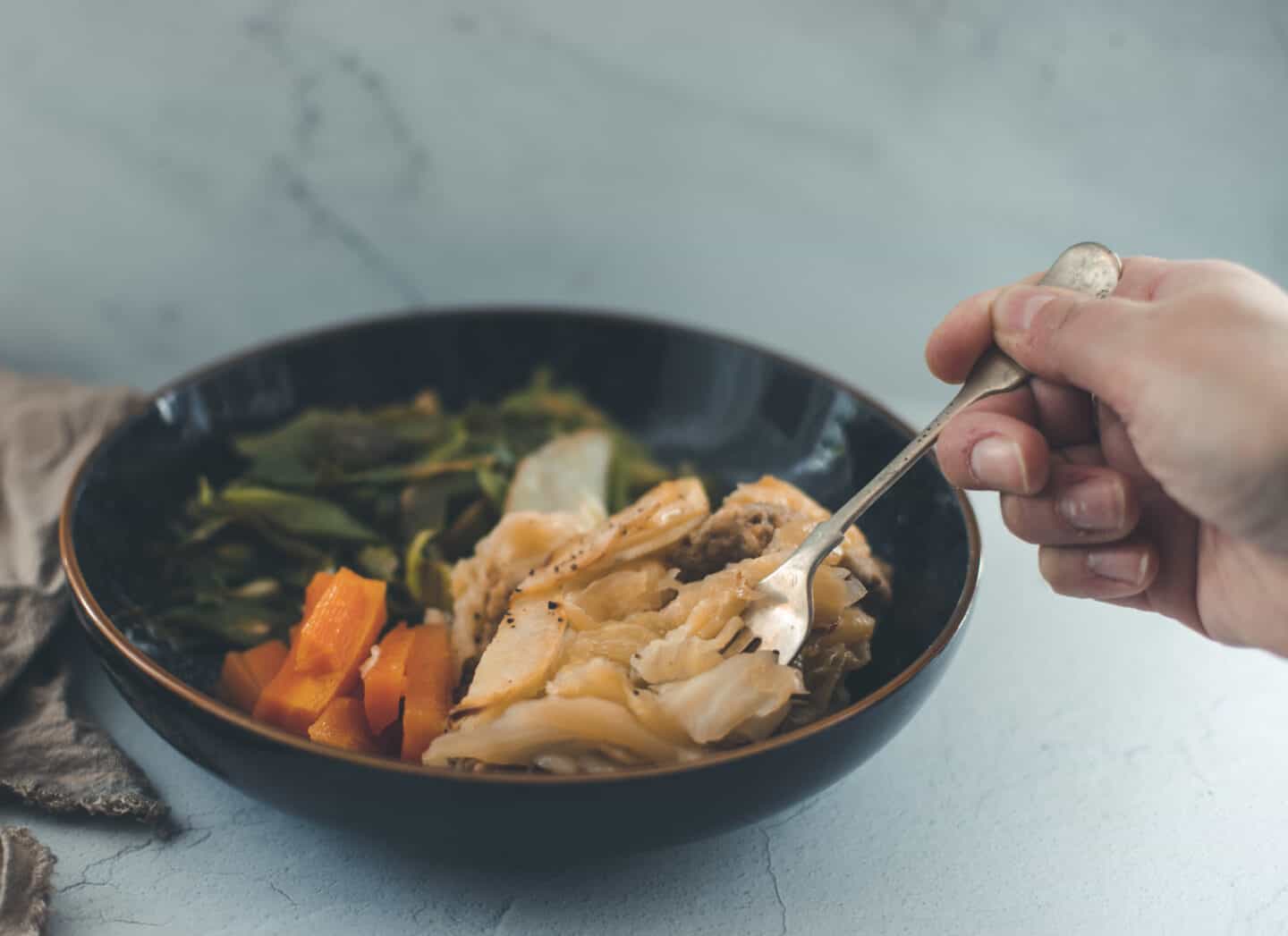 I added my own Irish touch to this by putting a couple of layers of sliced potatoes on the top which crisped up around the edges.
It is a sensational tasting dish for such simple ingredients and it takes no time at all to prepare. I serve it with some fresh boiled carrots and some simple green beans. If you omit the sliced potatoes, it is delicious with mashed potato too, with the vegan sausagy-cabbagy cooking liquor that has congregated at the bottom of the dish poured over the top.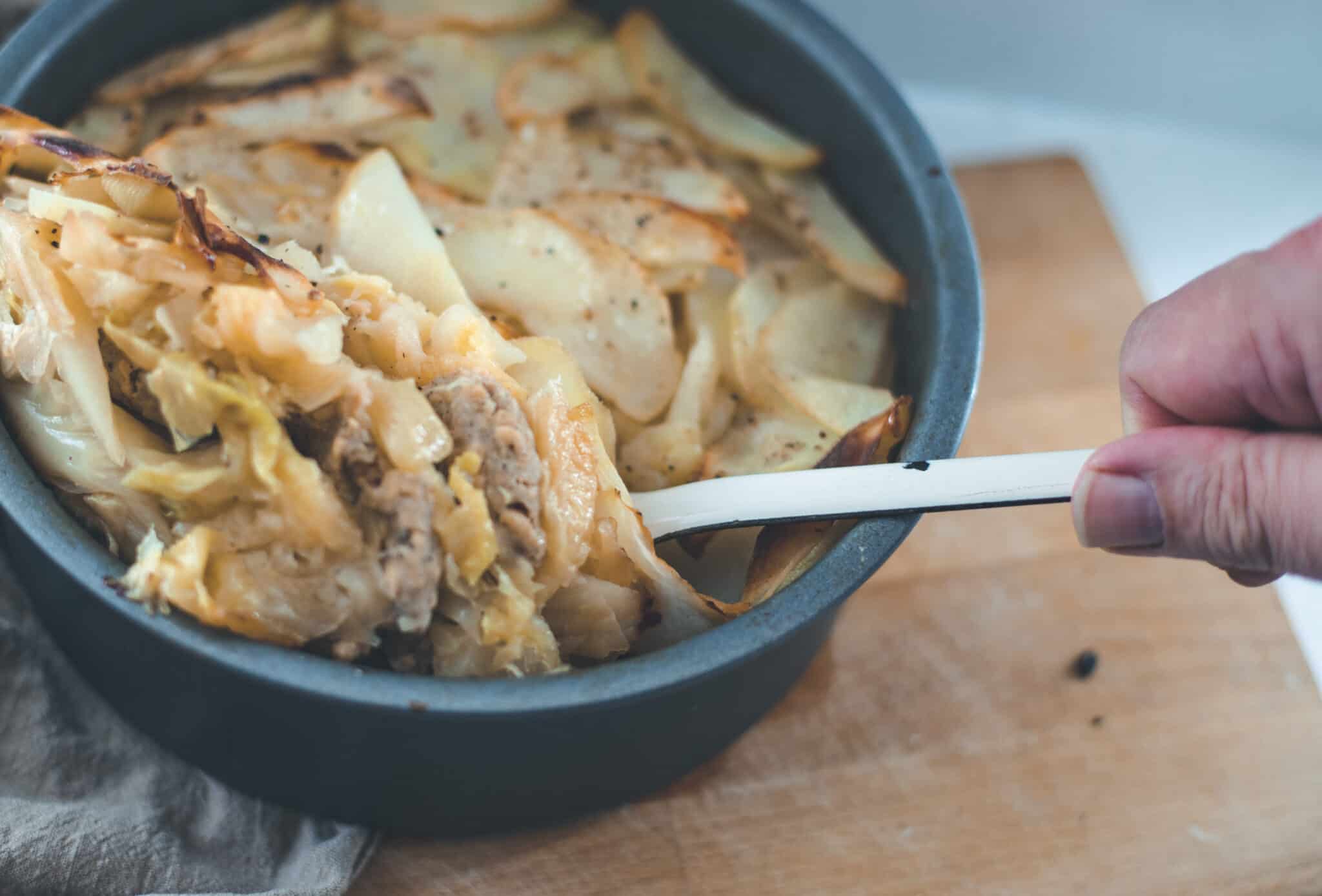 This is also a great way to persuade cabbage hating children (or adults!) to rethink their ideas about this under loved brassica!
Ingredients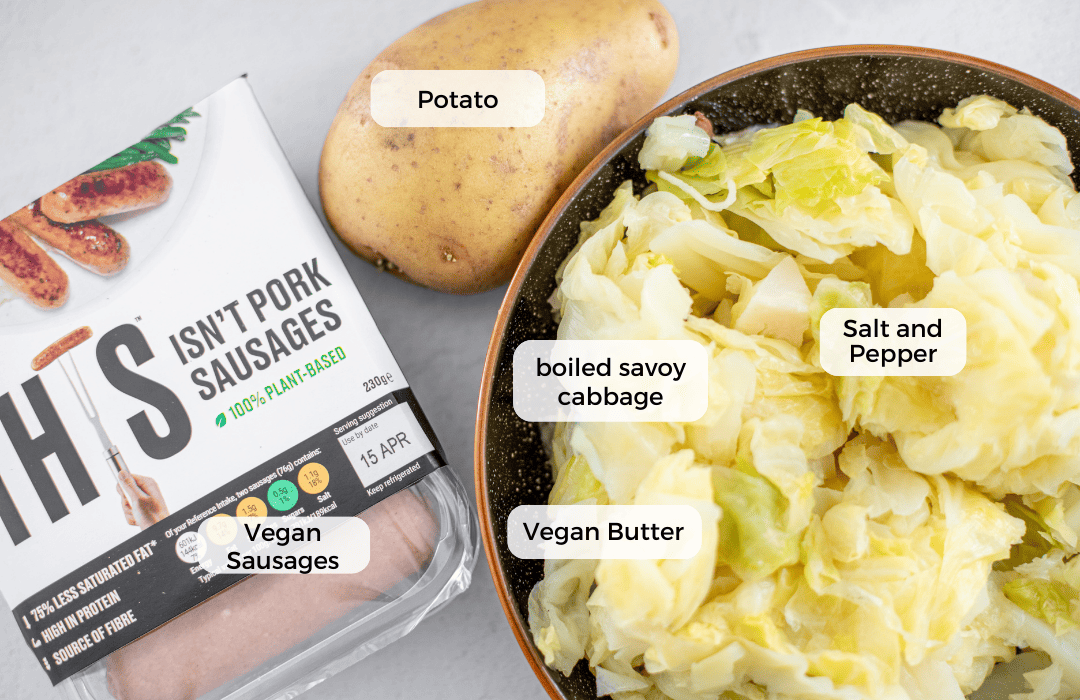 Cabbage. Use Savoy or similar, it has a better flavour than white cabbage. Red cabbage won't work.
Vegan Sausages. Richmond make great vegan sausages. Use your favourite brand.
Vegan Butter. Use your favourite brand.
Salt and Pepper.
Potato, peeled and cut into thin slices. This is optional but it adds a delicious topping.
This is ONLY a list of ingredients for the recipe; please see recipe card below for complete printable recipe.
Method
Cut the cabbage into thick slices and parboil until almost cooked.
Drain, leave to cool whilst prepping the sausage.
Many vegan sausages have a "skin" on them now so, taking a sharp knife, run it down the side of the sausage and peel off the skin.
Flatten the sausages.
Assemble your ingredients. You will be layering up the cabbage and sausage with seasoning and butter on each layer.
Using a round baking dish, about 8″ dia. first place a layer of cabbage, enough to cover the bottom of the dish. Place three of the flattened vegan sausages on the cabbage layer and dot with butter. Season.
Repeat this cabbage/sausage layer, then finish with a layer of cabbage.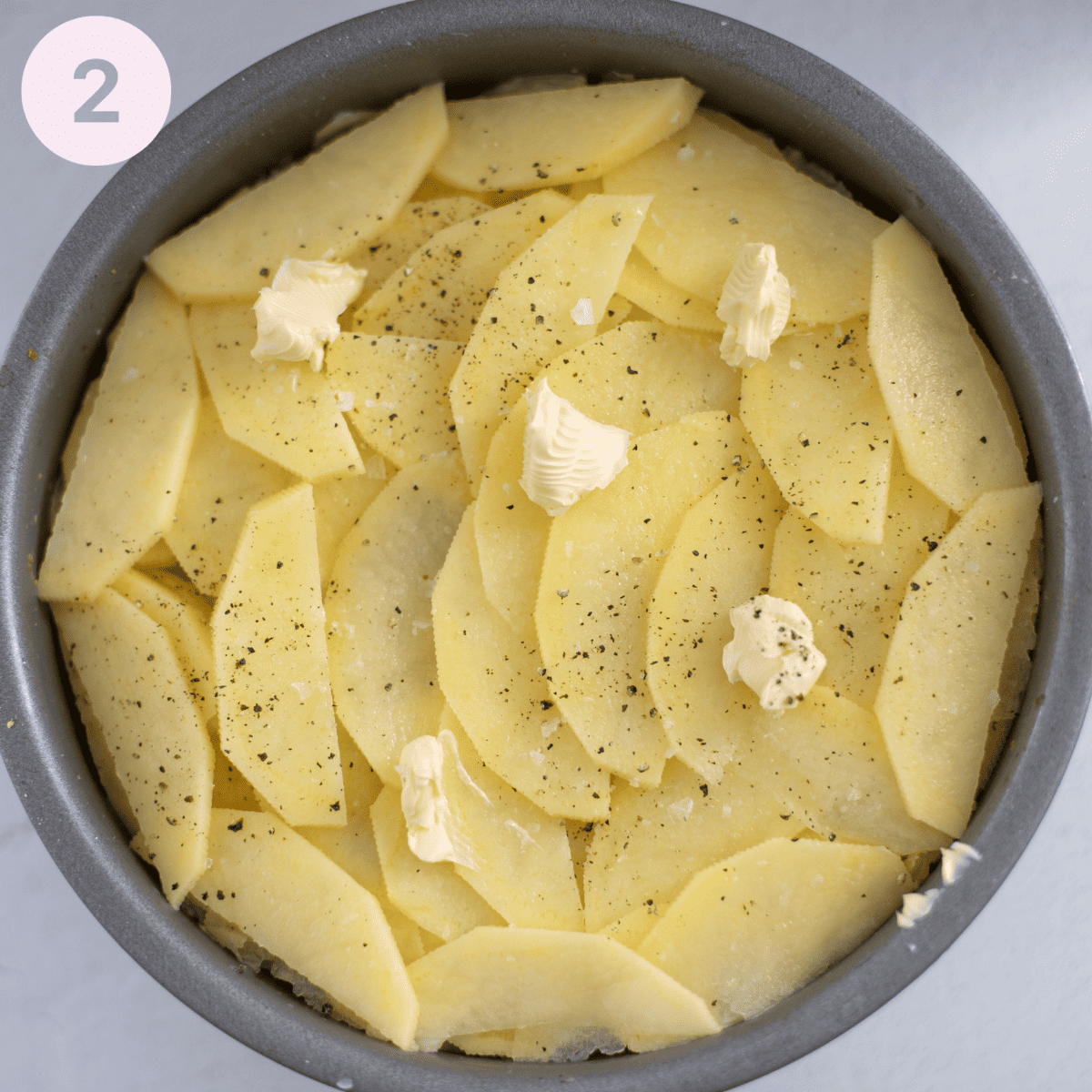 Place the layer of sliced potatoes on top (if using), seasoning once more, and dotting with butter.
Bake in a low temperature oven (about 150c) for at least an hour, but more is better, up to 3 hours.
Once baked, remove from oven and leave to cool for 10 minutes, just to setup, then cut into wedges and serve.
You can also cover with foil and, when cold, refrigerate for the next day.
Other simple vegan supper dishes
Vegan Sausage and Cabbage Bake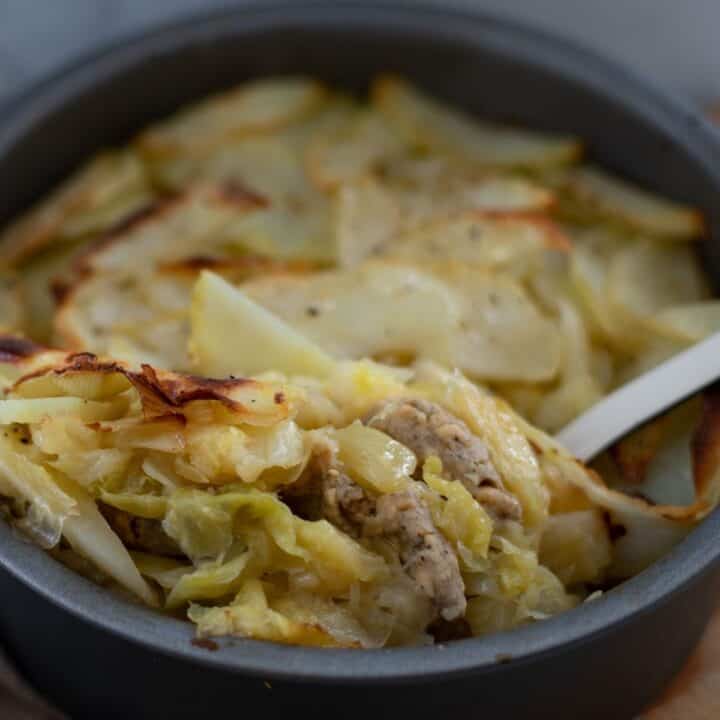 A two ingredient simple supper dish, easy to prepare ahead, full of flavour
Equipment
Round Baking Dish, roughly 8" dia

you can also use square or oval!
Ingredients
1

Savoy cabbage

-

large, shredded thickly

6

Vegan Sausages

-

thawed

300

g

Potato

-

peeled, thinly sliced (optional)

Salt and Pepper

1

tbsp

Butter

-

vegan
Instructions
Preheat the oven to 160c.

Grease the bottom and sides of a round, roughly 8″ ovenproof dish, with a lid

Bring a large pan of unsalted water to the boil. Throw in the shredded cabbage and cook until just tender but still bright green.

Drain and plunge into cold water.

Put a third of the cabbage (squeezing out the water first) in the bottom of your dish. Season well and dot with vegan butter.

Add half the vegan sausages, flattened with the palm of your hand, to make a sausage layer.

Repeat, using up all the sausages, remembering to season the layers of cabbage, and ending with a layer of cabbage (you can now add a layer of sliced potatoes if you want).

Dot the final layer of cabbage with butter, cover with greaseproof paper, and replace the lid.

Bake in the oven for at least 1 hours but will happily sit there for 2.

Serve with some simple boiled vegetables. The cabbage and sausage will produce a delicious liquor which can be poured over everything else.
Please note that where the recipe asks for milk, butter or yogurt, this refers to any plant-based version that you prefer.
Nutrition Facts
Vegan Sausage and Cabbage Bake
Amount per Serving
% Daily Value*
* Percent Daily Values are based on a 2000 calorie diet.