Easy Vegan Mushroom Rice Recipe
Easy vegan mushroom rice. A long-term family favourite, this is great for using up any boiled rice you may have leftover.
The few ingredients used belie the deep flavour and wholly satisfying feeling your tummy receives after eating this dish.
The earthy mushrooms, with their squeaky, barely cooked texture work so perfectly with the fresh coriander, the heat of the chili, and the tang of the spring onion. A few dashes of soy sauce unify the whole dish.
This can be served as a side dish or on its own. I enjoy just a dash of hot sweet chili sauce with it.
Ingredients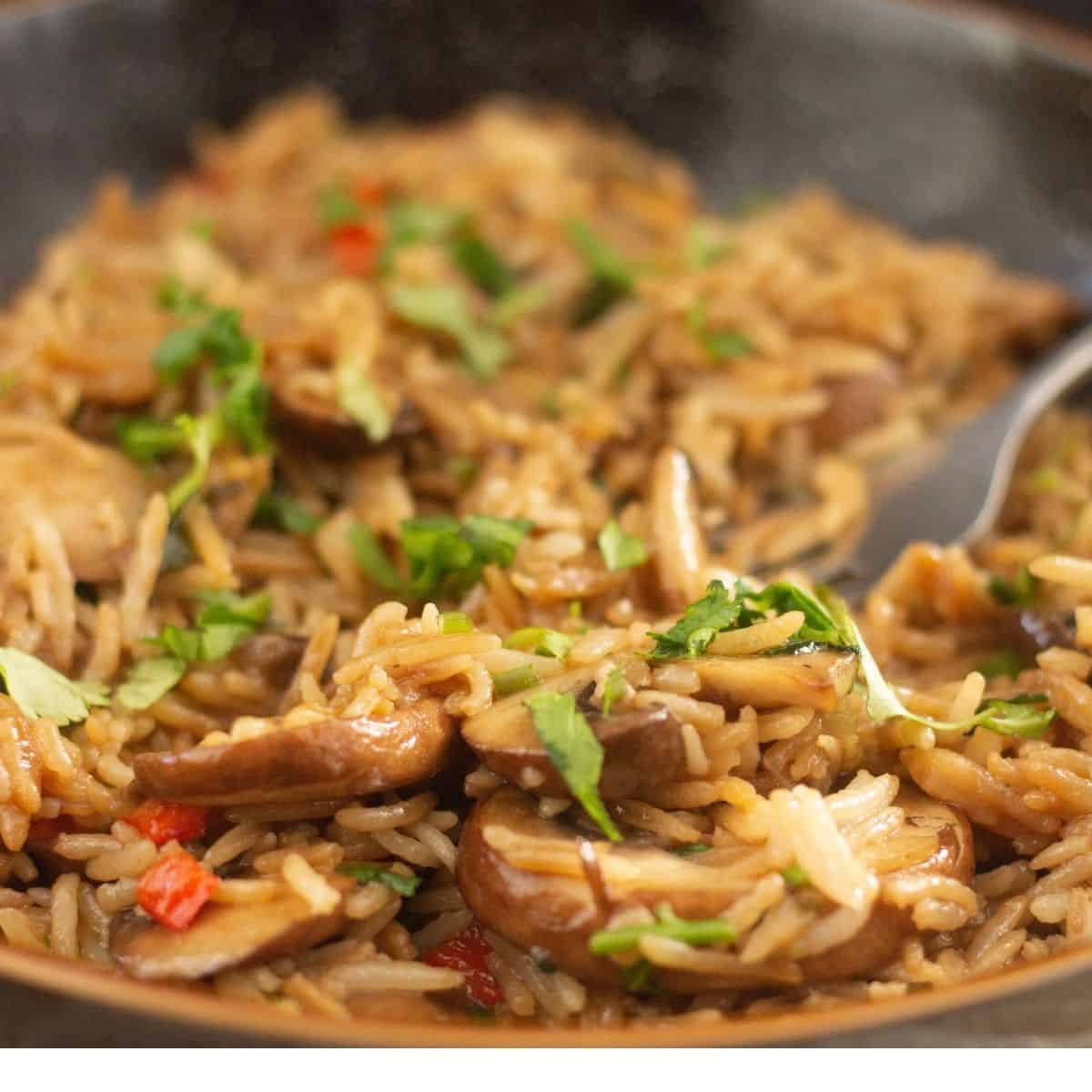 This recipe uses only five main ingredients, and the rest are store cupboard staples:
Mushrooms. You can't have mushroom rice, without mushrooms! I like to use chestnut mushrooms, but you could also use white mushrooms or button mushrooms. I wouldn't recommend using an exotic mushroom, or large portabello mushrooms.
Basmati Rice. The queen of all the rice, Basmati has such a unique nutty flavour that I find irresistible. Use long grain white rice or brown rice if you don't have basmati, but do not use easy cook, or a short grain. Here's my guide to cooking the perfect basmati rice.
Chilis. I love to use red chilis in this for colour and gentle heat. I don't use the super hot birds eye chilis, and I deseed them first. However, this is all up to your personal preference! Go ahead and make it spicier if you prefer!
Spring Onions or Scallions. These add a subtle onion flavour to the dish. I wouldn't recommend substituting with regular onion as the flavour and texture is completely different.
Garlic. Finely chopped.
Soy Sauce. I season my cooked rice with this first, then I season the whole dish at the end. It ends an essential flavour to the rice. My favourite brand is Kikkoman.
Toasted Sesame Oil. I use this sparingly as it is very strongly flavoured, but again, it adds an essential flavour to the finished dish.
Fresh Coriander. For me, another critical ingredient, however, some people hate it, so if that's you, omit it.
Method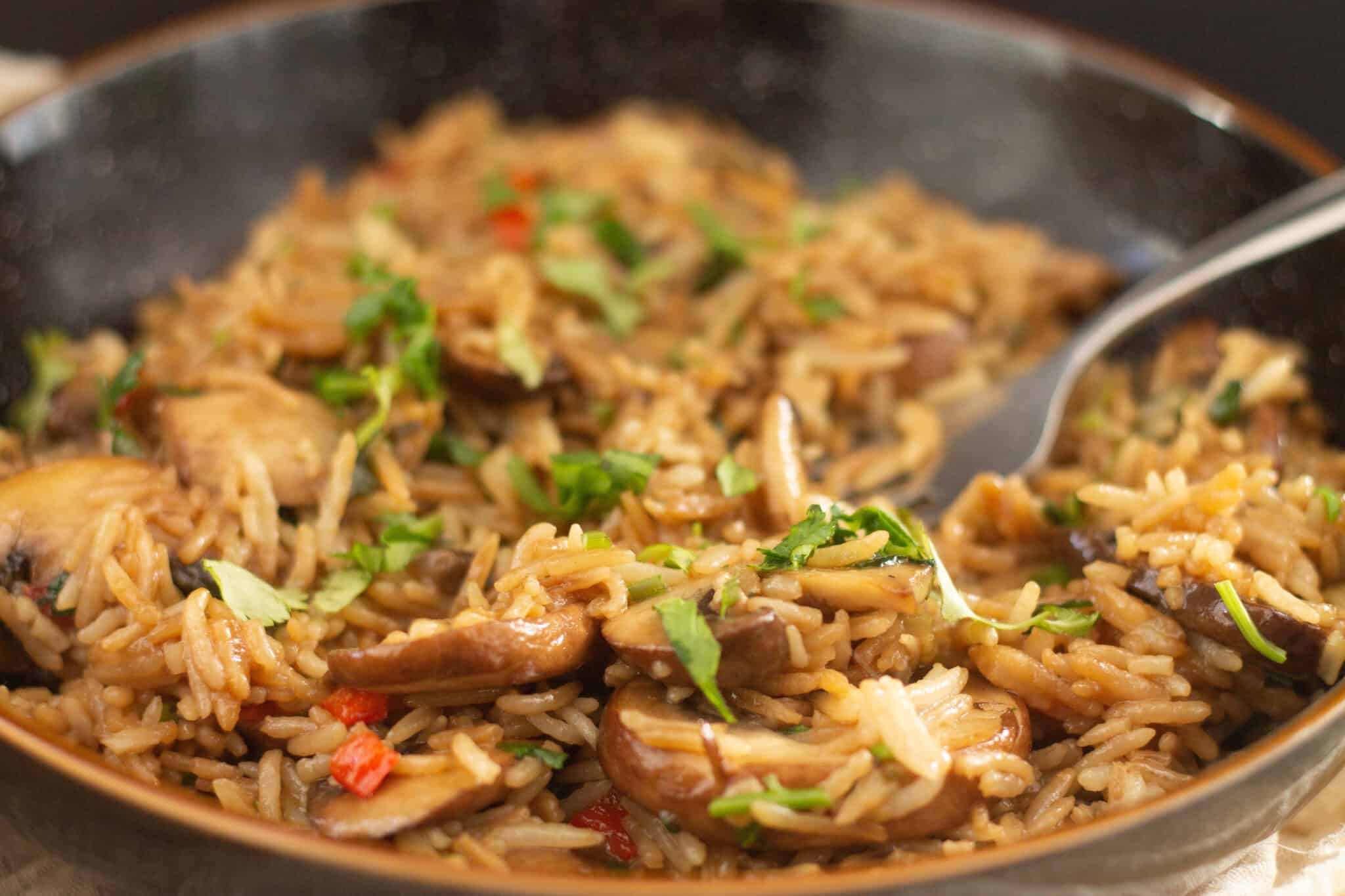 Cook your basmati rice. Sprinkle with a little soy sauce and leave to cool whilst you prep the other ingredients.
Sauté the spring onion and garlic over a gently heat until fragrant and softened. Using a slotted spoon, remove to a small bowl.
You want to use the same oil, as we are adding layers of flavour to it.
Now sauté the chili briefly, then add the mushrooms.
Once the mushrooms are softened, stir in the rice.
Turn the heat up a little and mix the rice into the mushrooms thoroughly.
Now add the spring onions/garlic mixture and mix that in.
Add some more soy sauce to your taste, sprinkle with chopped coriander (if using) and serve!
Try my other easy vegan supper dishes
Easy Vegan Mushroom Rice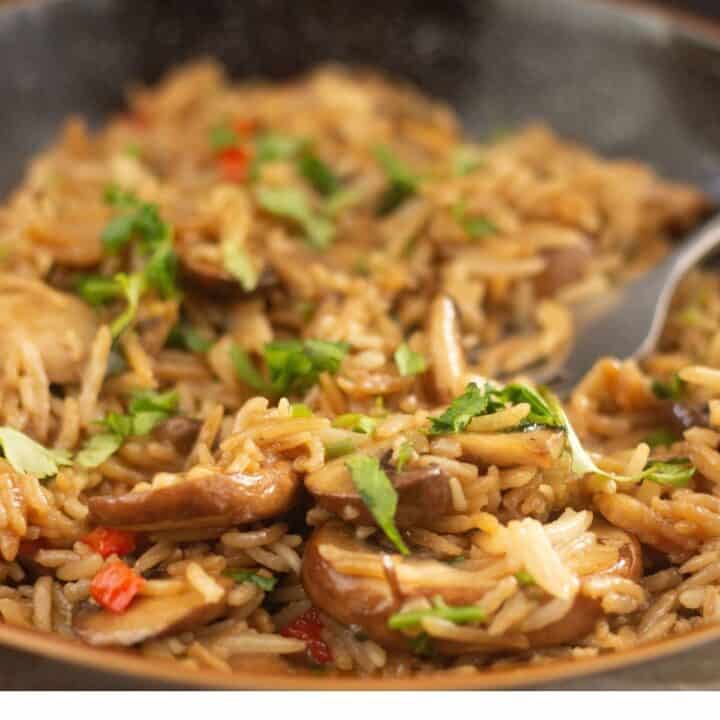 A quick and delicious supper dish, ready in less than 30 minutes
Ingredients
¾

cup

Basmati Rice

3

tbsp

Rapeseed Oil

6

Spring Onions

chopped

1

Red Chili

deseeded and finely chopped

2

Cloves

Garlic

finely chopped

9

oz

Mushrooms

sliced

3

tbsp

Soy Sauce

1

tbsp

Vegetable Oil

1

tsp

Sesame Oil

3

tbsp

Coriander

chopped

Salt to taste
Instructions
Pour into a large bowl, pour over a tablespoon of soy sauce and leave to cool.

Heat the oils in a wok or large frying pan and quickly stir fry the spring onions and garlic for about 30 seconds.

Remove from the pan using a slotted spoon and put to one side.

Now stir fry the chilli for about 10 seconds, then add the mushrooms.

Stir fry until the mushrooms just start to soften and then stir in the cooled rice.

Add a little more oil if the rice looks to be sticking but keep the mixture moving and it should be fine.

Once the rice is hot, add the remaining soy sauce, the reserved spring onion and the chopped coriander.

Gently stir through and taste for seasoning.
Nutrition Facts
Easy Vegan Mushroom Rice
Amount per Serving
% Daily Value*
* Percent Daily Values are based on a 2000 calorie diet.