How to Make a Quick and Easy Vegan Tofu Bowl
This post contains links to affiliate websites, such as Amazon, and we receive an affiliate commission for any purchases made by you using these links. We appreciate your support!
Easy vegan Tofu Rainbow bowls are a delicious and nutritious meal option, perfect for those following a plant-based diet. Packed with a variety of colorful ingredients that not only make it visually appealing but also provide a wide range of flavours and textures. The star of the bowl is the tofu, which is high in protein and adds a satisfying texture to the dish, along with an array of fresh vegetables such as red cabbage, avocado, crunchy peppers, and shredded carrots. My vegan Tofu Rainbow Bowl is a delightful and nutritious choice that will leave you feeling satisfied and nourished.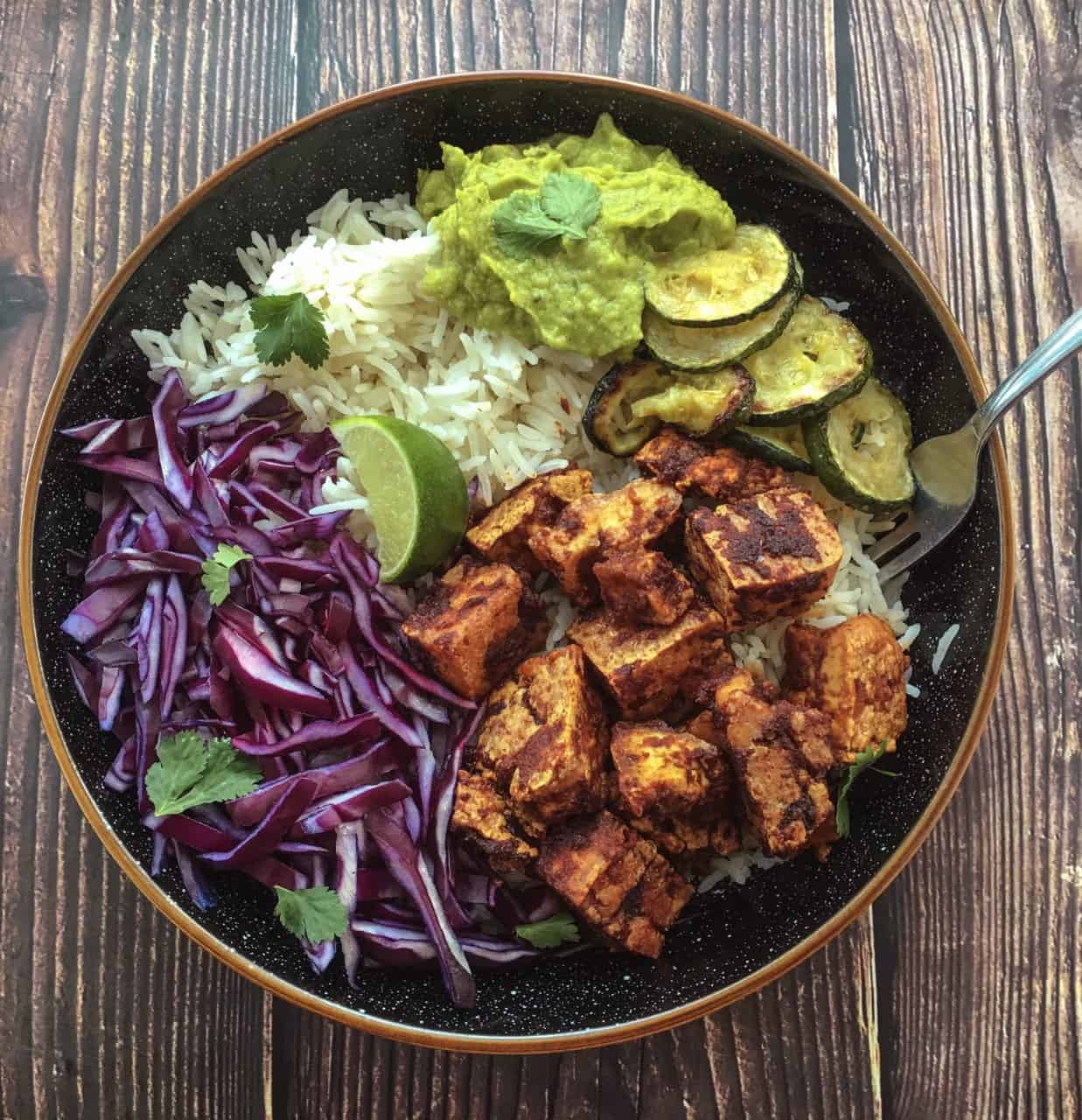 Food is the the ultimate comfort. Whether it's a bar of chocolate or a slice of cake, or a packet of your favourite crisps, when we need a big hug, it's often not our loved ones, but our most beloved food we throw ourselves towards. Here's my recipe for a hug in a bowl: a quick and easy rainbow velvet tofu bowl.
What is a Tofu Bowl?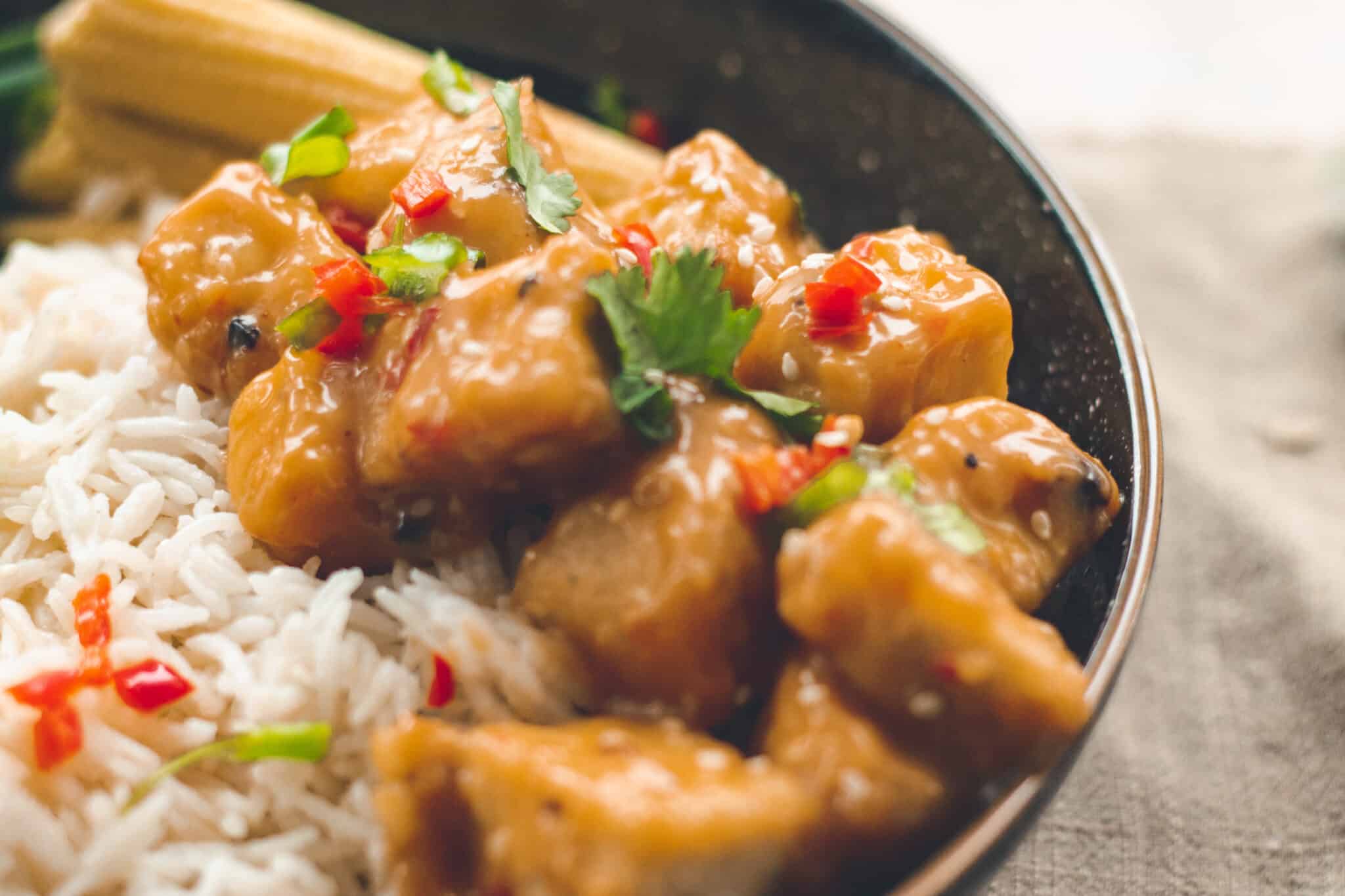 Tofu Bowls are such a perfect solution to that predicament, they are healthy but in no way do you compromise on taste or satiety of hunger. You can adapt them to your own tastes on the day, or what you have in the cupboard and fridge.
What I particularly like about tofu bowls is how versatile they are. You don't even have to use noodles, you can use rice, or I suppose, mashed potato if you had some laying around (not sure I recommend that though…).
Method
My preferred way to serve tofu, whether it's in a bowl or not, or is velveted. This is a common method used in Chinese cookery to keep chicken or other meat moist and flavourful, but with a crisp coating. Velveting does exactly the same for tofu. It gives it a really crisp outer, but a delicious creamy interior.
Some methods require you to add oil and jump through several other hoops, but I have a super easy, super quick method that will give you the best tofu ever! The only caveat is you must make sure you buy firm tofu. I love the Tofoo brand when I make tofu bowls, but there are many other choices out there!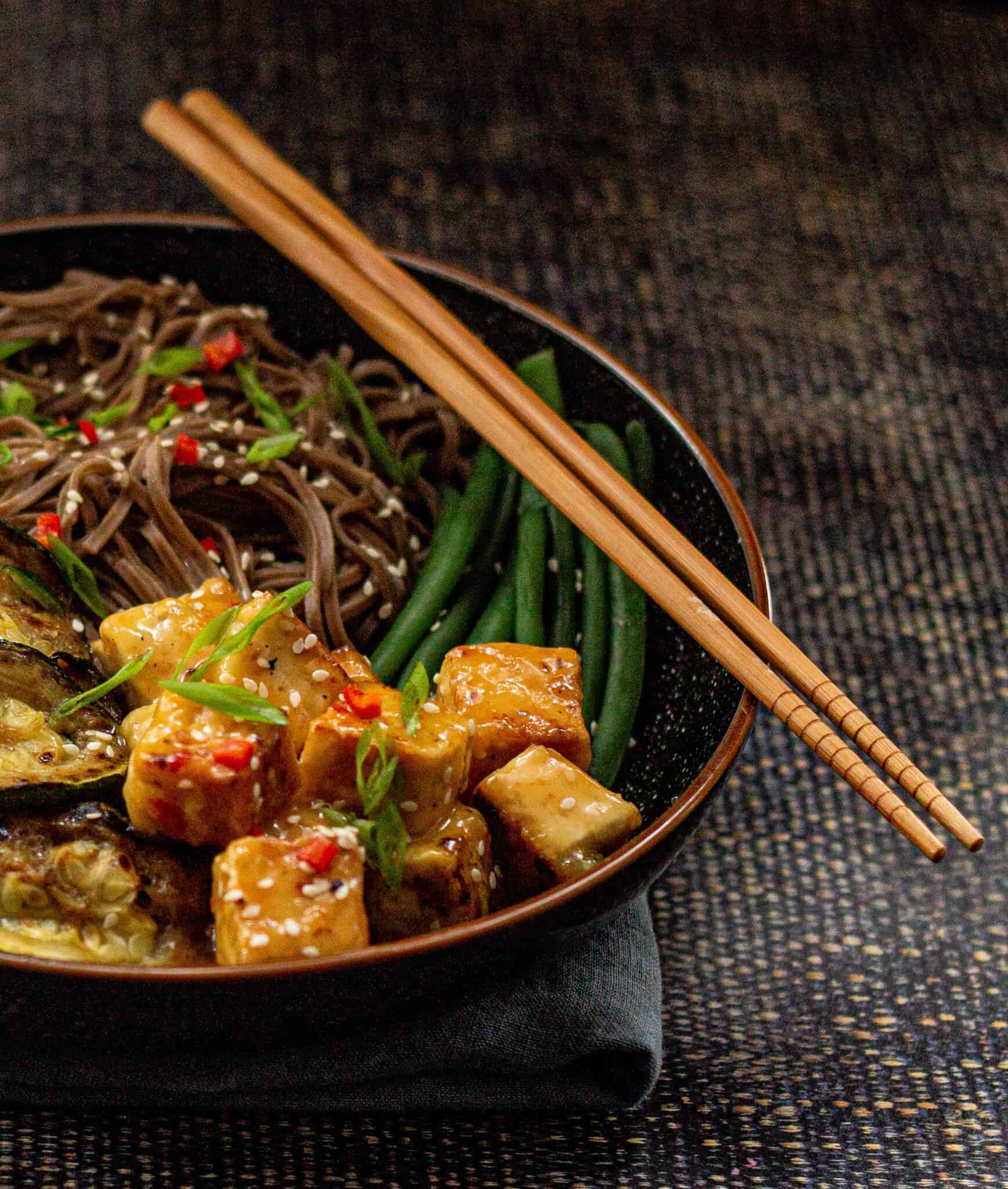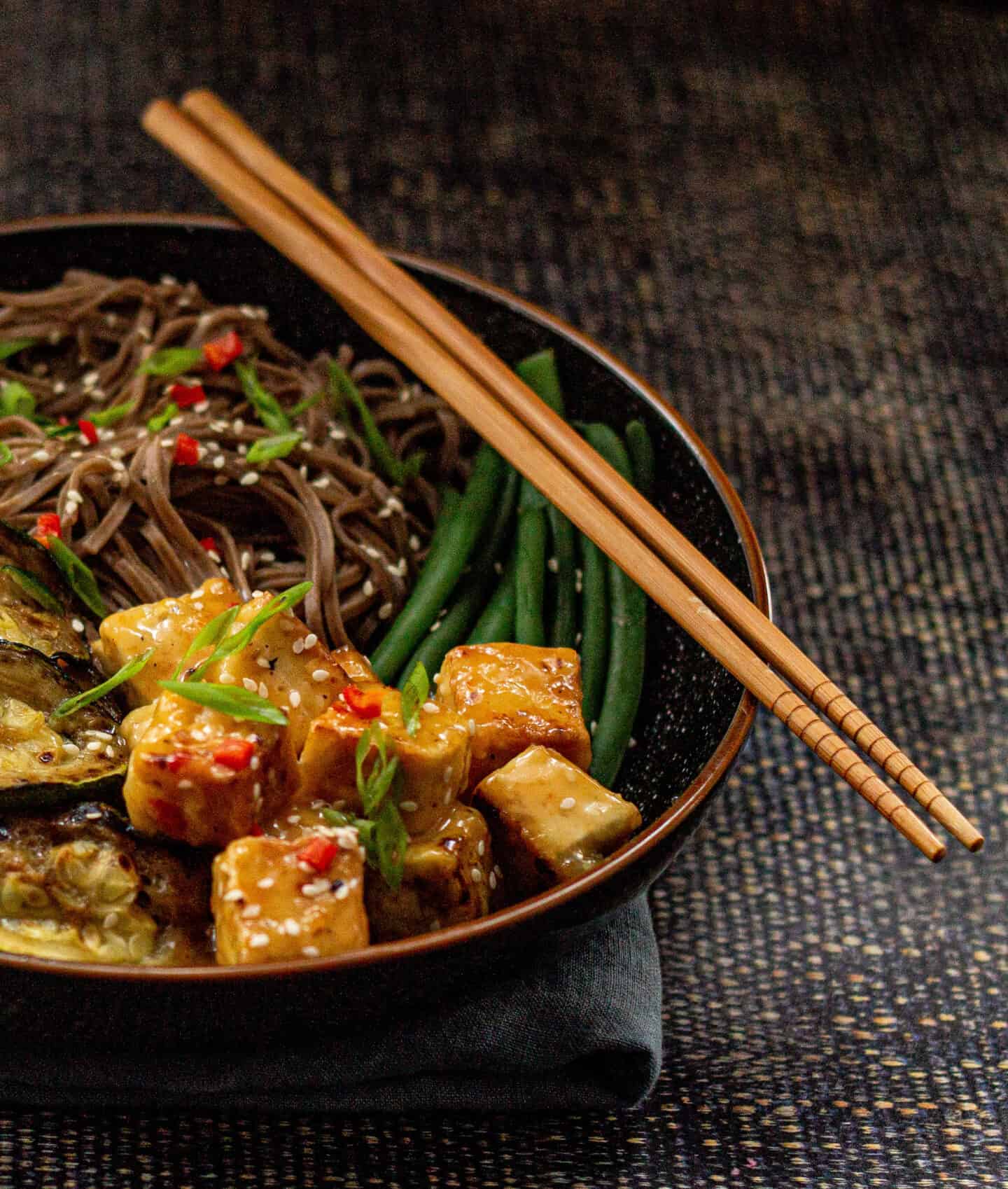 Firm Tofu has been pressed so that most of the moisture has been squeezed out. You may need to dry it between a couple of sheets of paper towel when you open it but you won't need to press it. Silken Tofu is much more fragile and may fall apart when you're frying it. Not what you want.
Once dried, you then make it wet again, by dipping it in milk and then in a seasoned cornflour mixture. I make this simple and mess-free by using a Ziplock bag. You then fry the tofu for a couple of minutes and serve with your favourite sauce! The bowl is optional, but helps with feeling cosy! Now you can assemble your Quick and Easy Vegan Tofu Bowl with all sorts of different fridge fixin's! I love mange tout, and baby sweetcorn, but you could use tinned corn, or cold salad veg too.
Try my other delicious vegan supper dishes
Velvet Tofu Bowl with Peanut Ginger Sauce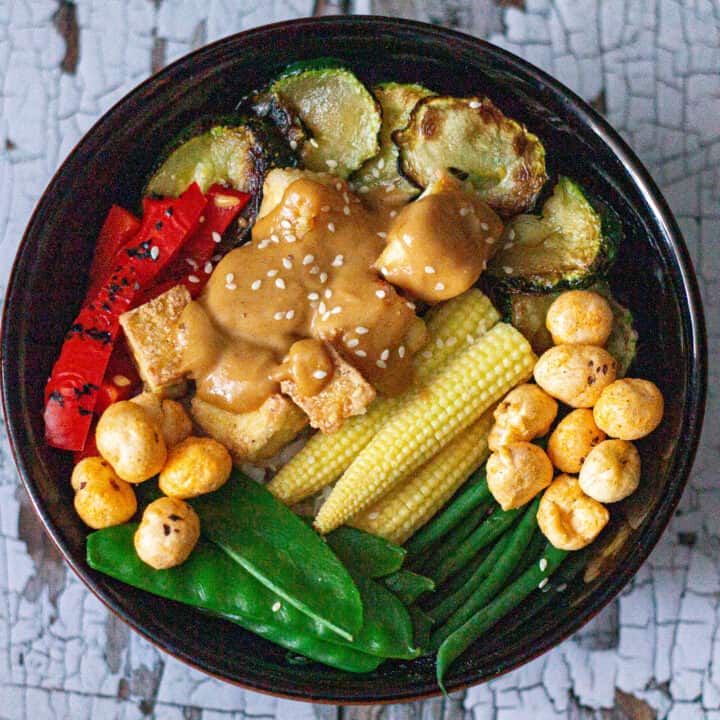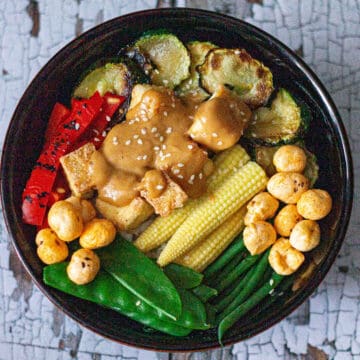 A quick and simple way to prepare tofu
Equipment
Saucepan

Whisk

Ziplock Bag

Chopping Board

Shallow dish
Ingredients
For the Velvet Tofu
1

pk

Firm Tofu

-

drained and dried

¼

cup

Cornflour

2

tbsp

Sesame Seeds

Salt and Pepper

¼

cup

Soy Milk

-

unsweetened, or plant-based milk of your choice

2

tbsp

Sunflower Oil

-

for frying
Peanut Ginger Sauce
¼

cup

Sweet Chilli Sauce

1

tsp

fresh Ginger

-

grated

1

tbsp

Sesame Seeds

1

tbsp

Soy Sauce

½

tsp

Sesame Oil

1

tbsp

Peanut Butter

1

tsp

Maple Syrup

1

tbsp

Cornflour

-

whisked with 2 tbsp water
Instructions
To make the Velvet Tofu
Pour the milk into your shallow bowl. Add the tofu to the bowl, coating it.

In the ziplock bag, add the cornstarch, sesame seeds and seasoning.

Drop the cubes of tofu into the ziplock bag (not the milk though!) and gently shake the bag until the tofu is coated in the mixture.

In a frying pan, heat 4 tbsp vegetable oil until it starts to shimmer slightly.

Carefully drop the velvetted cubes of tofu into the hot oil and fry on each side until light golden brown. This should only take a couple of minutes.

Remove from the oil and drain.
Peanut Ginger Sauce
Add all the ingredients into a small saucepan. Bring up to the boil and stir vigorously with a whisk until it thickens. Remove from heat immediately.

To serve, drop the cubes of tofu into the sauce and coat thoroughly.
Please note that where the recipe asks for milk, butter or yogurt, this refers to any plant-based version that you prefer.
Nutrition Facts
Velvet Tofu Bowl with Peanut Ginger Sauce
Amount per Serving
% Daily Value*
* Percent Daily Values are based on a 2000 calorie diet.