Vegan Goulash – A Spicy and Hearty Hungarian Stew
This post contains links to affiliate websites, such as Amazon, and we receive an affiliate commission for any purchases made by you using these links. We appreciate your support!
My vegan Goulash is a smoky, vibrant stew, packed full of hearty vegetables and strong paprika flavour. It is also quick and simple to make!
It seems like there should be a whole book devoted just to stews. Every country, from Ethiopia to Hong Kong, Russia to Ireland, all have their own variant on a theme.
The stew represents many things, notably, good homely cooking, often using inexpensive ingredients, it is easy to make and during inhospitably cold winters, it warms our cockles: in short, it is, quite possibly, one of the worlds favourite comfort foods.
A variation on a stew for people on a budget would be a Hungarian goulash (or, as I once spookily misspelled it, ghoulash. Well, it does come from Bela Lugosi country).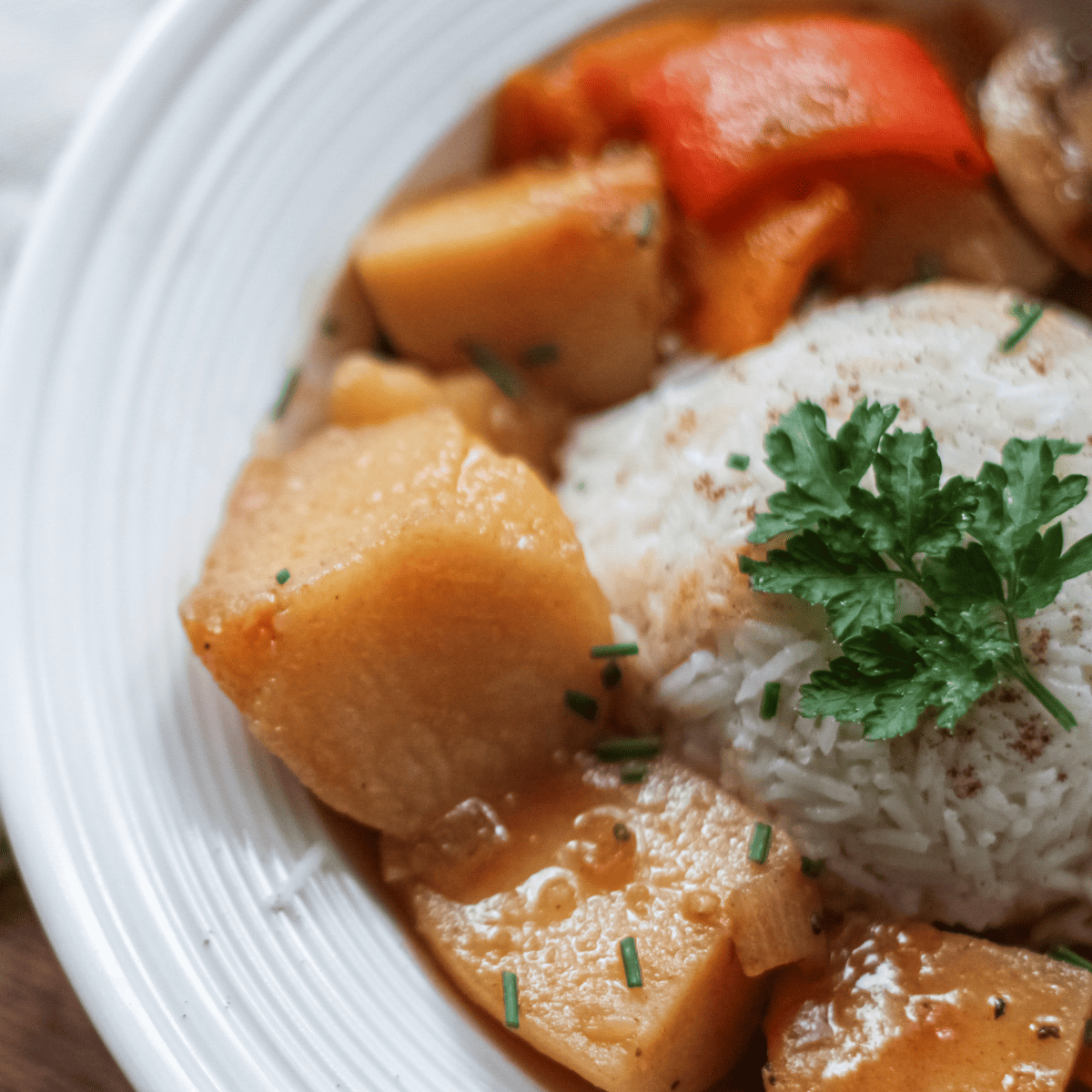 Traditionally made with beef or pork, our meat-free stew is made substantial with large chunks of diced potato and lots of yummy veg: a green and red pepper or two, a stick of celery, a large chopped onion, liberally spiced with paprika (I also add some cayenne pepper because I like my goulash to be spicy) and simmered for as long as you like.
I recently made goulash on a Wednesday to serve on a Friday and each time I opened the fridge, its dark red, smoky/peppery scent would greet me and make me long for Friday night. By the time it was ready to eat, all the flavours had amalgamated fantastically.
Serve with dollops of vegan sour cream on a bed of plain boiled rice (or tagliatelle noodles) and dusted with some more paprika – wow! The great thing about this dish is that there are many varieties of Paprika: Spanish, Hungarian, Russian…all have their own distinctive flavour, sweet, smoky, fiery. So, a goulash can taste slightly or wildly different each time you prepare it.
Ingredients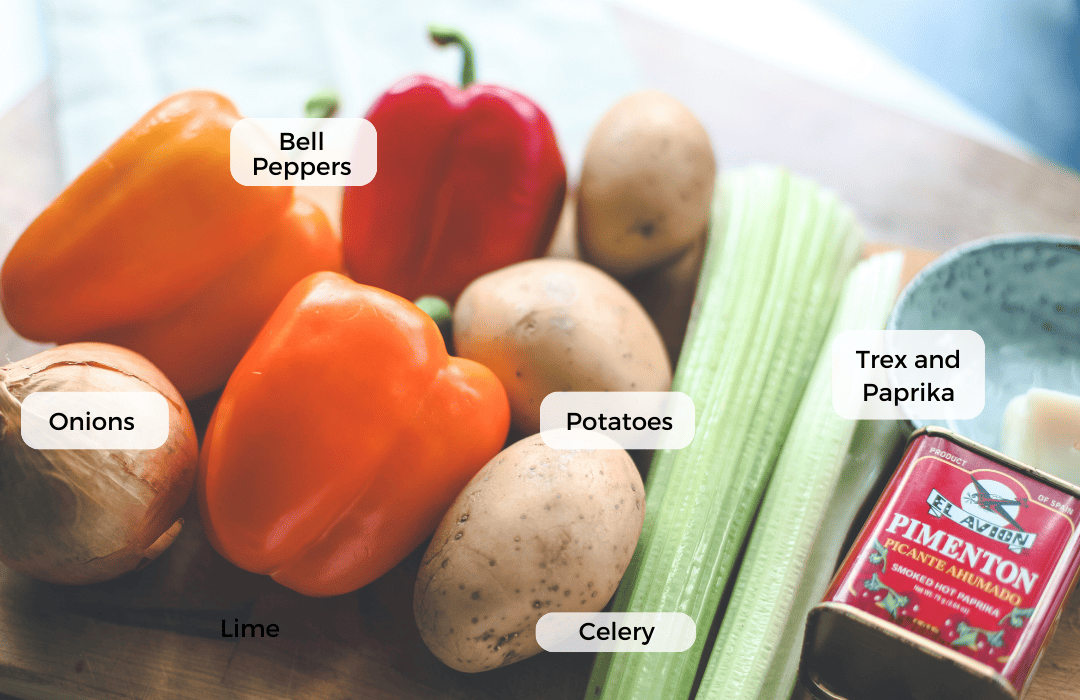 onions and celery
bell peppers, use a mixture of colours
potatoes. Use a firm potato that won't fall apart in the stew.
paprika
This is ONLY a list of ingredients for the recipe; please see recipe card below for complete printable recipe.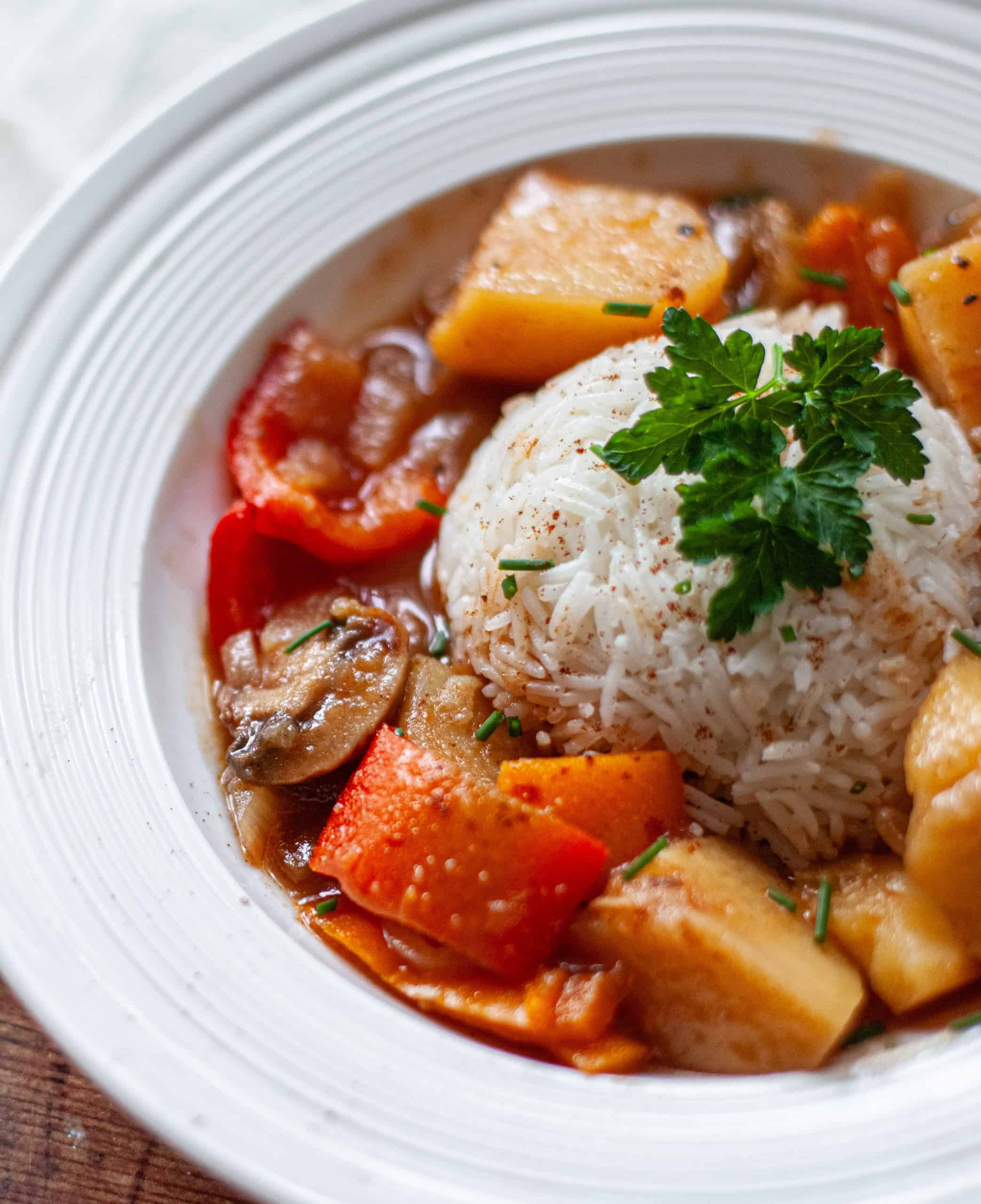 Instructions
In a large saucepan, sauté the onions, peppers and celery until just starting to turn tender
Add the potatoes, bay leaves, paprika and mushrooms and stir gently to combine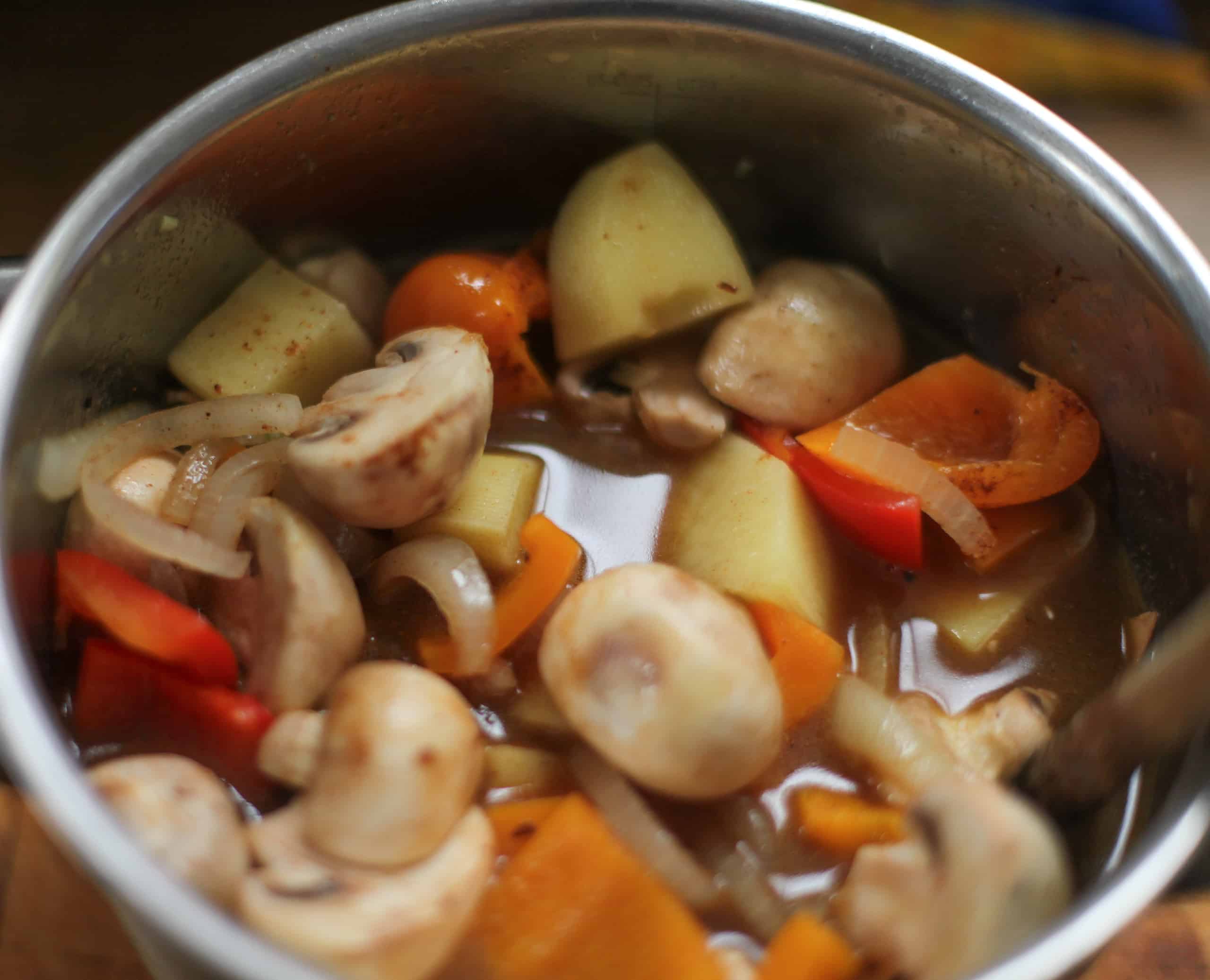 Cover with water and simmer gently until the potatoes are tender
Add the cornflour slurry and gently heat until the goulash has thickened slightly and is rich and glossy. Taste for seasoning and serve.
Substitutions
Celery – omit the celery if you really dislike it!
Mushrooms – if you want to make the dish slightly less carby, replace the potatoes with more mushrooms
Storage
You can store the cooled goulash in the fridge for 2-3 days, gently reheating when needed.
This goulash doesn't freeze very well, so I wouldn't recommend it.
Top tip
I like to use a mixture of sweet and smoky paprika, to give a complex flavour to the stew.
FAQ
What is goulash?
Goulash is the traditional dish of Hungary, and originated around the time of the 10th century. It comes from the word gulyás meaning herdsman, or prepared by herdsman. During the 10th century, herdsman would carry dried meat with them, and prepare a stew by adding this meat to water. It wasn't until the 16th century that paprika was added to the dish, giving it the distinctive flavour and colour that we all know today.
Easy Vegan Goulash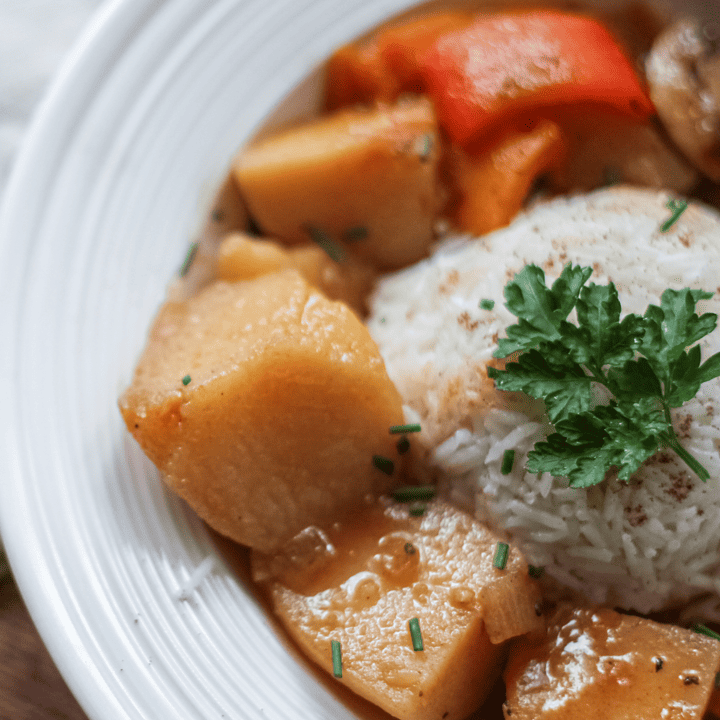 A simple and hearty Hungarian stew
Ingredients
1

tbsp

Trex or vegetable oil

1

onion

diced, chunky

3

bell peppers

cut into chunks

2

celery

sticks, sliced

100

g

mushrooms

I use smallish ones, cut in half

700

g

potatoes

white, firm, peeled and cut into large dice

800

ml

water

1

tbsp

tomato puree

2

tbsp

paprika

2

bay leaves

salt and pepper to taste

3

tsp

cornflour
Instructions
Heat the oil and Trex in a large saucepan. The Trex is optional, but it adds an unctuousness to the final sauce.

Sauté the onions, celery and pepper for about 3-4 minutes, until barely beginning to soften.

Add the tomato puree, potatoes, mushrooms, bay leaves and paprika, stirring gently to coat everything.

Cover with water, bring to a boil then turn down to a gentle simmer.

Cook until the potatoes are just tender.

Season generously to taste.

To thicken sauce, whisk 3 tsp cornflour with 2 tbsp cold water. Bring the Goulash back up to a boil and stir in the cornflour slurry. Stir until thick.

Serve with boiled rice or noodles.

Top with some vegan Sour Cream.
Nutrition Facts
Easy Vegan Goulash
Amount per Serving
% Daily Value*
* Percent Daily Values are based on a 2000 calorie diet.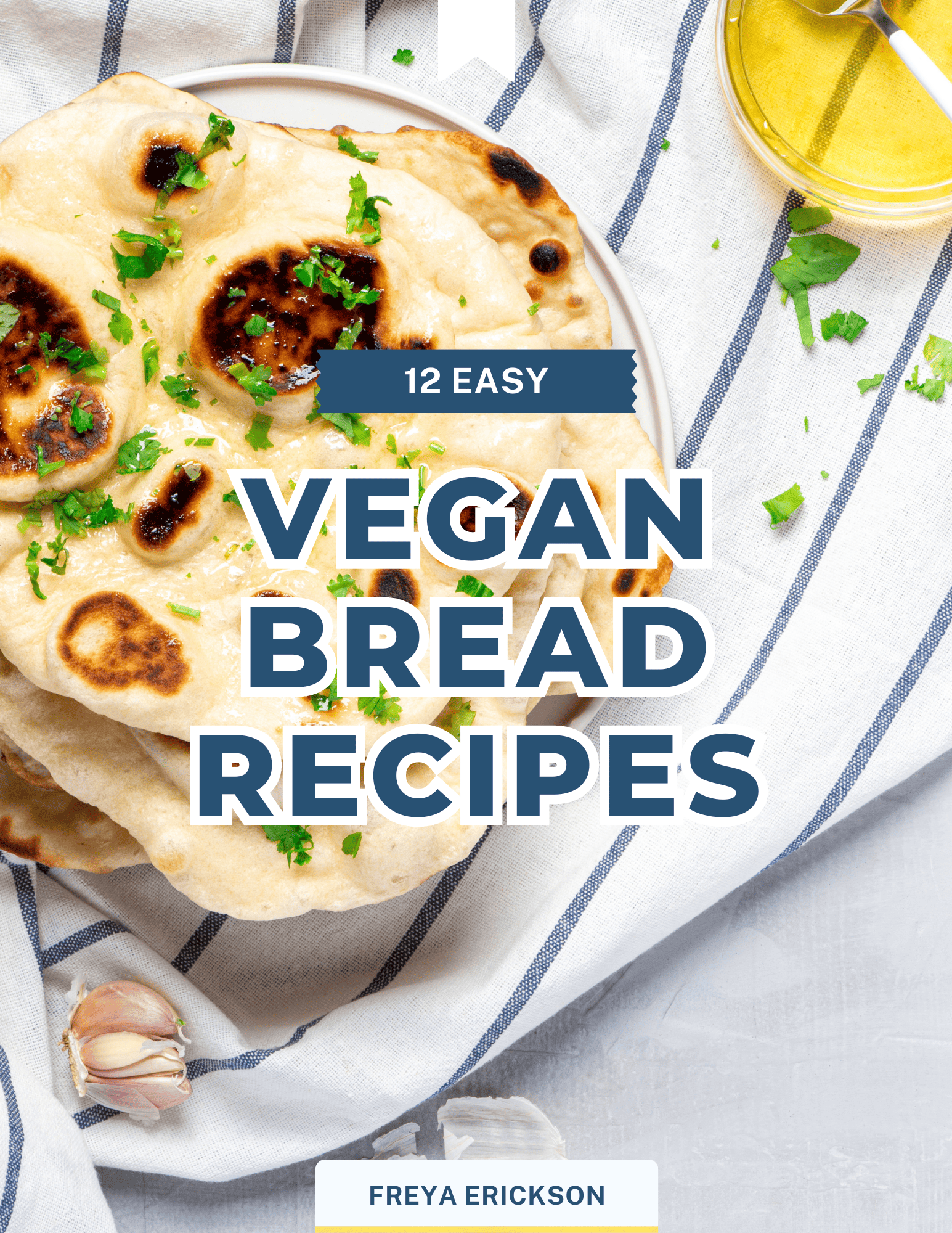 Grab your Free copy
Get Sweeter than Oats in Your Inbox