How to Make Easy Delicious Gazpacho Soup
Easy delicious Gazpacho soup, perfect for a hot summer day when you don't want much to eat, but need something refreshing and crisp.
De gazpacho no hay empacho! – There is never too much Gazpacho!

Is there a dish that recreates summer more eloquently than Gazpacho? Probably not, for this ancient Andalusian soup is made with only fresh ingredients and then served cold, preferably over ice, the next day, for a truly refreshing and satisfying summer meal. It is the perfect way to get your fresh veggies into your diet if you find eating lots of veg a pain!
Gazpacho is the only cold soup that I have made. There is something about its bold flavours that brings to mind Bloody Mary cocktails, yet, despite being alcohol free, it is far more complex than that. It is simple and quick to prepare but the chilling is essential, the flavours need time to mingle and, like a Moussaka is best at room temperature, so the Gazpacho is best served cold, cold, cold.
What is Gazpacho?
The dish, although thought of as being Spanish, originates from the Roman days, many hundreds of years ago, a peasant dish made from just olive oil and stale bread. The word Gazpacho is a derivative of the Latin word caspa, meaning crumbs or fragments and indeed a true Gazpacho is still blended with stale bread which gives a distinctive thick texture.
Much later on in the 15th Century, after the New World crops were introduced from the Americas to Europe, peppers and tomatoes were introduced to the dish and it has changed little since then.
The odd additions of fresh herbs, perhaps basil or parsley, a dash of hot sauce here, some Cayenne pepper there, or perhaps the soup being strained to produce a fine broth are the most common modifications to the soup.
There is also a white Gazpacho, Ajo Blanco, which is made with blended almonds, garlic, and the ever-traditional bread and olive oil, not to mention restaurants turning the dish into something altogether more expensive and glamorous. I don't use garlic in my version although some do, I find the flavor too distracting from the cleanness of the other ingredients. Feel free to add a small garlic clove if you want though.
I add some chili for a little heat, celery because I love its herbal quality and sometimes a can of tomatoes if the fresh ones are a little peaky or bland, and it makes the soup go further. I don't sieve my soup because I find it more substantial served chunky but feel free to strain if you wish.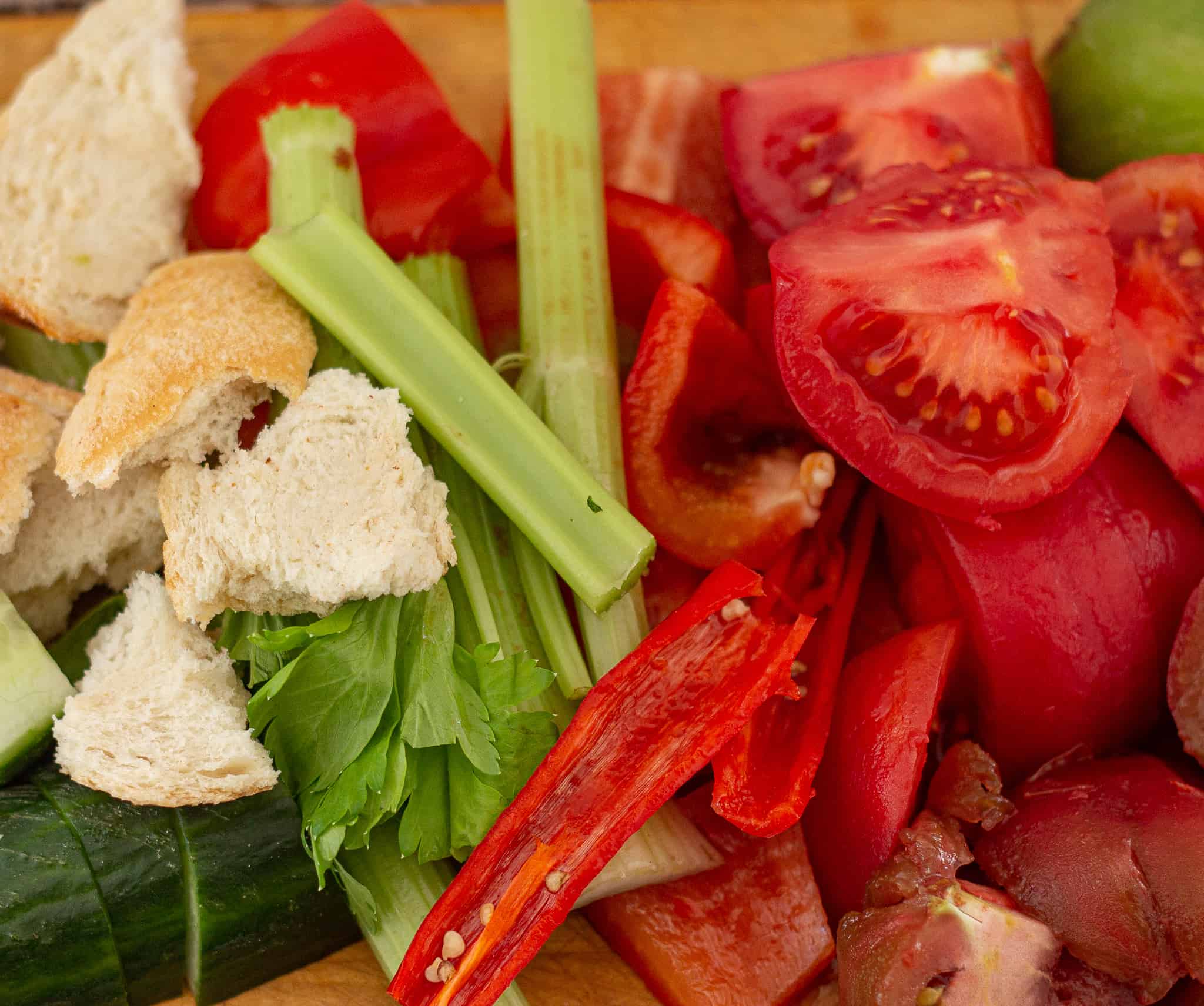 But, remember that this is a traditional peasant dish (which far from being a derogatory term, reflects the inventiveness that comes with frugality), it is a wonderful way to use up tomatoes that are a bit past their use-by date, peppers that are looking shrivelled and bread that not even the dog will touch. The one proviso is that you use the best quality extra virgin olive oil that you have in the kitchen – bad olive oil will flavor the soup most unfavorably. And to sharpen up the soup a little, a splash of sherry vinegar is perfect. It adds the perfect little kick.
So, bearing in mind that old Spanish saying, "There is never too much Gazpacho", here is the recipe for easy delicious Gazpacho.
Oh, and don't worry that your Gazpacho isn't as vibrant coloured as you might think. The olive oil and bread turn the soup a beautiful peachy colour instead.
How Do You Peel Tomatoes?
Cut a deep cross in the top of your tomatoes
Place them in a large bowl
Pour boiling water over them
Leave for a couple of minutes for the skin to soften and loosen
Carefully remove from the hot water using a slotted spoon and peel away the skin
Ingredients
Ripe tomatoes. Try and find the best quality ones you can, ideally on the vine. You can tell how good they are when you smell them. If they don't have a smell, they won't have a lot of flavors either. Fresh tomatoes are ideal, and this is the perfect soup for tomato soup, showcasing their natural flavor and versatility. You can use plum tomatoes or cherry tomatoes, but larger ones are preferable as they are easier to skin.
Green pepper or red bell pepper. Whichever you prefer.
Good olive oil, preferably extra-virgin olive oil
Green chilis. I like to use chili to add a little heat, but I do deseed them, as I want the flavor, not searing heat.
White bread, stale. This thickens the soup and makes it a little more filling. With a no-cook soup such as gazpacho, this is the perfect thickener.
Celery. I think this adds a delicious Bloody Mary vibe to the soup. You don't have to use it, and if you choose to omit it, simply add more tomatoes or red pepper.
Sherry vinegar, or you can use balsamic vinegar, or red wine vinegar instead.
Red onion. Or you could use some trimmed green onions instead.
Cucumber, for decoration.
Sea Salt and black pepper.
Method
You can prepare this simple summer soup in a matter of minutes, the only thing taking the time is peeling and chopping the veg.
Note: If I want to make a chunky gazpacho, I keep a little of all the veg to one side and cut it into small dice. Then I stir them through the finished soup.
I like to peel my tomatoes using the method above, and, using a food processor or high-speed blender, blitz them first, then add all the other ingredients, except the seasoning and cucumber.
Blend until you have a beautiful pink puree.
Stir through the reserved diced veg if you wanted to make a chunky soup.
Taste for seasoning, adding a dash of vinegar to your taste. Start off with just a little.
Decant into a large bowl, cover with clingfilm and refrigerate overnight.
The next day, serve in bowls with a few cubes of ice in the bottom, topped with a little chopped cucumber.
Try my other delicious vegan soup recipes
Gazpacho
A Summery, Fresh, chilled soup
Ingredients
6

Tomatoes

good quality, skinned but not seeded, plus extra cut into tiny cubes for decoration

1

Green Pepper

cut into rough chunks (or red or yellow or orange)

1

Red Onion

peeled

2

Green Chilis

(more if you want extra heat, deseed the chilis if you want less, otherwise, just throw them in whole)

1

cup

Extra Virgin Olive Oil

2

sticks

Celery

(optional), cut into quarters

1

400g

Tomatoes

tin, if your fresh tomatoes are a little wishy-washy

1

50g

White Bread

stale

¼

Cucumber

cut into chunks, plus extra cut into tiny dice for decoration

Salt and Pepper

1

tsp

Sherry Vinegar

or red wine vinegar
Instructions
Make a cross in the top of each fresh tomato, place in a large jug and cover with boiling water for a minute or two. The skin will start to peel away from the cross you made and then you should be able to peel them.

Place the peeled tomatoes in a blender or food processor and blitz until they form a chunky puree, about 20 seconds.

Then add all the other ingredients gradually, in large chunks, blending in between additions. You might need to add the olive oil halfway through if the ingredients start looking a little too thick. You might also find you want more than a cupful of oil or a little less, depending on what texture you like.

Taste the soup, season (it will take quite a lot of salt), add more chilli if you want more heat, more olive oil, or the can of tomatoes if you feel it needs it. Remember that the flavours will enhance the longer you leave it to chill.

Decant into a large bowl, cover with clingfilm and chill for several hours.

Ladle into large bowls and sprinkle with the chopped cucumber and tomato and a drizzle of olive oil. Enjoy!
Nutrition Facts
Gazpacho
Amount per Serving
% Daily Value*
* Percent Daily Values are based on a 2000 calorie diet.