How to Make Vegan Refried Beans
This post contains links to affiliate websites, such as Amazon, and we receive an affiliate commission for any purchases made by you using these links. We appreciate your support!
Vegan refried beans recipe. When I first read about refried beans, I think in a book by Jan Kerouac where they were referred to by their proper name, Frijoles Refritos, I thought that they sounded deeply romantic and exotic. I pictured myself walking past brightly coloured adobe houses, my long skirts brushing against the dusty red roads, then stopping at a roadside vendor and buying a Tamale. I imagined that I could smell the hot cornmeal as I unpeeled the husk, my olfactory senses tempted by the smells of roasted chilies, my other senses enlivened by Mescal.
I have not yet made it to Mexico, unless Albuquerque, New Mexico counts, when I once spent twenty four discombobulating hours avoiding long haired panhandlers, jumping at the sounds of gunshots at midnight and wondering why a struggling 10 year old child would be carrying a large box of drugs into an elevator. The only culinary recollection I have from those twenty four hours was the late-night Daiquiri Ice from Baskin-Robbins. I also remember leaving the flaming crimson sunsets over the mesas as we drove at breakneck speed towards Texas, the next stop of our journey.


Alongside my Frida Kahlo-esque dreams of Mexico, the only other way we can replicate the blazing hot sun and glazed bean pots is in our kitchen. Along with our sense of smell, the taste of something evocative can send us hurtling to those imaginary places we have always wanted to visit, or to remind us of those idyllic childhood foods that always tasted so much better back then.

I have more cookbooks on the food of Mexico than anything else and I never tire of the cuisine, its seeming simplicity and reliance on slow cooking to extract every molecule of flavour, the use of so many types of chillies, all of which play a different role. When I smell fragrant Cumin or Cinnamon or my nose starts to tickle from a generic hot capsicum (because that's all my local supermarket stocks), I feel as though I am there, reliving imaginary adventures.

I have a book on Mexican cuisine called Mexico – The Beautiful Cookbook. It is a huge outsize book and you may remember the series from your local Barnes and Noble. I often flip through this book whilst lying in bed but I only cooked from it for the first time yesterday. The authors, Suzanna Palazuelos and Marilyn Tausend, have grouped the book loosely into regions, and there is a useful guide to some of the more unusual ingredients, such as Huitlacoche – the Mexican Corn Truffle (and if anyone knows where I can locate a tin in the UK or would be kind enough to send me some, I would be their eternal friend).
With this being one of the most concise books on the Mexican kitchen, it was extremely hard for us to choose one recipe in particular to cook. However, I chose one of my favourites, Refried Beans. My original daydreams about Refried Beans were shattered when I first tasted some from a tin. Dry, claggy and distinctly lacking in flavour, these were surely not what I had been yearning for all these years? I must have been missing something because an American friend chowed down on Bean Burritos with all the fervour of a Jack Russell around a rats neck. He saw it like this: poor Mexican food is still better than no Mexican food. Point taken and duly noted. I still avoided Refried Beans though unless they were smothered in salsa, guacamole and the all important sour cream.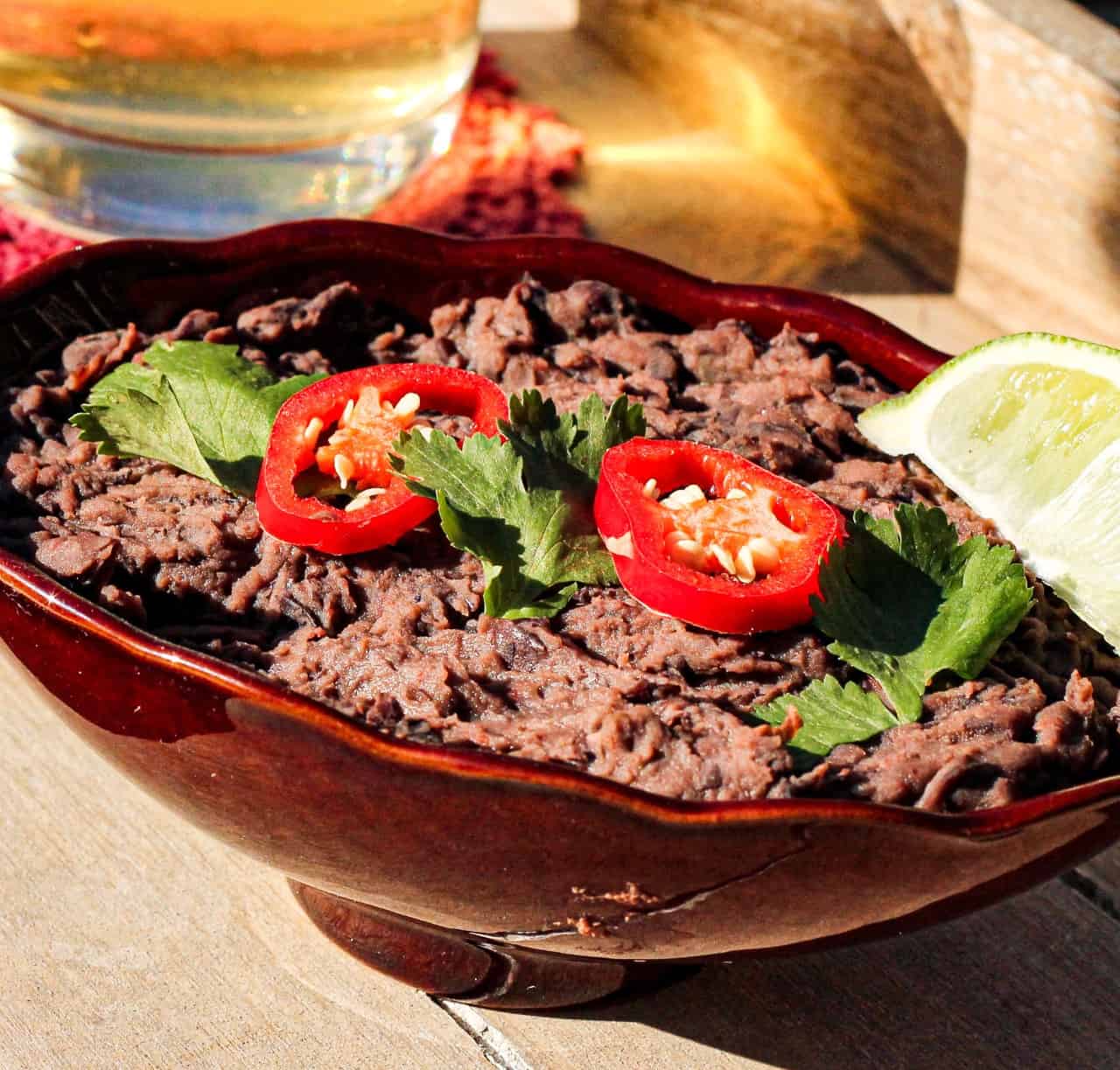 I thought I would treat my friend to his favourite dish and bought some mottled pink Pinto Beans. Suffice to say, they languished in the corner cupboard, the one with the ineffective revolving door that bows in the middle but is OK for holding all my other dried pulses, for quite a while until I started flicking through Mexico – The Beautiful Cookbook and stopped at Frijoles Refritos. "It's funny how Summertime always makes you crave Mexican food" I thought. It seems to have a natural affinity with the outdoors.
Like making your own bread or marshmallows, making homemade refried beans seems like it's best left for the professionals. However, once you scrape beneath the recipe and get your hands dirty, it's much easier than you think. Using a few simple ingredients, a good vegan refried bean recipe and a little relaxing cooking time, you will have turned dry pinto beans into a delicious side dish!
What are Refried Beans?
For one, the refried element of the dish is a misnomer. The beans are first simmered in water and lard, spiced up with some chillis (dried, chipotle for example) or fresh (jalapeño pepper), then mashed (with a potato masher) into some onion-fragrant lard (yes, more lard) until a paste the colour and texture of pink adobe is achieved. There is no second frying and it is merely a misinterpretation of the Spanish language that has led to this common misconception. Refrito (as in Frijoles Refritos) literally means "well-fried" ("re" being used to exaggerate the importance of a word and "frito" meaning, of course, "to fry") and because the beans are "overcooked" in the lard to achieve a dry texture this name has been passed on for generations. It is easy to see how the confusion occured – re-fried / re-frito. Of course, lard is not vegan, so I simply used Crisco or Trex. They are vegan shortening and work perfectly.
Dried Beans, notably the Pinto, have been part of the Mexican diet for hundreds of years and they are justly proud of this culinary heritage, the Frijoles and its accompanying dishes have sustained them culturally for years. A more thorough and excellently written history than I can provide can be found here.
Apart from being the Barbie Doll of the Legume world, this speckled pink, curvaceous bean has an incredible flavour and texture. Unlike other beans that I have used, the Pinto Bean even emits a deeply savoury smell when soaking in water. And when cooked, they contort out of their designer skin to reveal their naked, ever so slightly mealy but mostly creamy body that was just made for re-frying.
Everyone who is an aficionado of refried beans will have their own way of serving them: mounding them up on a plate and sprinkled with some vegan cheese, cosily smothered in a corn tortilla or given the cheese treatment in a Quesadilla. Once you have made your own easy vegan refried beans, you will never go back.
I love them served with Mexican rice and just a squeeze of lime juice to make everything sing. It's the perfect meal. And whilst a can of refried beans (yes, old el paso) is sometimes a good alternative, it isn't the same. This easy recipe takes very little of your time.
Ingredients
Dried Pinto Beans, but you can also use black beans. In a pinch, you could use canned beans, although the flavour won't quite be as good. I would say that black beans, pinto beans or kidney beans would be just fine. n.b ensure that you soak your dried beans overnight before cooking.
White Onion, peeled, cut into large chunks
Epazote or Oregano.
Dried Chilis or fresh. I like the green chile you can buy in the store too.
Vegan Shortening such as Trex or Crisco. You could also use olive oil. The shortening adds an unctuous texture to the beans.
I simmer my beans in water, but you can use vegetable broth if you prefer, for some additional flavour.
Fresh cilantro to finish.
Method
If using dried beans:
Firstly, bring a large of water up to a boil. Add half the white onion.
Drain your dry beans and add them to the boiling water. Turn down to a gently simmer and cover. Do not add salt at this point.
You can also cook beans in an instant pot pressure cooker or crock pot, using the manufacturers instructions.
Once the beans are softened, after an hour or so, add the chilis, epazote (or oregano) and simmer for another 20 minutes, or until absolutely tender.
In a large skillet or frying pan, heat the shortening or olive oil and sauté the remaining half of the white onion, for about 5 minutes. You are simply flavouring the oil.
Remove the onion using a slotted spoon and discard.
Carefully pour half of the cooked beans, chili, cooking liquid and all into the oil. Be cautious as the oil will sizzle and spit as the liquid hits it.
Using a potato masher, mash the beans into the oily onion-scented mixture until you have a creamy texture.
Keep adding more of the beans to this mixture until you have used it all up, and you have a pan of creamy beans.
Turn to medium-high heat and, stirring all the time, cook the beans until they reach the dry consistency that you desire.
Now taste for seasoning and season to your liking.
Enjoy this vegan refried beans as part of your next taco night, in a tortilla or just warm with some nacho chips.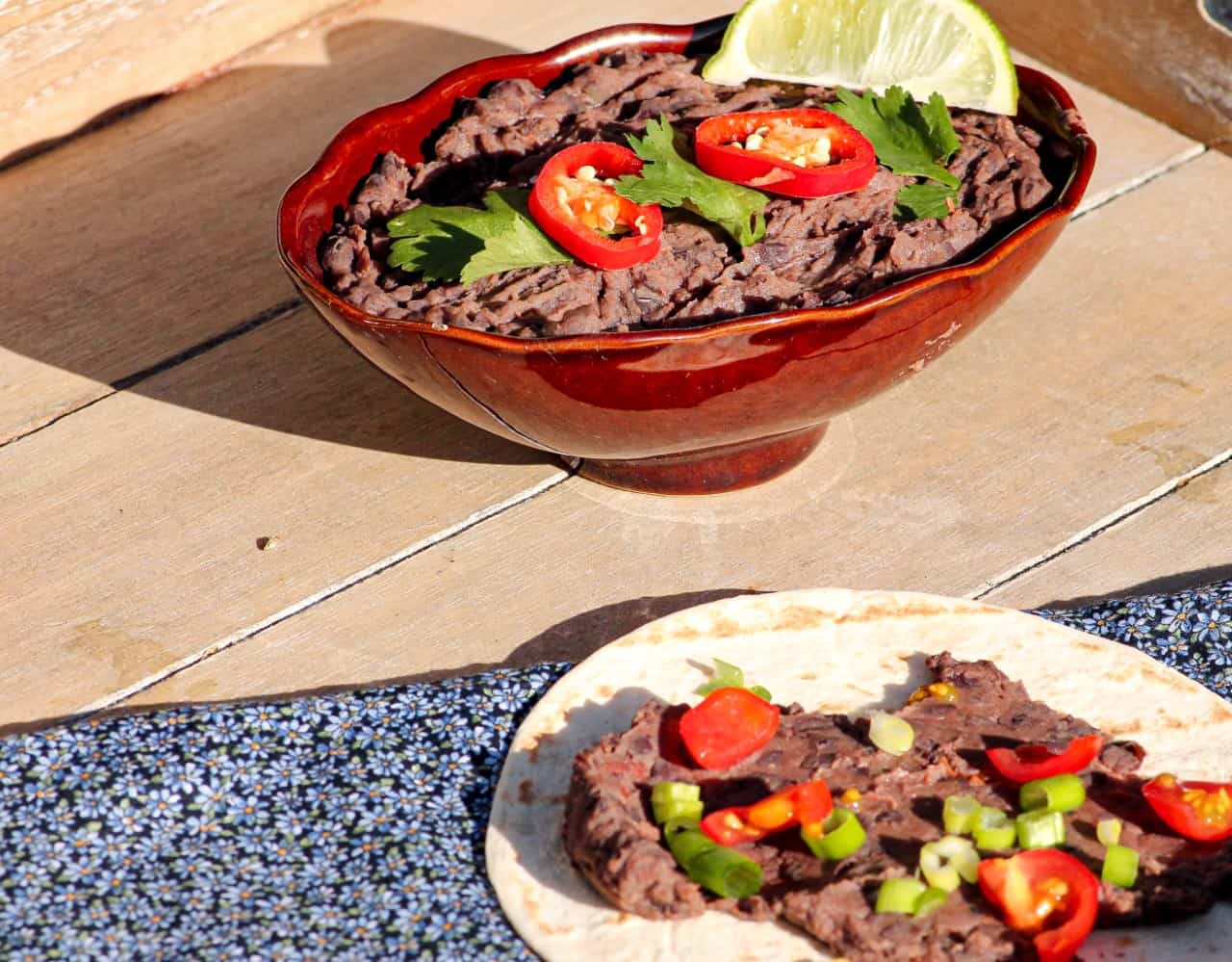 But, whatever you do with your frijoles refrito, you must, of course, start with your humble Pinto Bean. Here's how to make vegan refried beans.
Try them with my delicious vegan Tacos
Vegan Refried Beans
How to make refried beans without lard
Ingredients
250

g

Pinto Beans

-

dried, soaked for 8 hours and drained

½

White Onion

-

peeled

1

tsp

Epazote or Oregano, dried

4

Dried Chillis

2

tbsp

Shortening

-

such as Crisco or Trex
For the Frying
2

tbsp

Shortening

½

White Onion

-

(yes, use the same onion as above!)
Instructions
Place the beans in more than enough water to cover them, you're aiming for a good two inches over their heads. Add the lard or oil and the onion to the pan.

Bring to the boil, then turn down to a gentle simmer. Cook for about an hour or until nearly tender.

At this point, add the dried chillis, epazote or oregano and a little salt and pepper. Simmer for another 20 minutes or until totally tender.

In a heavy bottomed frying pan, melt the shortening and fry off the onion, taking care that it doesn't burn. You are simply flavouring the oil and once the onion has softened, remove from the shortening and discard.

Carefully pour half of the bean mixture, including the cooking liquor and any chillis and onions that come with it, into the flavoured shortening. Take care as this will momentarily spit, the old water on oil trick.

Using a potato masher or the back of a fork, gently mash the beans into the onion scented lard, adding more from the pan until all used up.

Turn the heat up to medium high and cook until they have dried out to your desired consistency. Some prefer them creamier than others. Taste for seasoning and serve in your favourite way.
Please note that where the recipe asks for milk, butter or yogurt, this refers to any plant-based version that you prefer.
Nutrition Facts
Vegan Refried Beans
Amount per Serving
% Daily Value*
* Percent Daily Values are based on a 2000 calorie diet.