Easy Tangy Vegan Lemon Cookies Recipe
This post contains links to affiliate websites, such as Amazon, and we receive an affiliate commission for any purchases made by you using these links. We appreciate your support!
My easy vegan lemon cookies are a deliciously refreshing treat that anyone can enjoy. Made with simple and plant-based ingredients, these cookies are a perfect choice for those following a vegan lifestyle. Combining zesty lemon flavor with a soft, chewy texture creates a mouth-watering experience that will leave you wanting more!
I love baking cookies and have so many cookie recipe books, but I always seem to stick to the same type: chocolate chip oatmeal ! I also have an enduring soft spot for my chocolate chip cookies that I don't think will ever fade.
However, whilst I was browsing some of my favourite food blogs recently, I came across this delicious sounding cookie from Jere at One Hot Oven. Her recipe for chewy Iced Lemon Cookies sounded so different to the usual type of cookie that I make (no chocolate!), and perfect for Spring!
How do you make Vegan Lemon Cookies?
This recipe contains a generous amount of lemon, both from juice and zest of THREE lemons, so the flavour is absolutely unmistakable! Jere's recipe pushes the lemon quotient over the top with a zesty, tangy icing which helps keep the cookies moist and delicious in the cookie tin. These chewy cookies are perfect for lovers of all things lemon and might just be my favorite vegan lemon cookie recipe.
I veganised Jere's recipe, and made it suitable for cooks in the UK by using Orgran Egg Replacer, vegan butter and Golden Syrup instead of corn syrup.
Finally, as if all that lemony goodness wasn't enough, these little babies are topped with a tangy lemon glaze!
Ingredients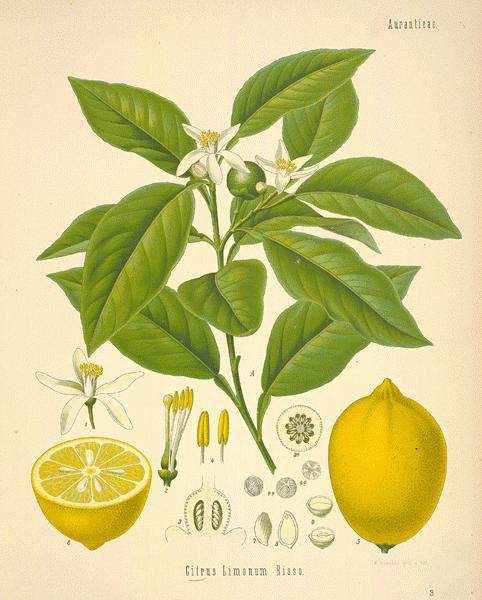 Fresh lemons. We start with the most important ingredient of all, Lemons! As the saying goes, when life gives you lemons, make lemonade. However, I think if you make these cookies, you'll enjoy your excessive lemon life bounty even more. Lemons do come in varying sizes. In the UK, if you buy them from the supermarket, they are usually quite small, nothing like the huge lemons you see chefs on TV using.
Here's a really useful article about sizing your lemons for baking. To be honest, this recipe uses mostly zest, and the only danger you might be in is making your lemon cookies too zesty…and if that's the case, you probably won't be making these cookies anyway! There is no risk of these not having a tangy lemon flavour!
I find that a Microplane is the grater for that fine lemon zest. I have had mine (in pink!) for over 10 years and it is still as sharp as ever. It works brilliantly for nutmeg or ginger too.
The zest gives them a fresh lemon flavor, but they do also have a little fresh lemon juice as well. This works as both a binder, and additional flavor.
Egg Replacer. There are quite a few different ways to replace eggs in baking, some work as binders, some give you volume and others a tender texture. It is important to understand what the egg is doing in your recipe before you decide on what to replace it with. I like to use either Orgran Egg replacer or flaxseed eggs in cookies because they help give cookies a crisp outside and a chewy middle. Replacing the egg element with apple sauce or yogurt can give a cakier texture, which, whilst they will still taste yummy, is not really how you want cookies to be! Eggless cookies are the way to go! Feel free to use a flax egg if you prefer.
Vegan Butter or Margarine. Use your favourite brand.
Golden Syrup or corn syrup. If you are British, you will know the sweet, unique flavour of golden syrup. If you can't find it though, use corn syrup.
Soft brown sugar. You need a little sweetness to balance the tangy lemon flavor of these cookies! You could also use white granulated sugar if you like.
Plain or all-purpose flour. You could also use your favourite gluten free flour mix.
Powdered sugar.
This is ONLY a list of ingredients for the recipe; please see recipe card below for complete printable recipe.
Method and Tips
This is your usual cookie dough mixture: cream sugar with room temperature butter, then add egg replacer with lemon juice, then your dry ingredients until you have a thick dough.
I like to chill my dough (all doughs actually) for best results for a while in the fridge. It makes them a lot more stable to handle and roll into shape.
These cookies are formed using a 1″ cookie scoop but you can, of course, make much larger cookies if you like. Actually, I think these would be amazing as saucer style cookies, perfect for a fun dinner party dessert!
If you want to make ahead, scoop out your balls of cookie dough and freeze them in a ziplock bag so that they are ready for whenever a cookie craving hits!
To prepare the cookies, I like to scoop them out, roll them into balls and then coat in a little icing (confectioners) sugar. Jere's recipe used caster sugar instead but I like the finish of the icing sugar. It really doesn't matter to the overall taste though!
Make sure to leave at least an inch space between cookies on your baking sheet because they will spread out.
I found that my cookies spread out better during baking if I pressed them down a little bit before putting them in the oven. My first batch didn't spread out as much without a little flattening. This could be due either to the egg replacer or because I used golden syrup instead corn syrup, and so the batter had a slightly thicker texture.
Leave to cool completely on a cooling rack.
To ice your cookies, use the back of a teaspoon (not a measuring teaspoon) and don't use too much icing per cookie. About half a teaspoon will be plenty for these little cookies. This simple lemon glaze is very easy to use and if you find that it is going a bit thick, simply beat it with a wooden spoon.
To store your cookies, keep them in an airtight container for up to 7 days.
You can place your "empty" lemon shells over the end of your taps to clean them!
You can replace the lemon with limes or oranges to make an equally delicious tangy cookie!
You can replace the plain (all-purpose) flour with gluten-free plain flour instead.
Try my other delicious vegan cookie recipes
Vegan Iced Lemon Cookies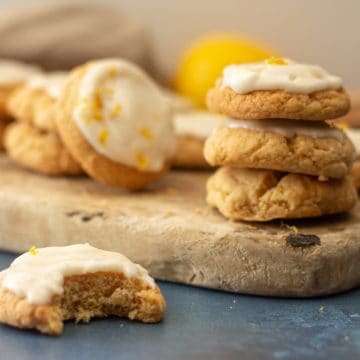 An simple and flavourful cookie
Equipment
Mixing Bowl

Electric Hand Whisk

Lined Baking Sheets

Lemon Juicer

Zester
Ingredients
Lemon Cookies
¾

cup

Margarine

-

vegan, I use Stork

¾

cup

Brown Sugar

1

tbsp

Vegan Egg whisked up with 2 tbsp Water

-

I use Orgran Egg Replacer

¼

cup

Golden Syrup

-

or Corn Syrup

2¼

cups

Plain Flour

2

tsp

Baking Powder

¼

tsp

Sea Salt

Zest of 3 Lemons

1

tbsp

Lemon Juice

¼

cup

Confectioners Sugar

-

for rolling cookies in before baking
Icing
1

cup

Confectioners Sugar

2

tbsp

Lemon Juice (reserved from lemons zested)

½

tbsp

Maple Syrup

¼

tsp

Zest
Instructions
In a mixing bowl, mix the butter and brown sugar until light and fluffy.

Add the vegan egg, lemon juice, zest and Golden Syrup. Mix well.

Finally, add the dry ingredients, the flour, baking powder and salt and mix until combined.

At this point you can chill the cookie dough overnight in the fridge, or make the cookies straight away.
To make the cookies
Using a 1" cookie scoop, scoop out balls of the cookie dough.

Roll into balls then coat in the icing sugar.

Place on prepared sheet at least 1" apart, and press down gently.

Bake for between 10-12 minutes. They will still be soft in the middle, this is good, you want a chewy cookie!

Leave to cool for a couple of minutes then remove to a cooling rack to cool completely.
Icing
Whisk the icing sugar, lemon juice, zest and maple syrup together. Icing needs to be thick enough that it doesn't drop off a spoon. Add a little more juice or icing sugar to achieve the right consistency.

Using a teaspoon, smear the icing over the cookies. Grate a little extra lemon zest on the icing whilst still sticky, then leave to set.
Please note that where the recipe asks for milk, butter or yogurt, this refers to any plant-based version that you prefer.
Nutrition Facts
Vegan Iced Lemon Cookies
Amount per Serving
% Daily Value*
* Percent Daily Values are based on a 2000 calorie diet.