My Top Five Vegan Baking Ingredients
Essential vegan baking ingredients. I thought it might be helpful for those of you new to vegan baking to share some of the ingredients I find indispensable when baking dairy-free.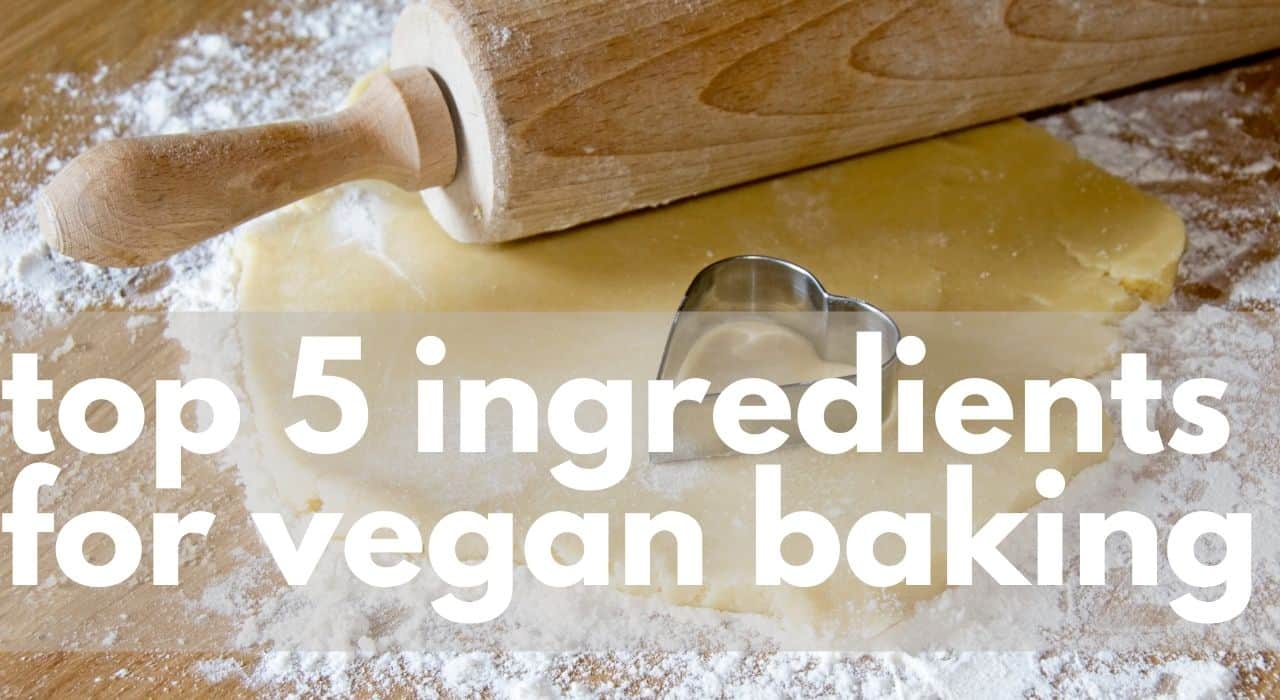 I bake a lot, mostly for my own pleasure and because I like the challenge of it. I won't sugar-coat it, vegan baking is very often hit and miss, and I have had countless disasters. Twas only during the Christmas holidays just gone that I baked six (!!) versions of my Vanilla School Sprinkle Cake before I finally found a version I was actually happy with. And the sad fact is, when you're omitting critical ingredients such as eggs or real butter, sometimes you will have to say that a vegan version is "good enough" as opposed to completely identical to it's non-vegan counterpart.
"I have not failed. I have found 10,000 ways that don't work." ― Thomas Edison
Don't let this deter you from baking. Whether you're having to remove the egg element, or going completely dairy free, there is a workaround that will produce a delicious result. Heck, if you can use chickpea juice to make meringue, then almost anything is possible.
To keep things simple for now, I am listing my top five essential vegan baking ingredients. I have also added some other baking essentials, in case you are just starting off on your plant-based baking journey.
Vegan Essential Baking Ingredient No.1 – Yogurt
As we work down the list, you will see that most of the ingredients replace eggs. Eggs play a critical role in baking: they bind, expand, help with rise and flavour.
I like to use yogurt as a replacement for egg:
¼ cup of yogurt = 1 (one) egg
I generally use soy yogurt (like Alpro), but you can use your favourite. If you are baking sweet products, such as cakes or muffins or even cookies, vanilla flavoured yogurt is fine too.
If I'm baking a large cake, sometimes I use yogurt in conjunction with another egg replacer, i.e. Orgran or Bob's Red Mill (see next ingredient). The reason behind this is that too much yogurt will make a really wet, heavy cake that will struggle to bake evenly. If you can imagine that replacing four eggs in a cake would be the equivalent of a cup of yogurt. On top of the existing wet ingredients in the cake, that's a lot! I would advise that if you decide to tackle a recipe with a lot of eggs in it and you can't find a vegan alternative on line, split the load: 1/2 cup yogurt, 2 tbsp egg replacer whisked up with 4 tbsp water. Even with this caveat, there is no guarantee it will be entirely successful the first time around. Don't get disheartened!
Vegan Essential Baking Ingredient No.2 – Egg Replacers
I'm talking about the kind that you whisk up with water before you add them to your cakes or cookies. These take the form of either:
Powdered Egg Replacer (i.e Orgran or Bobs Red Mill). These are made up things like potato starch, psyllium husk, tapioca flour and baking powder: all ingredients that help with binding or thickening.
1 tablespoon ground flax whisked with 2 tbsp water = 1 egg
Flaxseed Egg. This is a 100% natural alternative egg alternative. You can buy flaxseeds and grind them yourself or buy ground flax. Either way:
1 tablespoon ground flax whisked with 2 tbsp water = 1 egg
I find that these work best in conjunction with other egg replacers (i.e. yogurt or applesauce) as they have the binding, lifting element that wetter ingredients don't have, or they are great in harder baked goods like cookies, or pancakes, that don't rely on baking.
Vegan Essential Baking Ingredient No.3 – Baking Powder or Baking Soda
Absolutely indispensable whether you are baking plant-based or not. If you can find it, use double-action soda. This gives your bakes two rises: firstly it is activated as soon it comes in contact with the wet ingredients, and secondly, when it hits the heat from the oven.
How do I test the freshness of baking powder or baking soda?
Mix 1/2 tsp baking powder/soda with 1 tbsp hot water and you should see bubbles. If it doesn't bubble, throw it away and buy a new container. I can't tell you how disappointing it is to bake something, only to realise that you used out of date baking powder!
Vegan Essential Baking Ingredient No.4 – The Fat Element
So, you will see in my recipes that I use three different types of fat in baking and they all serve different purposes:
Vegan butter or margarine. I find that I have mixed results when creaming butter and sugar for vegan baking recipes, and I think this is because vegan butter often has a high water content. Therefore, I prefer to use it either melted in quick-bake recipes like muffins or pancakes, or just in frosting.
Vegetable Oil. Conversely, oil adds a delicious light texture to cakes and muffins and is preferable to butter (unless melted). To make it easy, I mix all the wet ingredients (oil, vanilla, milk, yogurt, egg replacer) in a jug, then add those to the dry. Use a flavourless oil like sunflower. You can use melted and cooled coconut oil too.
Shortening. I use this primarily in pastry or mixed with butter in scones, it adds a delicious flaky texture.
Vegan Essential Baking Ingredient No.5 – The Flour Element
In any list of ingredients for baking, you will always see flour, whether it is gluten free flour, almond flour, oat flour or just simple all-purpose. Unless you are on a strict keto diet, most baking recipes will use an all-purpose flour.
If the oil and egg replacers are the mortar of a cake, then the flour must be the bricks. Flour gives depth and texture to a cake that is simply irreplaceable.
In the last few years, the variety of flour available has expanded so much, and you can replace regular all-purpose flour with gluten-free or a mixture of wholegrain or nut flours. If you do need to replace flour, don't just swap up like for like. Think about the flour that you are using instead. Wholewheat flour is heavy, so it is recommended that you lighten it up with a little plain flour. If you are using buckwheat flour, you will need to increase your leavening as it is naturally gluten-free.
The great news is that there is a lot of advice online about gluten-free baking, so I suggest seeking out a reliable, gluten-free specific blog.
If you found this of interest, you might also like my no-nonsense guide to becoming vegan.
I would love to know what your essential vegan baking ingredients are, leave me a comment to share your tips! I know that I have missed out sugar but I want to write a separate post about using different types of sugar so watch out for that one!
For more vegan guides check out: