Vegan Store Cupboard Staples and my Pasta Puttanesca Recipe
This post contains links to affiliate websites, such as Amazon, and we receive an affiliate commission for any purchases made by you using these links. We appreciate your support!
Pasta Puttanesca recipe and vegan store cupboard staples. I don't like to preach to initiated. If you live in England you will know what it's like to reach the end of the month and be poor. Without going into the politics of the situation, I think it's prudent to have a heaving store cupboard, packed with deli-style goodies that you purchase when you're feeling a bit more flush (the first 2 days of the new month) and that will serve you well when you're just about at the end of your culinary and financial tether.
Of course, everybody has different tastes so what you tuck away in your cupboard, or plastic storage box, or drawer, whatever constitutes your pantry, behind the tinned tomatoes and flour, will all be down to you. Here is a rough list of ingredients that I have recently found indispensable in the kitchen, and I have, for the most part, listed the odd recipe here and there utilising these ingredients. I'm not suggesting that you should rush out and recklessly buy the first recherche item that you come across (I'm here to make that mistake on your behalf…) but seriously, as my upcoming Unusual Ingredient of the Week series will attest to, some of the most unusual ingredients can become as useful as your pot of bicarbonate of soda or bottle of vanilla extract.
What these unusual ingredients achieve is making you feel like you are eating a proper decent meal and not just the scrapings from the back of the fridge. Very important at the end of the month.
Capers.
Preferably buy a small jar of the salted ones. It does seem like an expense but they last ages and taste so much better than those preserved in brine that become soggy and a bit sour. Capers can be chopped up and stirred into Oatly creme fraiche or mayonnaise with some seasoning and a squirt of lemon to make a lovely homemade tartare sauce – perfect with vegan fish fingers (remember, this is the end of the month!!). Again, they are an essential part of Pasta Putanesca. I recently made a yummy butter with capers and finely chopped shallots that I slathered on bread and topped with chips! Capers can be used to spruce up all manner of salads, hot tomato sauces etc.
Salsa Truffina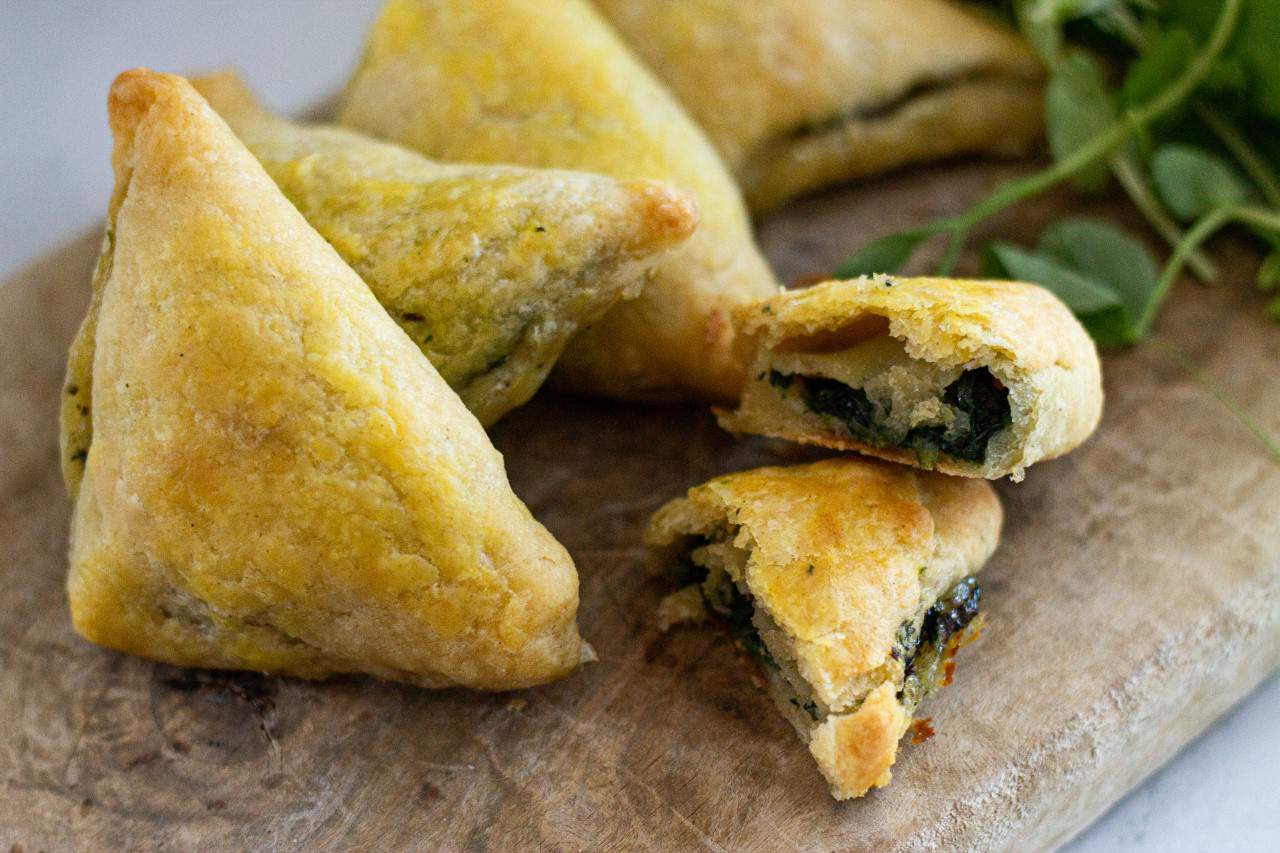 I have a fabulous recipe, Truffle and Spinach Triangles using this delicious ingredient. It could also be stirred through some freshly cooked pasta or risotto to add a deeply earthy flavour. As a cheeky snack, I spread tortillas with a smear of it and top them with sauted mushrooms and avocado.
Dukkah
Not really an ingredient so much as a seasoning. This makes a really cheap but moreish starter if you serve little bowls of olive oil and ripped pieces of bread with it. You can also sprinkle if over salads to add a little bit of crunch.
Spice Mixes
In the UK, Seasoned Pioneers do a wide variety of reasonably priced spice mixes (including the aforementioned Dukkah), that can be rubbed onto tofu, added to marinades for roasted veg or used to flavour rice or pasta. These are incredibly useful and can elevate any good dish, into something really good.
A Herb Box/Garden
Not really unusual at all but if, like us, you have a miniscule garden or no garden at all, you can easily buy a selection of herbs from your local garden centre, plant them up in a small trough, keep them near the light and water them regularly. For your small act of kindness, they will repay you tenfold by supplying you with a constant source of what could be the chef's most important ingredient – the herb. I always associate the smell of rosemary with my mum's roast potatoes, mint with summertime and parsley with just about any Italian pasta dish that I prepare. Fried sage leaves are great on risotto and Thyme leaves can be used to delicately scent risotto.
Tapenade
Or Olive Paste. Useful in the same way as the Salsa Truffina, you can spread it on Bruschetta with some fresh tomatoes, stir it into pasta or mixed in with tofu scramble for your daily sandwich! It can also be used instead of mayonnaise or butter on bread. It proved its worth when I stirred it into the Puttanesca – we didn't have any fresh olives. Not quite the same but it gives you a flavourful, chunky sauce.
Anyway, this is just a sample. I could have added Nanjing Black Rice, Nutritional Yeast, Apple Cider Vinegar or Oatmeal. If you have any mysterious jars that have been lurking in your cupboard for so long that you need to dust off the label to read what they are, try doing a search online for some inspiring recipes or go out on a limb and just experiment!
Here then is a recipe for Pasta Puttanesca, using several of the above ingredients:
What is Pasta Puttanesca?
Pasta Puttanesca is translated in several ways, tart's pasta, harlot's pasta or whore's pasta so I think we can get a rough idea of its origins: Italian 'Ladies of the Night' prepared this dish for their customers. It is a quick and cheaply produced dish that is nourishing and very, very tasty. It is made using store cupboard essentials and is ready within 20 minutes. Make a large batch and freeze some for another time.
I love to serve it with spaghetti, but you can use whatever pasta you have in the house, or even some gnocchi. I have even used it as a pizza sauce. Superbly versatile.
Check out my other guides to vegan cooking
Vegan Pasta Puttanesca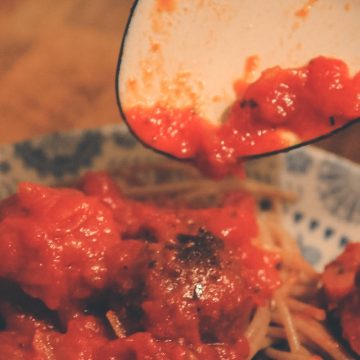 A simple but delicious pasta dish
Ingredients
500

g

Spaghetti

-

or pasta of your choice

5

tbsp

Olive Oil

3

cloves

Garlic

-

finely chopped

3

Sage leaves

-

shredded

1

Rosemary

-

fresh, finely chopped

1

tbsp

Parsley

-

finely chopped

½

teaspoon

dried Oregano

1 or 2

pinches

Chilli Flakes

-

(to taste)

1

tbsp

Capers

-

rinsed

1

can

Tomatoes

20

Olives

-

roughly chopped, or a tbsp of Tapenade
Instructions
Heat the oil gently in a saucepan. Add the garlic, sage and rosemary and cook for a couple of minutes until fragrant. Do not allow to brown.

Stir in the tomatoes, breaking them up gently with the back of your wooden spoon.

Add a pinch or two (depending on how hot you like it!) of chilli flakes, pinch of oregano, and the capers. Season lightly with salt, heavily with pepper. Simmer for 10 minutes.

Cook your pasta, whilst the sauce is simmering, according to instructions on the packet

Serve over your drained pasta and apply to face!
Please note that where the recipe asks for milk, butter or yogurt, this refers to any plant-based version that you prefer.
Nutrition Facts
Vegan Pasta Puttanesca
Amount per Serving
% Daily Value*
* Percent Daily Values are based on a 2000 calorie diet.