How to make Easy Vegan Mince Pies with Delicious Crisp Pastry
How to make easy vegan Mince Pies. And so the Christmas Preparations keep keeping on. Reaching the 8th of November and it now seems acceptable to make the first batch of Mince Pies using my homemade Mincemeat.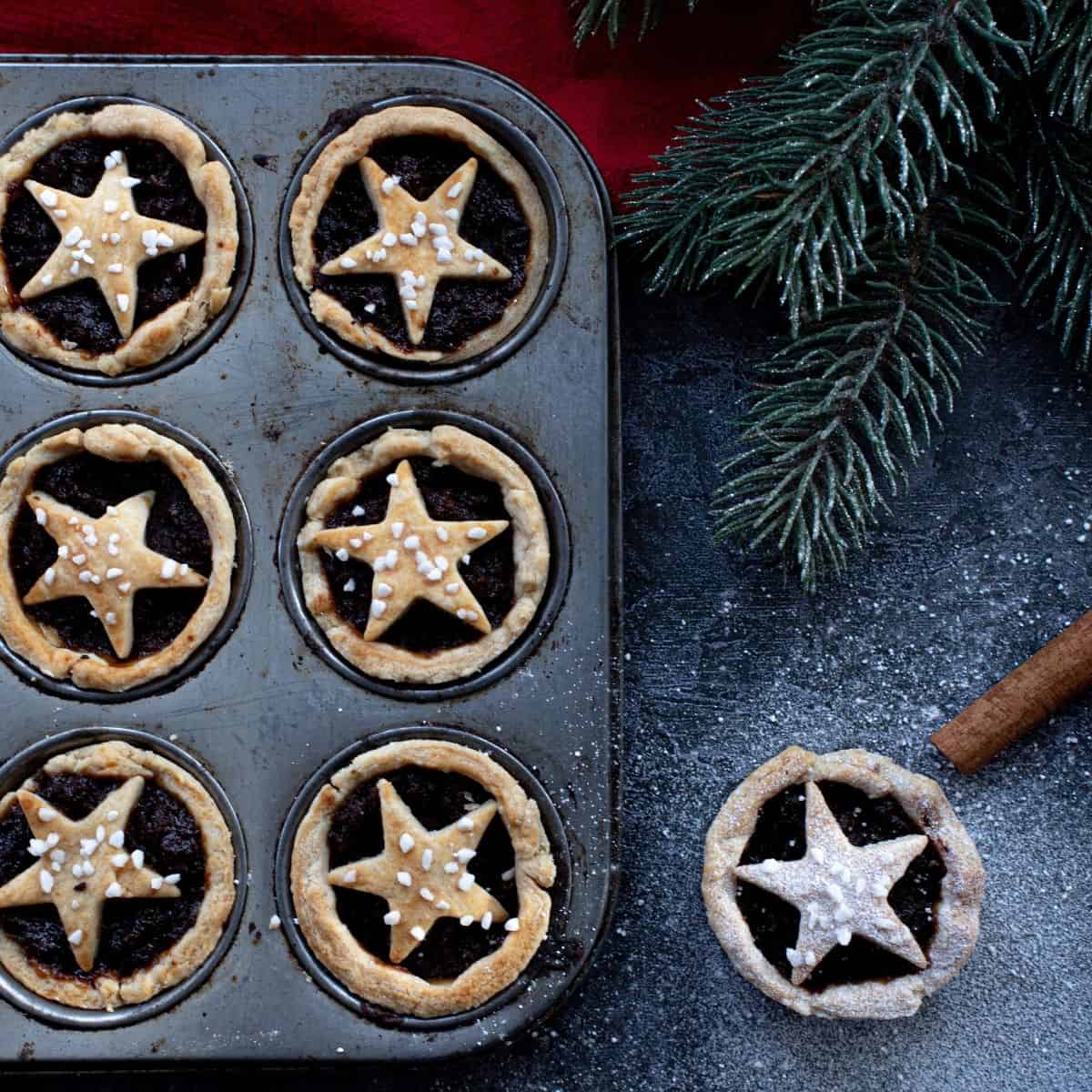 I have also started to prepare some Marron Glaces, using the net of Chestnuts in my vegetable bowl that are starting to go a little wrinkled. And I just finished rolling my Sugarplums, a strange dried fruit confection that is simply delicious!
At the weekend I plan to make the Christmas Pudding and the Christmas Cake is on next week's menu!
If it seems like I'm being a girlie swot then you'd probably be right! However, if you're thinking that my Christmas Presents are all bought and wrapped and that my cards are all written in, then you'd be wrong. My seasonal organisational skills stop and start in the kitchen (and in the supermarket).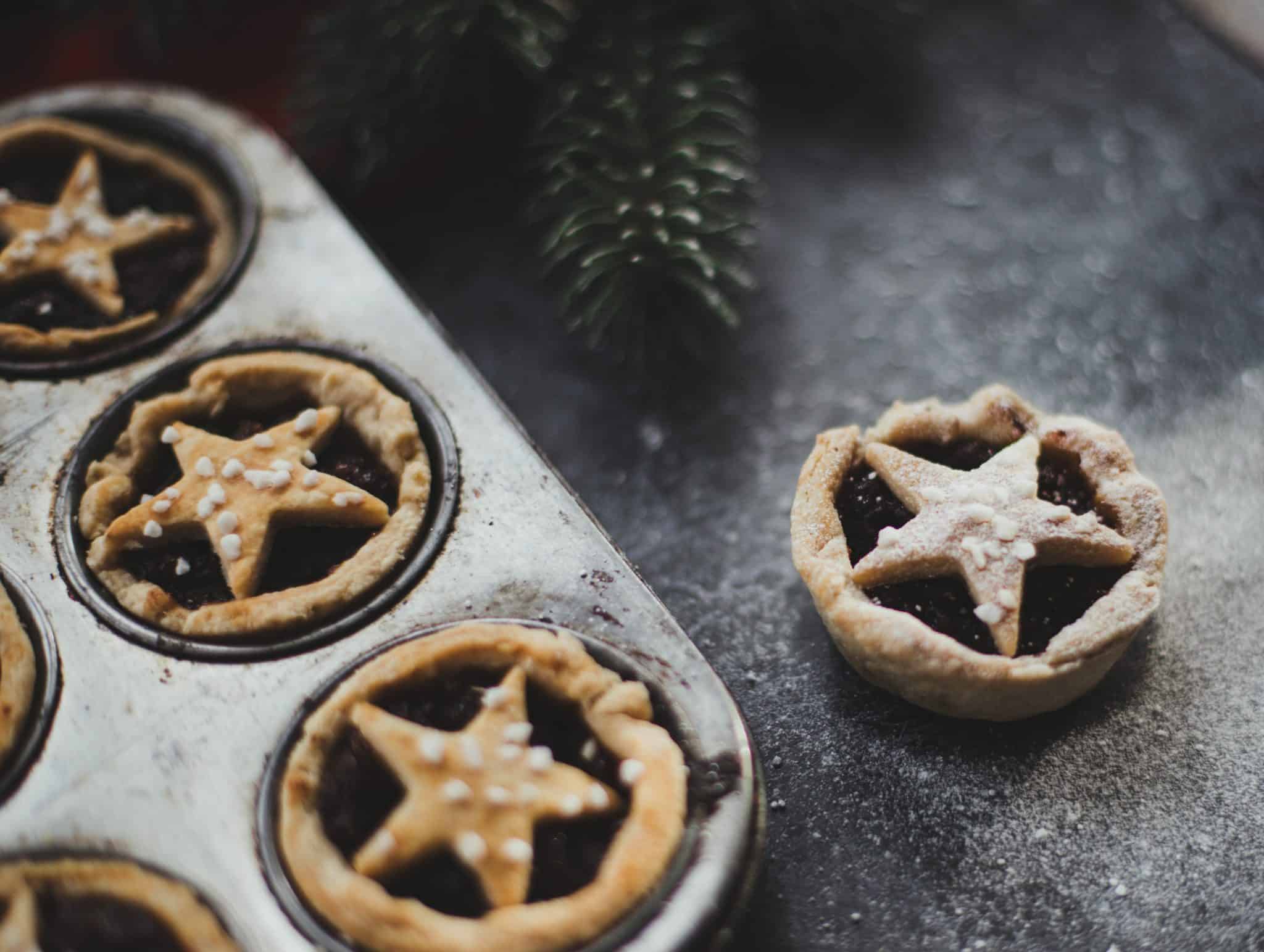 I love all these preparations anyway. It is not too difficult for me to get motivated in the kitchen when I can use my star cutter and crack open jars of mincemeat that were made when the fields were yellow and the sun was still warm. And between you and me, I don't even like Christmas pudding or cake normally but because I've mostly had total control over the ingredients, I can ensure that none of those burnt tasting little currants enter into the festivities.
Furthermore, none of this stuff is actually difficult or particularly time-consuming to do. A pudding needs the fruit to marinade overnight then it's mixed up, in one bowl, with everything else, just like a cake. The difficult part is covering the pudding basin for steaming. That's when it helps to have either a) two pairs of hands or b) someone whose been awarded their Boy Scout Badge for knot tying.
Even my vegan mince pie recipe doesn't put up too much of a challenge but how hard is it pressing pastry circles into a Yorkshire pudding or muffin tin and pilling them up with mincemeat?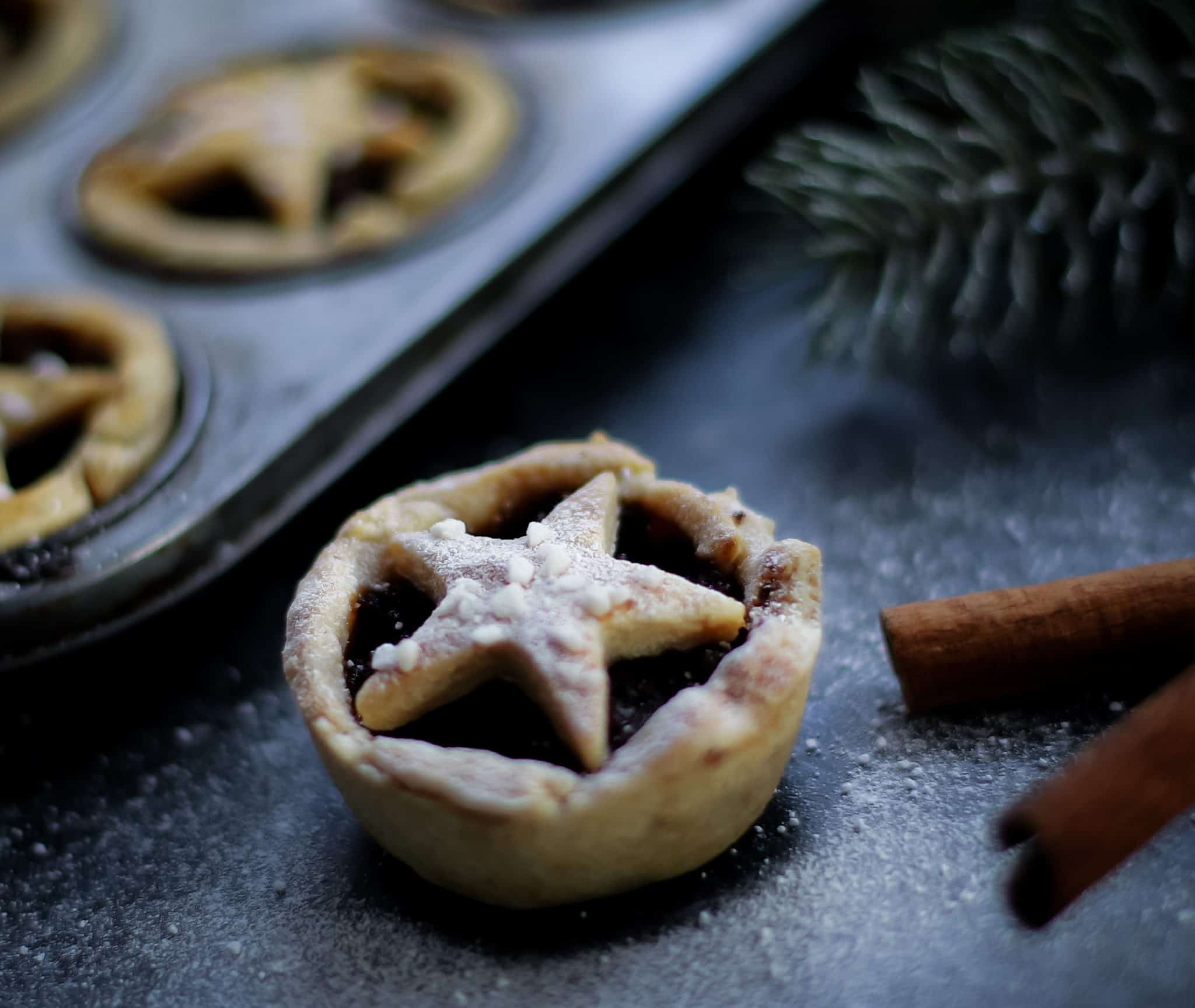 Because you only make Mince Pies once a year, it's worth making a decent sweet shortcrust pastry to complement the fruity filling. This pastry is biscuit-like, crumbly but with a crunch and a lovely sweet taste.
Ingredients
Mincemeat. I make my own, and I've shared my recipe near the top of this post, using lots of dried fruit, diced apple, orange zest, and spices. You can use a jar of vegan mincemeat though, and that is just as good! Real mincemeat uses beef suet, but vegan uses a vegetable suet equivalent.
Shortcrust Pastry. And you can use shop-bought if you don't want to make your own, but do make sure you use a good brand. I have found that shop-bought pastry blocks tends to shrink a lot during baking, so be mindful of that when cutting out your pastry circles. Of course, you can use gluten-free pastry too.
Cold water, to moisten the pastry to seal.
Method
If you are making your own pastry, make this now, wrap in cling film and chill for at least an hour.
Preheat your oven to 180c.
Roll out the pastry using a floured rolling pin to about a thickness of 0.5cm.
Cut into circles, ensuring that they will fit snugly into your muffin tin holes.
Press them gently into your muffin pan.
Fill each pastry case with a generous teaspoon of vegan mincemeat filling.
Now cut out tops for your mince pies using the remaining pastry. You can cut out little stars, as I did, or just cut out circles, using slightly smaller round cookie cutters. Moisten the edge of your mince pie using the water or a little plant milk and press the pastry circle onto the top.
Brush each mince pie with a little vegan glaze and sprinkle with some granulated sugar.
Bake for 20 minutes or until light golden brown.
Let cool for a couple of minutes in the tin before removing carefully to cool completely on a wire rack.
This festive treat is perfect on it's own, but try serving them warm with a little vegan ice cream for a luxurious christmas time treat!
Store in an airtight container for up to a fortnight.
The Best Vegan Mince Pie Recipe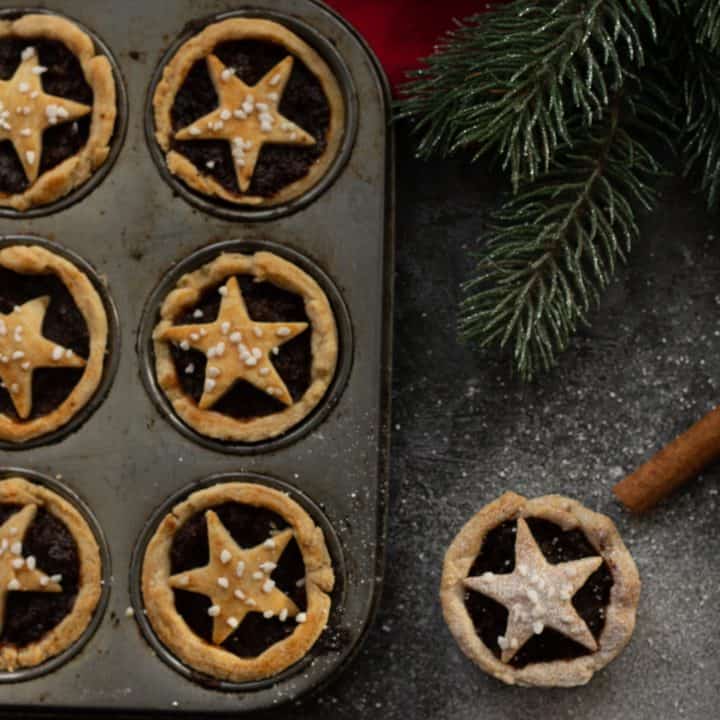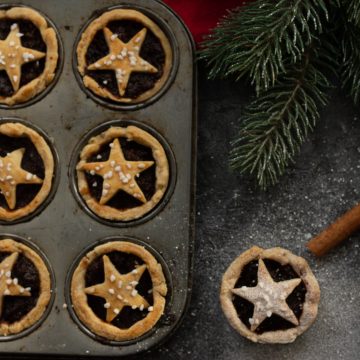 How to make easy vegan Mince Pies!
Equipment
12 hole Muffin Tin

Rolling Pin
Ingredients
Shortcrust Pastry
150

g

butter

-

plant-based, cold, diced

260

g

plain flour

50

g

sugar

pinch

salt

1-2

tbsp

cold water

280

g

mincemeat

- I used my own
Glaze
2

tbsp

Maple Syrup

2

tbsp

Soy Milk
Instructions
Mix together the vegan butter, flour, sugar and pinch of salt until a sandy texture is achieved.

Gradually add the cold water, a little at a time and use a knife to cut into the dough until it starts to come together. This could take up to 2 tbsp water, maybe a little more or less.

Bring the dough together with your hands.

Wrap in clingfilm and refrigerate for at least an hour.

Once the dough is chilled, roll out on a well floured surface to about 3mm thick..

Cut out circles using a cutter that is larger than the bottom of the holes in your tin. Press a circle lightly into each hole, gently working it up the sides.

Fill with a generous spoonful of mincemeat.

Top with a pastry star (or any other shape), brush with the glaze and sprinkle with some caster sugar.

Bake for 20 minutes or until golden brown.

Leave to cool and gently turn out using a small spatula to work them out.
To make the glaze
Whisk together the milk and maple syrup until mixed.
Please note that where the recipe asks for milk, butter or yogurt, this refers to any plant-based version that you prefer.
Nutrition Facts
The Best Vegan Mince Pie Recipe
Amount per Serving
% Daily Value*
* Percent Daily Values are based on a 2000 calorie diet.