The Best Vegan Fruitcake (or Christmas Cake) recipe ever
The best vegan fruitcake recipe. Christmas cake is one of those things that you seem to tolerate. It's tradition and by golly we're going to have some.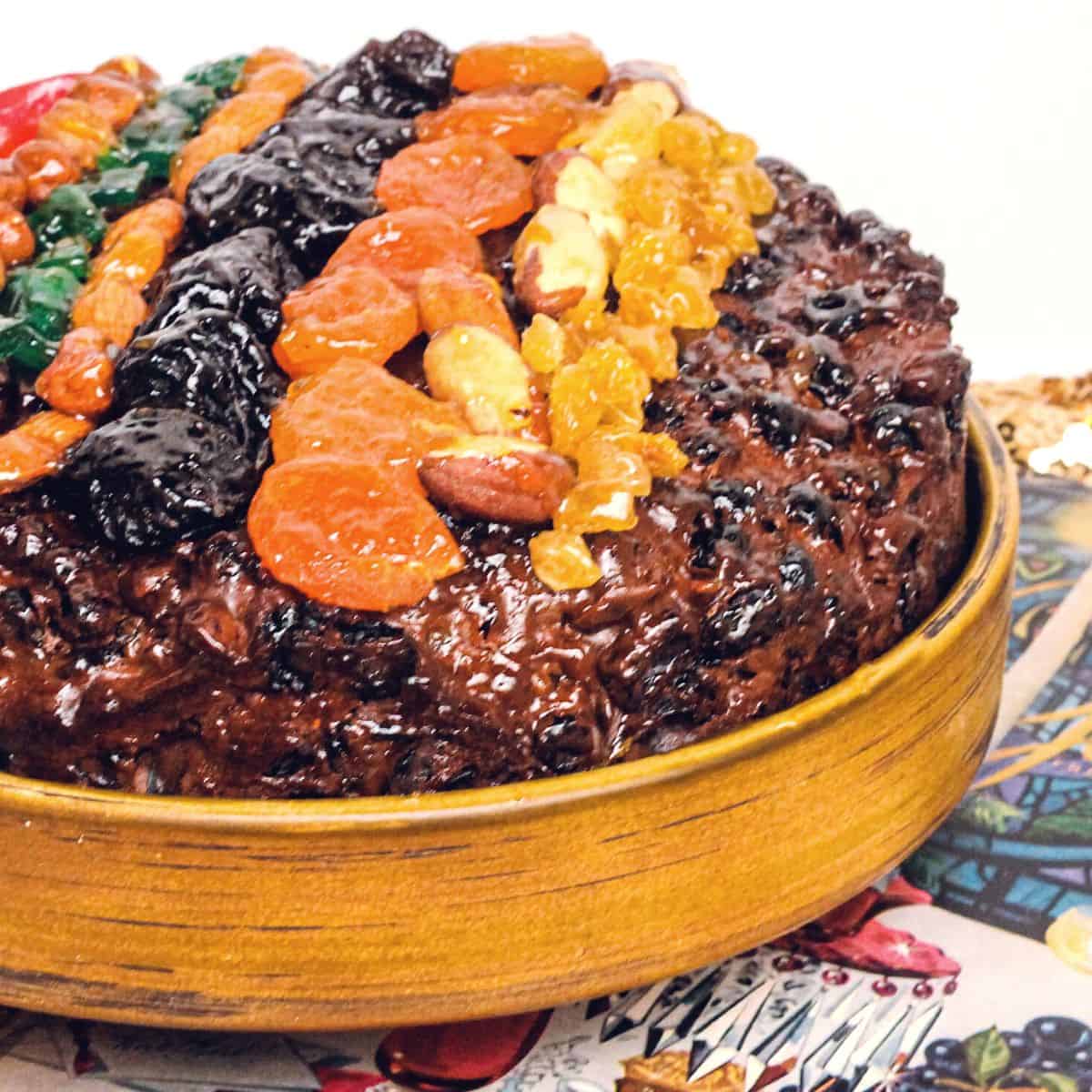 Some people hate the marzipan, some hate all that fruit, and some just don't like it full stop.
This is a huge cake, but I was given a personal guarantee by an old friend that this cake will please the most fervent of fruit cake haters and it's been in his family for 60 years so who am I to argue? The cake comes with his anecdotal remembrance:
"In America fruit cake is a holiday joke, something to be derided and used as ammo among warring siblings, this fruit cake is not that. Our family recipe was passed down to us on a photocopy of a torn, tattered, and batter smudged page of a magazine from the early 1950's. My brothers and I all make this and remember when we were kids, sweet, fruit and nut filled cakes smelling of brandy and eaten with a big glass of milk or cup of coffee. It is a cherished memory but more a cherished taste. If you try this fruit cake, you will love it as much as we do. If you bake this fruit cake your house will smell of Christmas and Thanksgiving. If you make this for your family you will create a memory for them to cherish throughout their lives."
How do you make a Vegan Christmas / Fruitcake?
A fruitcake is possibly one of the easiest cakes to make. The time is spent in the slow, gentle bake and then the fun in the decorating.
Firstly, soak your dried fruit in either some alcohol, or some freshly brewed black tea or apple juice. The recipe suggests overnight, but if you are short of time, this is not necessary. I soaked my fruit first, and then prepared everything else, lined my cake tin, etc. Overnight soaking, however, gives the fruit a little more flavour, and makes them more luscious and juicy.
Sift together your flour and spices. This cake is heavily spiced with festive flavours, and if you are making this for, say, a wedding cake, you can omit the cloves, to make it less christmassy!
Personalise your Fruitcake
You need 1kg of dried fruit in this cake. I like to use a mixture of sultanas, glace cherries, dates and raisins. I am not a fan of currants, but feel free to add some to the mixture. I also don't particularly like peel, so I have omitted that too. Again, add some if you love it.
I have used a mixture of pecans and walnuts. You could add hazelnuts or brazil nuts, or even macadamia nuts if you have some. If you have a nut intolerance or allergy, completely omit the nuts, and add 1 cup of additional dried fruit.
Unlike some traditional cakes, this doesn't require any creaming of butter and sugar. Simply blend your wet ingredients and sugar, and add that to your flour and fruit and stir gently, but thoroughly.
I do recommend trying to seek out molasses for this cake. It adds such a rich, warmth and makes the kitchen smell amazing!
Instructions
Marinate the fruit for a while
Mix the dry ingredients in a large mixing bowl
Blend together all the wet ingredients until smooth
Now it's time to mix up your cake!
First add the fruit to the dry ingredients, mixing well, and then add the blended wet ingredients
Mix well and then pack into your prepared cake tin.
Feeding your Fruitcake
Much like Sea Monkeys, you don't really need to feed your fruitcake, but if you want to make it in advance, or preserve it for several months, it is well worth buying a miniature of brandy, and periodically brushing a little on your cake weekly. I also like to use a toothpick to prick holes in my freshly baked cake, and then drizzle a couple of tablespoons of brandy over it, whilst warm.
Decorating your Fruitcake
For the round cake pictured, I used a selection of dried fruits and nuts, (glace cherries, brazil nuts and apricots all look particularly beautiful) and glazed them with warmed Apricot Jam. This is one of the easiest but loveliest and most traditional ways to decorate a fruitcake. I have a post here about decorating your cake with marzipan and fondant icing.
It is traditional in England to cover a fruit cake with a layer of marzipan, and then a layer of royal icing. Not only does this thick layer of coating preserve your cake, it also gives you the perfect canvas to show off your decorating skills! Lovecrafts have 12 stunning and original ideas for decorating your Christmas cake!
Try my other delicious vegan festive recipes
The Best Vegan Fruit Cake Ever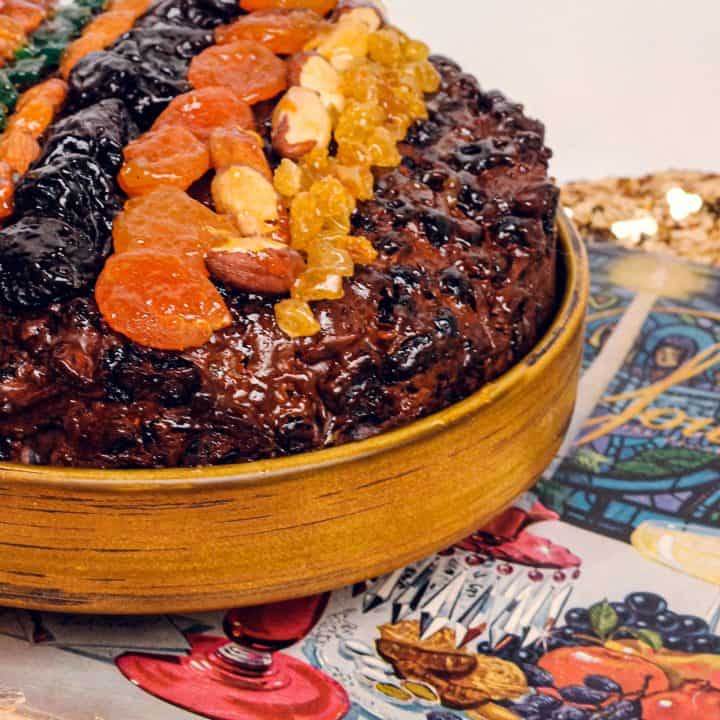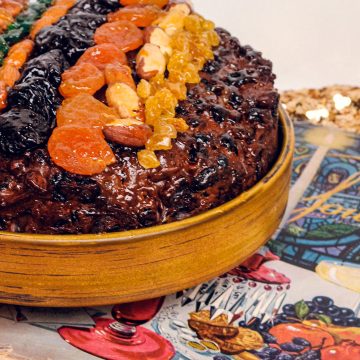 A simple yet delicious recipe for fruit cake, perfect for the holidays
Equipment
10" Baking Tin, lined with brown paper
Ingredients
3

cups

Plain Flour

2

tsp

Baking Powder

1

tbsp

Salt

2

tsp

Cinnamon

½

tsp

Allspice

½

tsp

Cloves

-

powdered

½

tsp

Nutmeg

-

grated

1

kg

Sultanas

400

g

Glace Cherries

-

chopped

300

g

Dates

-

chopped

2

cups

Walnuts

-

or pecans, chopped

1

cup

Soy Yogurt

¾

cup

Brown Sugar

1

cup

Dairy-Free Milk

¼

cup

Molasses

¾

cup

Butter

-

vegan, melted and cooled

½

cup

Brandy

-

or rum, whiskey or amaretto
Instructions
The day before you intend to bake your cake. place the sultanas, glace cherries and dates in a large bowl and cover with 1/3 cup of the Brandy. Stir thoroughly, cover tightly with clingfilm and leave to macerate, at least overnight.

Oil and line 10″ cake tin with baking paper.

Preheat oven to 150c.

To make the cake, sift together (in a large bowl), the flour, baking powder, salt, cinnamon, allspice, cloves and nutmeg. Stir in the sozzled fruit plus the chopped nuts.

In a blender, whizz together the yogurt, brown sugar, milk, molasses and melted vegan butter, until smooth.

Pour into the dry ingredients and stir carefully and thoroughly.

Spoon into your prepared cake tin and bake for about 2½ hours or until a skewer comes out clean.

Brush the remaining brandy over the cake while still hot.

Leave to cool in the tin, before turning out and decorating.
Notes
This is for an un-iced cake. 
Please note that where the recipe asks for milk, butter or yogurt, this refers to any plant-based version that you prefer.
Nutrition Facts
The Best Vegan Fruit Cake Ever
Amount per Serving
% Daily Value*
* Percent Daily Values are based on a 2000 calorie diet.