How to Make Delicious Vegan Crème Eggs – Easy Copycat Cadbury Method
This post contains links to affiliate websites, such as Amazon, and we receive an affiliate commission for any purchases made by you using these links. We appreciate your support!
Are you dairy-free but missing Crème Eggs? Or do you just want to challenge your culinary skills? Try my easy to follow vegan chocolate crème egg recipe!
PIN my Vegan Creme Egg recipe to make later
Vegan Crème egg recipe. I have it on good authority that there are people in existence who don't have a sweet tooth. I know! Remarkable, isn't it? If you are one of that rare breed, perhaps you should turn back now. This recipe is just about as sweet as it gets.
If you love Easter, try my other delicious Easter recipes, my vegan spiced shortbread cookies and my easy vegan hot cross buns!
As a vegan, one of the things that I missed the most was chocolate bars, and, for a few beautiful weeks a year, Cadbury Crème Eggs. There was just something about peeling off the foil wrapper and biting messily through thick chocolate into that tooth-achingly sweet fondant filling that was heavenly.
Last year, I read about a mad genius Vegan who had invented a cruelty-free Crème Egg! Whilst the inventor remains anonymous, there are many recipes online, all of which involve a sugar fondant filling and a crisp dark chocolate shell. They are easy to make and a great (if messy) project to get the children involved in.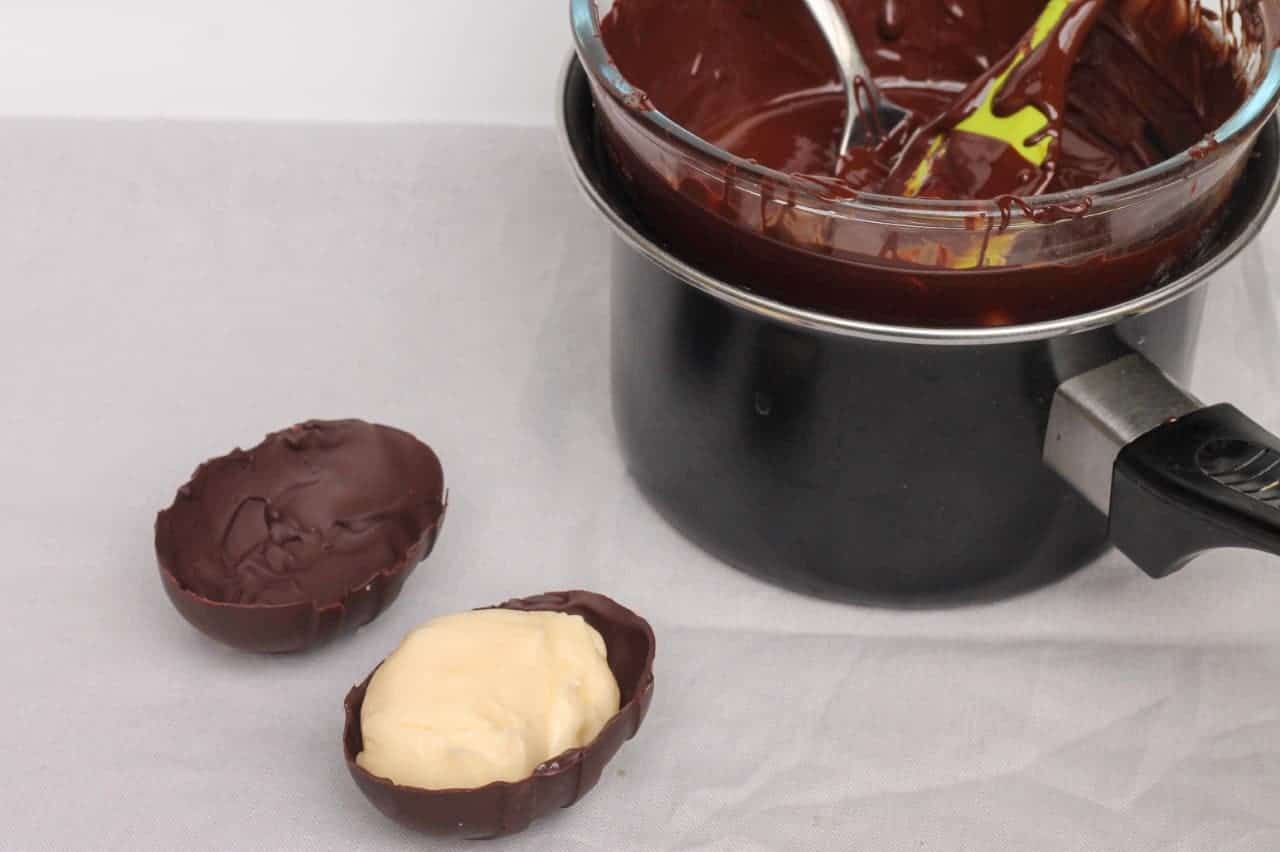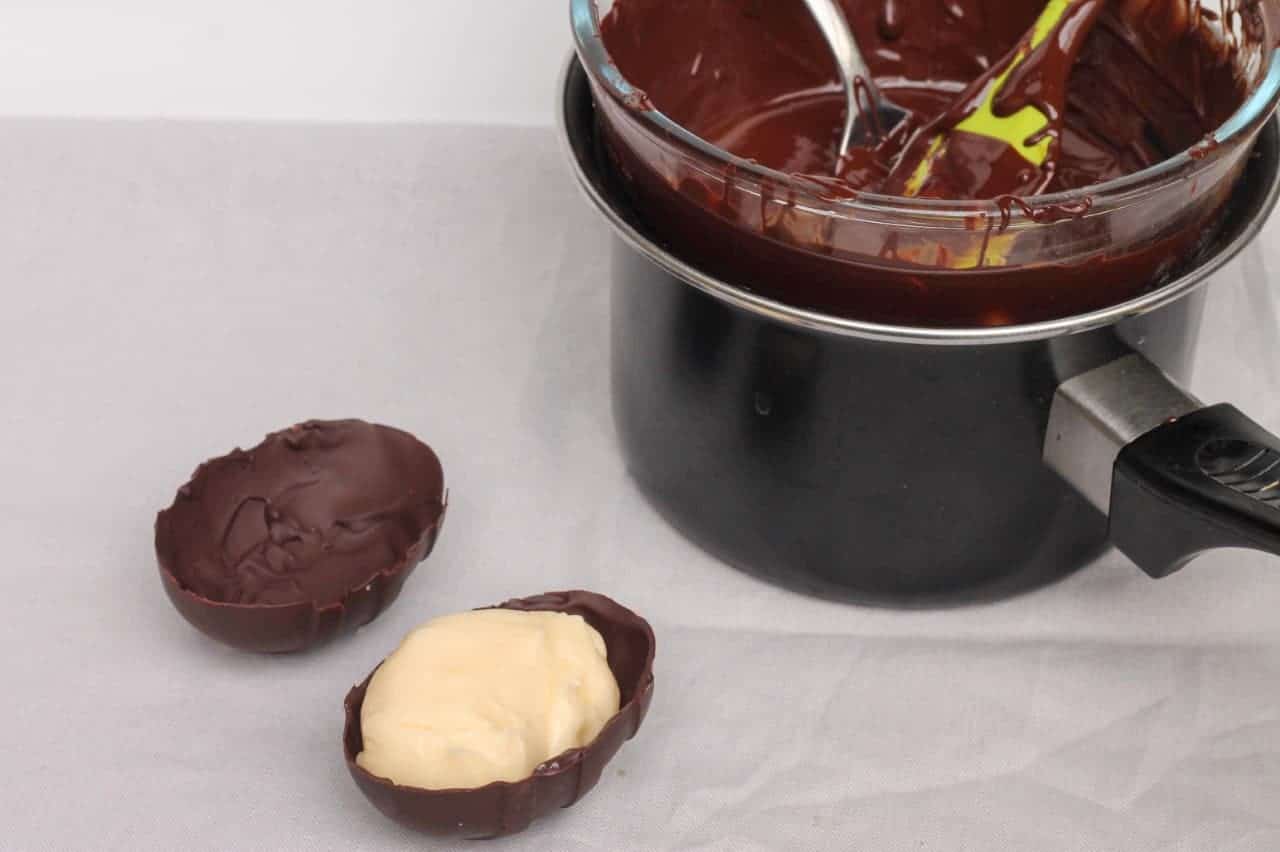 If you don't have egg moulds, you can use mini cupcake cases instead. Coat the bottom of each case with some melted chocolate, leave to cool, then fill with the fondant and cover with more melted chocolate. They won't look like much like traditional crème eggs, but will still taste divine!
This recipe was adapted from hellyeahitsvegan.com and their vegan crème egg recipe.
How do you make vegan crème eggs?
It's a process, but a fun one, and you do get a great treat at the end!
Instructions
Make your vegan egg filling. This is a fondant filling that you separate, colouring one half with yellow (to make "yolk"), and leave the other half white (for the, um egg white).
Whilst your egg filling fondant is cooling, coat your egg molds with melted vegan dark chocolate. Chill these very thoroughly as you will be handling them a little bit.
Form your fondant egg fillings. Roll the yellow in a "yolk" shape and place on a round, flat circle of the white fondant. Carefully fold the white around the "yolk" to form a complete egg shape
Place this "egg" filling inside one half of a chilled chocolate egg shell. Paint a little melted chocolate around the rim of your unfilled chocolate egg and seal to the filled half, then chill just to set them up.
Ingredients
Corn Syrup. This is to make the fondant for the inside of the eggs. You could also use golden syrup.
Vegan Butter
Confectioners sugar, sifted
Vanilla Extract, for flavor
Yellow food colouring, for the yolk
Vegan dark chocolate chips, for the shell.
Coconut Oil
This is ONLY a list of ingredients for the recipe; please see recipe card below for complete printable recipe.
Equipment
More delicious vegan chocolate recipes
Vegan Creme Eggs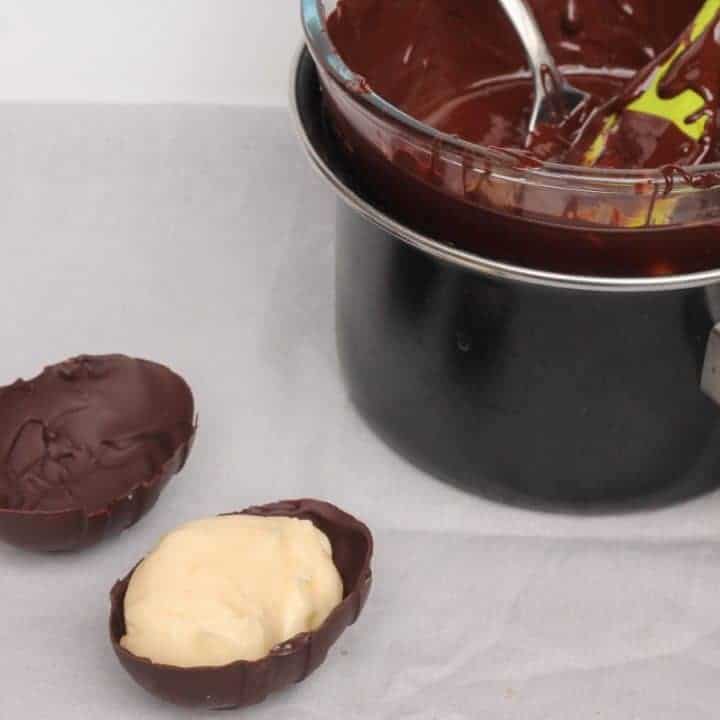 A recipe for homemade vegan Creme Eggs
Equipment
Pan for melting chocolate

Mixing Bowls
Ingredients
½

cup

Corn Syrup

¼

cup

Butter

-

vegan

1

tsp

Vanilla Extract

3

cups

Confectioners Sugar

Yellow Food Colouring
Chocolate Shell
107

g

Chocolate Chips

-

vegan chocolate

2

tsp

Coconut Oil
Instructions
Make the Fondant Filling
Whisk together the Corn Syrup, vegan Butter and Vanilla until smooth.

Sift in the Icing Sugar and beat well. The mixture will be really thick.

Put a quarter of the mixture into a small bowl. This will be your "egg yolk". Add yellow food colouring until the fondant resembles the colour of an egg yolk.

Chill both bowls of fondant for at least a couple of hours.

Once chilled, remove the "egg white" fondant from the fridge. Get a baking sheet ready that will fit into your freezer.

Dust your hands liberally with icing sugar and roll the mixture into balls, they need to fit comfortably within your mould or case.

Flatten and place on baking sheet.

Remove the "egg yolk" fondant from the fridge and roll into balls, about half the size of the white and place on one "yolk" on top of each flattened circle. They will look like fried eggs! Freeze for at least an hour.
Chocolate Shell
To make the chocolate shell, gently melt the chocolate chips and coconut oil over a pan of simmering water.

Coat each of the moulds or case with a thick layer of melted chocolate and chill until set hard.

I found that I needed to put another coating on chocolate in my mould, so check yours for thickness, and repeat if necessary.

Remove the fondant from the freezer. Carefully remove each "fried egg" from the tray and

fold

the white fondant around the "yolk" to form an egg.

Place one egg inside half of your chocolate moulds or all of your cases.

Take the unfilled chocolate moulds, paint the edge with a little melted chocolate and seal to the filled half.

If using cups, simply place your fondant egg on top of the chocolate and top with more melted chocolate.

Return to the fridge to set for at least another hour.

For fun, you could wrap them in some colourful foil!
Please note that where the recipe asks for milk, butter or yogurt, this refers to any plant-based version that you prefer.
Nutrition Facts
Vegan Creme Eggs
Amount per Serving
% Daily Value*
* Percent Daily Values are based on a 2000 calorie diet.