Easy Vegan Sourdough Pizza Recipe – a simple and quick crowd pleaser!
Easy vegan pizza crust recipe. I'm proud to announce that this is possibly the best pizza dough recipe you might try this year, and, if you try it with my pizza sauce, you'll never buy takeaway again!
Pizza. Who doesn't love a pizza with delicious toppings, and plant-based cheese is improving all the time.
I highly recommend you try this with my perfect pizza sauce, but feel free to use your favourite recipe!
This is another witty remembrance from my American friend, I think he writes about pizza better than anyone I know. Note, his remembrances are not vegan-friendly, but enlightening, nonetheless.
"Pizza is one of my oldest childhood memories. There were several delicious pizza places near my parents' home in LaCrosse. Rocky Rococo, affectionately known as Rocky's, this pizzeria is a third of a "triumvirate" (My brother Lee's word for it) of cheap food joints one must visit while in LaCrosse (The other two being Taco Johns and Coney Island Hot Dogs. Although, after recent visits, I must comment that Rocky's is not as cheap now as I remember it to be. This hasn't detracted from the greatness of their food though. The Rocky's experience is far from traditional Italian. The pizza is more in the vein of Chicago style deep-dish heavily laden with sauce. Most Americans have no idea what constitutes Italian cooking and what we do ingest is about as far removed from the Mediterranean as the fictitious "founder" of Rocky's is from a proper Italian. Okay, it's true, he's supposed to represent a Sicilian, but apart from the Fedora… I digress.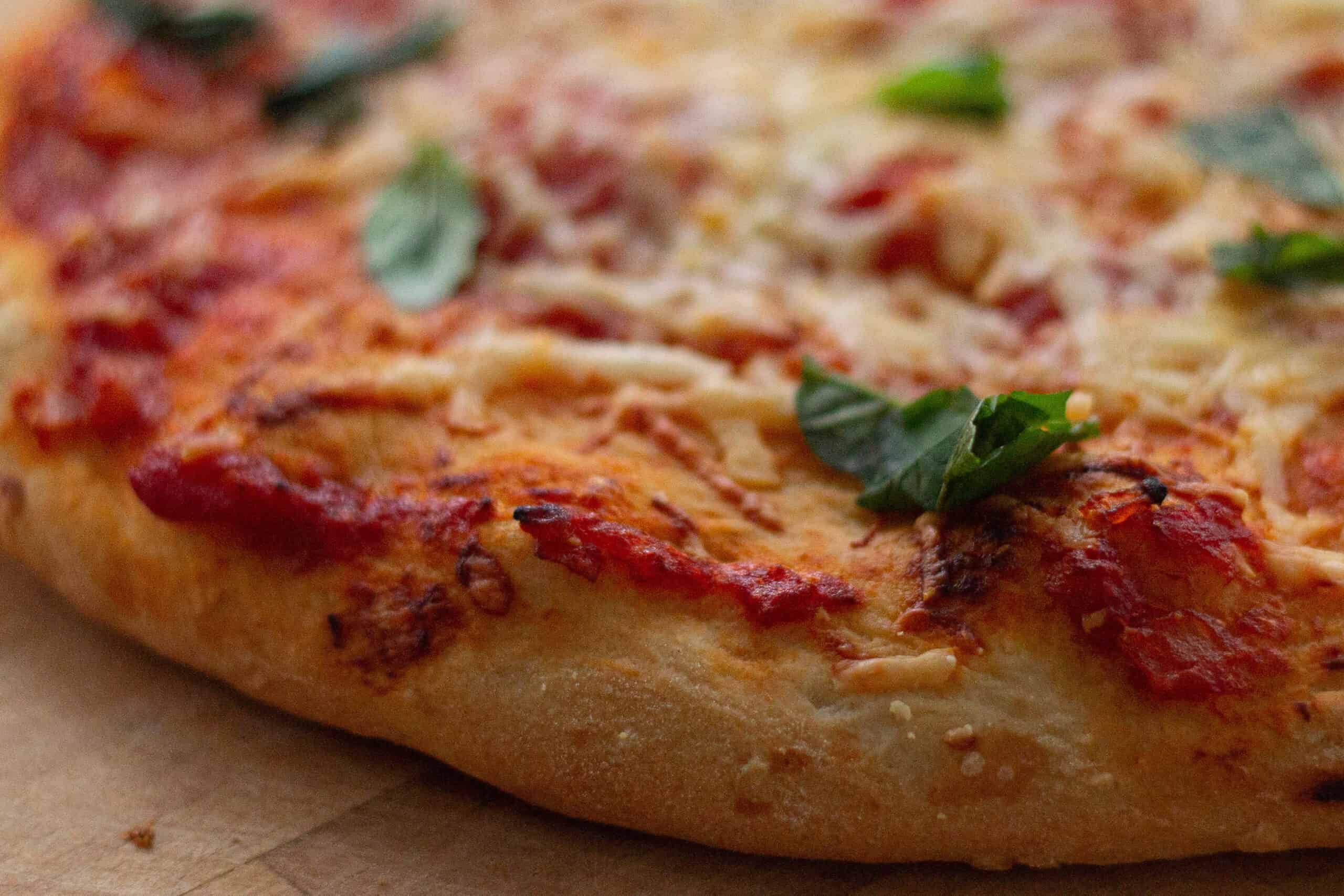 I remember walking home from elementary school and stopping in for an enormous rectangular slice for $0.75 at least once a week. (The same slice is now smaller and about $2.50) Every time I go back to America, I'm bound to hear no less than two times per trip, "Do you kids want Rocky's?" as my mom knows that this will always be a hit.
After years of the English variety, Freya wouldn't even touch a pizza until she was introduced to the Super Slice of the Day! That's how influential this pizza is. Closer to the spirit of the Italian tradition is Edwardos (Pizza Wagon in my youth). The strange spelling owing to a corruption of the owner's Celtic name Edwards.
As a child, I remember Pizza Wagon being the quintessential New York variety. You know the kind! You see it in episodes of Seinfeld or old New York grindhouse movies (Freya's note: I call it Driller Killer pizza (only she can watch a movie like this and feel hungry afterward)). It comes in a thin plain white cardboard box.
The pizza itself is as thin as the cardboard and greasier than a teenage pajama party. You know it's not good for you, but when you see one, you want it!
I have really vivid memories of the pizza my mom made when I was young. It's definitely not traditional, but it was always really good. I have her crust recipe, but I can't get it to work like she did. Mine always comes out doughy and soggy. Instead, I use a variation of a Marcella Hazan recipe which never fails.
The sauce she used was a recipe from Gin Schelin, a family friend. This sauce is nearly a perfect balance of sweet and savoury and I still use the recipe with only minor tweaking. I know I've managed to conjure up in your mind the archetypal American with a hotdog in one hand, a hamburger in the other, and an instinctive need to wage war, but I don't care.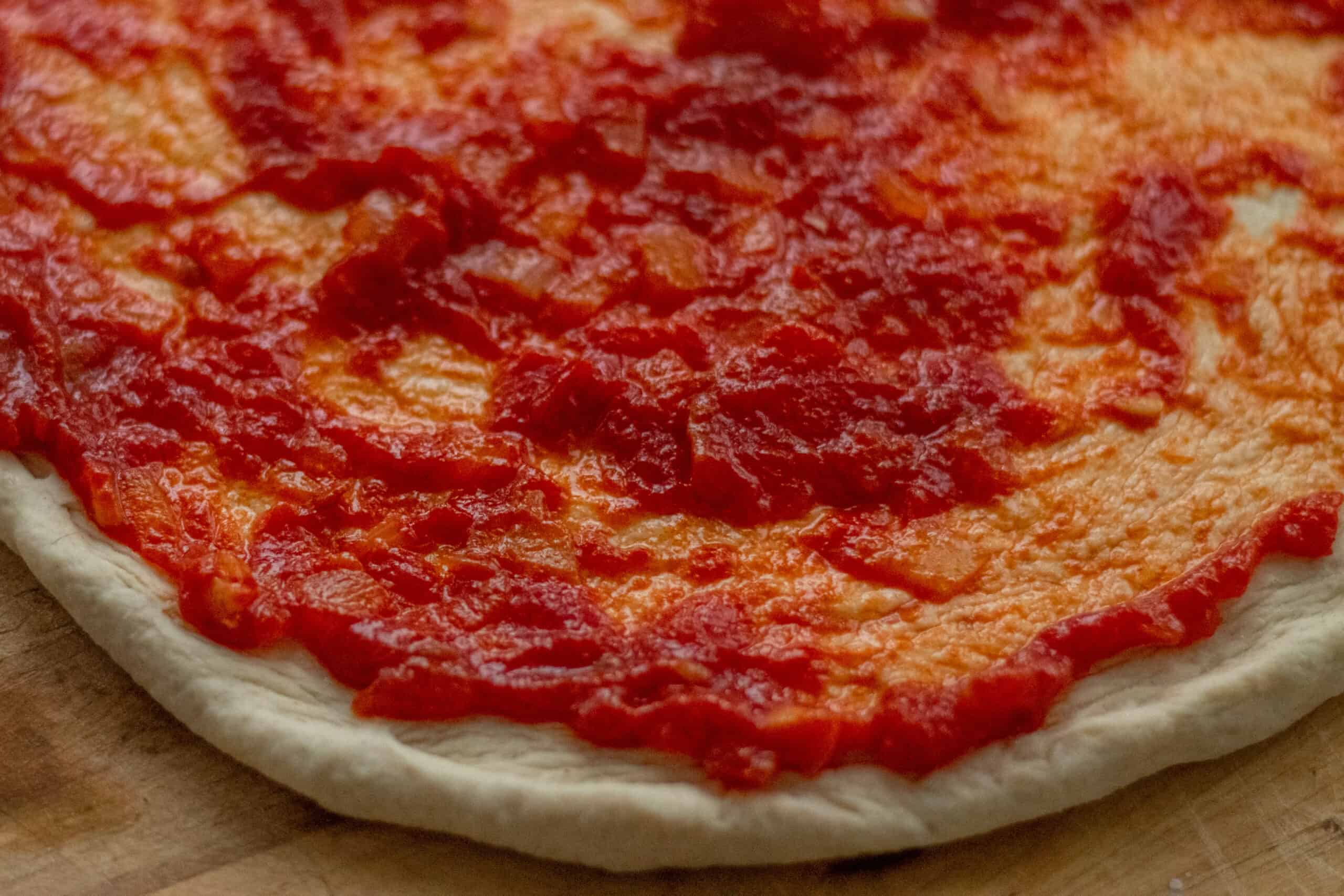 Foods from childhood are very important. As children we don't have much say in anything, but our parents tend to feed us what we like. It's just easier for them. The result is that most people have very vivid memories of childhood food. They represent autonomy, comfort, and, in my case, a sense of community.
As we get older, we think back to times we spent with family and friends; to picnics and Thanksgiving dinners (if you're lucky enough to celebrate this great tradition), to Friday night fish and chips, July 4th barbeques……and we're instantly transported back to a time when other people took care of us and paid our bills."
Now I'll return to the matter at hand. Pizza. I have experimented a lot with pizza recipes over the years and have finally come up with the best pizza ever! It was quite simple really. I just turned to a traditional Italian recipe and strange as it may sound, the Italians make a great pizza! Traditional pizza should have a slightly sour yeasty crust that doesn't rise after an initial proving. As with most recipes in Italy, the sauce should not overwhelm the rest of the dish. The pizza itself should be cooked in a clay oven or on a pizza stone, however placed on a sturdy baking sheet in your oven will work just as well.
Adding sourdough discard to pizza dough
I have added some sourdough discard for additional flavour, and there is a little bit of maths that needs to be done when doing this. In short, for every 1 cup of sourdough discard you want to add to your pizza, you need to DEDUCT 1 cup of flour from the original recipe, and 1/2 cup of water. This recipe uses 2/3 starter discard, and I have adjusted the measurements accordingly.
Removing sourdough starter discard from a recipe
In much the same way, if your recipe needs sourdough starter but you don't have any, reverse the ingredients, by ADDING 1 cup flour and 1/2 cup water for every 1 cup of starter.
As with all breads and kneaded doughs, you may find, depending on the flour you use, that you will still need add a little more flour/water to get to the desired dough texture. This is fine.
Ingredients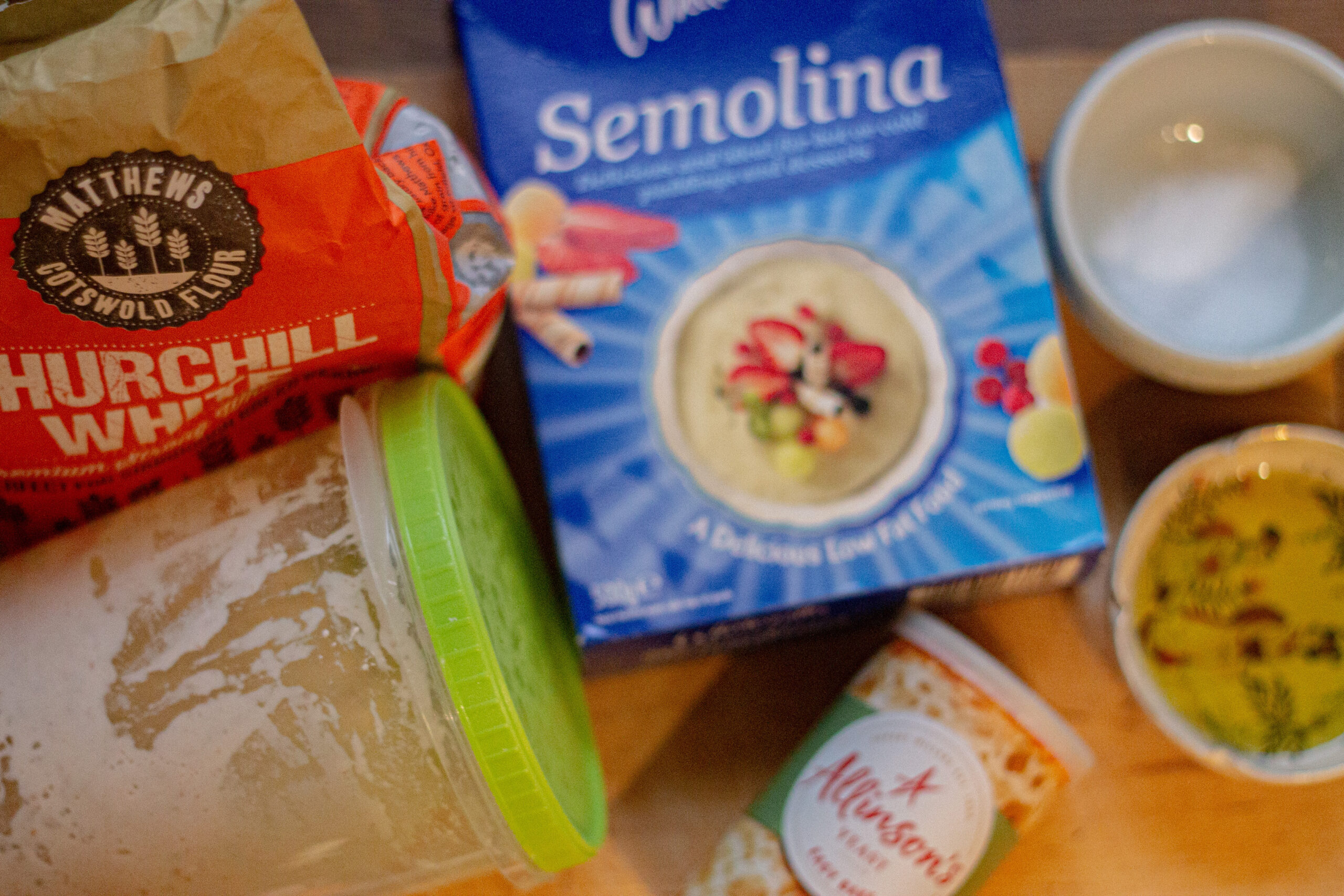 flour. The best flour to use is a 00 plain flour. This is an Italian pasta flour, very finely milled, and then combine this with fine semolina or cornmeal (polenta).
sourdough discard. If you don't have any sourdough starter, replace this with 1 cup (125g) flour and 1/2 cup (120ml) water (see notes above).
yeast, this is a yeasted dough as you want a delicious flavour, crust and rise
olive oil and salt, to add flavour and texture
See recipe card for quantities.
Instructions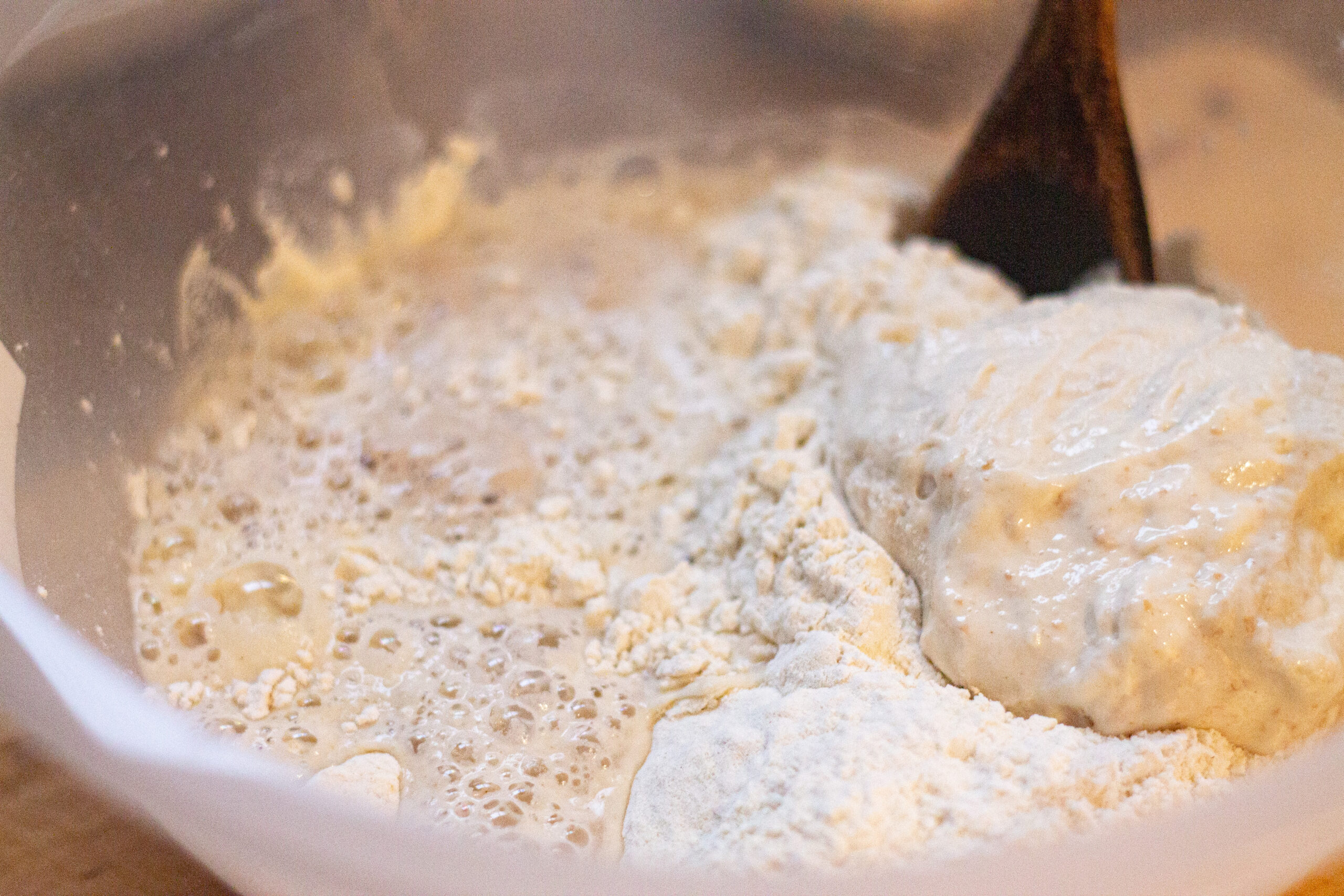 Add your activated yeast to a large bowl with the flour and sourdough discard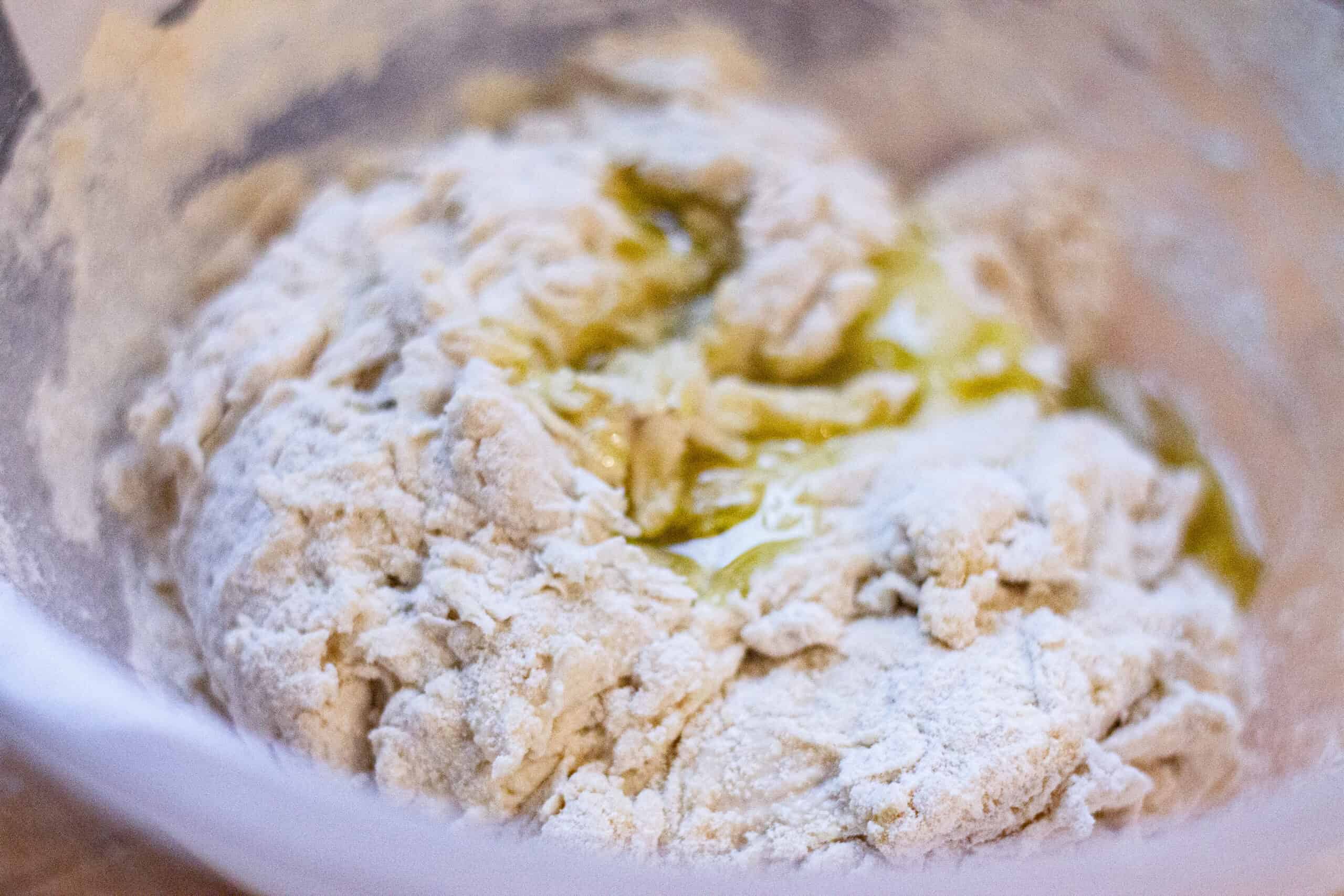 Mix into a raggy ball before kneading into a nice smooth ball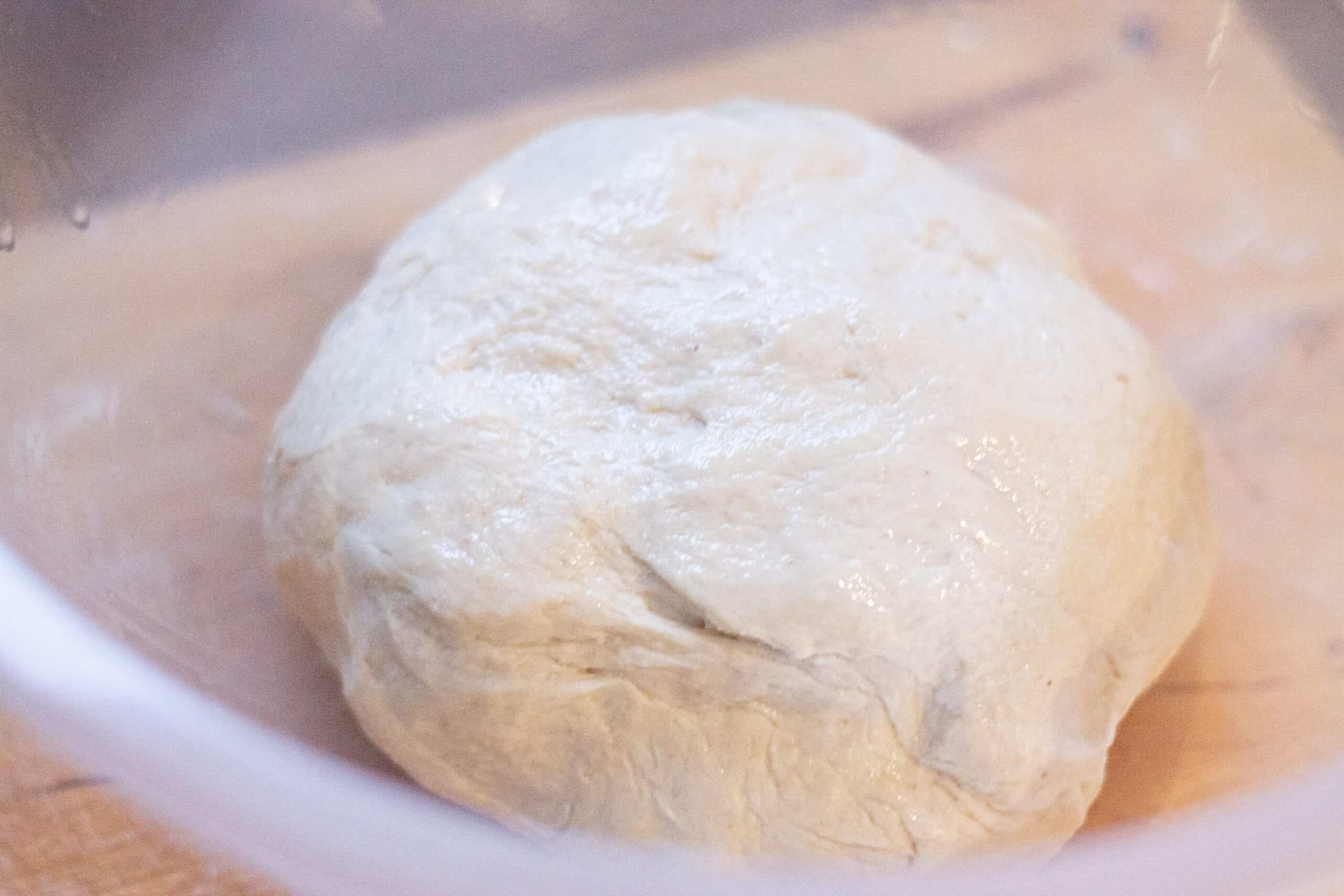 Leave to rise until doubled in size.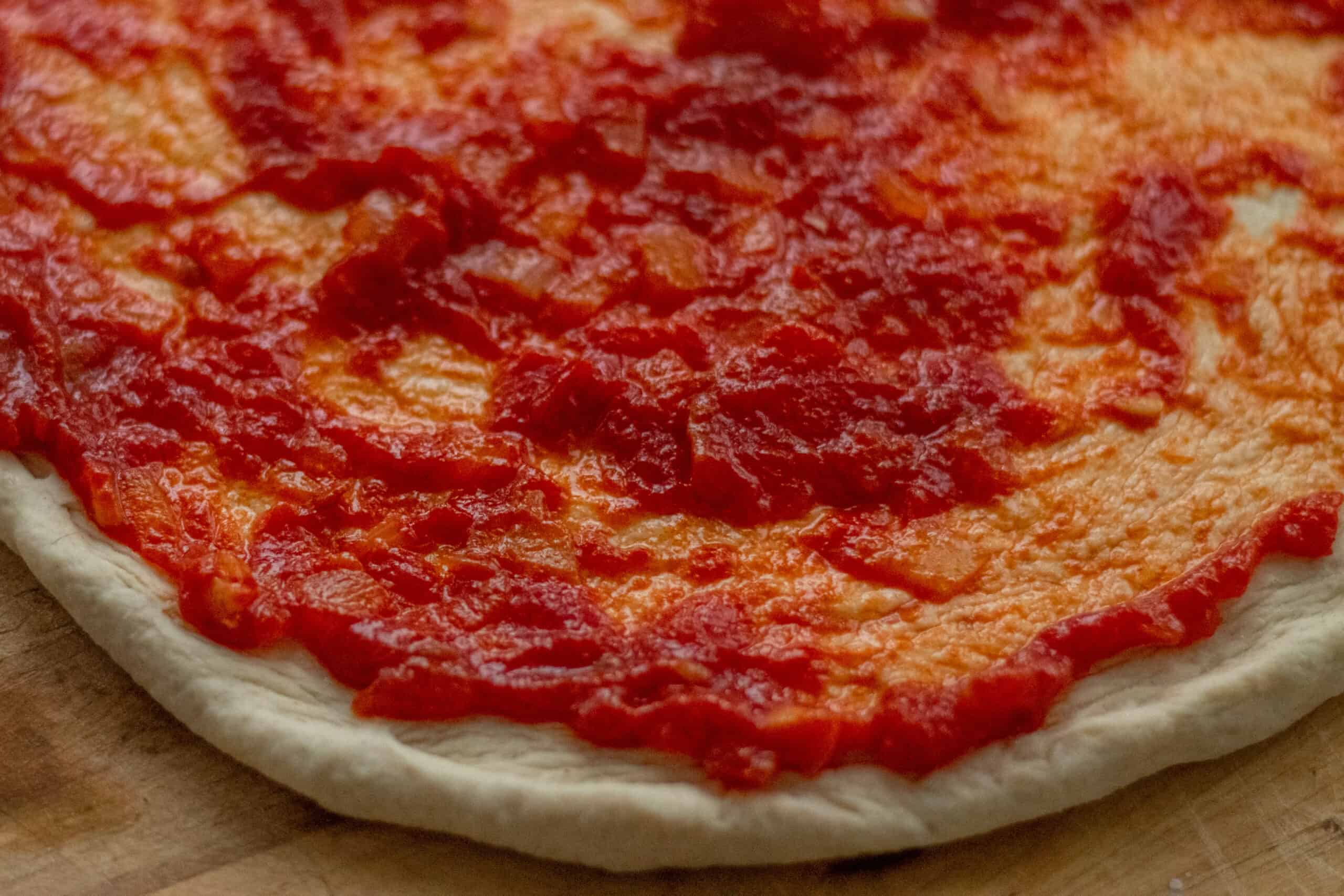 Once risen, divide into balls and roll into circles. Cover with toppings and bake at 220c for 15-20 minutes
Hint: sprinkle your pizza stone or baking sheet with some fine cornmeal or semolina for a traditional restaurant flavor!
Storage
Store the risen dough, knocked down, in the refrigerator for up to 5 days before using.
To freeze pizza dough, let it complete the first rise, then divide it into balls (for the individual pizzas) and place in an airtight container. Should be good for up to 3 months in the freezer.
Top tip
Not cooking pizza the same day? Simply let the dough complete its first rise, knock it down, then place it in a covered container in the refrigerator. To use, bring up to room temperature before dividing into balls and rolling into pizza!
FAQ
What is a sourdough pizza crust?
Sourdough starters add a unique flavour to all baked products, and also a slightly different texture. If you have tried sourdough bread, you will know that it has a slightly sour tang, but not unpleasantly so. This is the case with pizza crust. It will have distinctive holes dotted throughout the dough.
Sourdough Pizza Crust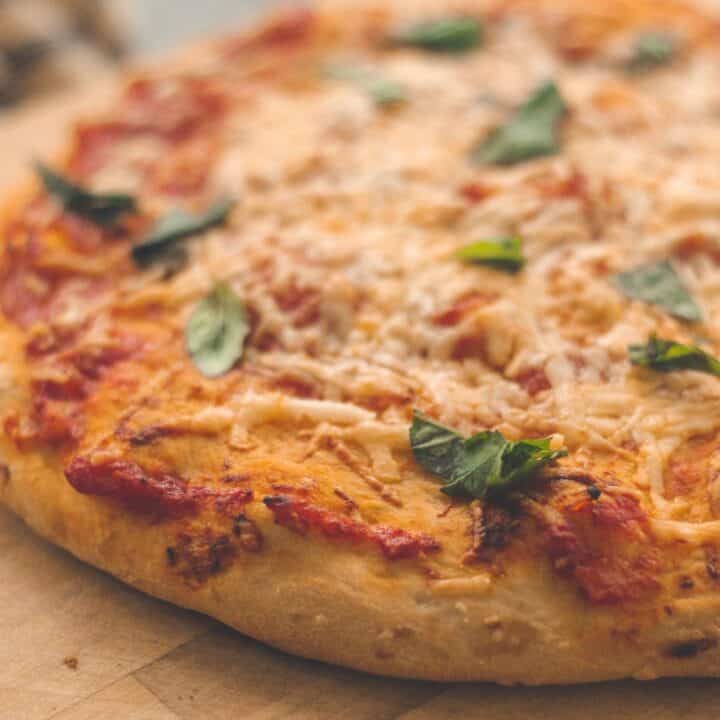 How to make a sourdough pizza crust, based on a recipe by renowned Italian-American food writer Marcella Hazan
Ingredients
3½

cups

Flour

preferably 00 or use sieved plain flour

⅓

cup

Semolina flour

fine

⅔

cup

Sourdough discard or starter

10

g

sea salt

1

tsp

dry yeast

250

ml

warm water

1

tsp

Sugar

1

tablespoon

olive oil
Instructions
Dissolve the yeast in the warm water along with the teaspoon of sugar

Add the flour, semolina, salt and sourdough discard to a large mixing bowl.

Once the yeast is bubbly, add this to the flour mixture and stir well with a wooden spoon until you have a raggy dough that you can work with.

Knead the dough for 8-10 minutes until it feels solid and slightly rubbery.

Put the dough in an oiled bowl and cover with a damp tea towel.

Allow to rise for 3-4 hours until the dough has doubled in size.

Punch the dough down and divide into balls, depending on size/how many pizzas you want to make. Roll each ball out to form a circle.

Place the pizza dough circle on a preheated pizza stone. I like some cornmeal sprinkled on the stone before adding the crust.

Add your toppings and bake for 20 minutes.
Nutrition Facts
Sourdough Pizza Crust
Amount per Serving
% Daily Value*
* Percent Daily Values are based on a 2000 calorie diet.
Food safety
Cook to a minimum temperature of 165 °F (74 °C)
Don't leave food sitting out at room temperature for extended periods
Never leave cooking food unattended
Use oils with high smoking point to avoid harmful compounds
Always have good ventilation when using a gas stove
See more guidelines at USDA.gov.