How to make festive Sugar plums
A Sugar Plum is old-fashioned candy (dating back to the 16th century!) that has evolved over time from a hard sugar candy, to an altogether more enjoyable fruit and nut confection. Read on to find out how to make some this Christmas!
PIN my Fruit and Nut Sugar Plums to make later
Without doubt, sugar plums are a truly festive confectionary. Although not quite up there with the ubiquitous candy cane or After Eights, I think it's time for a resurgence of this elegant and delicious sweetmeat.
Inspired by my dairy-free caramels (another festive essential), sugar plums work equally well on a plant-based charcuterie or cheeses board.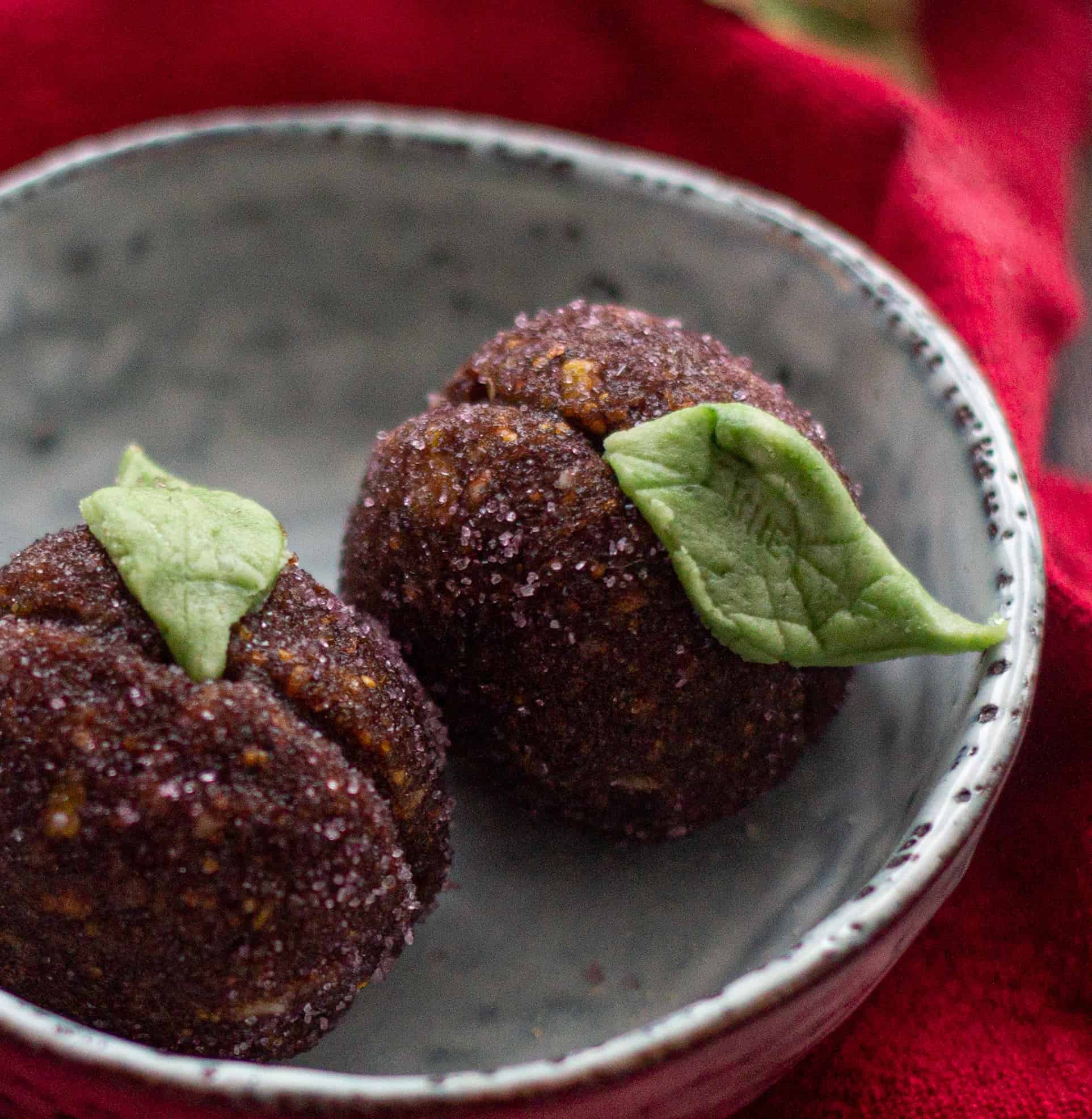 You mat not have heard of sugarplums outside of a Dickensian novel, but they were commonplace in the 19th Century. And you can imagine piles of this adorning huge tables, heaving with Victorian feasts.
These sugar plums are not made from plums in the traditional sense (although some recipes involve taking fresh plums and roasting them, coated in sugar). My sugar plums are made with delicious dried fruits like figs, dates, and, I think you could use prunes (so you have used real plums somewhere!).
Because of the ingredients, they will last quite a while, and although you may see a little syrup leaking at the bottom of the sugarplums (from the sugar dissolving), do not worry, this just makes them even more sticky and unctuous to eat!
These sugarplums don't have any sugar in them as dried fruit is particularly sweet anyway, and they are then rolled in sugar, which adds colour, texture and additional sweetness!
Ingredients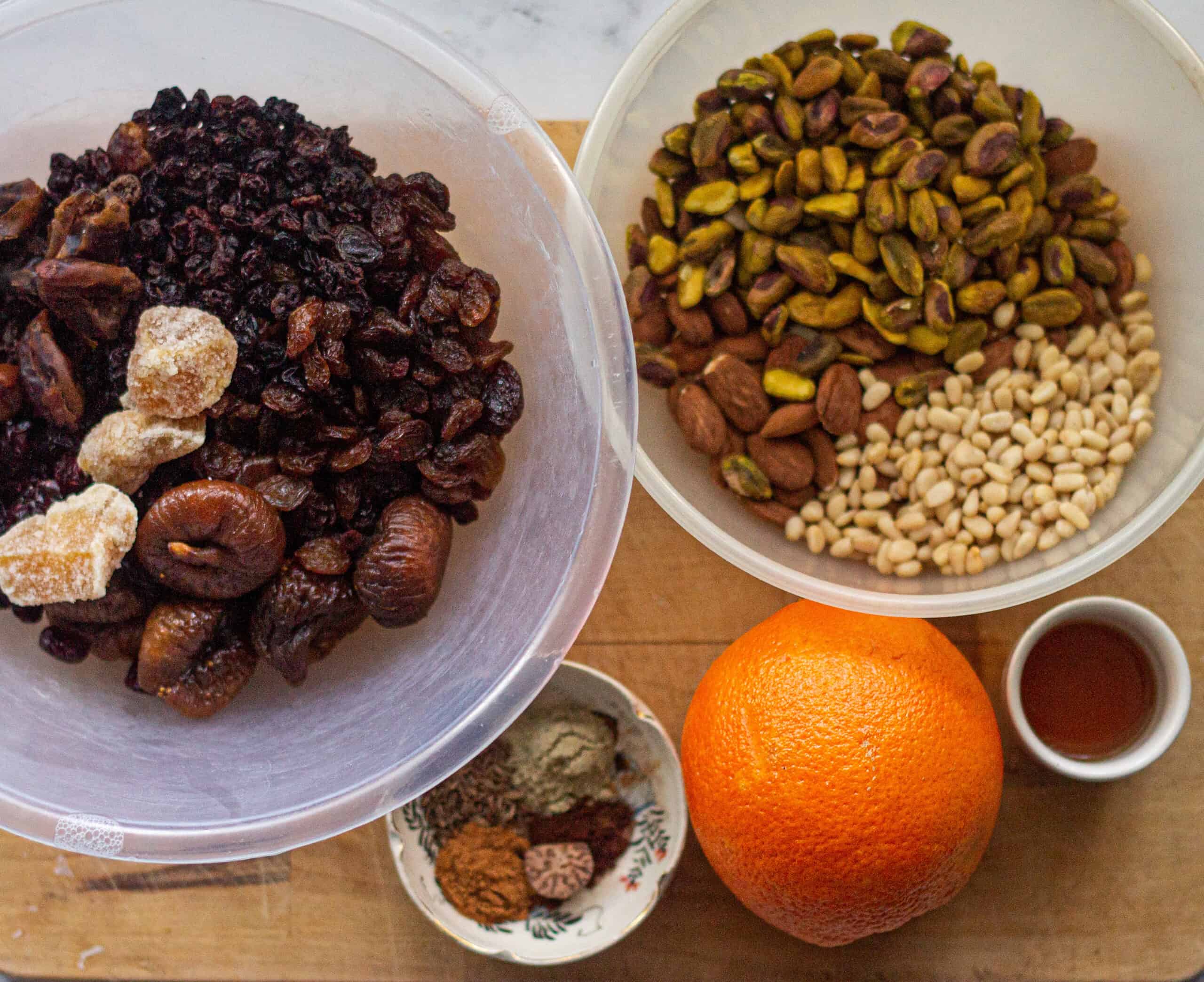 dried fruit, like figs, prunes, dates
nuts
spices
orange zest and juice
brandy or rum (optional)
granulated sugar for rolling
Instructions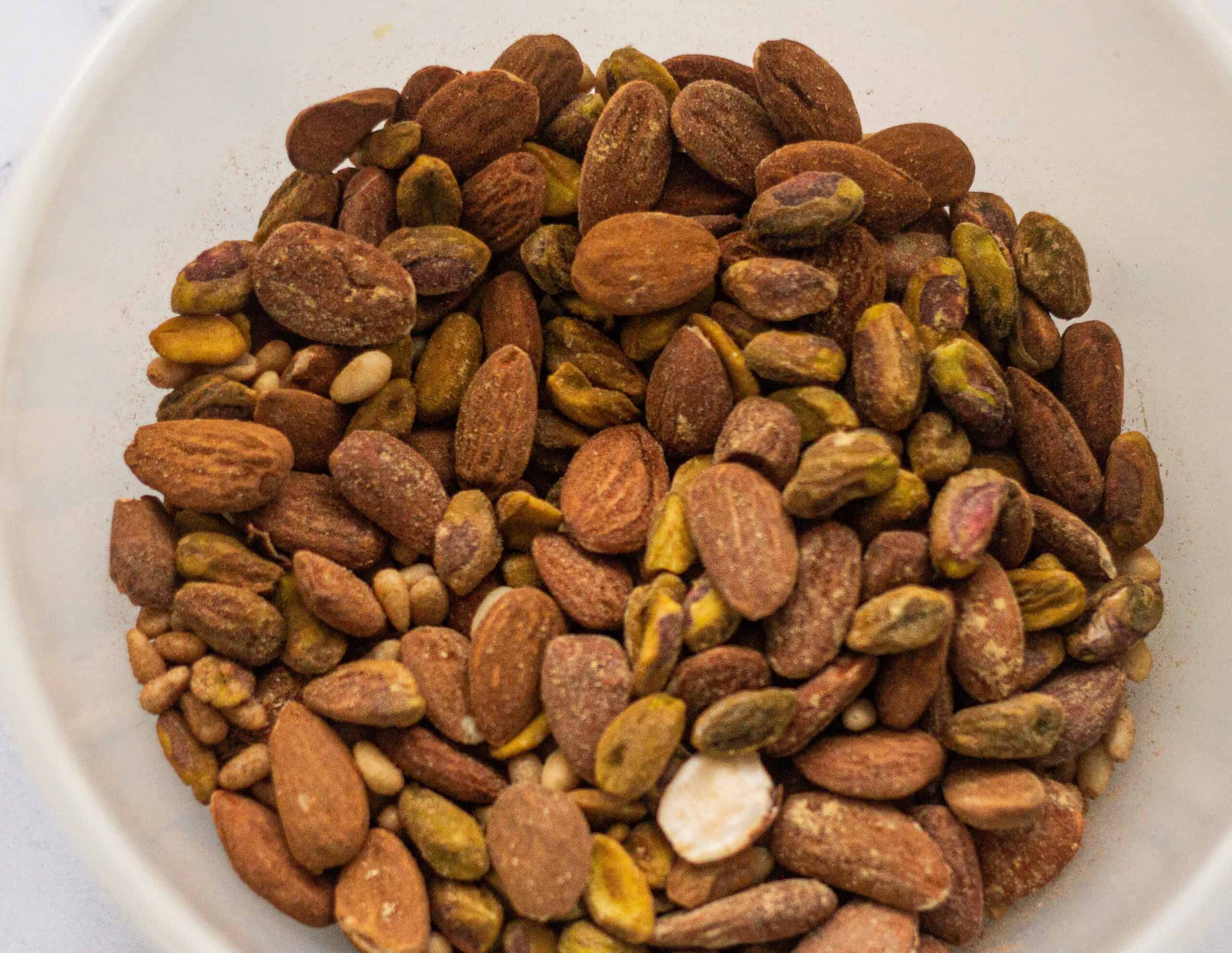 Mix the nuts with the spices and toast gently until just starting to smell fragrant, and have toasted.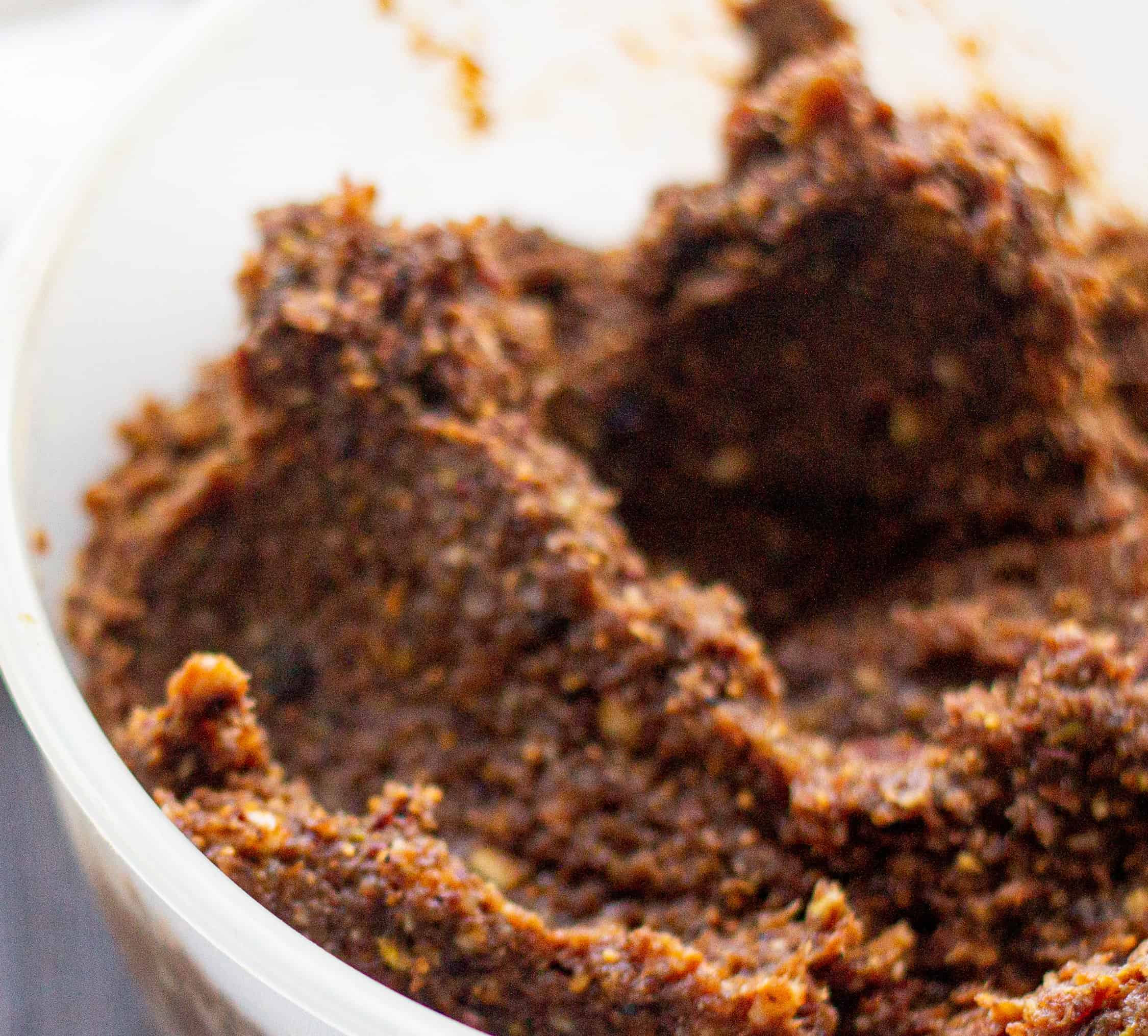 Place the nuts (cooled a little) and soaked dried fruit into a large food processor and blend until you have a thick paste.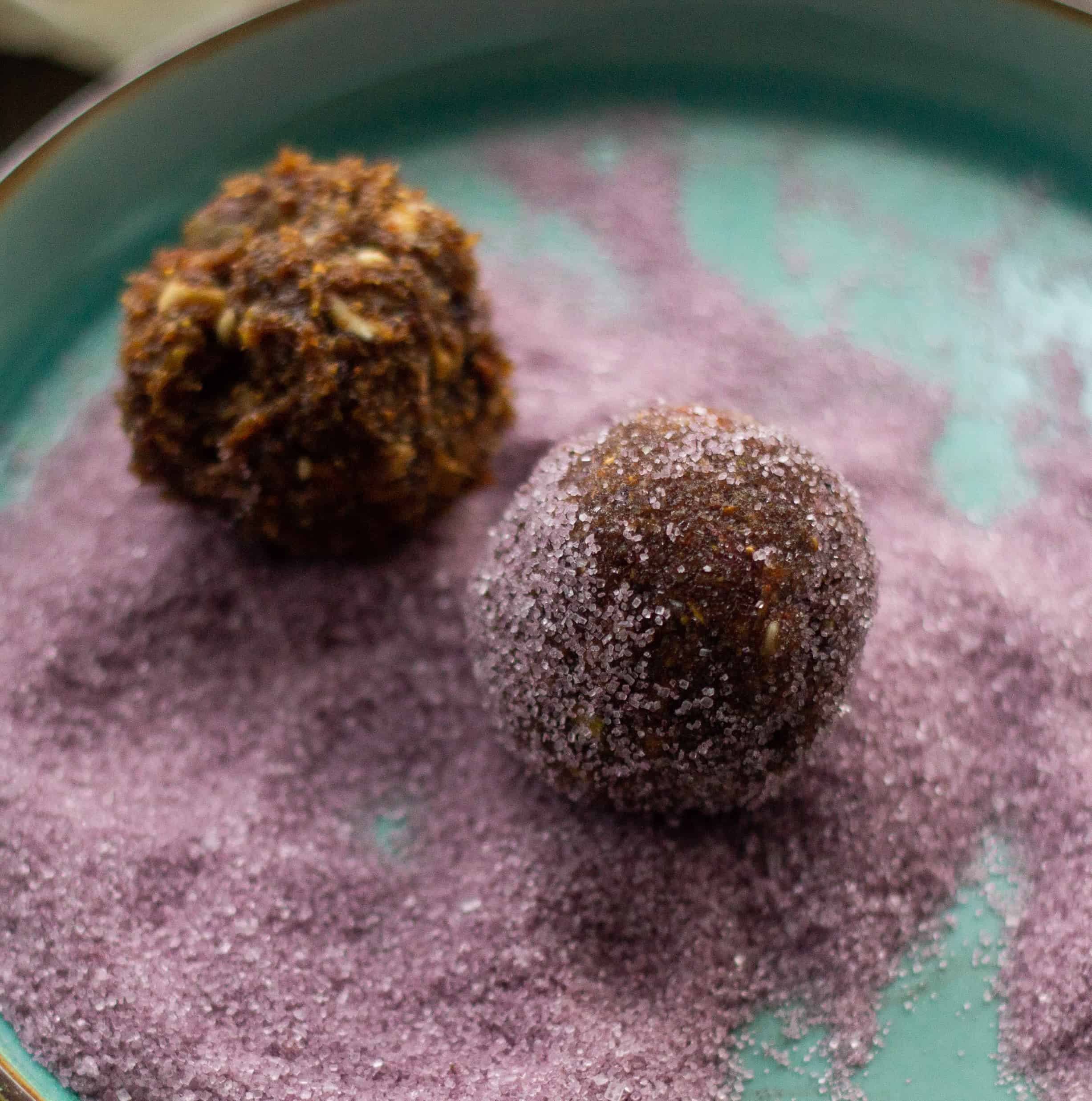 Mold the paste into the size of small plums and roll in sugar.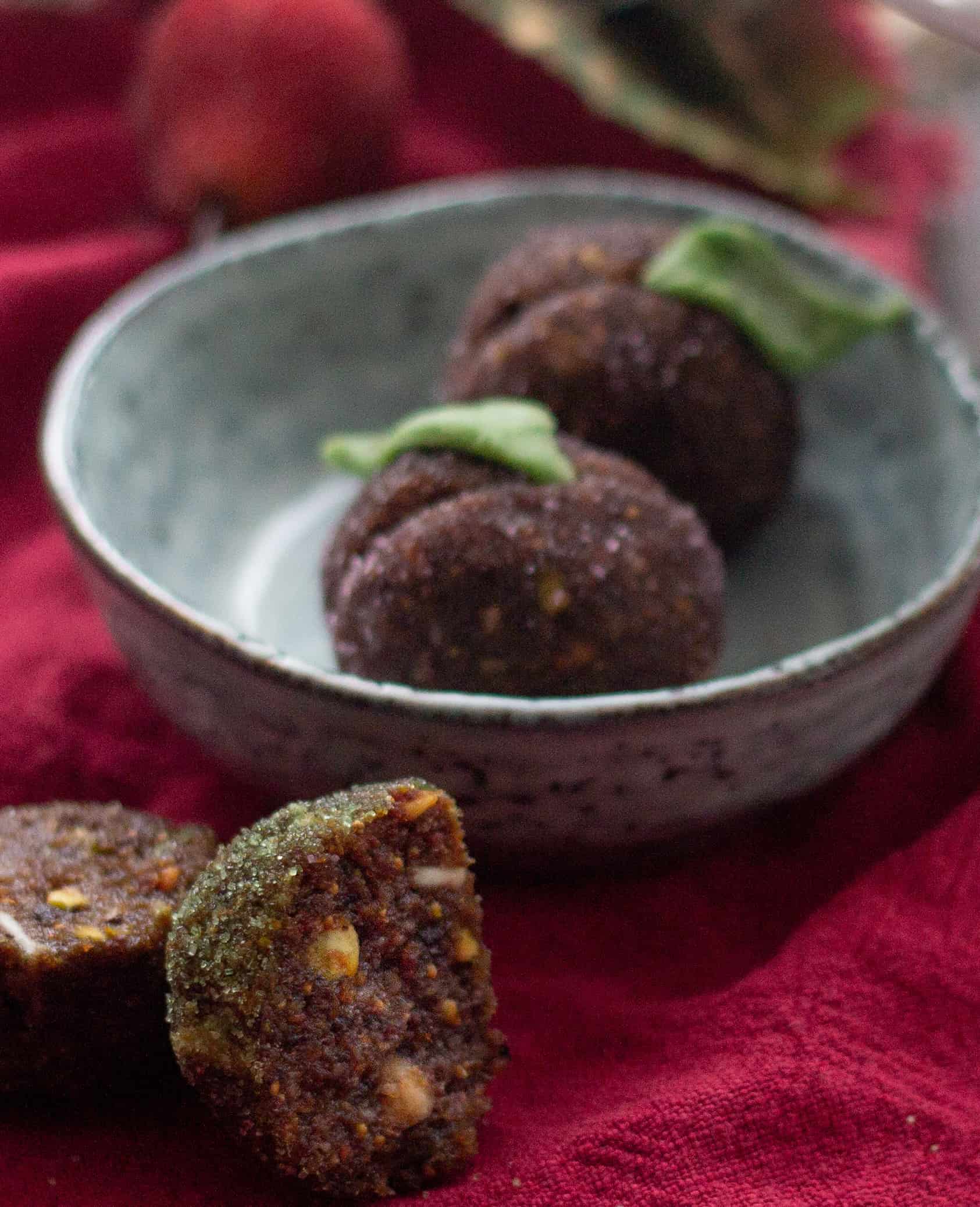 Chill a couple of days to allow the flavours to develop, then serve.
Hint: vintage recipes suggest using a meat grinder to mix up the fruit and nuts together. Fortunately we have food processors these day, but don't even consider doing it without access to a large processor. This makes a thick, sticky paste that needs quite a powerful processor.
Substitutions
Dried Fruit – change up the combination of the dried fruit to suit your budget or what you have in the cupboard. I do recommend keeping either the figs or dates as they add a stickiness that raisins or sultanas alone cannot.
Nuts – use your favourite nuts or a combination in this mixture. If you cannot eat nuts, then try some toasted seeds instead.
Rum – you could use a flavoured liqueur instead, orange or cherry would be really delicious
Equipment
A high power food processor is essential for this. This Ninja one is perfect for the job.
Storage
Store the rolled sugar plums in the refrigerator for a couple of days, then you can keep them on display in a festive dish, or if you prefer, in an airtight container until you are ready to serve. They will keep for up to a month.
I wouldn't recommend freezing sugar plums.
Top tip
Try and find the softest dried fruit for this recipe, and make sure to soak it in the orange juice to make the processing much easier!
To make coloured sugar, I add the tip of a teaspoons worth of powdered food colouring to a quarter cup of sugar placed in a Ziplock bag. Shake well, and voila! Coloured sugar!
Festive Sugar Plums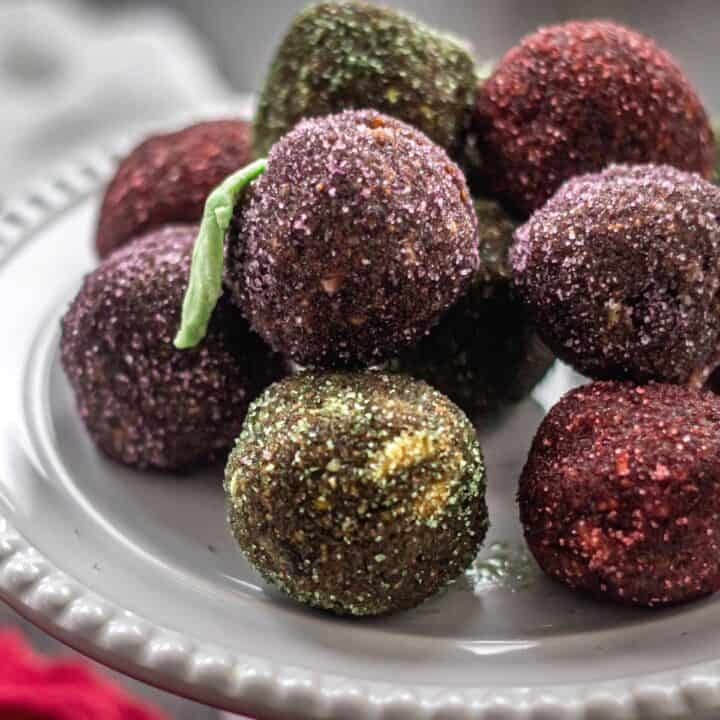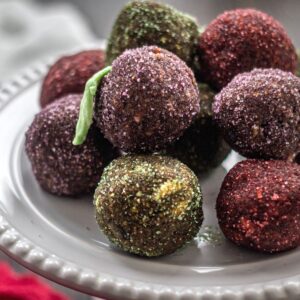 A delightful, fruity addition to the festive table
Ingredients
600

g

dried fruit

-

I used a mixture of figs, dates, raisins

25

g

Crystalized Ginger

200

g

Nuts

-

I used a combination of almonds, pistachios and pine nuts

1

Orange

-

large, zest and juice

1

tbsp

Brandy

-

or rum, optional

¼

tsp

Cinnamon

¼

tsp

Cardamom

-

powdered

¼

tsp

Ginger

-

powdered

¼

tsp

Caraway Seeds

⅛

tsp

Cloves

-

powdered
Instructions
Mix the dried fruit together in a bowl, along with the orange zest, orange juice and brandy (if using). Leave to absorb the liquid whilst you toast the nuts

Coat the nuts in the spices and toast for about 5 minutes.

Leave the nuts to cool for a couple of minutes.

Place all the ingredients (except the sugar) in a large food processor and blend until you have a thick paste that you can mold between your hands.

Roll the mixture into plum size balls and roll in the sugar.

Place in the fridge overnight to setup and roll in the sugar once more.

Place in an airtight container for a couple of days to let the flavors mature.

Ready to serve any time after this now.
Please note that where the recipe asks for milk, butter or yogurt, this refers to any plant-based version that you prefer.
Nutrition Facts
Festive Sugar Plums
Amount per Serving
% Daily Value*
* Percent Daily Values are based on a 2000 calorie diet.