How to Make Homemade Vegan Dairy Free Caramels
Easy delicious vegan caramels. I first made homemade caramels, full-fat dairy, with my American family many years ago. It was a Christmas tradition. These are dairy-free caramels, and taste every bit as good as traditional caramels!
I was given the tedious job of wrapping the caramels, the job of cooking them was not entrusted to me! I remember how buttery and soft the caramels were, completely unlike anything we have in the UK. We have fudge and we have hard, chewy caramels (toffees). The kind that will pull out your cavities.
I had forgotten about caramels until I was flipping through the Erickson family cookbook and there it was: Marie's Caramels. I'm not sure if Marie invented this recipe or just laid claim to it in the family cookbook; however, these are the easiest and most delicious caramels I have ever made.
Homemade candy had always seemed quite daunting, and a lot of hard work. These are not that at all.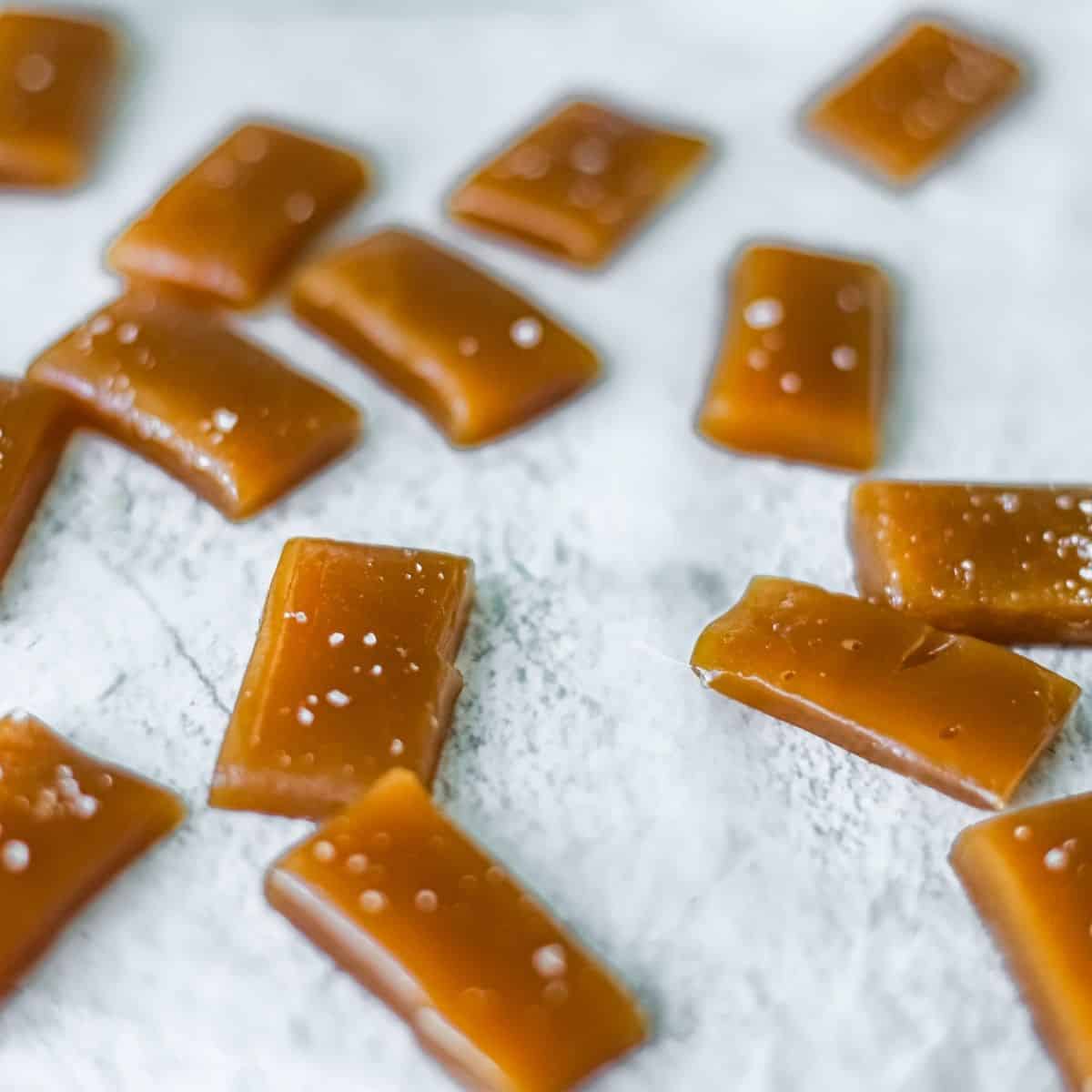 Good news! I have, of course, amended the original recipe to make it vegan. I now use vegan butter and vegan pouring cream. I have also add some sea salt to give that classic salted caramel flavor. Caramel candy is bad news if you have a sweet tooth: they are impossible to eat just one, so cut them into smaller pieces! Of course, there is nutritional information in the recipe card below, but I don't suggest you read it. If you're making caramels, you know going it what they're about.
Make sure you use a heavy bottomed pan as this will ensure that your caramel mixture will not burn. I made mine on an induction cooktop, but medium high heat is what you're looking for.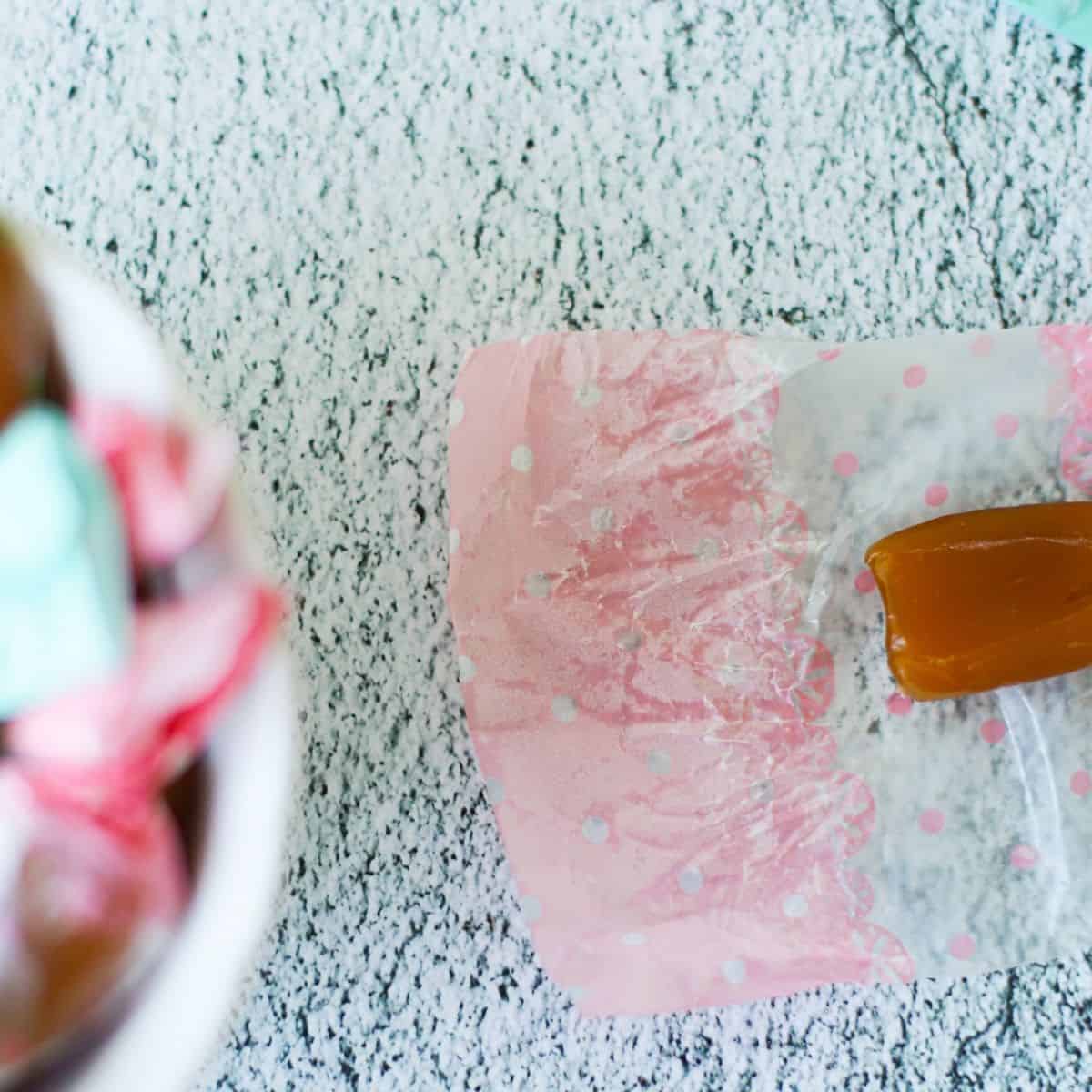 You can also make caramel apples with this dairy free caramel recipe too! I'd love to know what else you can use my vegan caramel recipe for, so leave your ideas in the comments below!
Ingredients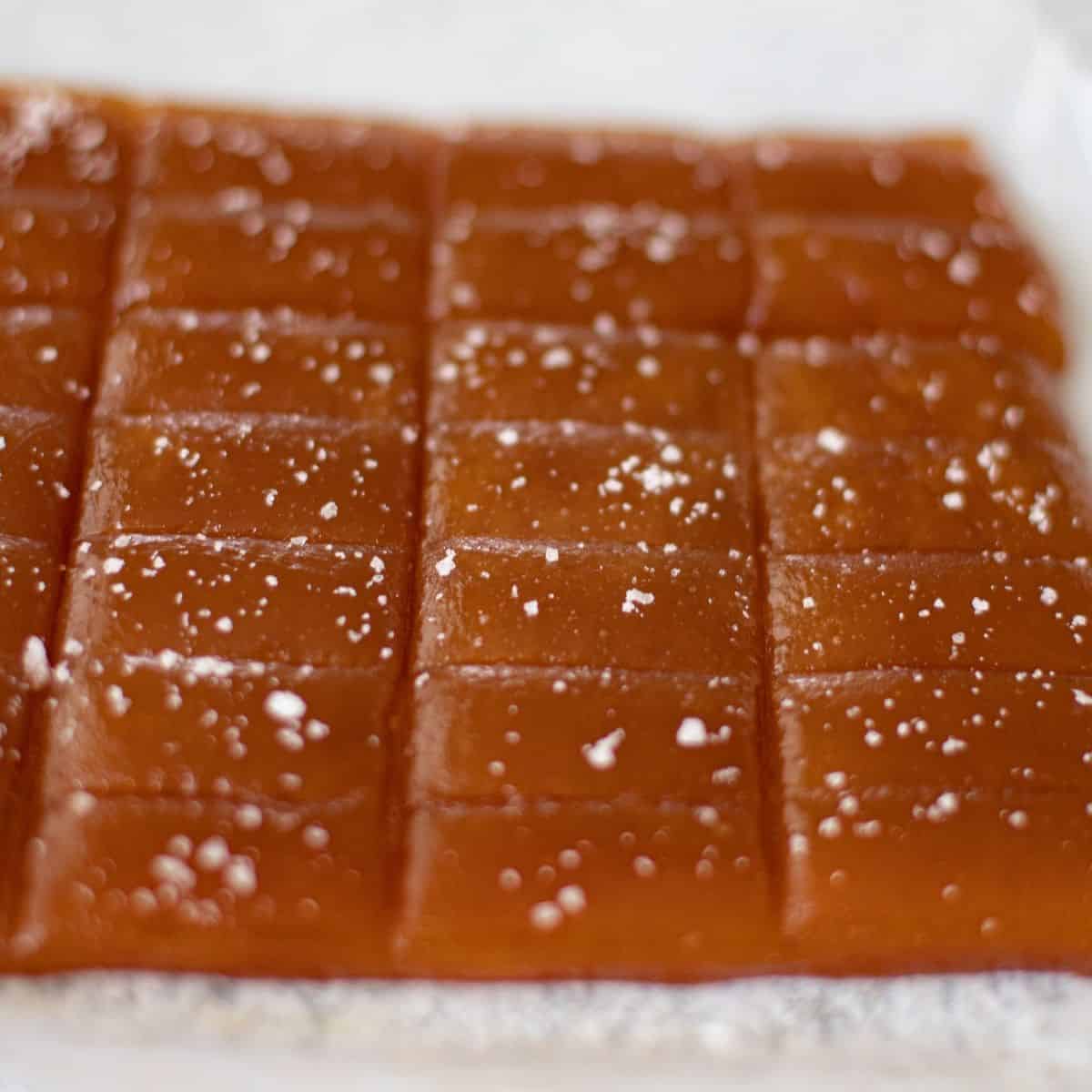 The most important ingredient vegan caramel sauce. High fructose corn syrup. I use Karo. You can use maple syrup instead.
Regular sugar, I just use white sugar (cane sugar). You could use light brown sugar for a richer flavor of caramel.
Vegan butter, at room temperature. Using dairy free butter didn't seem make any difference to the finished product, so I was super pleased about that.
Heavy cream, vegan. I use Elmlea plant-based.
Vanilla Extract. Essential to the final flavor of your caramels.
Sea salt. A small amount goes a long way.
Method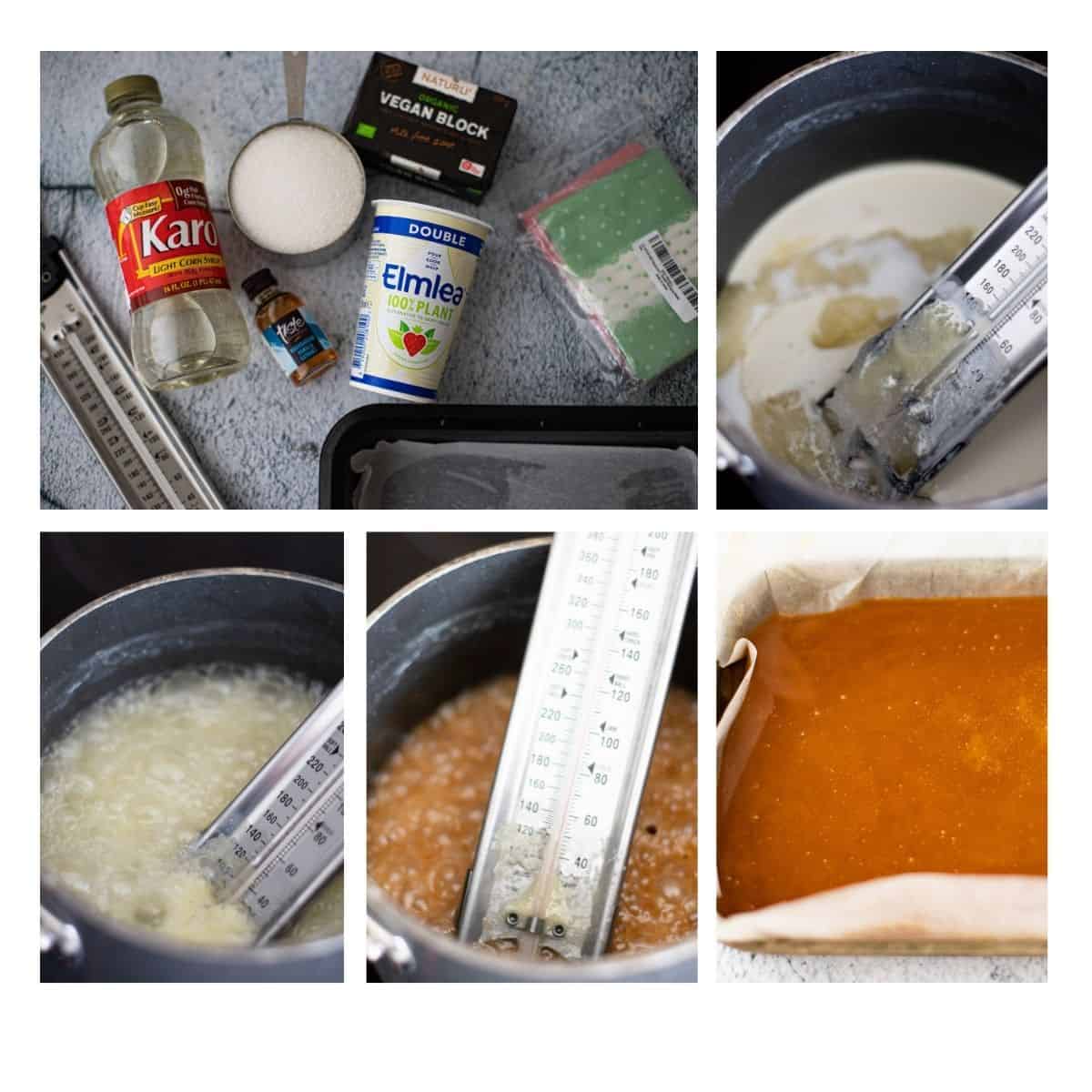 With a little preparation, my easy delicious vegan caramels are so simple to make. Follow these instructions and you will have perfect caramels.
Line a 6″ square (or rectangular) dish with greaseproof paper (parchment paper).
Place your candy thermometer in your heavy-bottomed small saucepan, on medium-high heat, along with the sugar, corn syrup, and half of the cream.
Boil for 15 minutes, watching it carefully to make sure it doesn't boil over. DO NOT STIR.
Your mixture should become a thick caramel color by this point.
After 15 minutes, add the other half cup of cream and the diced butter. Allow to melt into the mixture and boil until the caramels reach 248f (120c). This is between the soft ball and hard ball stage.
Once it reaches that temperature, immediately remove from the heat, stir in the vanilla extract, and carefully pour it into the prepared, lined dish. You want to work quickly, whilst the mixture is still a pourable consistency.
Sprinkle with a little sea salt after half an hour. Too soon and the salt will fall into the mixture, too late and it will just sit on the top, but not stick.
Leave to cool for at least three hours before cutting into squares.
Equipment
Try my other delicious vegan sweet treats!
Easy Vegan Caramels Recipe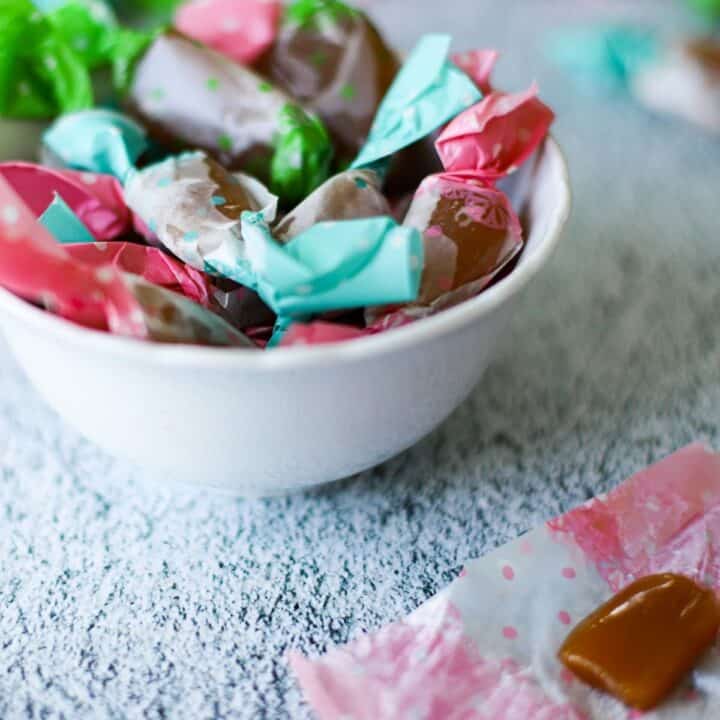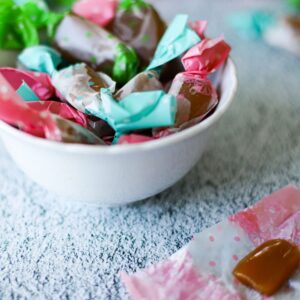 How to make the most deliciously easy dairy-free caramels
Equipment
1 Sugar Thermometer

Caramel wrappers

1 6" square dish, lined with greaseproof paper

(or lightly grease the dish)
Ingredients
1

cup

White Sugar

1

cup

Cream

vegan, double (I use Elmlea Plant-Based)

¾

cup

Corn Syrup

½

cup

Butter

vegan, I used Naturli

1

tsp

Vanilla Extract

pinch

Sea Salt

optional
Instructions
Place your sugar thermometer into a medium, heavy saucepan

Add the sugar, corn syrup and ½ cup of the cream

Bring to a boil and boil for 15 minutes.

Add the remaining cream and the butter, gently stir to mix in the melting butter. The mixture should be a rich golden colour now.

Boil until it reaches 248f (120c) (in between soft and hard ball stage)

Remove from the heat and stir in the vanilla extract.

Now pour into your prepared dish and leave to cool completely for at least 3 hours.

Sprinkle with Sea Salt if using.

Once cold, turn out onto chopping board and cut into squares of your liking. Wrap in the caramel wrappers.
Nutrition Facts
Easy Vegan Caramels Recipe
Amount per Serving
% Daily Value*
* Percent Daily Values are based on a 2000 calorie diet.