How to make Chia Seed Jam. You may have read about Chia Jam or seen it trending on Instagram or Facebook. Unlike lots of online ideas that seem delicious in theory, but are actually a waste of time and ingredients, Chia Jam has a lot of great things going for it.
What is Chia Jam?
Chia Jam is, quite simply, fresh fruit simmered until it reaches the point of collapse, thickened with Chia Seeds. Whereas traditional jams rely on slow simmering and lots and lots and lots of sugar to both thicken and sweeten, Chia Jam tastes more like the actual fruit because of the quicker cooking time.
Chia Seeds look a little like poppy seeds when you buy them, but once they are immersed in a liquid, they release a gel-like consistency around them. This makes them also a great egg replacer in baking (although I prefer ground flaxseed).
So, Chia Jam has minimal ingredients, minimal cooking time and is sweetened only by the fruit itself (unless you add a little extra to your own taste). It's a great way to use fruit that is past its prime, or that you can buy reduced in the supermarket. You know, the raspberries that are starting to look a little squished, yeah, they're perfect for this.
Chia Seeds are also really high in fiber and great for your digestion. Here's an article discussing the benefits of adding Chia Seeds to you daily intake.
Price-wise, Chia Seeds are quite cheap to buy these days, and you can buy them in larger quantities which makes it cheaper too. They are fabulous sprinkled on salads or on toast, but don't really have a great deal of flavour. However, the health benefits make them a worthy addition to your morning smoothie or lunch.
How do I Make Chia Jam?
It really is incredibly easy to make.
To make one cup of jam, you need two cups of fruit. If you are using berries, you don't need to do anything with them; if using strawberries, or larger fruits, then chop them a little.
Simmer the fruit in a saucepan, over very gentle heat for about 5-10 minutes (depending on how soft your fruit is), until it starts to collapse. Gently press the fruit with the back of a spoon to squish it down. You can make it as smooth or chunky as you prefer.
Remove from the heat and stir in a tablespoon of lemon juice. This is optional but it helps sharpen up and balance the flavour of super-sweet fruits.
Stir in 2 tablespoon of chia seeds (one tablespoon per cup of RAW fruit), and leave to cool. You will see it start to thicken almost immediately.
Once cooled a little, pour into a Kilner jar and store in the fridge for upto a week.
What Fruit Can I Use to Make Chia Jam?
Berries like Blueberries, Raspberries, Loganberries, Strawberries, Blackberries
Stone fruit like Peaches, Nectarines, Cherries or Plums
Seasonal fruits like Gooseberries, Rhubarb, Apples or Pears (peeled and cored)
You can of course use frozen fruit too!
You can pimp your Chia Seed Jam by stirring in some chopped herbs, like mint or basil or lavender to add an herbaceous flavour. Make sure to add after cooking.
You can add a drizzle of Balsamic Vinegar to a strawberry Chia Jam for a classic twist
What Can I Use Chia Seed Jam For?
Spread on toast for a delicious, healthy breakfast
Thumbprint Cookies
Stirred into yogurt and granola
Added to a smoothie bowl or blended into your morning smoothie for extra fruitiness!
Stirred into Rice Pudding or Porridge
Topping Chia Seed Pudding!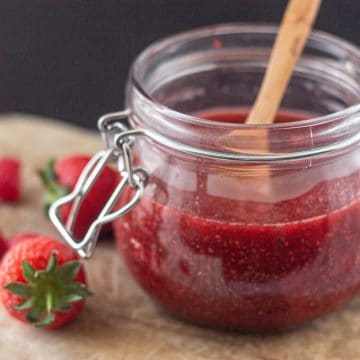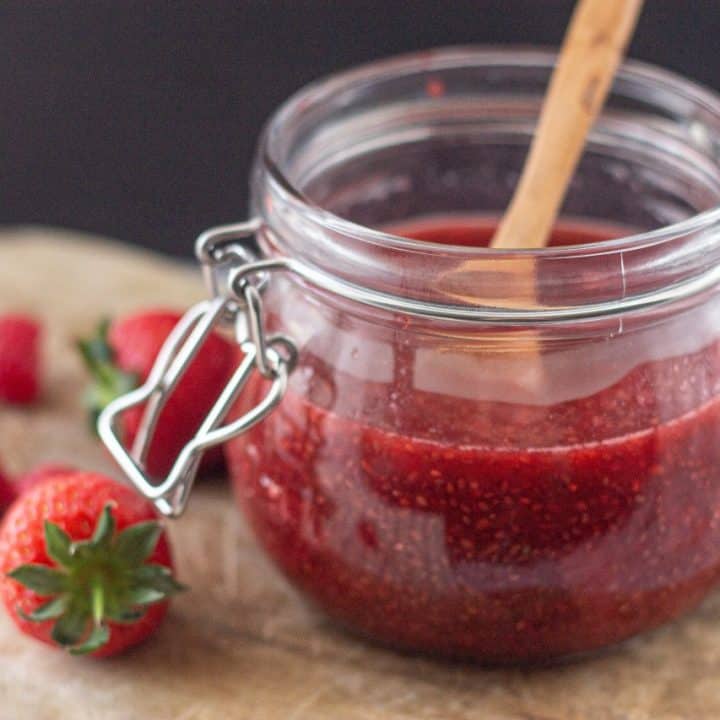 Chia Seed Jam
An easy and quick recipe for Chia Seed Jam
Print
Pin
Rate
Equipment
Saucepan

Kilner Jar

Measuring Spoons
Ingredients
2

cups

Berries

Fresh Fruit, chopped, peeled and stoned if necessary, see notes above

2

tablespoon

Chia Seeds

(note, for larger quantities, it's 1tbsp seeds, per 1 cup RAW fruit)

1

tablespoon

Fresh Lemon Juice

optional but adds a lovely tang

1

tablespoon

(upto) of sweetener of your choice

optional and to taste
Instructions
In a saucepan, add your fruit and simmer for between 5-10 minutes, or until the fruit starts to collapse and break down

Break down any large lumps with the back of a wooden spoon. Leave as chunky though as you like

Remove from heat and stir in lemon juice

Let cool a little and then taste for sweetener. Add if needed

Leave to cool for about 5 mins, then pour into prepared jar. Leave to cool completely before refrigerating.

Will last for about a week in the fridge
Nutrition
Calories:
275
kcal
|
Carbohydrates:
48
g
|
Protein:
5
g
|
Fat:
9
g
|
Saturated Fat:
1
g
|
Polyunsaturated Fat:
7
g
|
Monounsaturated Fat:
1
g
|
Trans Fat:
1
g
|
Sodium:
7
mg
|
Potassium:
265
mg
|
Fiber:
17
g
|
Sugar:
26
g
|
Vitamin A:
156
IU
|
Vitamin C:
8
mg
|
Calcium:
176
mg
|
Iron:
2
mg