How to Make Vegan Parsnip Soup
How to make vegan Parsnip soup – creamy, spicy and so comforting, a real classic, and so easy to make!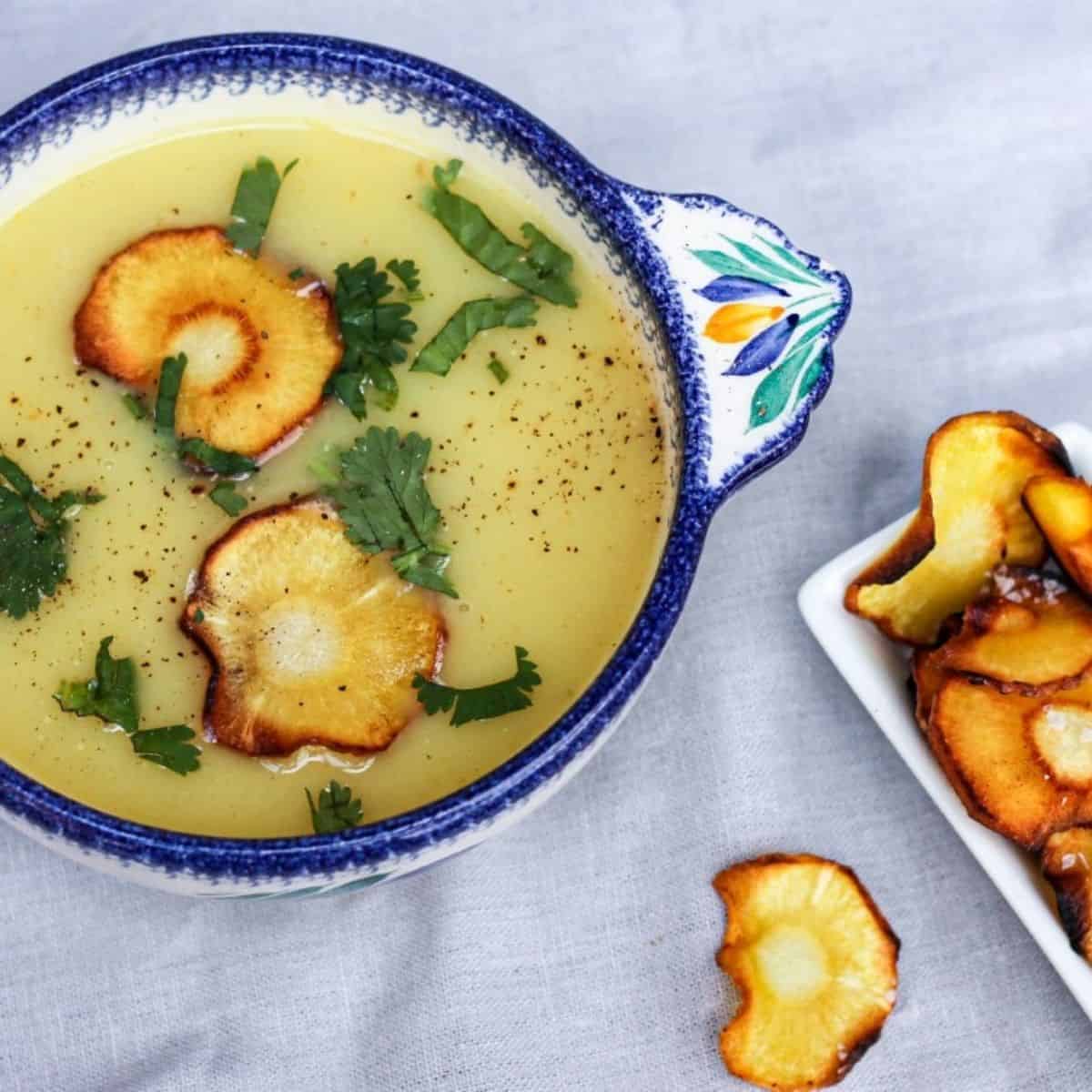 Today's soup was a complete transgression from the soothing broths that we love. Today's soup was big, bold and punchy, a real Wintery soup (although it was actually quite mild).
It was also fun to make and was in the bowls and our mouths with pleasing rapidity and I was using up some rubbery parsnips that were lurking in the fridge.
Ahh, the parsnip! (Or Pastinaca Sativa if you will), It looks sort of like an anemic carrot but tastes quite, quite different. Earthier, sweeter and more herbaceous. You may have had them roasted for Sunday lunch, maybe with charred spindly bits. But it's also great in a soup, and even better as a vegetable chip.
And then…then there's the health benefits! Did you know that it is high in potassium and antioxidants? Or that in the Middle Ages people made sweet pies from them, using it as a sweetener. And did you know that Parsnips have a higher glycemic index than chocolate which makes them the perfect slow burning energy food. And they have no calories either, virtually. Of course, you might not always want to choose parsnip over chocolate (and who would?), but it's certainly an option in these diet-obsessed times we live in.
Unless, ahem, deep fried.
How to Make Parsnip Soup
This soup is Curried Parsnip with Parsnip Crisps. It is cooked in much the same way as Potato Soup, which is to say that the vegetable in question is sweated down with some onion, stock and then pureed in the blender. The main difference between Potato Soup and this soup is the intense flavour of curry and lemon juice that punctuates the sweet Parsnip. It is completely delicious, very warming (the heat that penetrates through the soup is startling) and great with the Parsnip Chips – another victory against my deep fat frying fear. These crisp beauties are a revelation.
Try my other hearty vegan soups
Parsnip Soup with Parsnip Crisps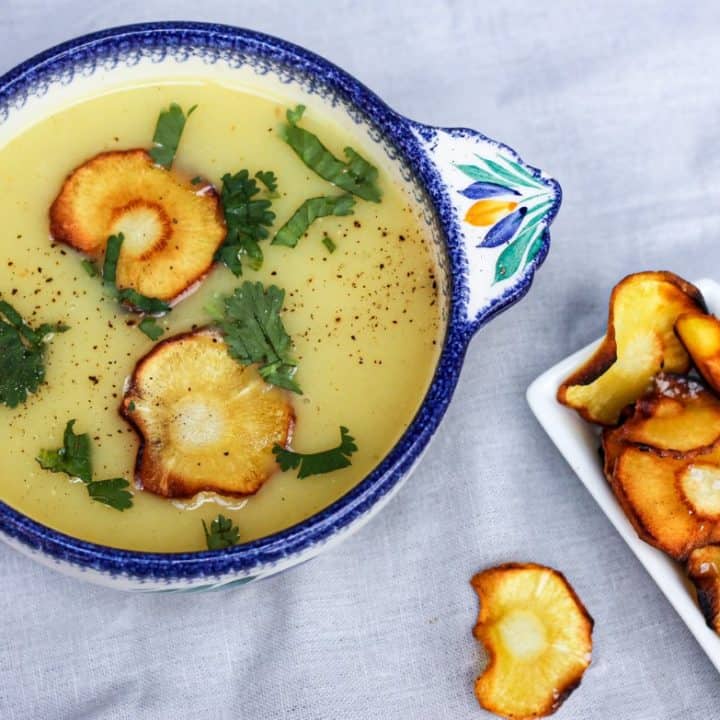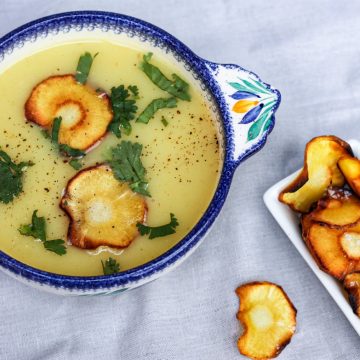 A warming spicy soup for cold Winter days
Ingredients
For the Soup
2

Parsnips

peeled, cut into dice

1

Potato

about 100g, peeled and diced

1

Onion

large, peeled and roughly chopped

1

Clove

Garlic

finely chopped

Peel of half a small lemon

reserve the juice for later

½

tbsp

Curry Powder

10

g

Vegan Butter

4

cups

Vegetable Stock

Seasoning
For the Parsnip Crisps
1

Parsnip

Vegetable Oil for Frying
Instructions
To make the Soup
Add the butter to the pan and gently fry off the chopped onions and garlic until softened.

Add the lemon peel and cook for a 2 minutes more.

Stir in the curry powder and cook for a minute, until the powder is absorbed into the oniony/lemony mixture.

Add the parsnips and potatoes to the pan and stir gently. Cover and cook for 5 minutes on a low heat.

Pour over the stock, replace lid and simmer for 15-20 minutes or until the parsnips are tender.

Blend, then taste for lemon juice (which is essential as it brings out the flavour of the curry powder, no more than half a lemon should be necessary) and seasoning.

Serve with some vegan Sour Cream stirred through and top with the fried Parsnip Chips.
To Make The Parsnip Chips:
Peel the parsnip.

You can now proceed two ways. Using a vegetable peeler, peel off strips of parsnip so you will have crisp, sweet ribbons or carefully cut into rings so they look like more traditional crips (potato chips). These will take longer to cook.

Heat some vegetable oil in a saucepan until a sample parsnip chip sizzles but not frantically so, in the oil.

They will take between 1 minute and 2 minutes to cook, depending on thickness.

Drain on kitchen roll whereupon they will crisp up.

I don't think that they require any salt as I love their sweetness but this is your personal choice.
Nutrition Facts
Parsnip Soup with Parsnip Crisps
Amount per Serving
% Daily Value*
* Percent Daily Values are based on a 2000 calorie diet.