Vegan Mushroom and Wild Rice Soup
This post contains links to affiliate websites, such as Amazon, and we receive an affiliate commission for any purchases made by you using these links. We appreciate your support!
A creamy, rich comforting vegan soup – my dairy-free mushroom and wild rice soup is a true classic
When the leaves start falling and there's a noticeable chill in the air, I love to start making thick, cosy, warming soups. My rich, vegan mushroom and wild rice soup is perfect for these cooler days.
This was inspired by my vegan spiced parsnip and pairs well with a large chunk of my easy beer bread.
Whilst the shimmering frost looks delightful and the pale blue/grey wintry sky are truly evocative of every other winter that has passed me by, I am already longing for the past (or, preferably future) summer. Despite the sun closing up early and denying us of mood-enhancing daylight, the days seem much longer as I shiver in my car on the way to work. Fortunately, we have Christmas to look forward to, and, although it's gone before it seems to have barely arrived, the days leading up to Christmas are always thrilling. There's the Gingerbread House to make, biscuits and cookies to take to work, the tree to decorate and presents to buy and wrap.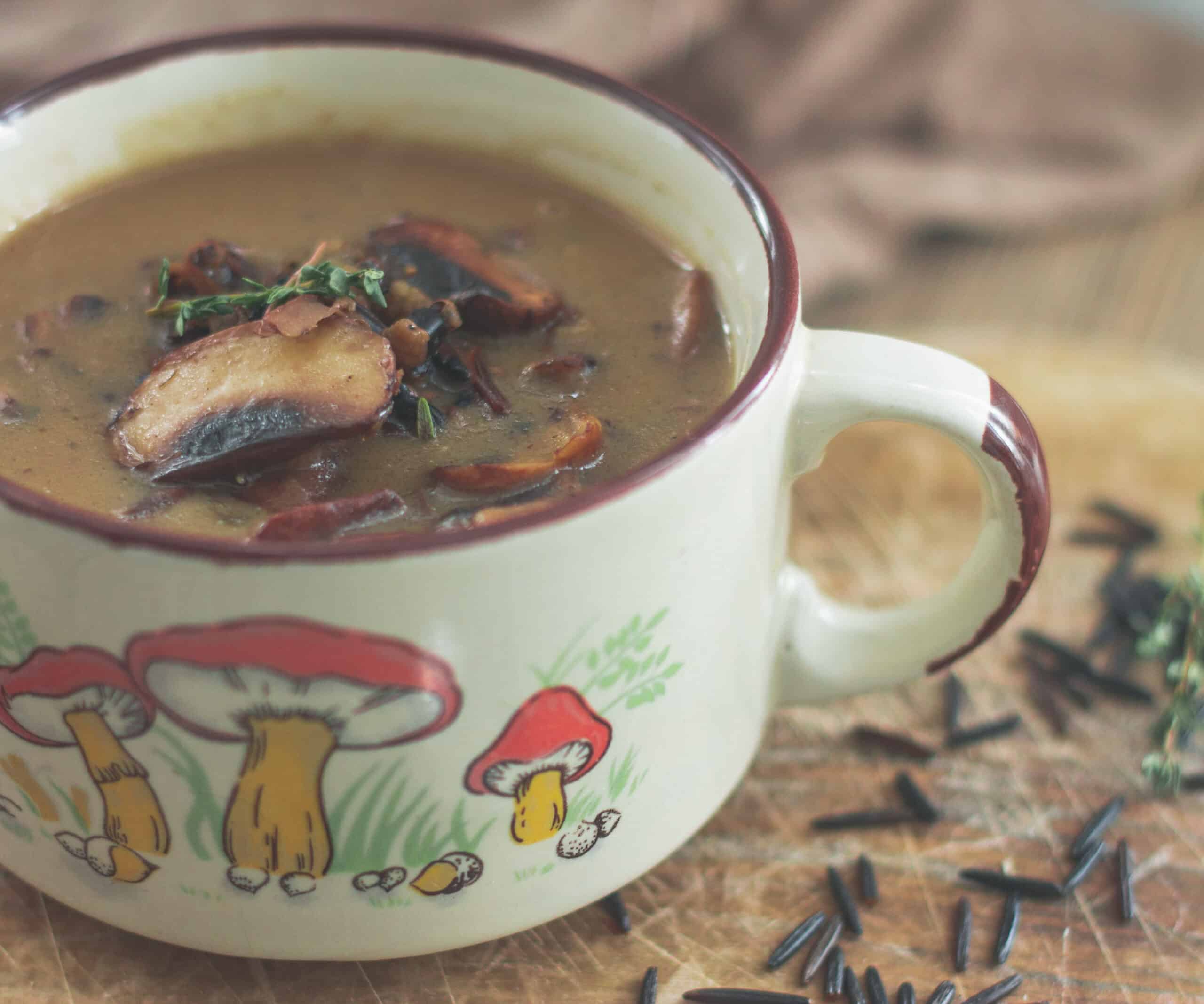 So, because of all this extra activity, we need quick and nourishing meals, using up wilting vegetables from the fridge to ensure plenty of room for the seasonal extras. And what quick and nourishing meal do Ericksons always turn to in days of financial hardship and droopy vegetables? That's right, soup.
My mushroom and wild rice soup is incredibly simple to make: mushrooms sautéed in butter with a little fresh thyme, some garlic before being pressed gently through a sieve. The garlicky/fungus liquid is then used to form the basis of the soup alongside a basic roux, and the rest is made up with some plant-based milk. The mushrooms are then added to this rich soup with some wild rice and simmered gently for about 45 minutes.
Despite soup often being made using leftovers or sad veg in the fridge, with the right garnish, they are also elegant enough for a dinner party yet hearty and speedy enough for a quick after work supper.
Ingredients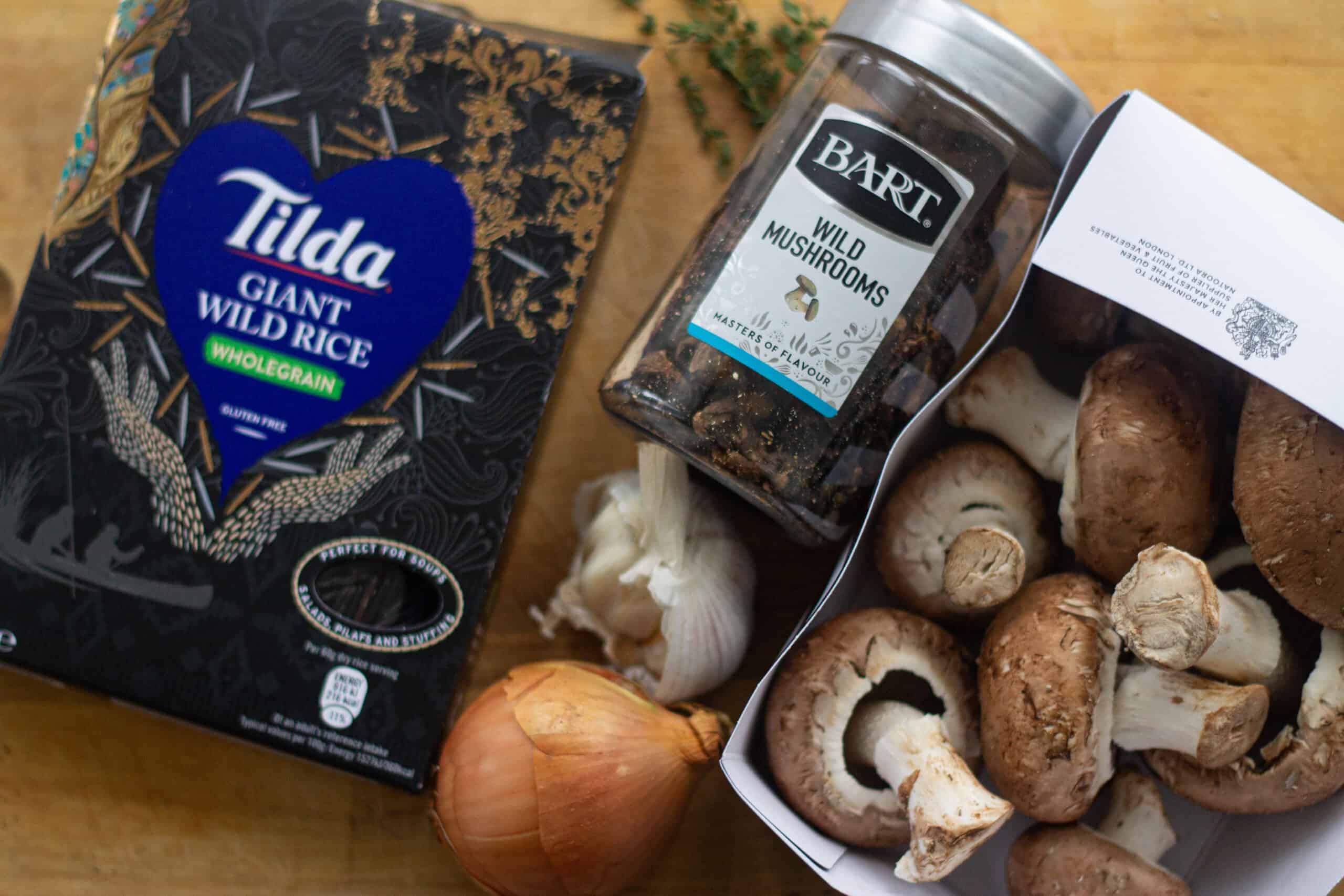 mushrooms. I use a mixture of fresh and dried to get the optimum mushroom flavor.
fresh thyme, adds a delicious herby flavor to the soup
cooked wild rice. See my guide to cooking wild rice. Even for this small amount (1/4 cup), I still recommend using at least 2 cups of water.
See recipe card for quantities.
Instructions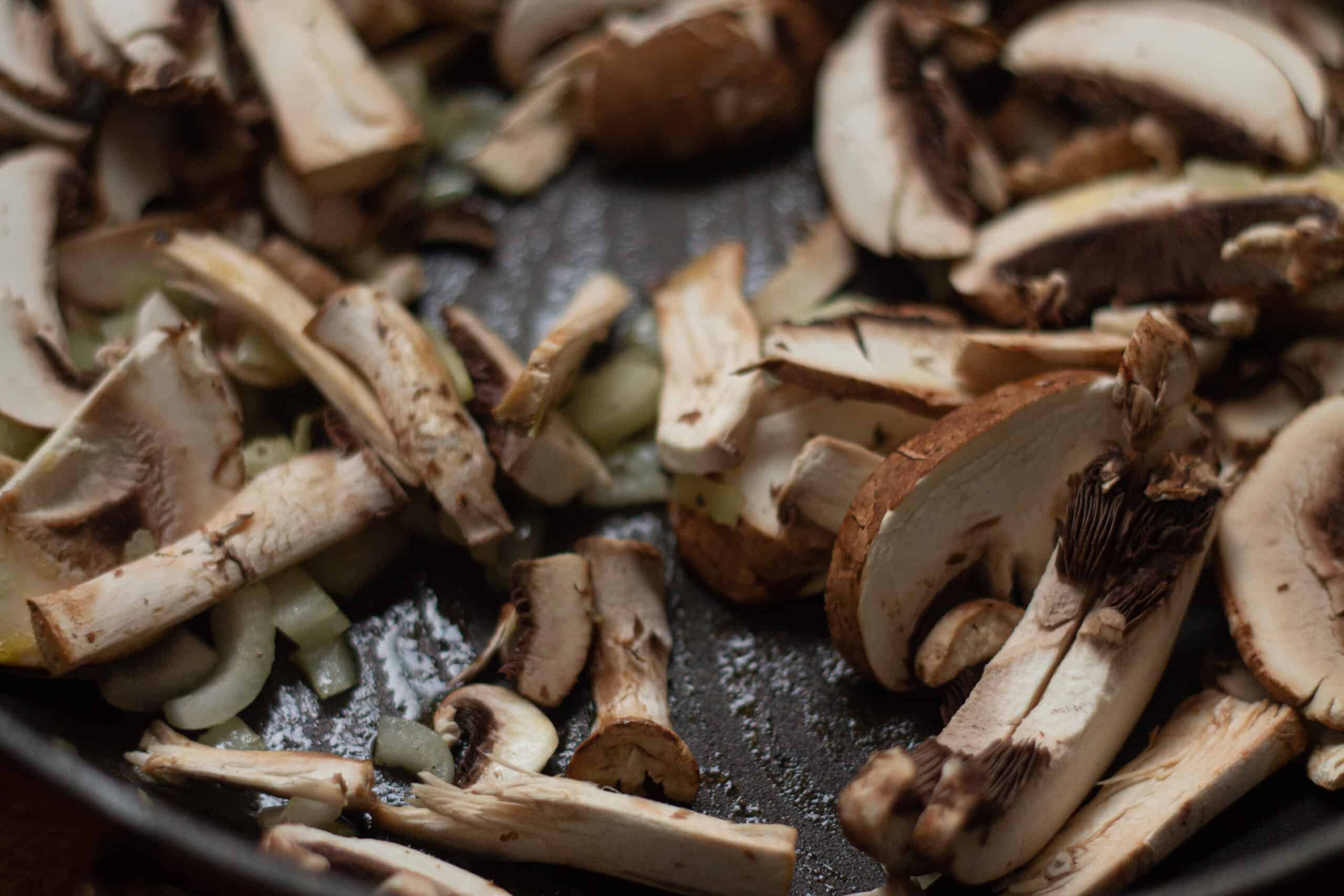 Sauté mushrooms with onion and garlic until tender and fragrant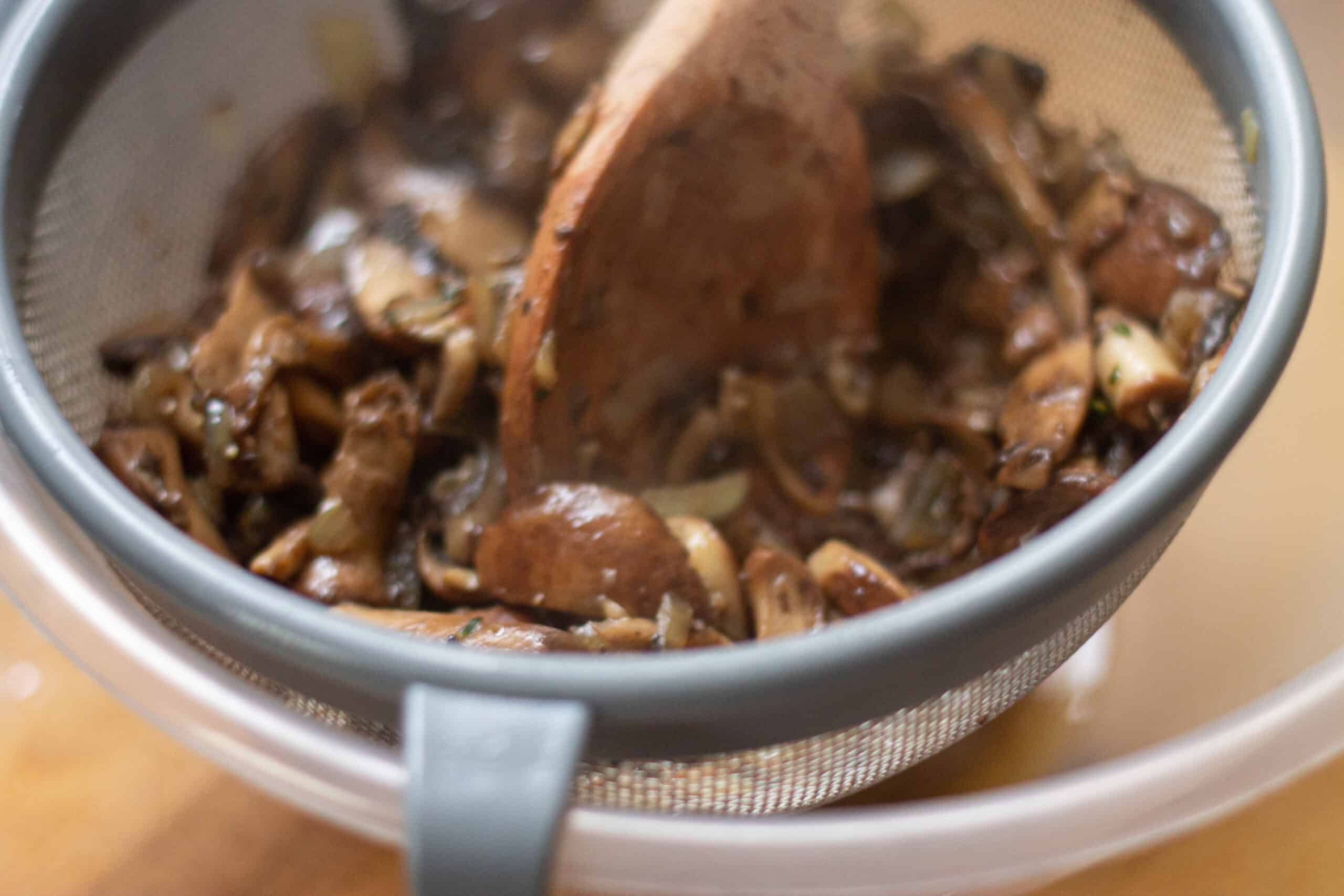 Add soaked dried mushrooms, then drain over a sieve, saving the liquid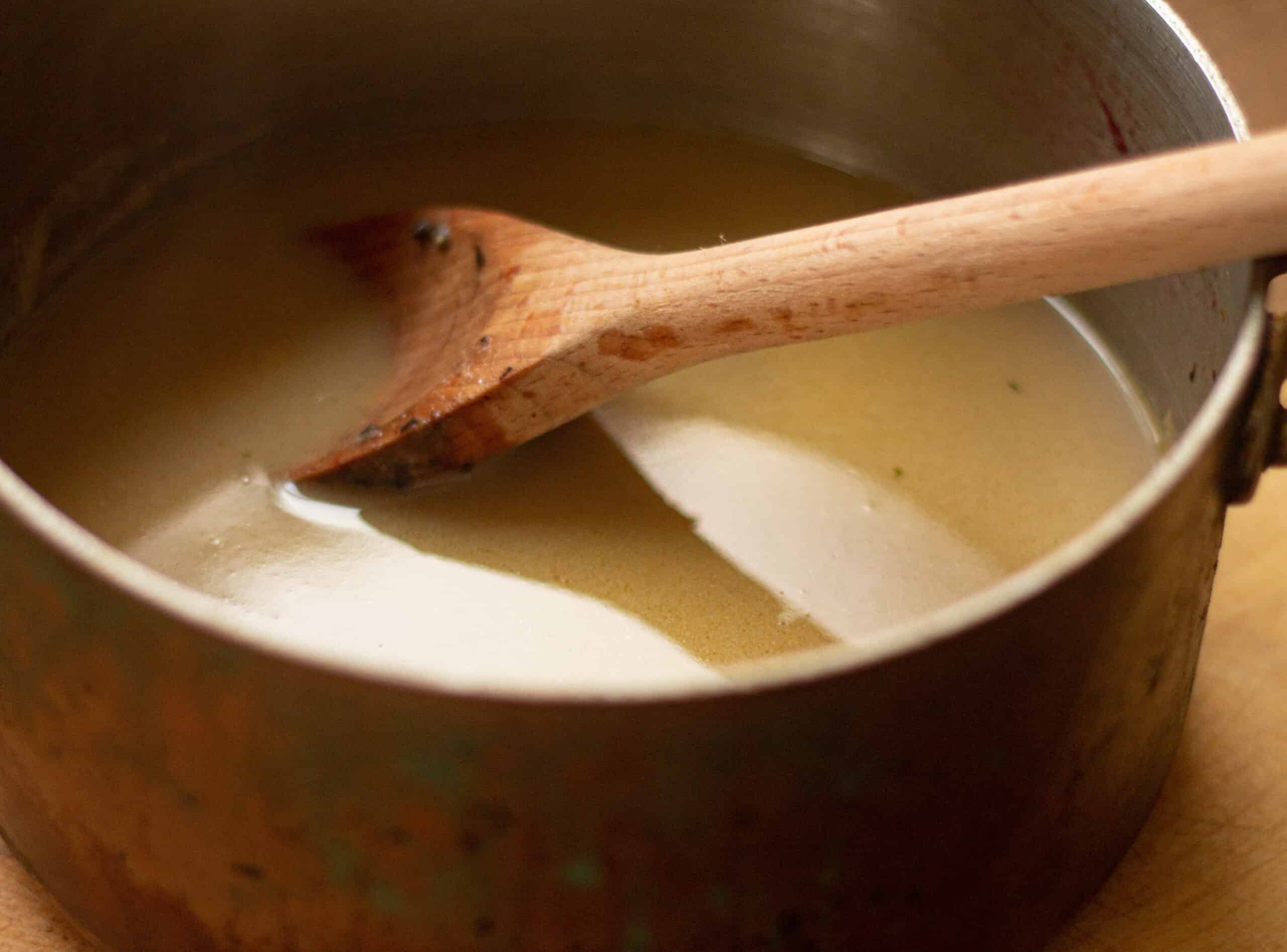 Make a roux, then add in the mushroom stock and some milk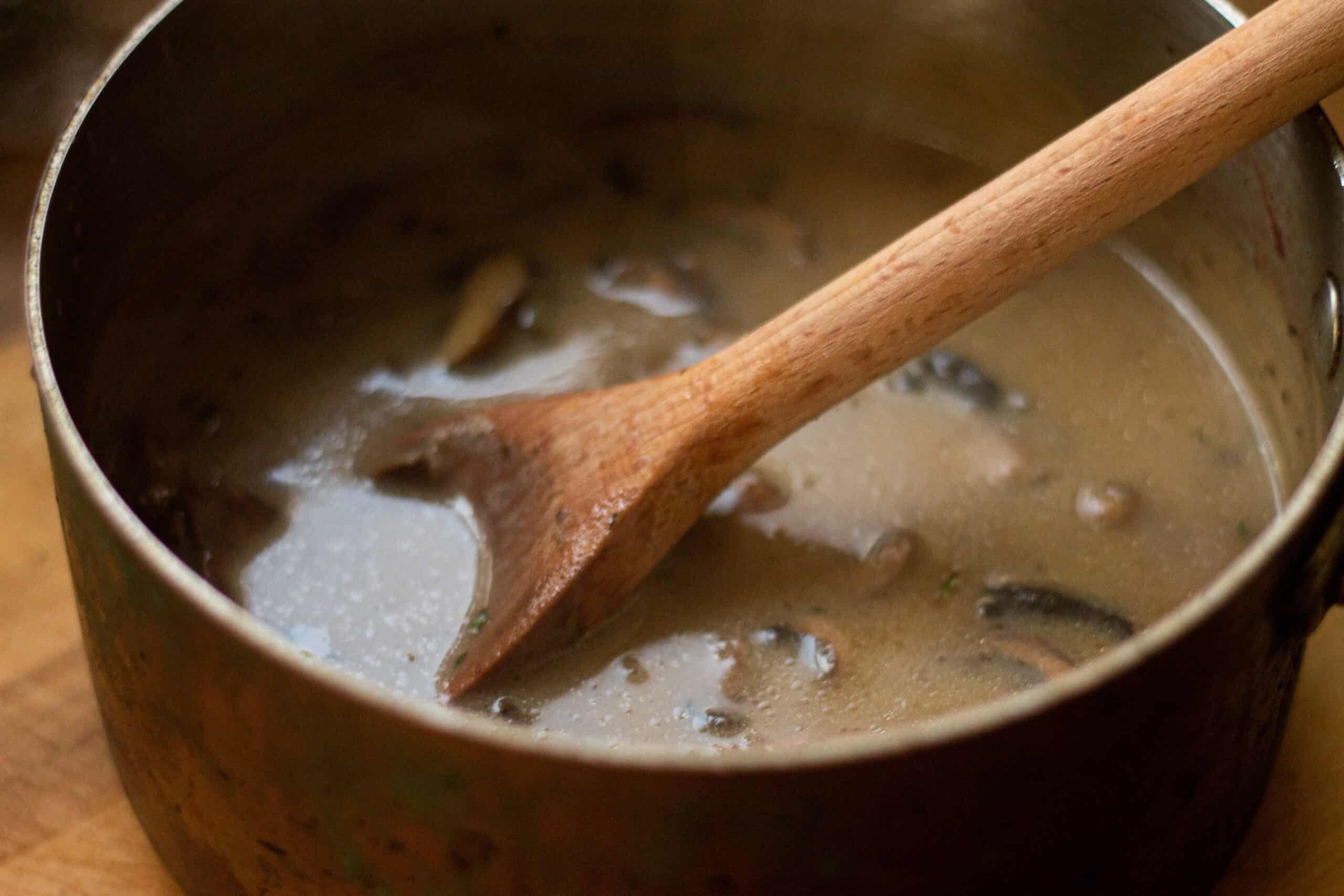 Gently stir in reserved mushrooms and cooked wild rice
Hint: This sauce thickens up on cooling, so if you're reheating it the next day, you might like to add a little more water or unsweetened dairy-free milk if it is too thick.
Storage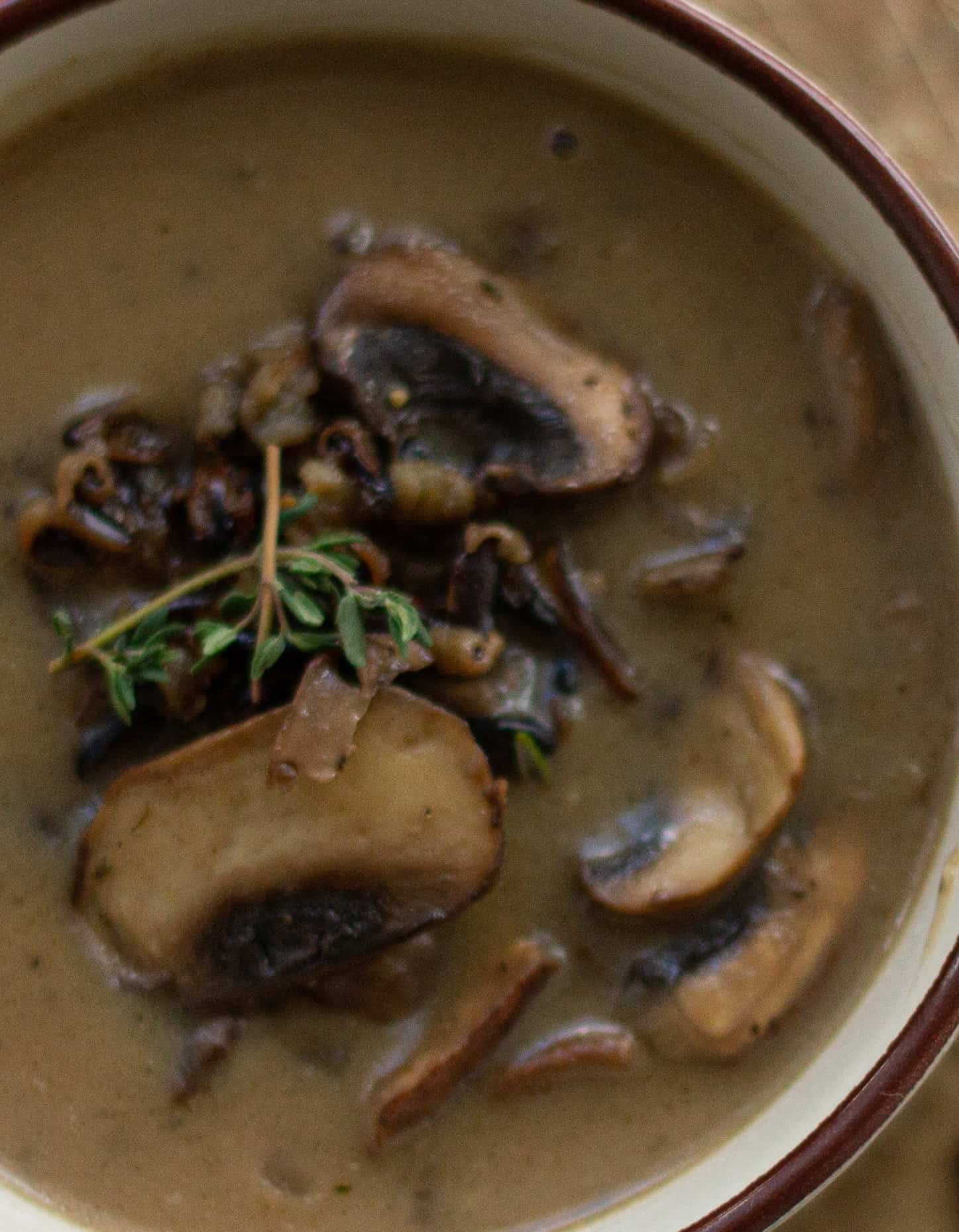 Store the soup in the fridge for 3-4 day once cooled, and gently reheat when you need it.
This soup freezes beautifully. Once cool, place in a container or ziplock bag and freeze Thaw out overnight.
Top tip
You can use all milk in the soup if you'd rather, but I think adding the dried mushroom "stock" adds to the depth of flavor in the soup.
I also use this recipe minus the wild rice when I make my vegan green bean casserole!
Wild Rice and Mushroom Soup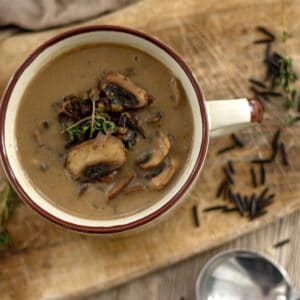 A simple, delicious and hearty soup
Ingredients
25

g

wild rice

-

cooked in 2 cups of water

250

g

Mushrooms

-

frehs, cleaned of any loose soil with kitchen paper or a soft brush and roughly chopped. I used chestnuts mushrooms but normal white, cultivated ones would be OK. You can, of course, use Shiitake or Oyster or Wild for an even better flavour.

1

onion

-

small, peeled, finely diced

2

Garlic

-

cloves, finely chopped

10

g

dried mushrooms

-

soaked in 500ml boiling water

50

g

butter

-

vegan

thyme

-

sprig

25

g

flour

500

ml

milk

-

dairy-free, unsweetened

Salt and Pepper
Instructions
Firstly put your wild rice on to cook. Add the 25g raw rice to 2 cups of water and bring up a boil. Turn down to the lowest heat, cover, and leave until cooked. This could take up to an hour.

If using, soak your dried mushrooms in boiling water. Leave for about 15 minutes, then drain off, reserving the liquid. Save this to add to the soup later.

Gently

sauté

the chopped mushrooms, onion, thyme and garlic in 25g of the butter. Grind over a little pepper and salt to help release the juices. Cook until softened and easily pierced with a fork.

Strain through a sieve into a bowl, reserving both the liquid and the mushrooms separately.

In the same pan, melt the remaining 25g of butter, the reserved juices from the onion mixture and whisk in the flour, until a smooth roux is formed. Pour over the reserved liquid from the dried mushrooms and the milk. Bring gently to the boil but keep whisking to ensure it does not go lumpy or stick. Add more milk if the soup seems too thick.

Add the reserved chopped mushrooms and the rice. Season as necessary and serve.
Please note that where the recipe asks for milk, butter or yogurt, this refers to any plant-based version that you prefer.
Nutrition Facts
Wild Rice and Mushroom Soup
Amount per Serving
% Daily Value*
* Percent Daily Values are based on a 2000 calorie diet.