Vegan Cauliflower and Potato Curry Recipe
This post contains links to affiliate websites, such as Amazon, and we receive an affiliate commission for any purchases made by you using these links. We appreciate your support!
Vegan cauliflower potato curry is a delicious and wholesome dish that combines the earthy flavors of cauliflower and potatoes with aromatic spices. Perfect for those who follow a plant-based diet or simply want to incorporate more vegetables into their meals, the cauliflower and potatoes are cooked to perfection in a rich and fragrant curry sauce, making it a hearty and satisfying meal on its own or served with rice or naan bread. Whether you're vegan or simply looking for a flavorful and nutritious meal, this cauliflower potato curry is sure to be a hit.
I adapted this Cauliflower and Potato dish from a recipe by Atul Kochhar, one of Britain's most innovative Indian chefs and it takes absolutely no time at all to make, literally the time it takes to find the spices out of the cupboard (in my case, this can sometimes be several hours), and chop the cauliflower and potatoes, plus a couple of tomatoes.

Unlike some curries, there is no need to sauté onions beforehand to add that extra element of flavour but the addition of Nigella (Onion) seeds and layering of spices gives the distinctive "Indian Restaurant" flavour that is so hard to replicate at home. Despite this, the cauliflower is never overpowered and I liken this dish to a spicy cauliflower cheese (although it has no cheese in it).
How do I Serve Potato and Cauliflower Curry?
I served the curry with some plain boiled basmati rice, but it would be great served alongside a meat-based curry if you were preparing an Indian banquet for a mixture of guests. I think it would also be just as good served alone, with just some Naan Bread to mop up the deliciously fragrant sauce.
Tips and Hints for this Vegan Cauliflower and Potato Curry Recipe
I sometimes use Oatly Crème Fraiche to stir through the curry, although I have also used (Alpro plant-based) plain yoghurt, which is recommended and is more traditional. I just happened not to have any in the house. You could also use some sour cream. The addition of the yogurt makes the curry unctuous but not too heavy, it is balanced perfectly by the fresh tomatoes.
I used more potatoes than the original recipe states, for no other reason than I'm a potato fiend and I love them curried.
I find that in the Summer, new potatoes work great in this dish. I don't wash them unless needed, and just cut them in half. They retain a delicious firmness and quick much quicker than "old" potatoes.
I have a feeling that some trimmed green beans would also be pretty fantastic in this curry.
Click here for my failproof guide to cooking rice, to serve with your curry
OK, there's not much more to write about this dish without treading over the same territory that I approached with the Sag Aloo post, so, without further ado, here's the recipe:
This is ONLY a list of ingredients for the recipe; please see recipe card below for complete printable recipe.
For more delicious and quick vegan lunch and supper recipes
Potato and Cauliflower Curry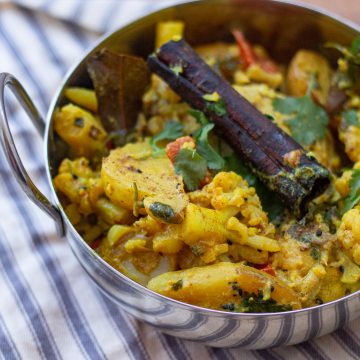 adapted from a recipe by Atul Kocchar
Ingredients
500

g

Potatoes

-

peeled and cut into 1" cubes (or wedges)

1

Cauliflower

-

cut into florets

3

tbsp

Vegetable Oil

1

tsp

Nigella Seeds

2

Cloves

2

Cardomom Pods

1

Bay Leaf

½

Cinnamon Stick

1

tsp

Tumeric

1-2

tsp

Chilli Powder (or to taste)

Salt to taste

1

tsp

Sugar

300

ml

Hot Water

200

g

Natural Yogurt

-

plant-based, unsweetened

2

Tomatoes,

-

fresh, good quality, chopped

1

tbsp

Lemon Juice

tbsp

Fresh Coriander

-

chopped (optional)
Instructions
Heat the oil in a

sauté

pan over medium high height. Throw in the diced potato and cauliflower florets and fry for about 5 minutes. Parts of the potato and cauliflower will be browned and crusted, other sides will remain lily-white but this adds to the final flavour of the taste.

Remove from the pan and set to one side.

Turn the heat up to high and add a little more oil if the pan looks dry. Fry the Nigella Seeds, Bay Leaf, Cinnamon Stick, Cardamom Pods and Cloves until they start to crackle and smell fragrant. Take care because those Nigella Seeds really are little spitfires – they gob out miniscule balls of molten hot oil. All over your arms.

Put the potato and cauliflower back in the pan and mix well with the spices. Stir in the rest of the spices and cook for a minute more to allow all the flavours to mingle.

Pour over the water, bring to the boil, which won't take long because the pan is really hot, turn down to medium low and simmer, uncovered, until the potatoes are just tender.

Stir through the yoghurt/cream and the chopped tomatoes and simmer for another five minutes.

Taste for seasoning, adding salt or sugar if you feel it needs it.

Sprinkle with Garam Masala and chopped Coriander (optional) and serve.
Please note that where the recipe asks for milk, butter or yogurt, this refers to any plant-based version that you prefer.
Nutrition Facts
Potato and Cauliflower Curry
Amount per Serving
% Daily Value*
* Percent Daily Values are based on a 2000 calorie diet.