Easy and Best Vegan Meatballs Recipe
Simple, tasty and perfect to make ahead and freeze, my easy vegan meatballs will become your new family favorite!
I have very fond memories of my mother's kitchen. Running along the top of the kitchen was a small recess in which a myriad of spices were stored. It was one of my chores to dust these tiny pots. I would teeter on top of a rickety wooden chair, unscrew the wooden lid from each pot and russet-colored and inhale their unique aromas: the musty nutmeg adored by Italians and remembered fondly as the dusting on top of custard tarts; the heady, fragrant 5-spice and Star Anise, used primarily in our household for making aromatic curries; Cinnamon, the queen of all spices, overtly loved in America but beautifully redolent in Mexican Cuisine; ancient Bay Leaves, their delicate crumbliness belying their irreplaceable flavor in stews and soups.
Finally the fiery, russet colored dried chilies – always the most alluring to me because of constant warnings about eating them straight from the jar. One afternoon, not being able to resist their temptation any longer, I pulled a spectacularly long chili from the jar, sunk my teeth into it, tasted nothing at first, as dried chilies really have no flavor until they are soaked, just heat, and then scuttling to the sink to souse my burning mouth with cold water.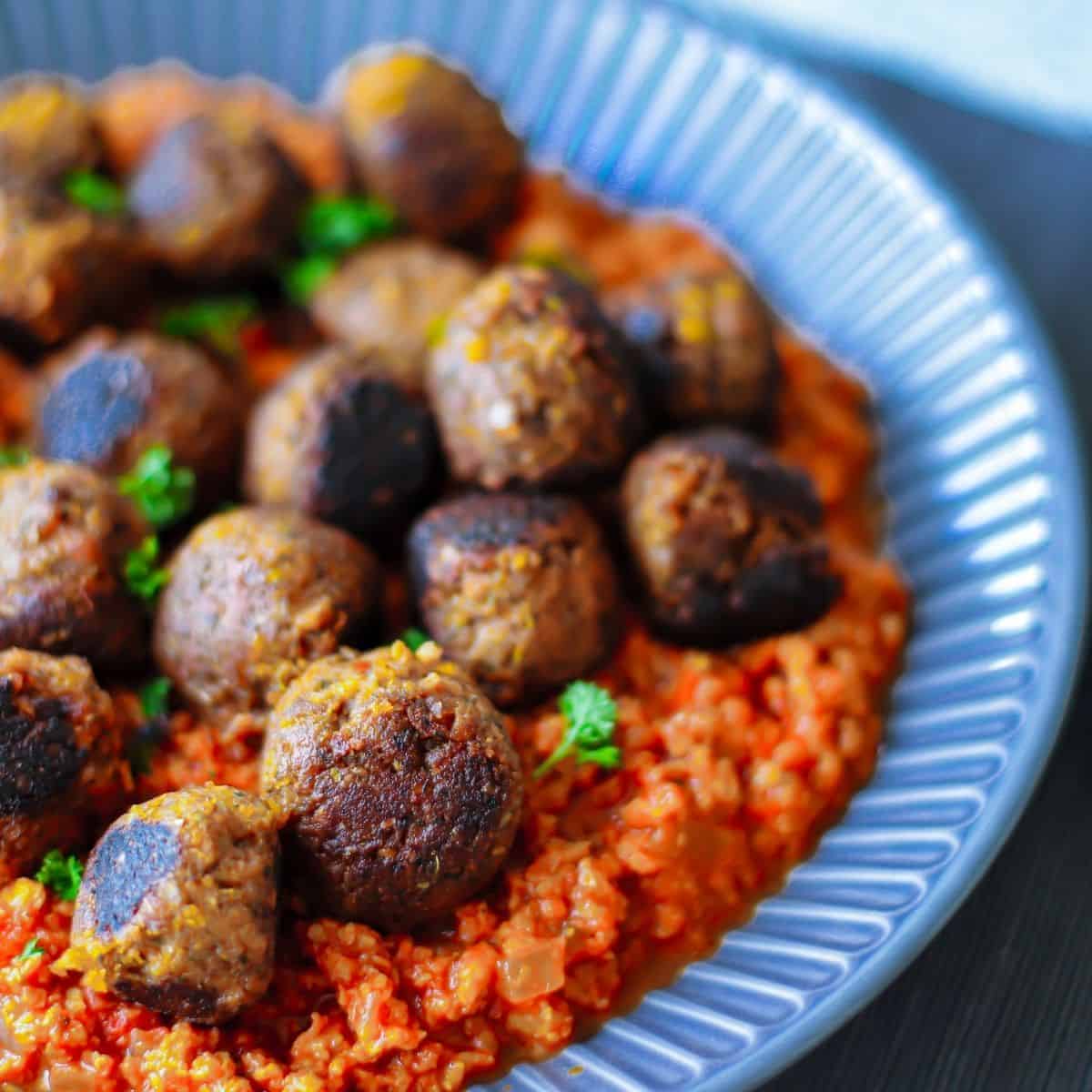 Just as my mother and her mother before her, I too have little pots full of exotic spices, of which I only use a handful. However, I feel safe knowing that I can produce some Middle Eastern delicacy or a Mexican Mole or an Italian family favorite, just because I have Nigella or Achiote Seeds or Oregano.
Really, I'm just carrying on a family legacy.
My meatless meatballs are not really something I ever had as a child, yet they seem nostalgic to me. In fact, I'm not sure I've ever eaten traditional "meat" meatballs, having only ever made veggie meatballs! And there is certainly something about this recipe that just screams family dinner. My recipe makes about 22 generously sized veggie balls, and I think 3 or 4 per person is ample.
Ingredients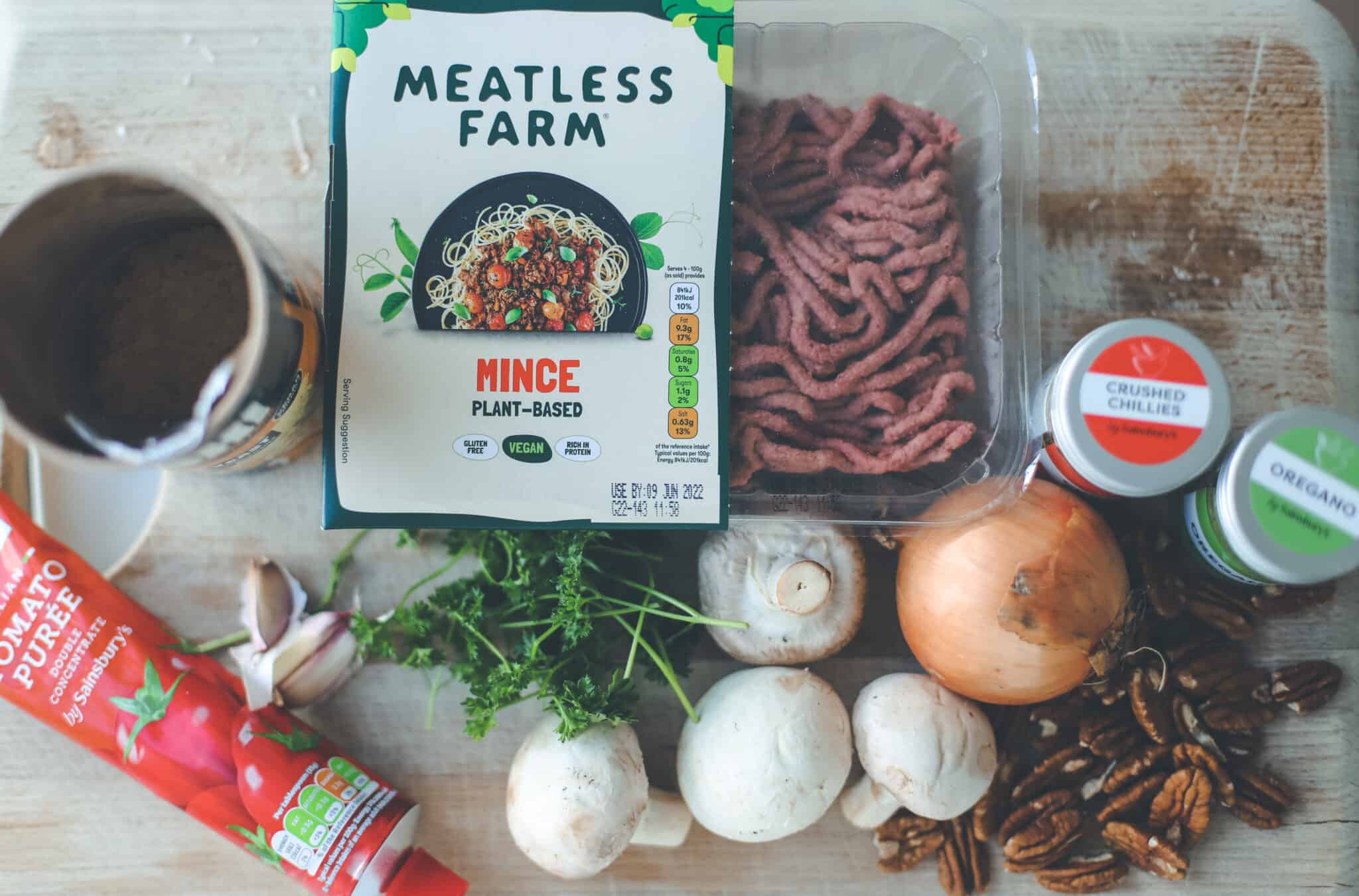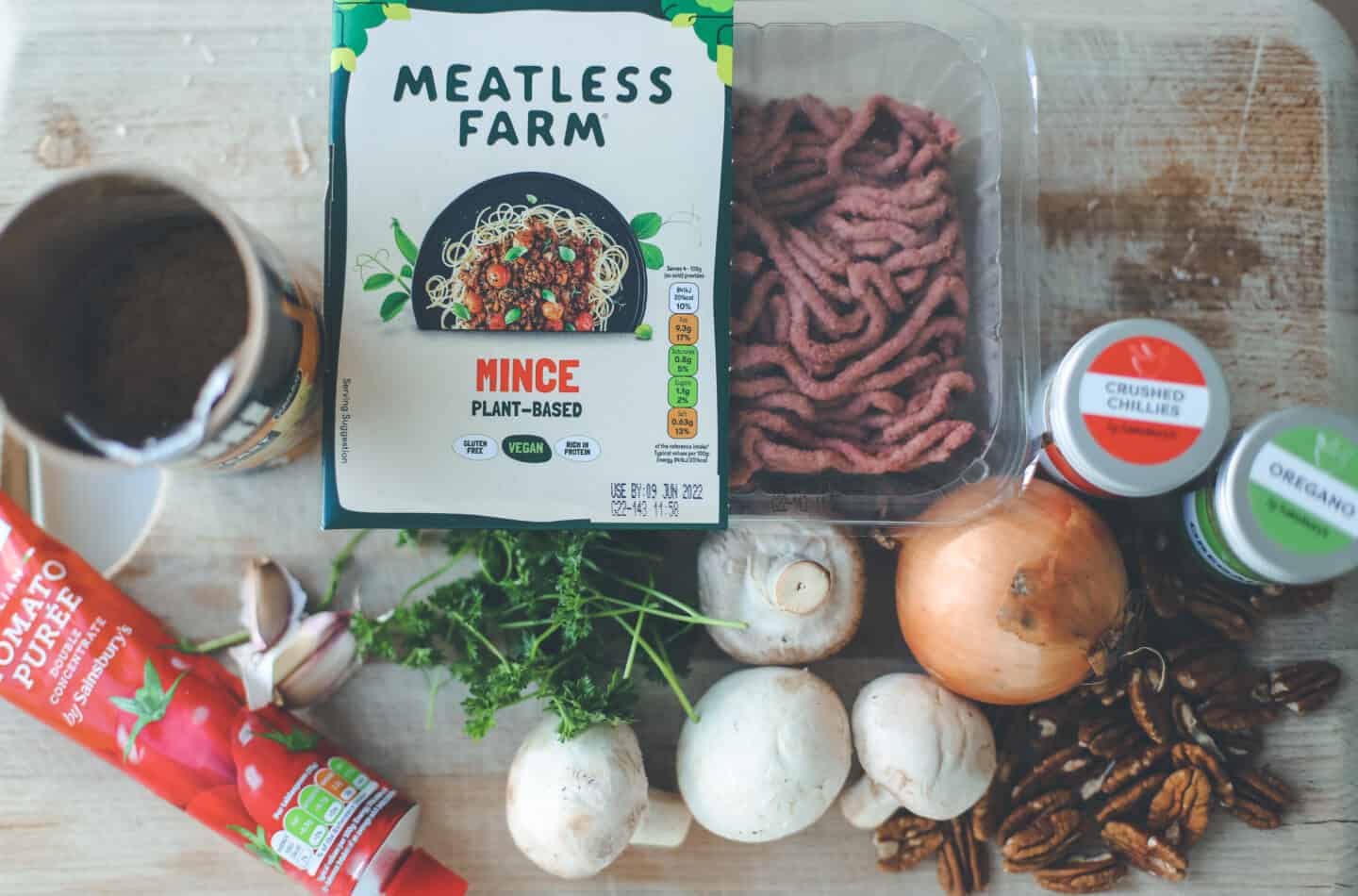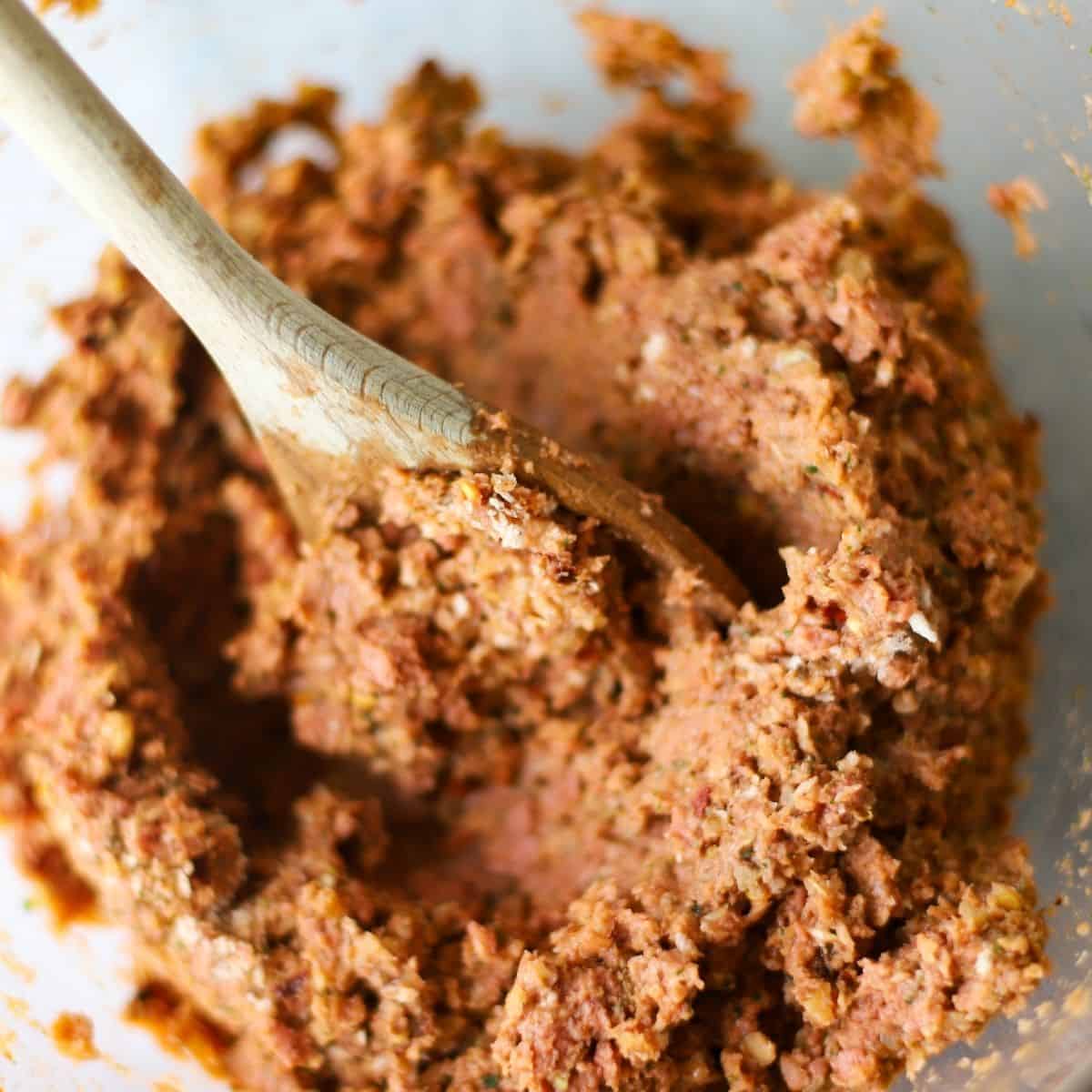 Vegan mince, replacing the ground beef / ground meat element. I used to use TVP in these meatballs, and indeed, in a push, you can. However, I recently started using "fresh" vegan mince and find this gives a much better texture. These easy vegan meatballs are so forgiving that you can use whatever plant-based mince you have available though!
Pecans. I toast them lightly in a frying pan. You can also use walnuts or brazils too, or omit them entirely and use additional vegan mince or mushrooms. They add a great hearty texture to the meatballs.
Mushrooms. I use white mushrooms, you don't need to use anything fancy.
Onion and Garlic.
Fresh Parsley. Feel free to use fresh basil instead, or your favorite herb.
Nutritional Yeast. This adds a unique cheesy flavor. You can also use vegan parmesan cheese.
Dried Oregano and chili flakes. The chili adds a delightful heat to the meatballs, and the oregano is a classic Italian seasoning
Panko Breadcrumbs. These help to bind the mixture so that it doesn't fall apart on frying. You can also use bread crumbs.
Tomato Paste. This adds flavor and color to the meatballs.
I sometimes like to add a little dash of soy sauce or vegan Worcestershire sauce to help intensify the flavor
Black Pepper and Salt
Method
In a large bowl, add the vegan mince, nooch, oregano and chili flakes. Mix well.
In a food processor, blend the remaining ingredients (except the panko breadcrumbs) together. I sometimes add a little oil if the mixture is a bit thick.
Add this mushroom mixture to the mince mixture and blend well, adding the panko too.
You might need to refrigerate this mixture for a while if it's a hot day, or the mixture feels a little sticky. If not, you can go ahead and roll the mixture into balls. Once rolled, these meatballs will hold up in a tomato sauce, and will not fall apart!
In a large skillet, over medium-high heat, warm a little olive oil and fry the meatballs until browned all over.
Once browned, transfer meatballs into your prepared tomato sauce. I like to use my favorite marinara sauce or puttanesca sauce, but you could just serve them with some bbq sauce on the size.

FAQ
Can I freeze these vegan meatballs?
Yes! Brown them off first, leave to cool completely then place in a freezer safe dish. I then let them thaw, then drop them into the sauce to warm through.
Can I oven bake Vegan Meatballs?
For healthy vegan meatballs, preheat oven to 180c. Place your meatless meatballs on a baking sheet lined with parchment paper and bake for about 30 minutes, turning halfway through.
Can I make Air Fryer Meatballs?
Yes! Preheat air fryer on bake function to 180c. Place your veggie meatballs in one layer in your basket. Spray with a little olive oil and cook for about 10-15 minutes or until browned. I use a Ninja Foodie, but timings may vary for different brands.
Will these Vegan Meatballs fall apart?
No! The pureeing of the mushrooms and onions helps form a pate-like mixture which, when mixed with breadcrumbs create a meatball that will not fall apart, even in marinara sauce!
Try my other delicious vegan supper dishes:
Vegan Meatballs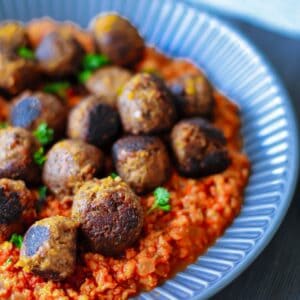 How to make delicious vegan meatballs with pecans and mushrooms
Ingredients
1

cup

Mince

vegan

1

tbsp

Oregano

2

tbsp

Nutritional Yeast

¼

tsp

Chilli Flakes

optional

1

tsp

Salt

1

tsp

Ground Black Pepper

½

cup

Pecans

toasted

2

Cloves

Garlic

100

g

Mushrooms

1

tbsp

Tomato Puree

1

tsp

Olive Oil

1

Onion

small, peeled

1

tbsp

Parsley

1

cup

Panko Breadcrumbs

1

portion

Pasta Puttanesca

use my recipe here or your fav marinara recipe
Instructions
Put the vegan mince in a large mixing bowl.

Add the Nutritional yeast, oregano, chili flakes (if using), salt and pepper.

In a food processor, blitz the pecans until finely ground. Add to the bowl.

Process together the garlic, mushrooms, puree, olive oil, onion and parsley until a soft pate forms. Add this to the bowl and mix well.

Add the Panko, a little at a time, until you get a mixture that holds into a firm golf-ball shape when formed between your hands.

Roll into balls and chill for about an hour.

Whilst the balls are chilling out in the fridge, make the marinara or puttanesca sauce.

Once chilled, fry meatballs gently in a little rapeseed oil until nicely toasty, turning regularly.

Spoon your Marinara sauce into a baking dish and drop the meatballs on top.

Bake for 10 minutes at 180c, then serve.
Nutrition Facts
Vegan Meatballs
Amount per Serving
% Daily Value*
* Percent Daily Values are based on a 2000 calorie diet.