Easy Vegan Pan Haggerty – a delicious, nutritious and cheap supper dish!
A simple and frugal yet delicious supper dish made from just two ingredients, potatoes and onions.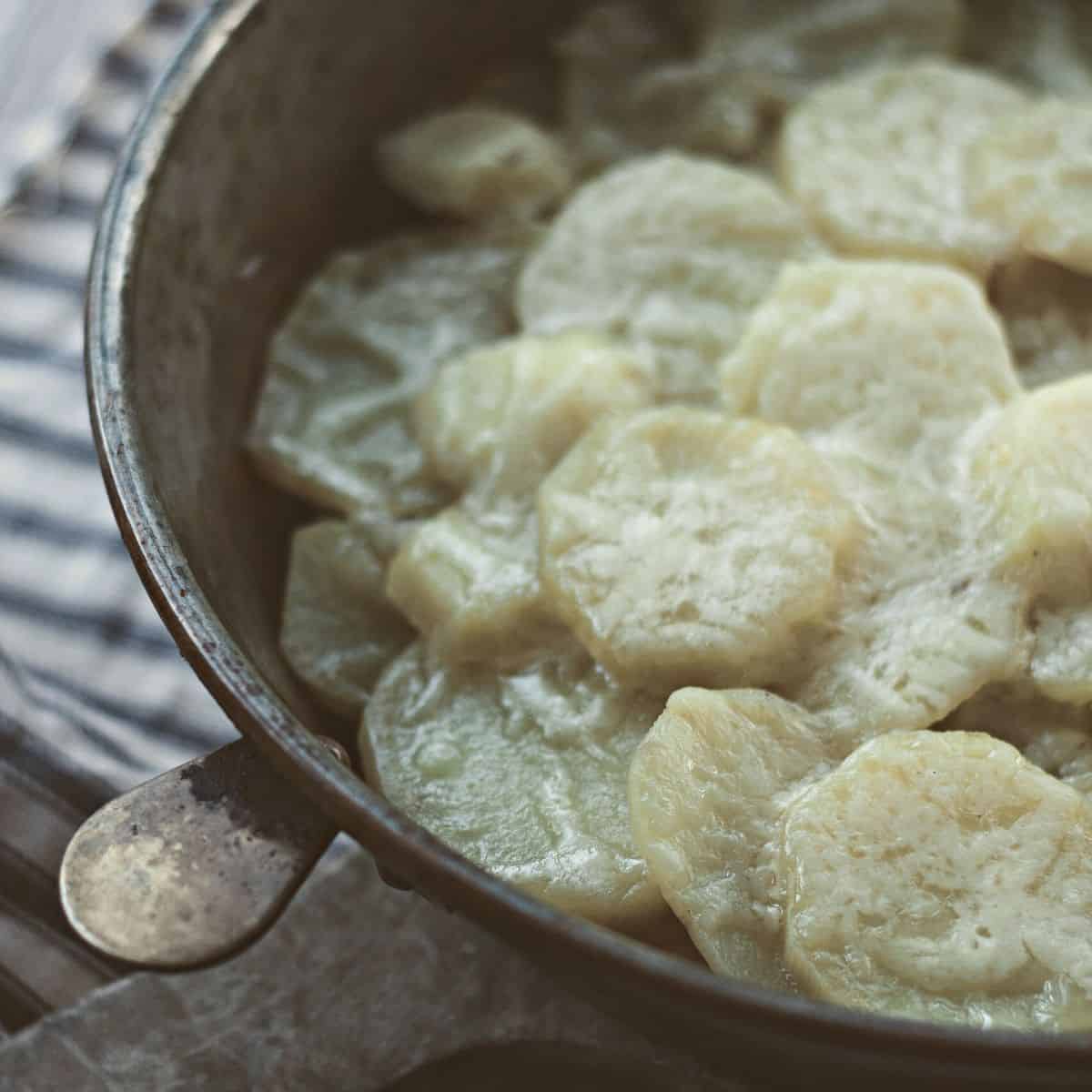 This was inspired by my vegan potato boxty recipe, another quick and simple hearty supper dish, and my baked potato soup, a hug in a bowl.
Pan Haggerty is a dish that I remember my mum cooking for me when I first became vegetarian. She found the recipe in an old Dairy Diary cookbook (mentioned elsewhere in this blog) and I always have the fondest memories of this dish.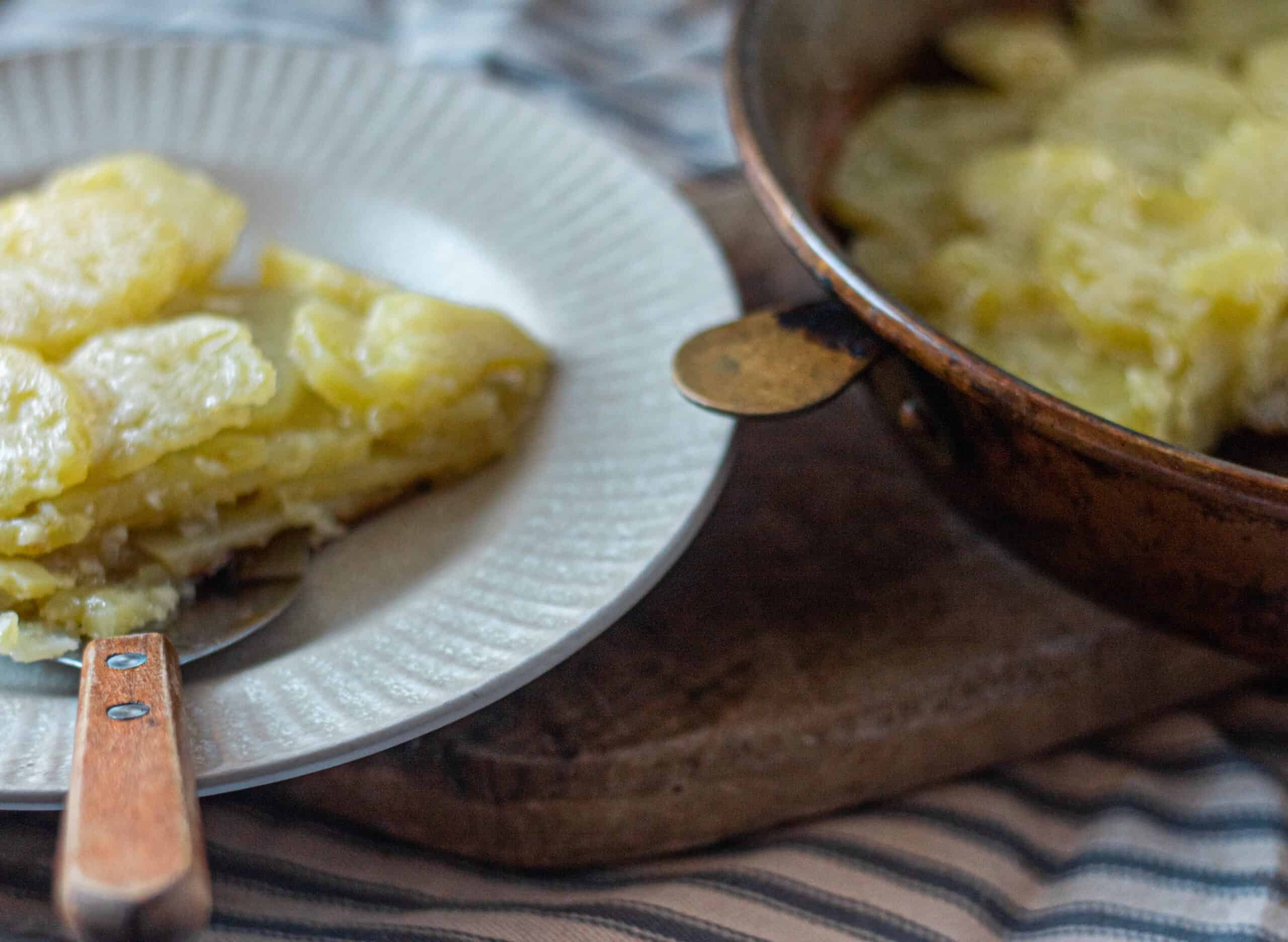 There is no greater combination of ingredients than potatoes and onion. It is almost as if they have evolved over time to be cooked together.
This dish is just so simple to make, sliced potatoes, sliced onions, some vegan butter, a little seasoning, and some slow, gentle cooking.
Whilst this sounds quite plain, something quite alchemical happens with this slow cooking. The bottom of the potatoes brown and crisp delightfully and this was the part of the dish that we all argued over.
I would eat (and still do) with either ketchup or baked beans (!!) but you could honestly serve this is a side dish or with some green beans and carrots.
Ingredients
potatoes, use a waxy potato that will hold its shape
onion
vegan butter and olive oil
Instructions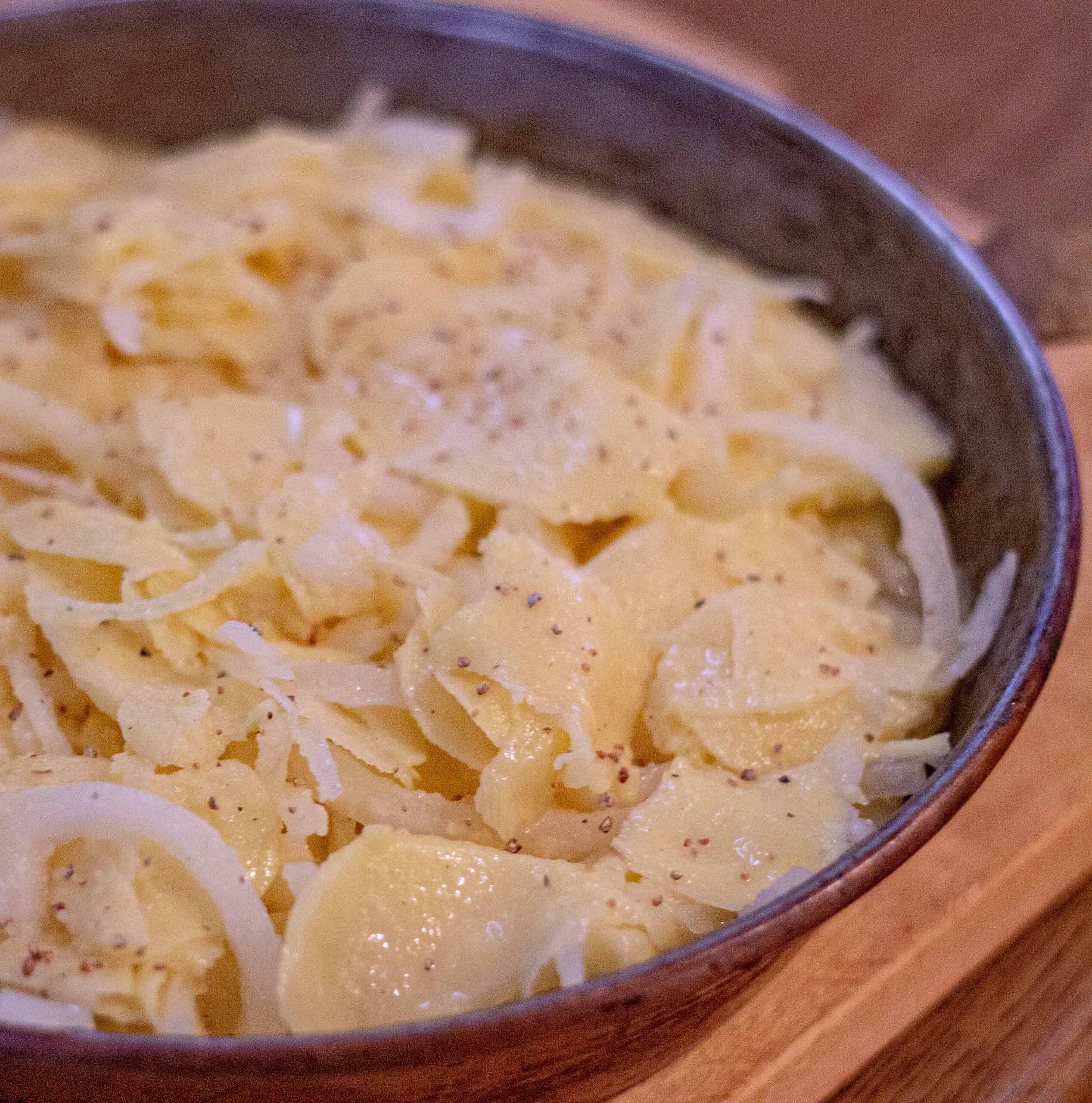 Thinly slice potatoes and onion and layer in a frying pan, dotting vegan butter and seasoning between the layers
Cover with a lid or tinfoil and cook over very low heat until a knife tip goes right through all the layers easily.
If wanted, sprinkle with a little vegan grated cheese and leave to melt before serving.
Hint: leave the vegan Pan Haggerty to set up for about 5 minutes after cooking, then you should be able to cut it into wedges.
TIP: Make sure to use a waxy potato. If the potatoes are too floury, they will break up during cooking. They will still taste good but you might not be able to cut into slices.
Equipment
I love to use my Ninja Foodi Zerostick frying pan for pancakes, you don't need to use too much oil, and you just wipe the pan out after use.
Storage
This is best eaten on the same day, although it reheats OK the next day. Not recommended for freezing.
Related
Love potato? Try these:
Pan Haggerty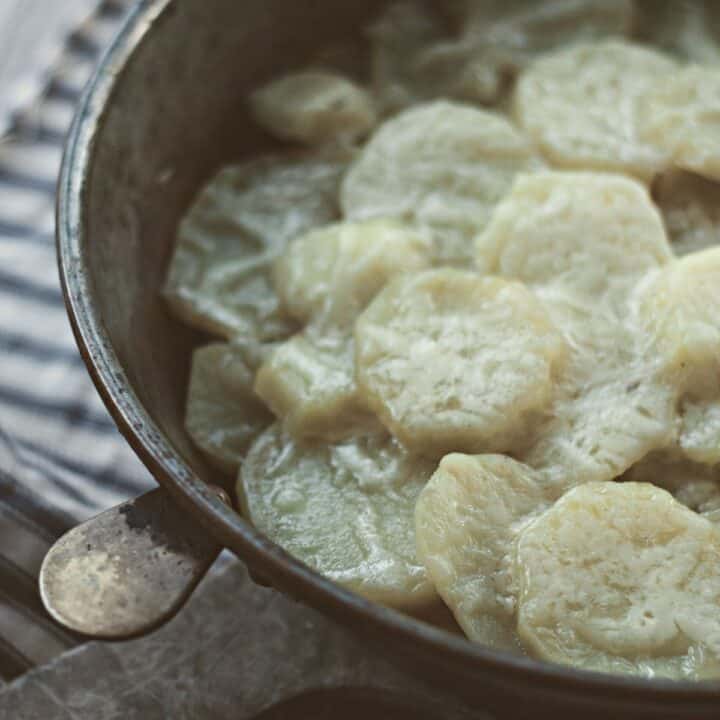 A traditional recipe, frugal and delicious
Equipment
1 deep skillet or frying pan
Ingredients
1

kg

Potatoes

peeled (optional) and thinly sliced

1

Onion

medium, peeled and thinly sliced

1

tsp

Olive oil

1

tbsp

Butter

vegan

Salt and pepper
Instructions
Whilst you peel and slice the potatoes, gently sauté the onion in the olive oil until soft. Remove from the pan.

Place a layer of the sliced potatoes in the bottom of the pan, dot with a little butter, season a little and add a quarter of the onion

Repeat this process until you have used up all your potato slices and onion, finishing with a final dot of butter and a little salt and pepper

Cover with a lid or piece of foil and cook over low heat until the potatoes are tender all the way through.

Sprinkle with a little grated vegan cheeze once cooked, if you like, and cover with the lid again to melt the cheese.

Leave to stand for about 5 minutes to set up, then serve in slices.
Nutrition Facts
Pan Haggerty
Amount per Serving
% Daily Value*
* Percent Daily Values are based on a 2000 calorie diet.