Vegan French Onion Soup is a delicious and simple classic dish that can be made several days in advance.
PIN my Rich French Onion Soup to make later
This traditional French soup has been in existence since the Roman times, making it one of the most enduring dishes of all time. And with good reason. When made well, onion soup is rich, hearty, comforting and classy.
Jump to:
What started off as a dish made out of necessity (onions grew readily, and were cheap) became elevated in the 18th Century when rich ingredients like bone stock, brandy and butter were added. The crouton that bobs temptingly on top of the soup is a non-negotiable. Half the fun of eating a French onion soup is trying to eat the crouton delicately (tip: don't worry about it).
If I'm trying to watch what I'm eating, I find that (reducing the butter a little) French onion soup is a hearty option (but please keep the carby crouton), and is on rotation with Mollie Katzen's No-Chicken Soup as well.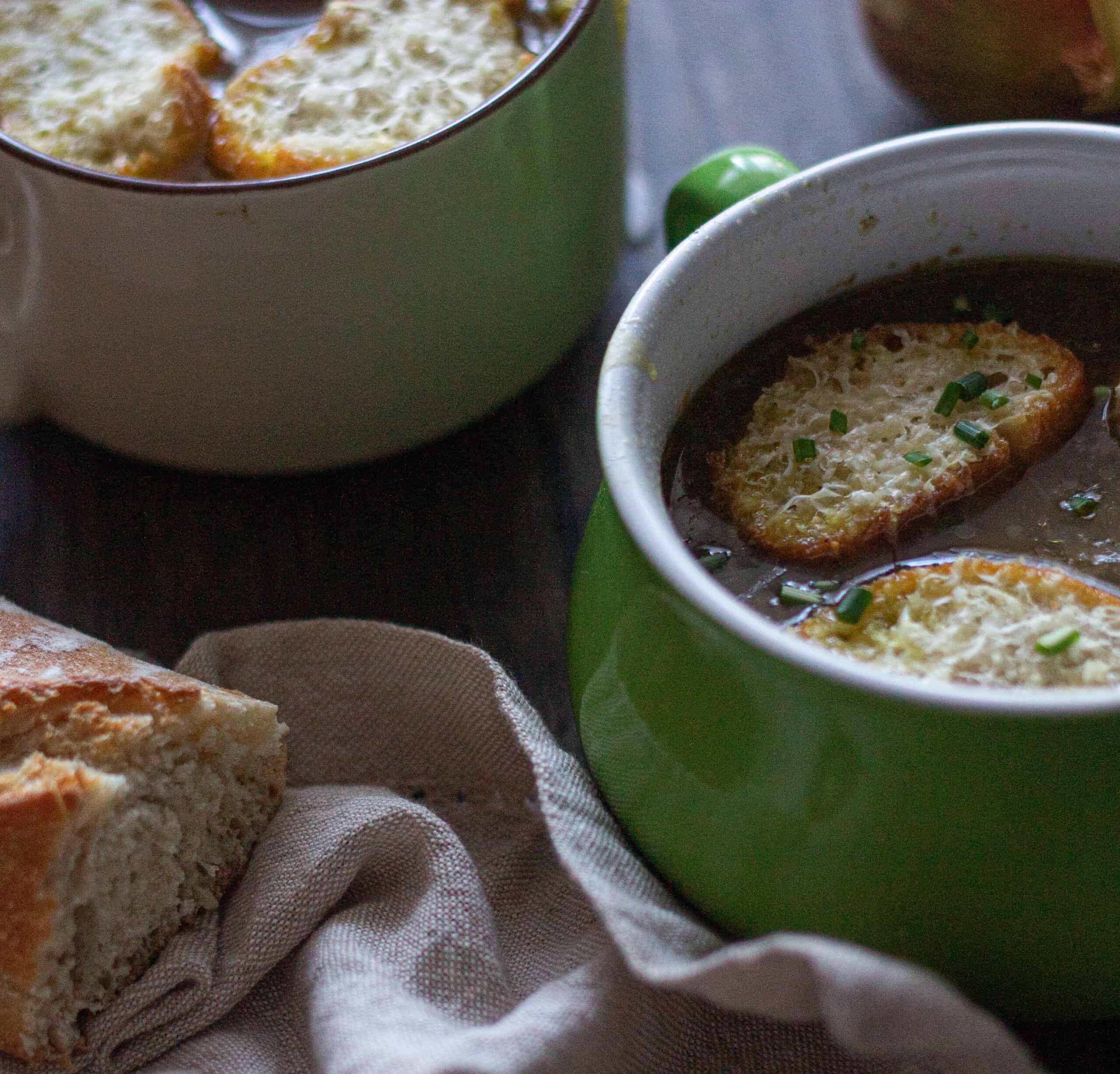 As far as I'm concerned, a section of soups must include French onion. It is one of my favourite soups and one that I have made for many years.
Onion soup can be tricky though, despite its seeming simplicity. My mother-in-law referred to it once as tasting like beef consommé and there is certainly little point in eating the tinned stuff, which is basically beef stock with some token onion flakes sprinkled in it for good measure. I'm not sure I could really understand why this exists except to make a base for other soups!
I have made onion soup without stock and with stock and, providing you cook the onions slowly, over a low heat, you can be guaranteed of a rich flavour either way.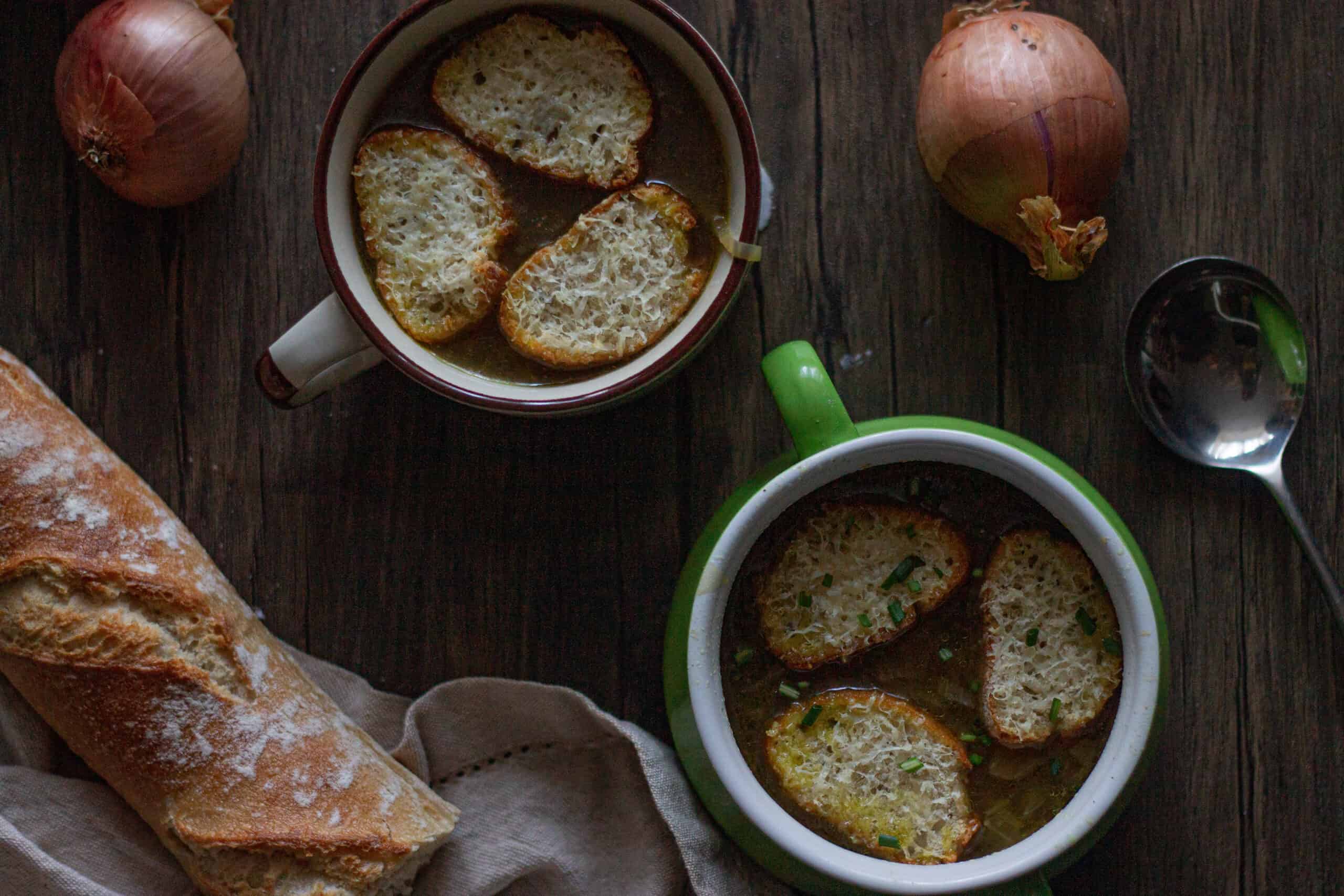 Of course, as far as I'm concerned, the soup merely exists to mop up the cheeze-encrusted croutons that float on the top. I usually like my croutons large. I just get great pleasure from tearing into the bread which has a soggy underbelly from the soup.
A perfect dish for a winter's day.
Ingredients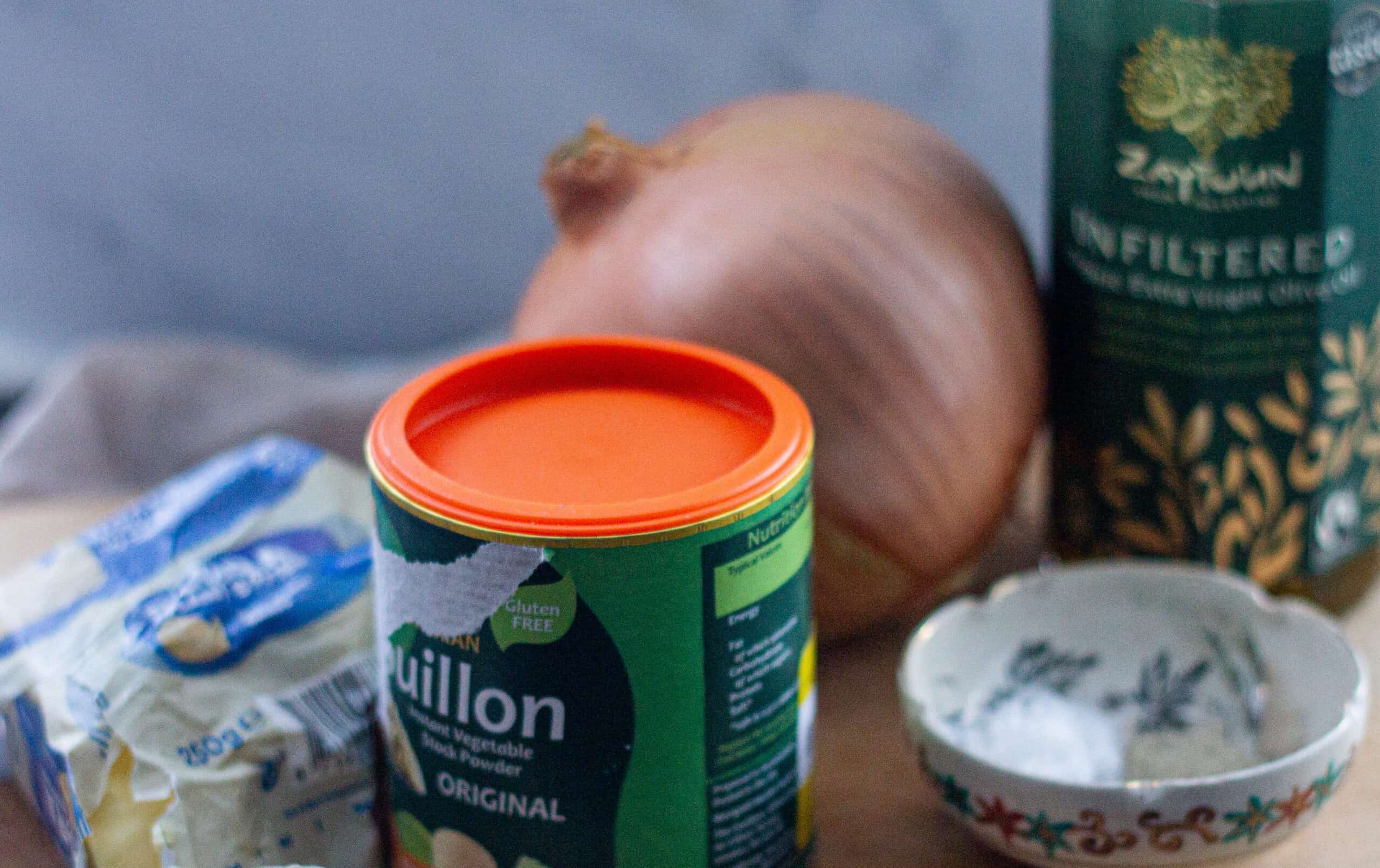 onions
olive oil and vegan butter
baguette
(This is ONLY a list of ingredients for the recipe; please see recipe card below for complete printable recipe. Or if you use the JUMP TO RECIPE at the top of the page, it will take you directly to the complete recipe.)
Instructions
Add the finely sliced onions to melted butter and olive oil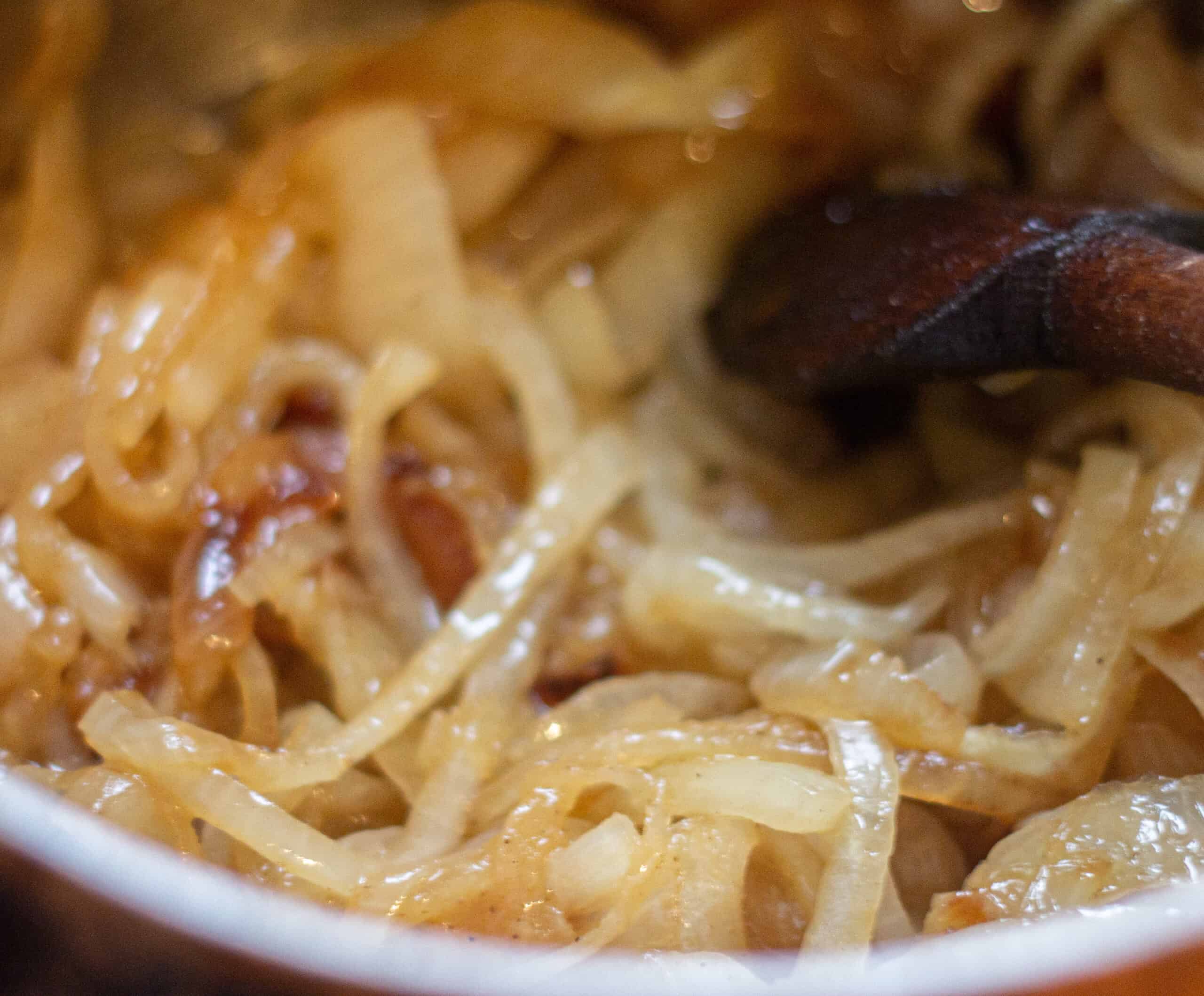 Sauté the onions over very low heat until they are golden and soft and sweet.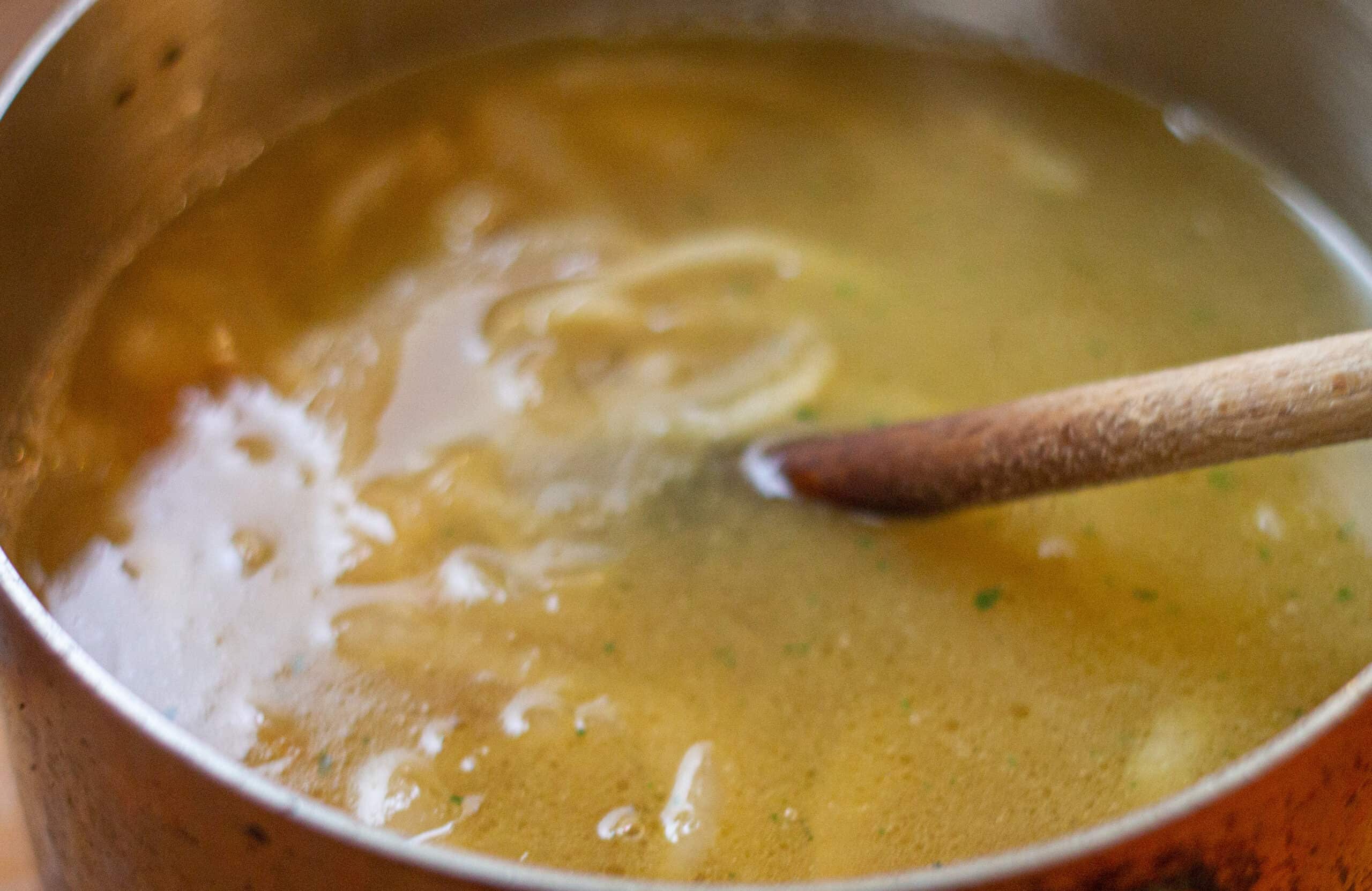 Add the stock and some seasoning and simmer for 30 minutes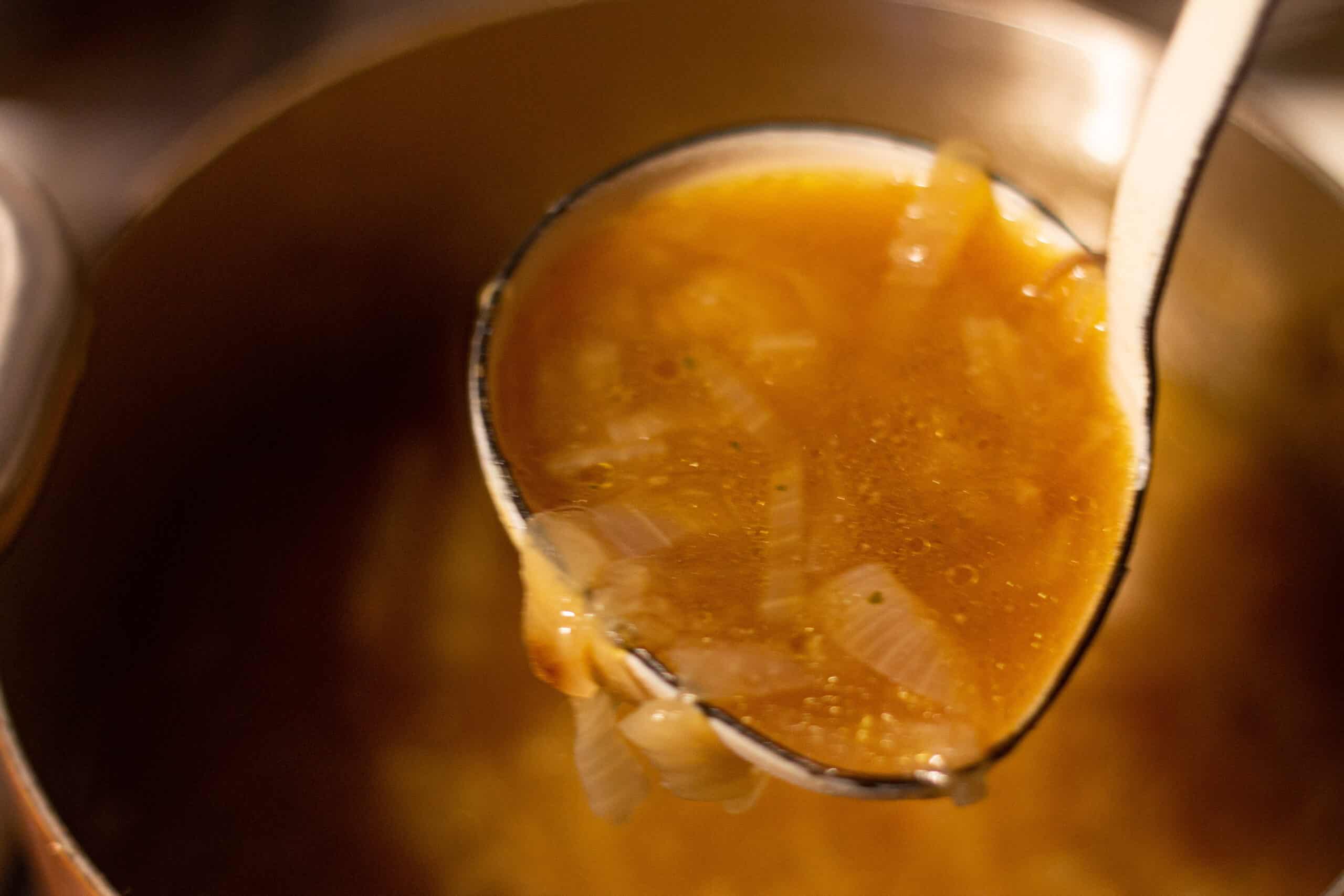 Taste for seasoning, then top with croutons
Hint: you can make this soup 2 or 3 days in advance, just keep it refrigerated, and reheat gently when needed.
Storage
Good for 2-3 days in the refrigerator.
You can freeze this cooled soup in a Ziplock bag, thawing out in a saucepan overnight.
📋 Recipe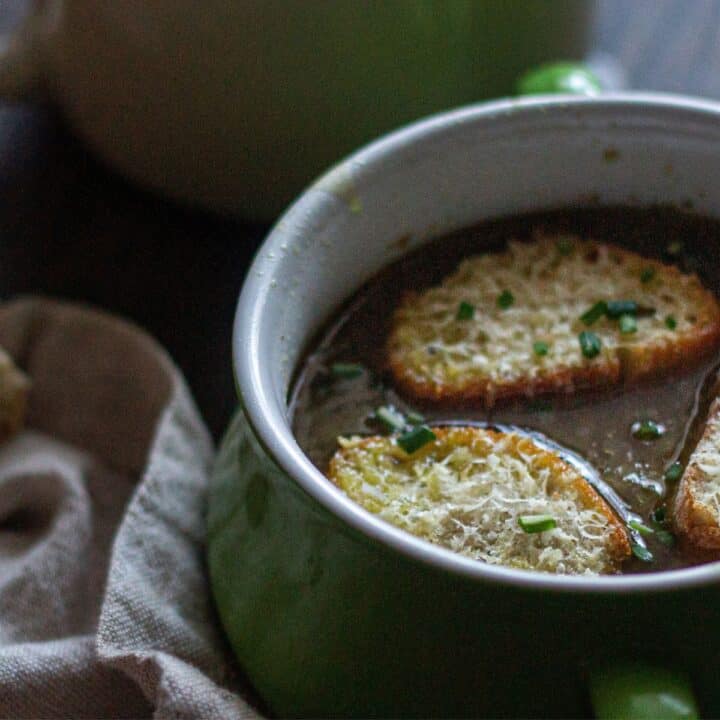 PRINT
A classic French soup, warming, delicious and classic
Ingredients
6

Onions

peeled and finely sliced. I used a variety, red, white and a couple of sweet onions, but you can just use one type

6

cups

Vegetable Stock

20

g

Butter

vegan

Tablespoon

Olive Oil

Seasoning

Baguette

cut into rings

50

g

Vegan Cheese

cheddar-style or similar, grated
Instructions
Gently heat the olive oil and butter in a large saucepan.

Sweat down the onions over a low heat until they are golden brown and fragrant. This could take up to an hour.

Pour over the stock or water and bring to the boil.

Turn heat down to a brisk simmer.

Leave for another half an hour, ensuring it doesn't reduce too much.

Taste for seasoning (it will take quite a lot of salt and pepper) and pour into heatproof soup bowls.

Bob your slices of bread on top of the soup and grate over some cheeze.

Put under a hot grill and once bubbling and browned, serve.
Nutrition
Nutrition Facts
Vegan French Onion Soup
Amount per Serving
% Daily Value*
* Percent Daily Values are based on a 2000 calorie diet.
Nutritional Information Disclaimer
The automated nutritional information on my recipes can often be inaccurate due to the limitations within the programming. For exact measurements, there are lots of apps and websites that can calculate this information more accurately.
Tried it and Loved it?
Mention @sweeterthanoats or tag sweeterthanoats!