Akri Bhindi (crisp Okra) – An unusual and delicious deep-fried snack
This is it. The final Okra recipe to make any non-believer change their mind and follow us to the dark (or should that read 'mucilaginous'?) side.
PIN my Vegan Akri Bhindi to make later
I have tried my hardest to show glorious Okra in its most favourable light: homestyle, simmered with tomatoes, traditional-style in gumbo and given the catfish treatment by coating them in Fish-Fri and then plunging them in bubbling hot oil to produce a fun alternative to popcorn or canapés.
I had thought I had seen it all. In what other ways could Okra possibly be served that get the taste buds tingling with excitement just to look at it?
Enter cooking hero, Tamasin Day-Lewis. Her second cookbook, Good Tempered Food is a hidden gem of dashingly unusual recipes that are much simpler to prepare than they look. I enjoy tricking people in this way. What cook wouldn't get pleasure from being told "you must have spent hours slaving over this" when really you just tossed it together an hour before your guests arrived?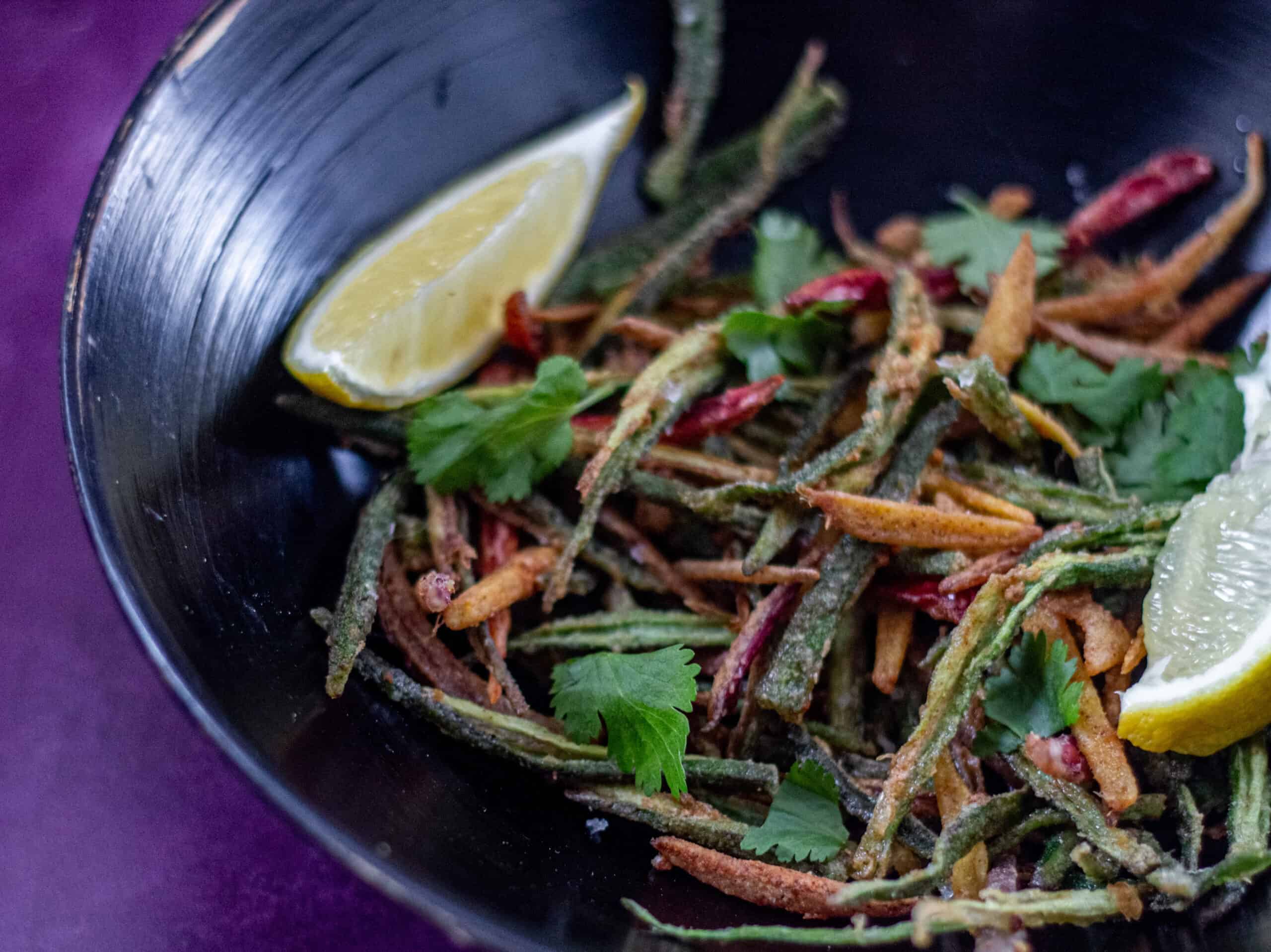 These recipes are ingredient intensive. Even I, with my consistently jammed spice jar, had to do a little sniffing around to dig out some of these ingredients. They are not your usual supermarket fare. However, they are easy enough to find online (at least in the UK): Seasoned Pioneers and Natco are my go-to online spice suppliers. And the best thing about Indian spices? A little goes a long way.
Looking back to the success I had with deep-frying the diced okra in Fish-Fri, I was intrigued by a photograph in Tamasin's book, a ramshackle pyramid of red, green and yellow shreds – pepper, onion, ginger and, yes, okra. The vegetables are cut into thin, thin ribbons, stirred together with gram (chickpea) flour, asafoetida, garam masala and a whole host of other spices, before this jewel-like mixture is dropped, fingerful by fingerful into hot oil. It takes no more than 30 seconds for the spicy coating to turn golden and crisp. Drain and then serve in heaping large piles straight away.
I defy any Okra hating person to identify the mysterious green shards as such in this flavoursome, crispy yet fresh tasting dish, perfect for serving instead of a bowl of tortilla chips or peanuts.
If you want to overcome your fear of okra once and for all, or, if like us you bear no malice against this gentle, delicious and much-maligned vegetable, here's how. Bear in mind that you will need to start checking out your local delis or online spice suppliers for some of these ingredients, particularly if this recipe also whets your appetite for buying the book from whence this recipe first originated.
If this doesn't turn you into a fully paid up, banner carrying, badge wearing okra fan, then I must turn to the final solution: chocolate dipped okra….
Ingredients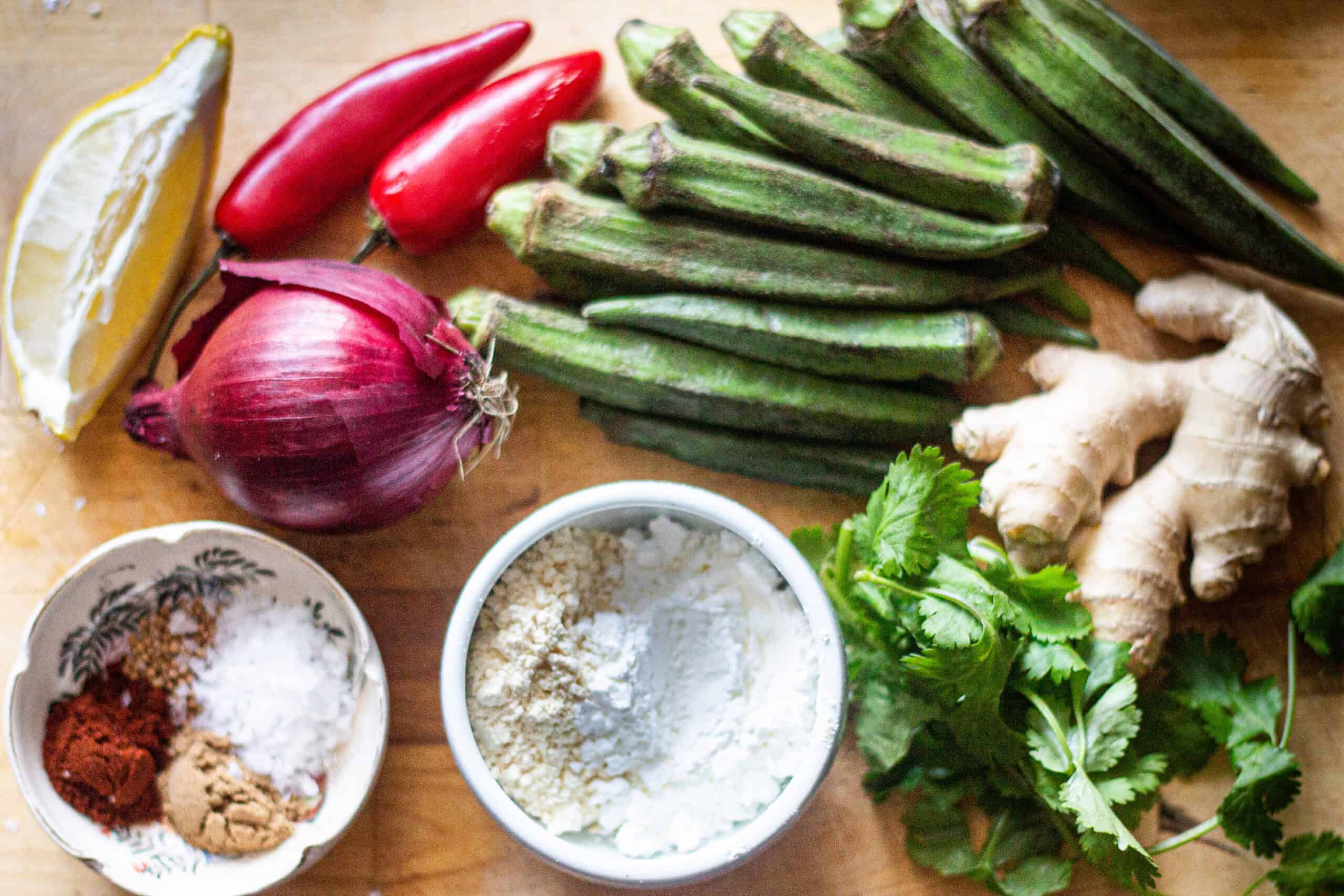 fresh okra
red pepper or chilli
fresh ginger
red onion
Mustard seeds/Chili powder/fresh coriander/Asafoetida
Gram flour/cornflour for coating
(This is ONLY a list of ingredients for the recipe; please see recipe card below for complete printable recipe. Or if you use the JUMP TO RECIPE at the top of the page, it will take you directly to the complete recipe.)
Instructions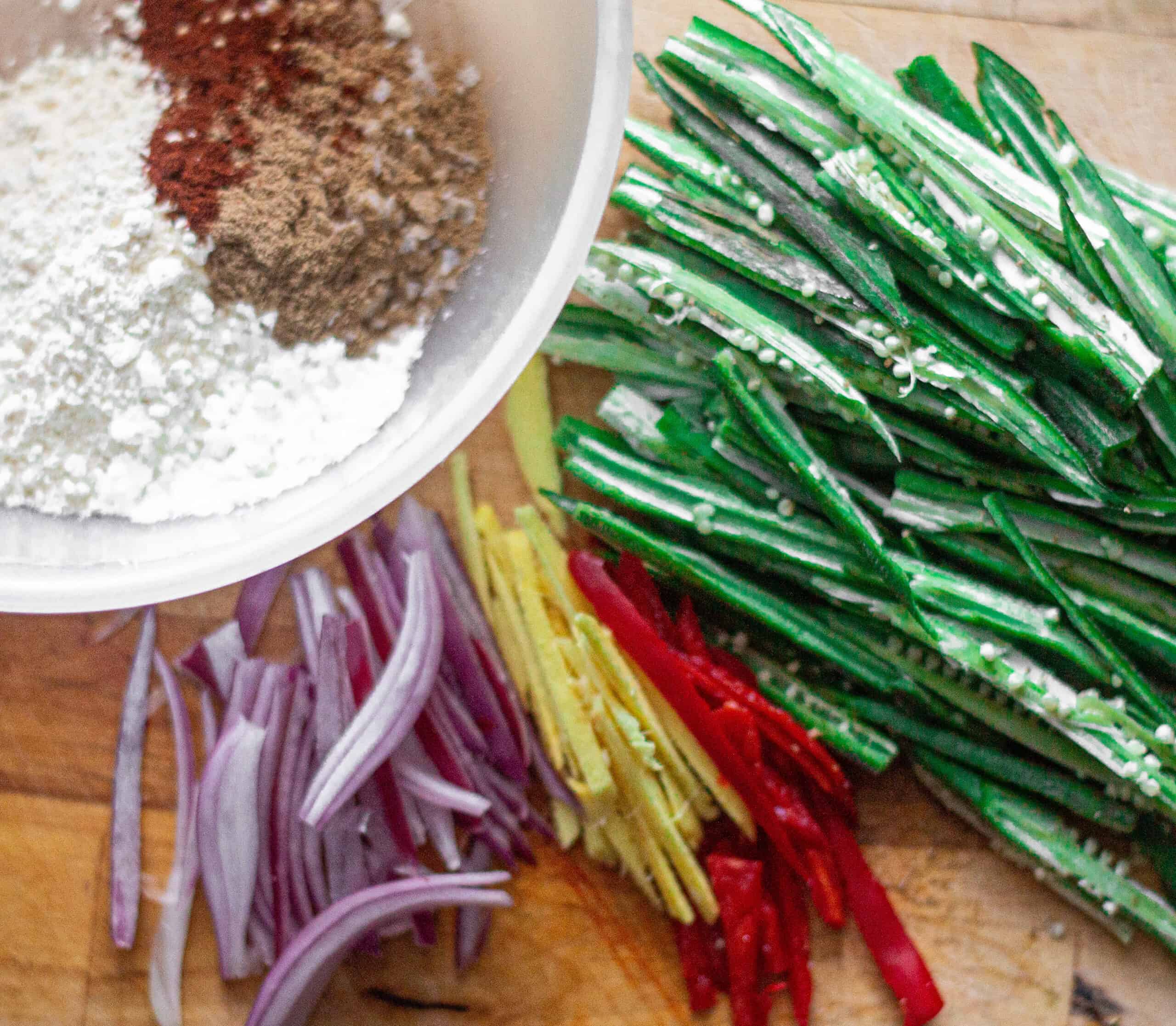 Slice the okra, red pepper, ginger and onion into long thin shards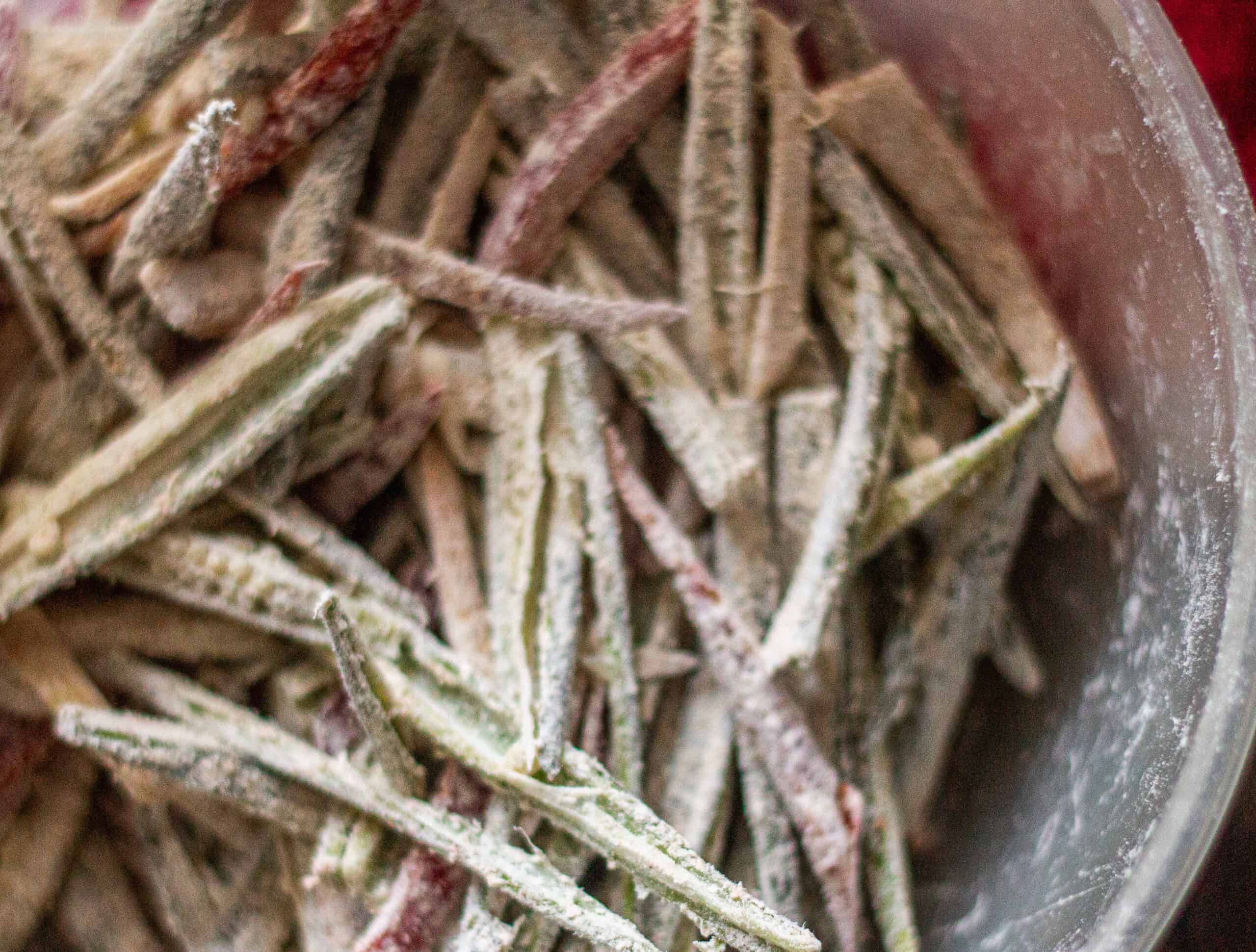 Whisk together the dry ingredients into a large bowl, then add the ribbons of sliced veg to it, coating well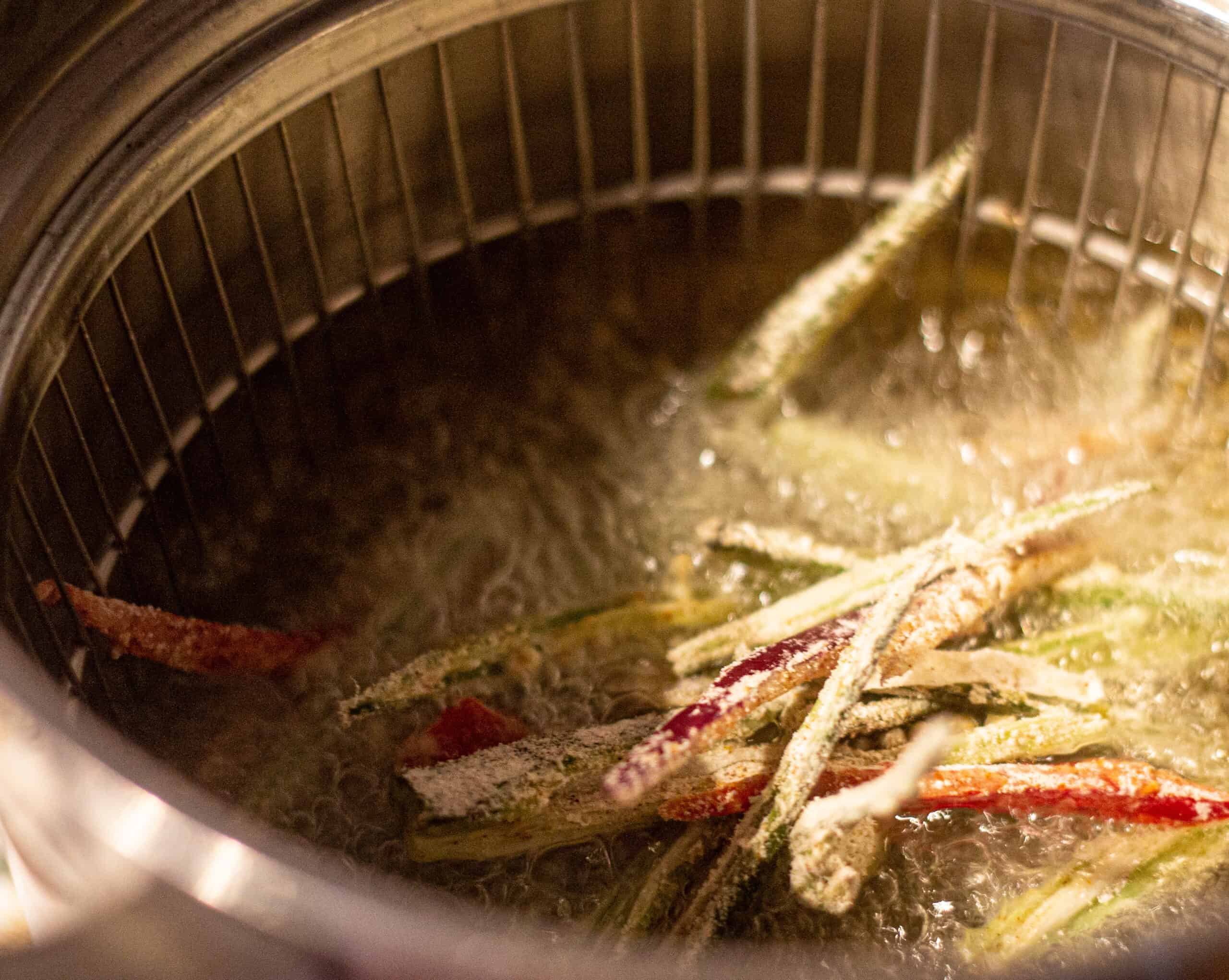 Deep fry clumps of the mixture for 30 seconds or until crisy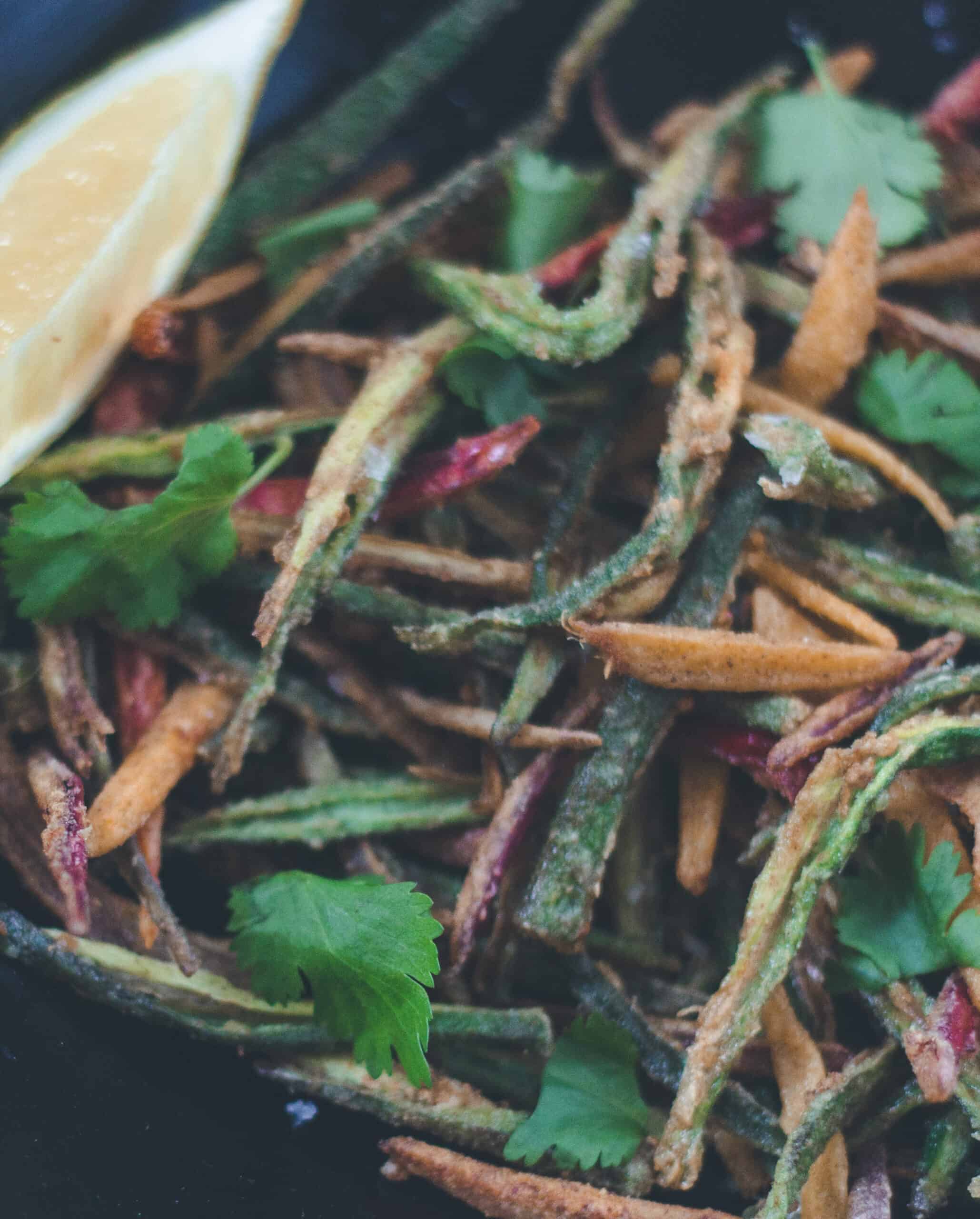 Drain then serve with a sprinkle of sea salt and a spritz of lemon or lime!
Substitutions
Okra – you could use finely shredded zucchini/courgette instead
Variations
Spicy – add chili pepper flakes to the spice mixture if you want it hotter!
Storage
Serve immediately. As with most fried food, it does not reheat well or taste good the next day.
You can prep the ingredients earlier in the day, ready for frying.
You can make the spice coating weeks in advance, storing it in a jar.
Akri Bhindi (Crisp Okra)
Spicy, crunchy and unusual, this deep-fried Okra dish is perfect for a pre-dinner appetizer!
Ingredients
225

g

Okra

fresh, tops removed and cut into long straggly strands

25

g

Red Pepper

cut into thin matchsticks (you can use more if you want)

50

g

White Onion

peeled and cut gamine strips

½

teaspoon

Fresh Ginger

cut into a gangly julienne (I think I've exhausted all of the 'thin' metaphors now)

1

teaspoon

Mustard seeds

¼

teaspoon

Asafoetida

1

teaspoon

Sea Salt

1

teaspoon

Chilli powder

20

g

Gram

Chickpea Flour

20

g

Cornflour

½

teaspoon

Fresh Coriander

for a final scattering

Vegetable Oil

for frying

Lime or lemon wedges

for squeezing
Instructions
Place the okra, pepper, onion and ginger in a large bowl.

In a smaller bowl, mix together all the other ingredients (except the coriander garnish and the vegetable oil) and sprinkle over the julienned vegetables, tossing thoroughly with your hands to ensure that everything is well coated.

Heat enough oil in a pan (maybe 3 inches up the side of the pan) until a piece of okra starts to sizzle when dropped in.

Carefully drop small handfuls in at a time, removing from the oil using a slotted spoon, when it turns crisp and brown, no more than 30/40 seconds.

Remove each crisp bundle to a plate lined with kitchen roll.

Serve on a large plate, spritz with some lime or lemon and sprinkle over the chopped coriander and some more sea salt (if needed).
Nutrition Facts
Akri Bhindi (Crisp Okra)
Amount per Serving
% Daily Value*
* Percent Daily Values are based on a 2000 calorie diet.
Food safety
Cook to a minimum temperature of 165 °F (74 °C)
Don't leave food sitting out at room temperature for extended periods
Never leave cooking food unattended
Use oils with high smoking point to avoid harmful compounds
Always have good ventilation when using a gas stove