Easy Vegan Pumpkin or Squash Soup
Easy vegan baked pumpkin soup is the perfect one pot dish with no waste and hardly any prep time at all – you bake the soup right in the pumpkin! Delicious, comforting and homely
If you have been to a restaurant and looked at the vegan options, you will be more than aware that the most common items are "such and such served with butternut squash" or "bean chilli" or maybe even just a salad or some sort. For years I was so over squash because it became absolutely ubiquitous with plant-based dining out.
However, I recently purchased a Natoora monthly veggie box, and was quite excited with the diverse range of fruit and veg. According to their website:
"It is through our relentless pursuit of flavour that we've come to source fresh produce for many of the best restaurants in London, Paris, New York City and Copenhagen. Now available for home delivery nationwide, get revolutionary flavour delivered straight to your door – only through the Natoora app. As well as bringing you phenomenal fresh produce, we take the same revolutionary approach to flavour to source sustainably-produced dairy & charcuterie and next-level store cupboard essentials."
The veggie box contains highly seasonal fruit and veg, so in April you can expect to get early asparagus, in July you might get Italian white peaches, and in December you might get a Delica pumpkin from Mantua, Italy.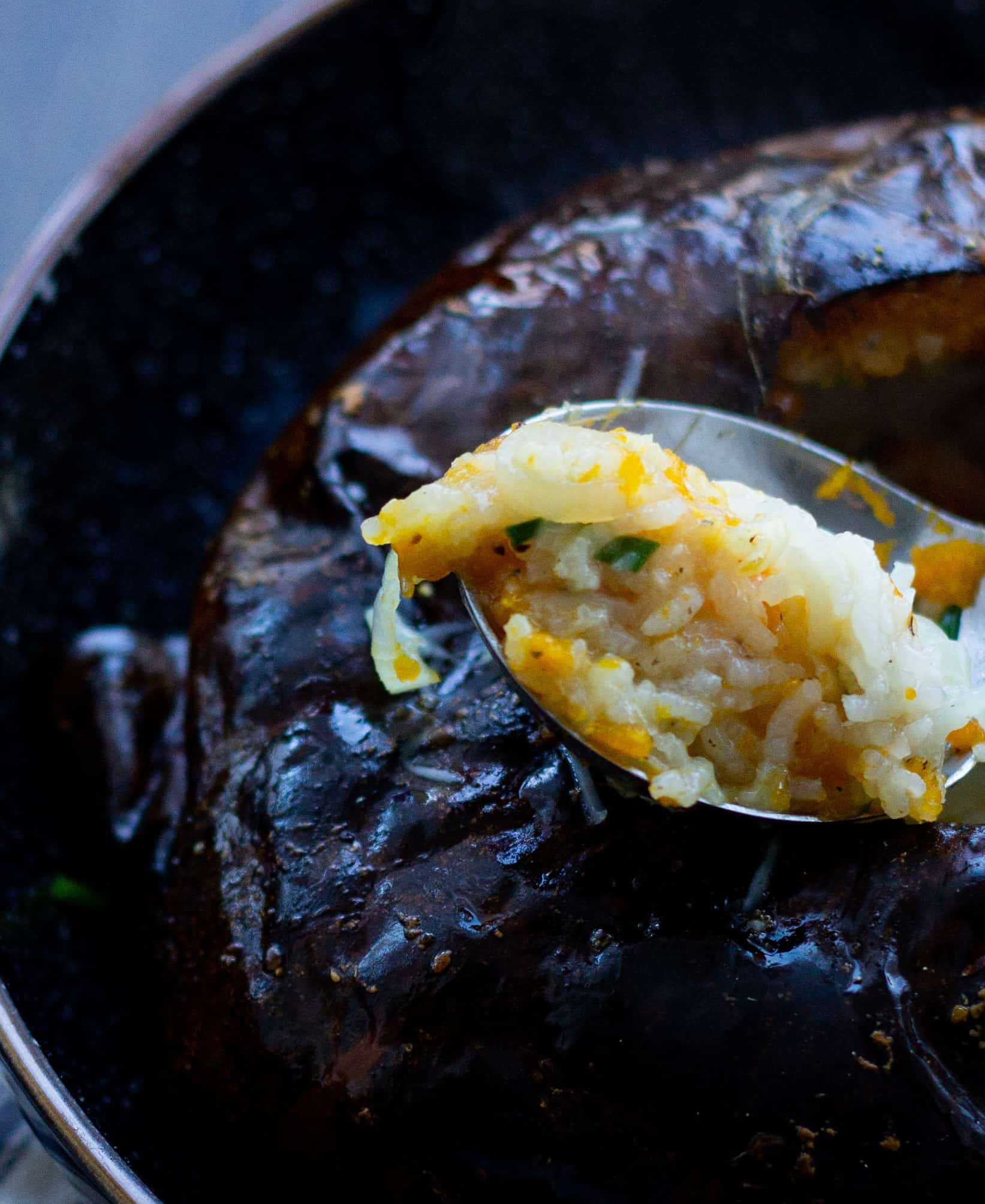 I kind of sighed when I saw the pumpkin, like, what on earth am I going to do with this? But then I remembered that I had bookmarked a Jane Grigson recipe from her Vegetable Book, called East Craftsbury Pumpkin or Squash Soup.
I have been thinking about this recipe for a long time, knowing that, as with many of her recipes, the simplicity of ingredients will bely a deep and complex interplay between flavours. My version of Grigson's cabbage in the Troo style is perhaps my most popular dish, and I have cooked it more times than I care to think about.
East Craftsbury Pumpkin or Squash Soup (or as I have renamed it, easy vegan pumpkin or squash soup), is easier than you could possibly imagine. Simply carve out a lid from your pumpkin, scoop out the seeds, then fill the cavity with rice, stock, onion and seasonings. Bake until tender.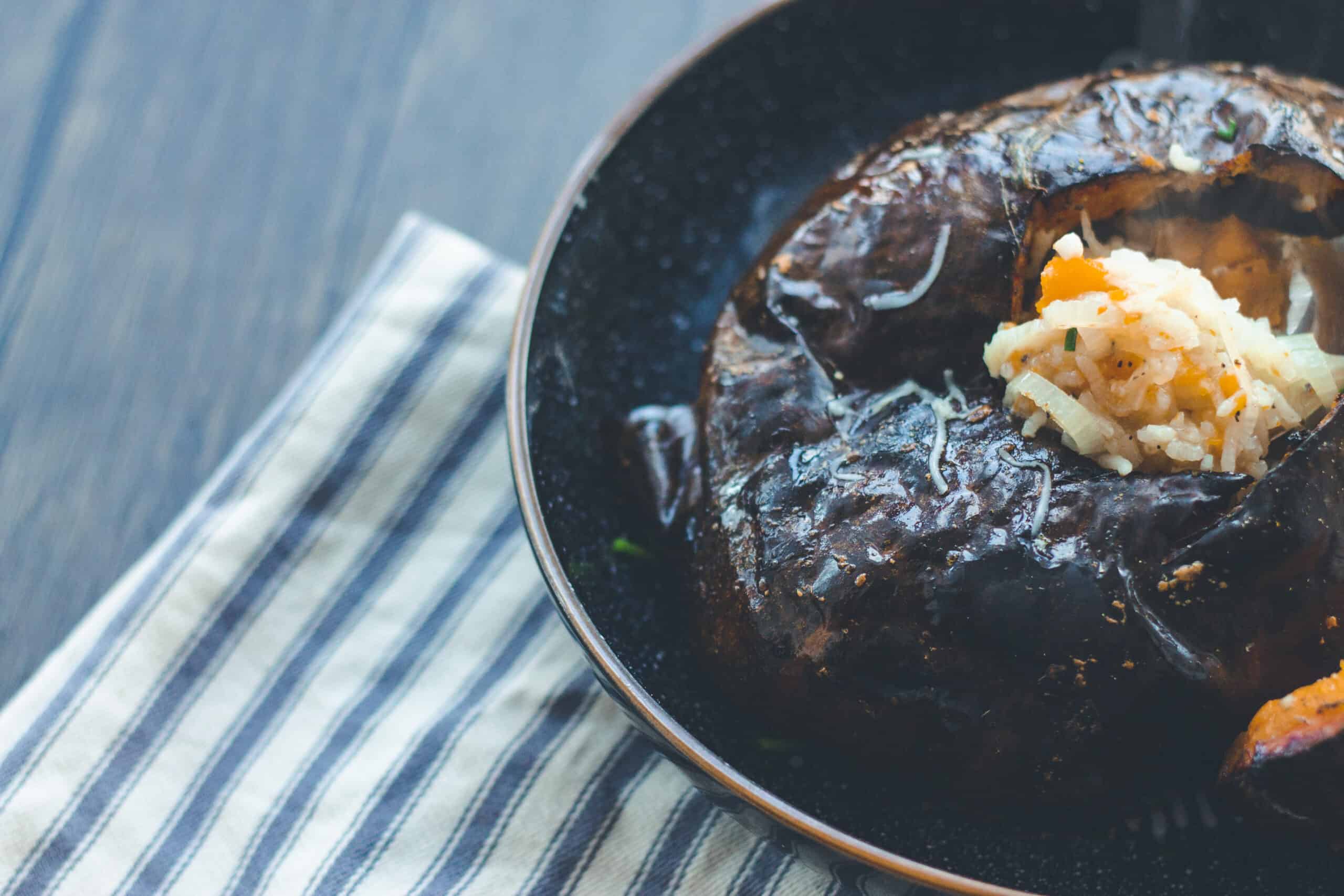 You can serve this delicious stuffed pumpkin recipe in a couple of different ways, depending on the size of the squash/pumpkin used:
If using a large pumpkin that will serve 2 or more, you can ladle the soup out into individual bowls, making sure to scoop out the soft pumpkin flesh too. Sprinkle with a little grated vegan cheese and serve with some bread.
You can make individual pumpkin "soup" bowls out of mini pumpkins for a dinner party, serving the pumpkins on a little plate for each guest to scoop out themselves. This would make a brilliant starter for Thanksgiving or Christmas Day.
Ingredients
Round pumpkin or squash, or 6 mini pumpkins. It is hard to be specific with sizes as they vary so much. The one I used, from Natoora, was approx 8″ dia. and 6″ tall.
Onion, small white onion or shallot, finely sliced.
Vegan butter. Use your favourite but make sure it's a good one. Because this is a dish of few ingredients, make all of them count.
Basmati rice. You could also use Arborio rice if you prefer, for a creamier soup, although you may need a little more stock, and a little more cooking time.
Black Pepper and Sea Salt for seasoning
Stock. I use Marigold vegetable bouillon powder as it has a really nice flavour, but again, use your favourite brand.
Method
Using a very sharp knife, carefully cut out a lid from the pumpkin or squash. If the bottom of your pumpkin is a little wobbly, gently cut a small bit off to make it sit evenly. Do not pierce through the skin through.
Using a spoon, scoop out the seeds and fibres. Discard those bits.
Place pumpkin into a baking dish.
Mix the butter with the salt and pepper, then rub this into the inside of the pumpkin flesh. This will ensure that every part of the soup is flavourful.
Add the onion and rice, then the stock. Replace lid.
Bake until rice is tender. This could take anything between half an hour (for mini pumpkins/squashes) to a couple of hours for a large pumpkin. Check periodically as the squash will collapse if it overcooks.
If your squash does collapse, it's not the end of world! Simply scoop everything out of the pumpkin into your baking dish, including the delicious pumpkin flesh, sprinkle with a little vegan cheese, and serve in bowls (discarding the collapsed pumpkin skin).
Try my other Pumpkin Recipes
Easy Vegan Baked Pumpkin Soup
A super quick soup recipe that is ready to go in the oven in less than five minutes
Ingredients
1

Pumpkin

or squash

2

tbsp

Butter

vegan, softened

1

Onion

small, peeled and sliced thinly

⅓

cup

Basmati Rice

850

ml

Vegetable Stock

hot

1

tsp

Sea Salt

¼

tsp

Black Pepper

ground
Instructions
Using a sharp knife, cut a circle out of the top of your pumpkin, wide enough to be able to reach in and scoop out the seeds. Place the "lid" to one side.

Using a spoon, scoop out the fibres and seeds and discard.

Place the pumpkin in a baking pan. This is to stop any potential leakages.

Mix the salt and pepper into the softened butter, then rub onto the inside of the pumpkin.

Sprinkle the rice and onion inside the pumpkin, then top up with stock.

Replace the pumpkin "lid" and carefully place in the oven.

Bake for up to two hours, depending on the size of pumpkin. Check after one hour to see if the rice is cooked.

Remove from the oven, sprinkle with a little grated vegan cheese and some black pepper, stir through a little vegan cream if you like and some chopped chives, then serve in soup bowls.
Notes
If you are using mini pumpkins, the process will be much the same, however you will need to divide the above ingredients between, say four, mini pumpkins.
I suggest baking them for no longer than 30 minutes to start, and testing the rice. Then cook for 5 minute increments thereafter. 
Nutrition Facts
Easy Vegan Baked Pumpkin Soup
Amount per Serving
% Daily Value*
* Percent Daily Values are based on a 2000 calorie diet.