Easy Vegan Muesli Recipe – Ready in Seconds!
Muesli doesn't have to be thought of as rabbit food: my muesli is full of flavour, texture and all the good stuff you will definitely enjoy for breakfast…and it's ready in less than 1 minute!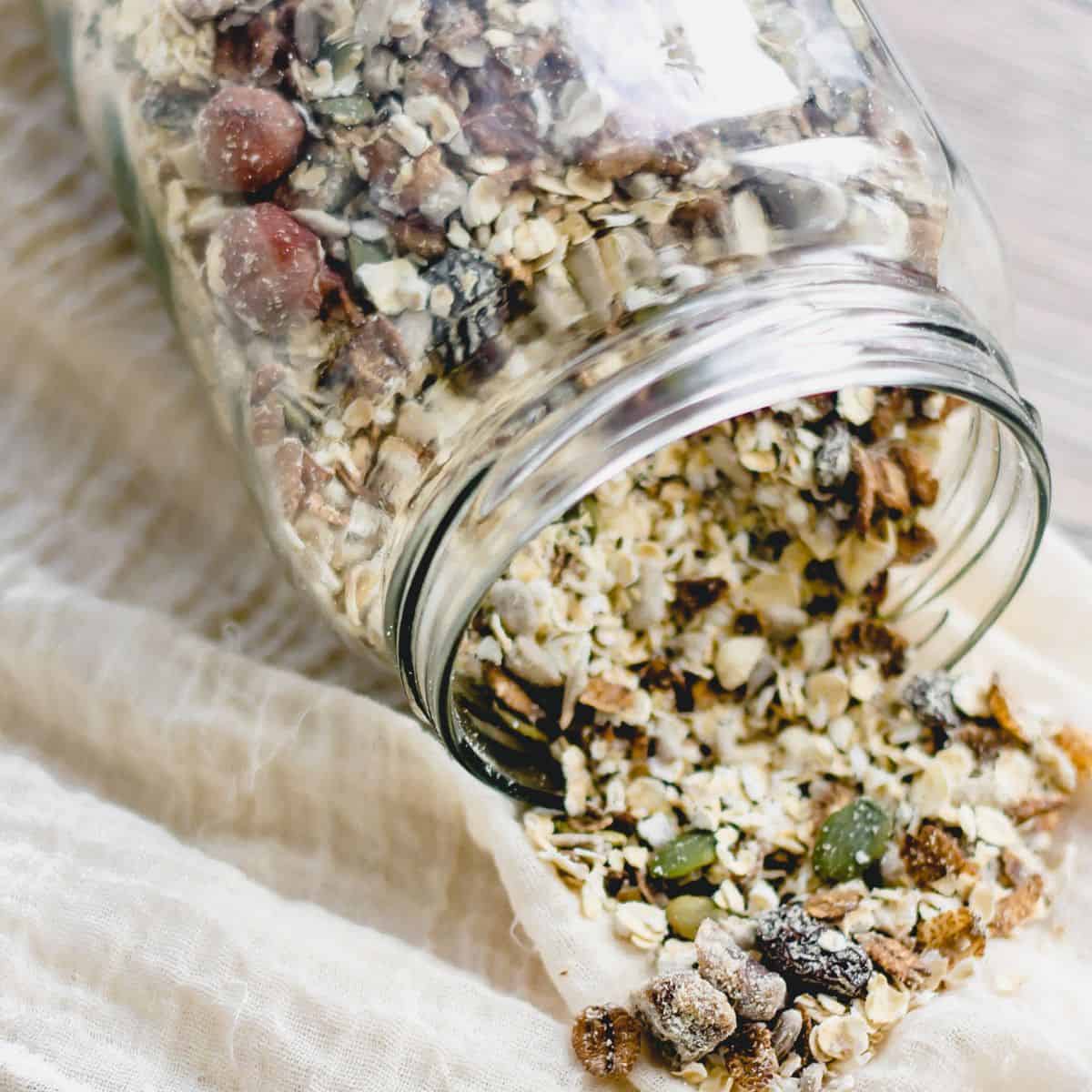 I was rereading an old blog of mine, written not in this decade, nor even the last, and missing the more innocent days of writing for a community, rather than hoping you'll have a post go viral and make you rich.
Of course, I do want a recipe of mine to go viral and make me rich, however, I do still pang for the days when you would check in someone's blog daily to see what they had cooked. You would then share a heartfelt message, or some witty quip that someone else would read, and then you would gain a new follower. This was how organically blogs used to work.
Clicking on some of those old comments, I was saddened to see that some of the blogs had disappeared altogether. I was even more saddened to read that at least one of that original community had passed away. As John Lennon says, life is what happens to you, while you're busy making other plans.
I suppose I let myself drift off into this stream of conscious post because my muesli is so quick to make, and I really don't have much to write about it! I remember eating Alpen muesli as a kid, and loving it, although I always had to put a lot of sugar on it. And pick out the raisins, one by one.
What is Muesli?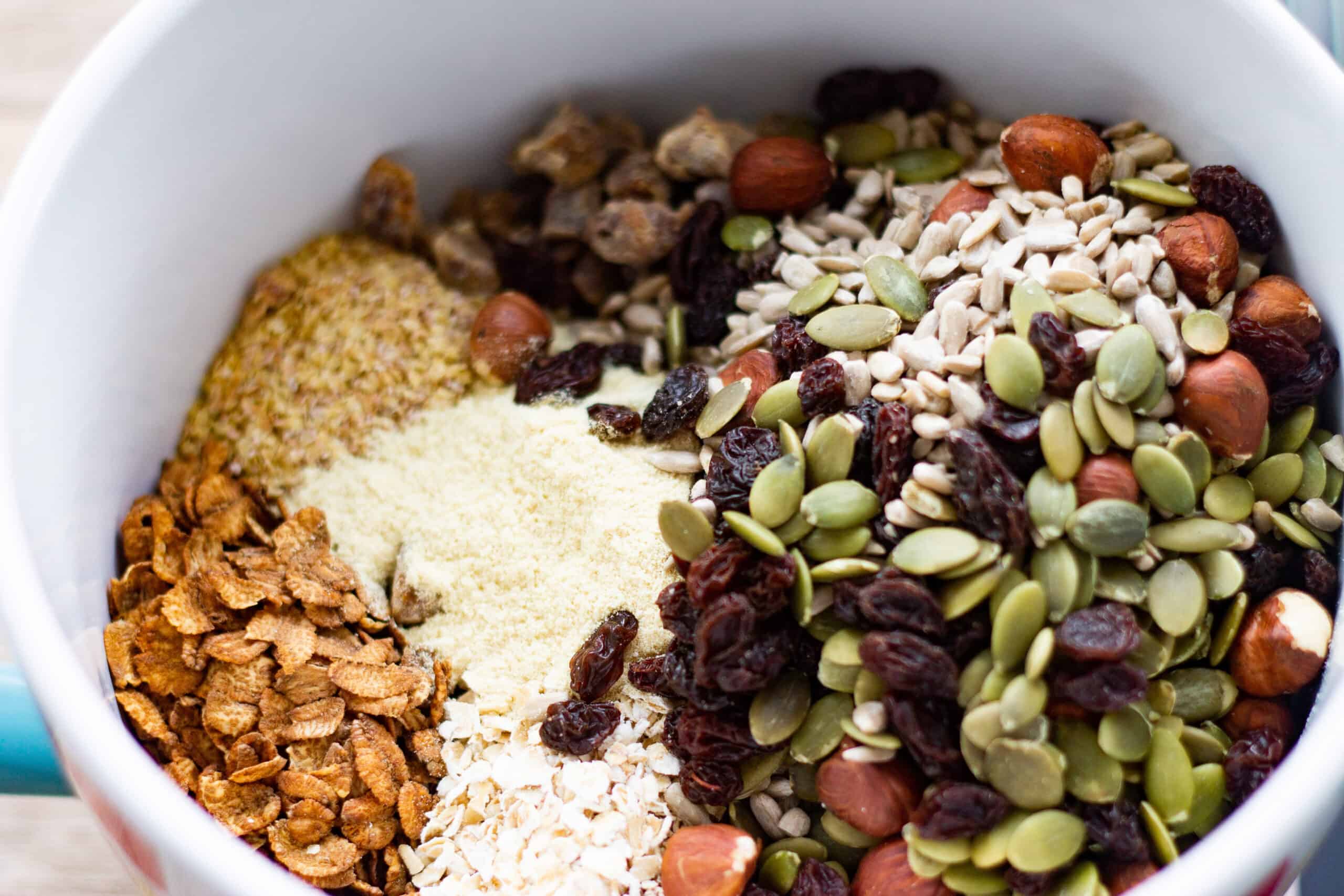 Muesli was developed at the beginning of the 19th century by a Swiss physician named Maximillian Bircher-Benner (yes, Bircher muesli!), and was served to patients who were recovering in one of his luxurious sanitoriums. Despite its somewhat chewy, nutty texture, the muesli is derived from the Swiss/German word mues/mus meaning mush or puree. Assumedly the patients in his sanitorium were served smoother muesli, to help aid in their digestion during recovery.
Interestingly enough, it was not served for breakfast, but with bread and butter for supper, almost as an appetizer before any other meal. Bircher-Benner was an early proponent of the whole food movement, and actively encouraged his patients to eat raw food and vegetables and take vitamins to aid in their recovery.
Over the years, the original recipe for Bircher muesli has evolved. Bircher is simply oats, soaked with lemon juice, milk, nuts, and chopped apple overnight. Muesli that you buy in the stores often has a higher density of oats, dried fruit, and nuts than the Bircher-style one.
How do you serve Muesli?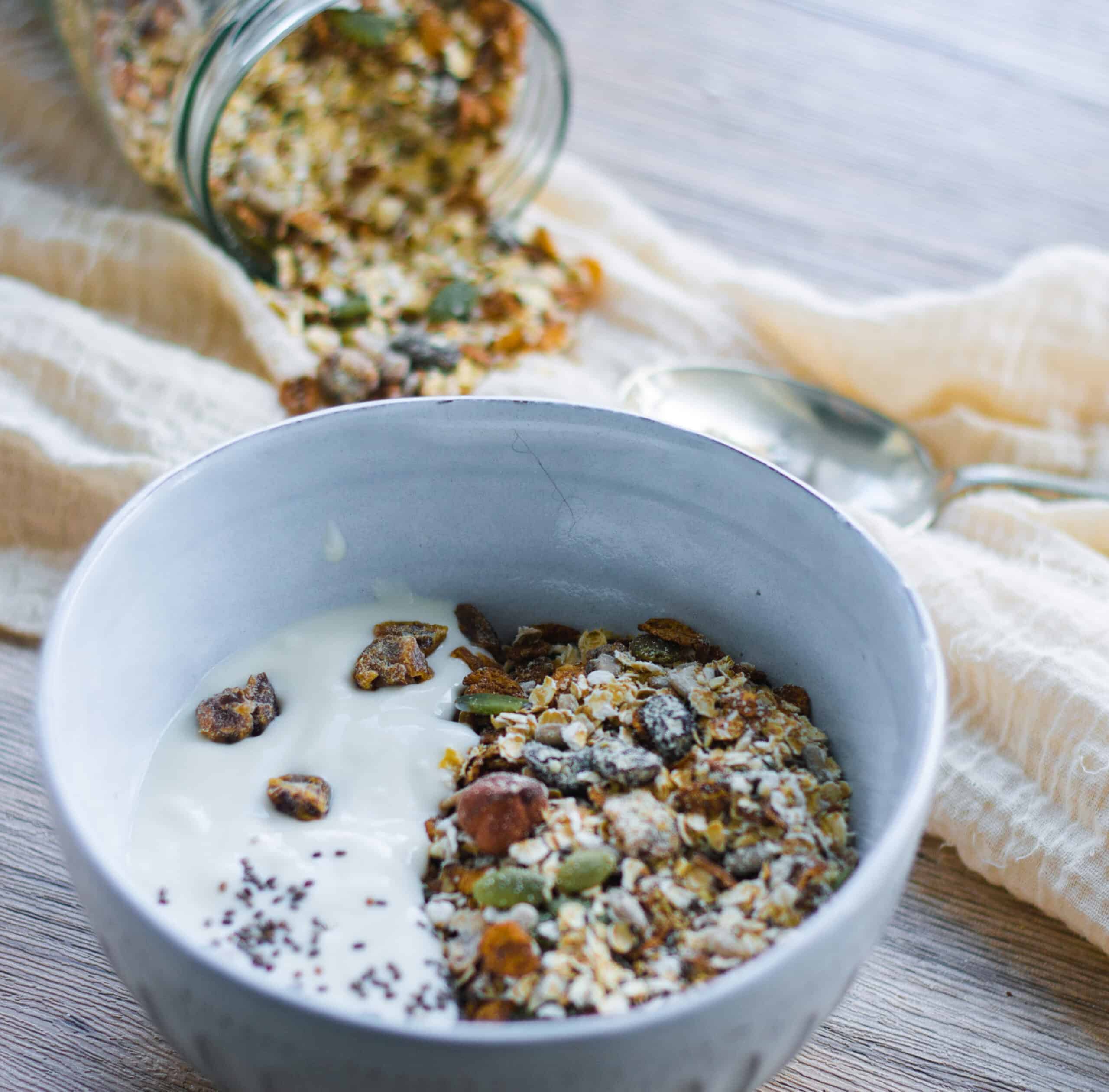 Like granola, you can serve it exactly as you want it. My personal favorite way to serve my muesli is with soy milk, leaving it to soak for at least half an hour, sprinkled with a few chia seeds, and then enjoying my healthy breakfast. I admit I drizzle mine with a little maple syrup though.
You can also serve it, Bircher style with some lemon juice, a little non-dairy yogurt, and diced apple or fresh fruit. Leave in the fridge overnight for the oats to absorb all the liquid.
Ingredients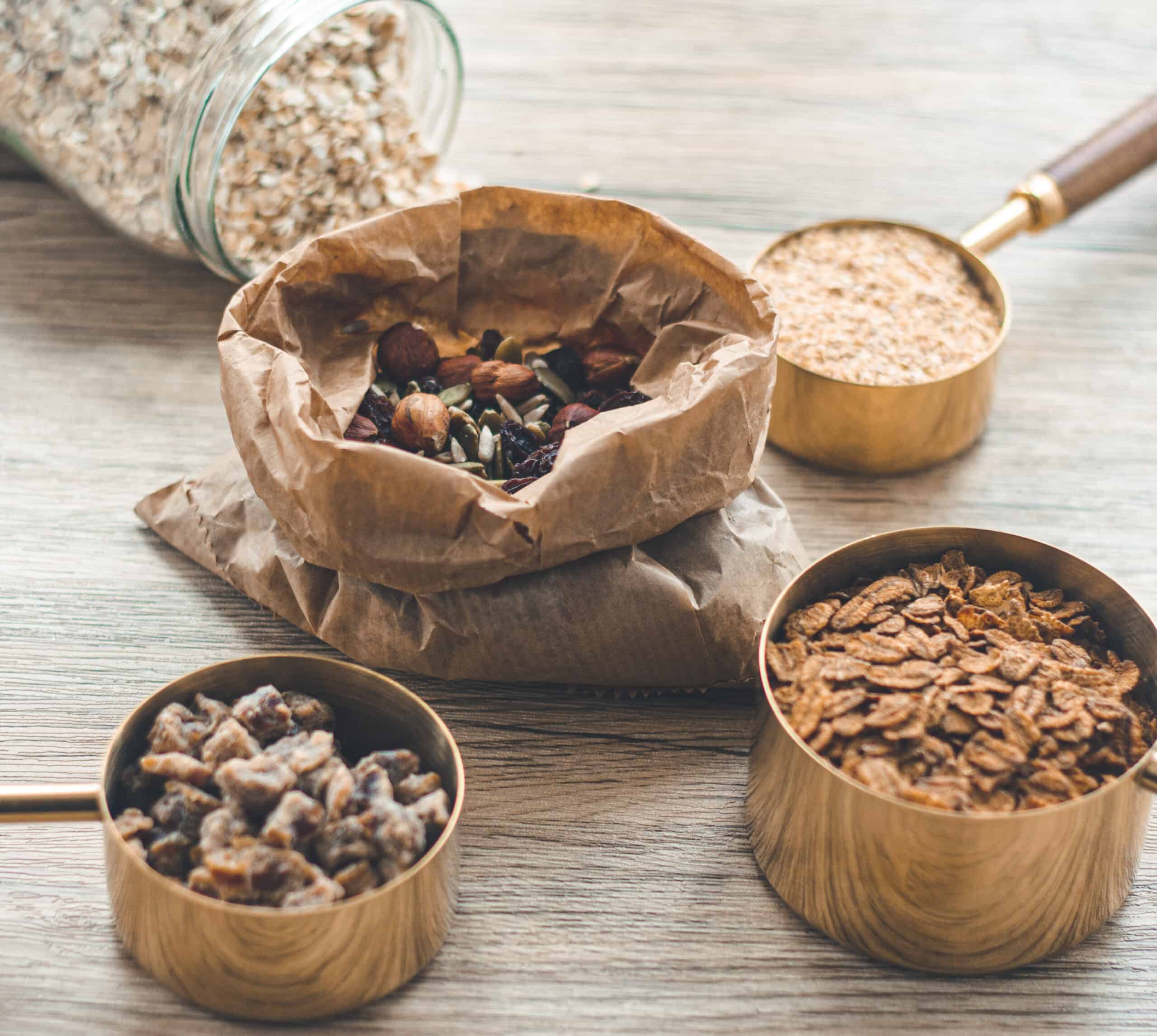 I like to pack my easy muesli recipe with lots of yummy flavors and textures, but you can make it as simple as you like. You might prefer all nuts and no fruit, or all fruit and no nuts.
Firstly, you need your base ingredients for your muesli. This is great to mix up and keep in a jar, and if you have visitors, they can make their muesli with a selection of dried fruit and nuts. This mixture of dry ingredients will keep for a long time in an airtight jar.
Oats. Use the same rolled oats that you would make your favorite oatmeal with. If you are gluten-intolerant, obviously use your favorite brand of gluten-free oats.
Malted Flakes. These add a slightly different texture. I use smaller flakes, not the kind like Bran Flakes. I get them in my local health store or online. If you choose not to use these, just add extra oats instead. You can also use gluten-free buckwheat flakes or quinoa flakes.
Wheat germ (aka wheat bran). This adds a real health benefit, full of fiber which is great for gut health and keeps you full for longer. Omit if you are gluten intolerant. You can use gluten-free oat bran instead.
Non-dairy milk powder. I use soy milk powder, but you could use coconut milk powder. This seems like a strange ingredient but adds a creaminess to the muesli. It can be omitted if you prefer.
My muesli mix has the following add-ins:
Pumpkin Seeds
Sunflower Seeds
Raisins. You could add dried cranberries, goji berries, chopped figs, apricots, or sultanas if you prefer.
Chopped dates. These add a delicious caramel sweetness. The sugar content comes from the dried fruit, so feel free to omit if you are watching your sugar intake.
Hazelnuts, crushed. I like crunchy muesli with a nutty flavor, so I sometimes add a mixture of nuts like brazil nuts or macadamia too. They are even better toasted.
I don't add smaller seeds like chia or hemp seeds or poppy seeds as they tend to sink to the bottom of the jar! Add these to your morning muesli bowl instead.
Method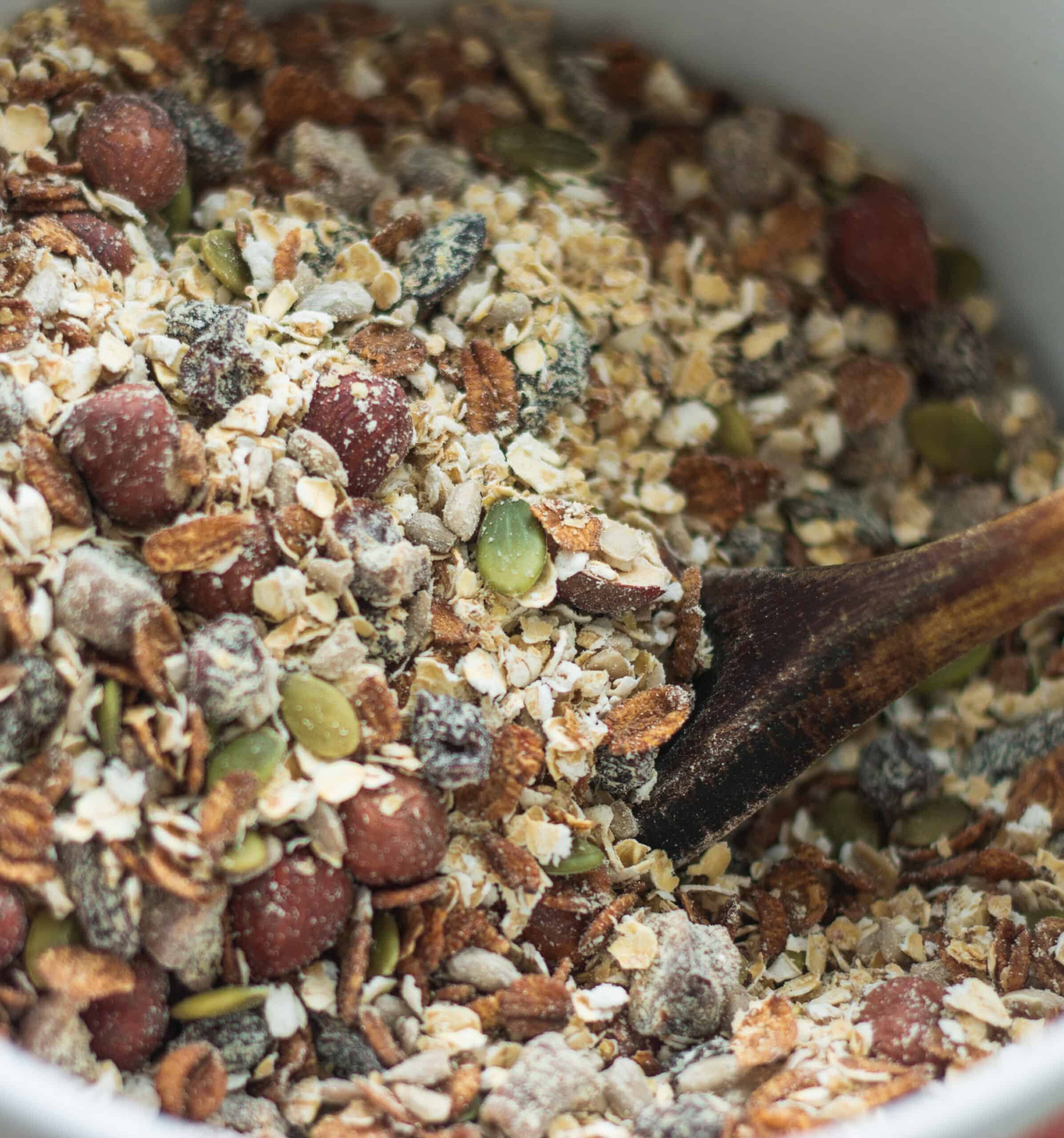 Simply place all of your muesli ingredients in a large bowl, stir well and then decant into a large airtight jar. That is it!
My Muesli Recommendations
Try my other delicious vegan breakfast ideas
Really Yummy Muesli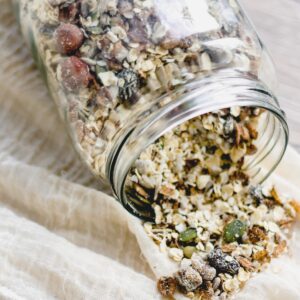 My super quick and easy yummy muesli recipe
Ingredients
2

cups

Oats

1

cup

Malted Flakes

⅓

cup

Wheatgerm

⅛

cup

Coconut Milk Powder

¼

cup

Hazelnuts

¼

cup

Raisins

¼

cup

Dates

chopped

⅛

cup

Sunflower Seeds

⅛

cup

Pumpkin Seeds
Instructions
In a large bowl mix together all the ingredients

Decant into an airtight container or large jar
Nutrition Facts
Really Yummy Muesli
Amount per Serving
% Daily Value*
* Percent Daily Values are based on a 2000 calorie diet.