Delicious and Easy Vegan Tiramisu Pancakes
Easy vegan Tiramisu pancakes. You did read that correctly: vegan Tiramisu Pancakes! For a quick, but luxurious breakfast, my vegan Tiramisu pancakes tick all the boxes. Not only are they delicious, but they are low in fat, AND in sugar!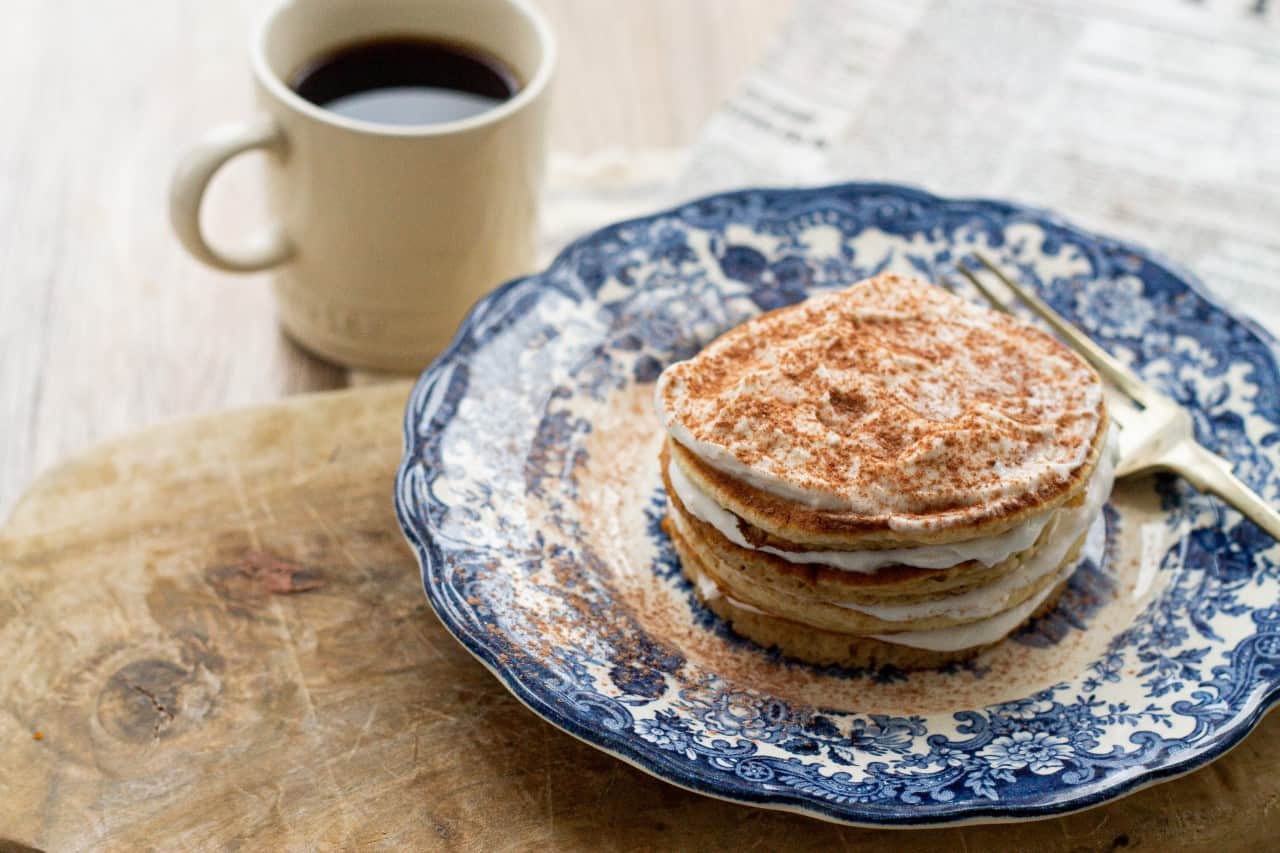 I have had issues in the past with pancakes, they often stick, they're never the right size, I can't moderate the heat of the oil in the pan…I felt that the whole process of pancake making had defeated me, and I switched to waffles instead. That was until I was gifted the Ninja Foodi ZEROSTICK frying pan. This pan really is a gamechanger, I don't need to use oil when I fry onions, when I cook pancakes. Nothing sticks, and everything cooks evenly. No more dodgy pancakes!
However, this is not a post advertising my new frying pan, this post is here to urge you to try my delicious Tiramisu Pancake recipe!
What is Tiramisu?
Tiramisu means "pick me up" in Italian and if ever a dessert comprising of booze and coffee soaked ladyfingers, layered with mascarpone cream and dusted with cocoa powder could induce a feeling of being "picked up", it would be this one. It is genetically very similar to a British trifle, which is to say, sponge, soaked in a little liquor, layered with a creamy custard.
I am in the process of veganising a full Tiramisu dessert (watch this space!) but for now, I give you my delicious and easy vegan Tiramisu pancakes!
How do you Make Tiramisu Pancakes?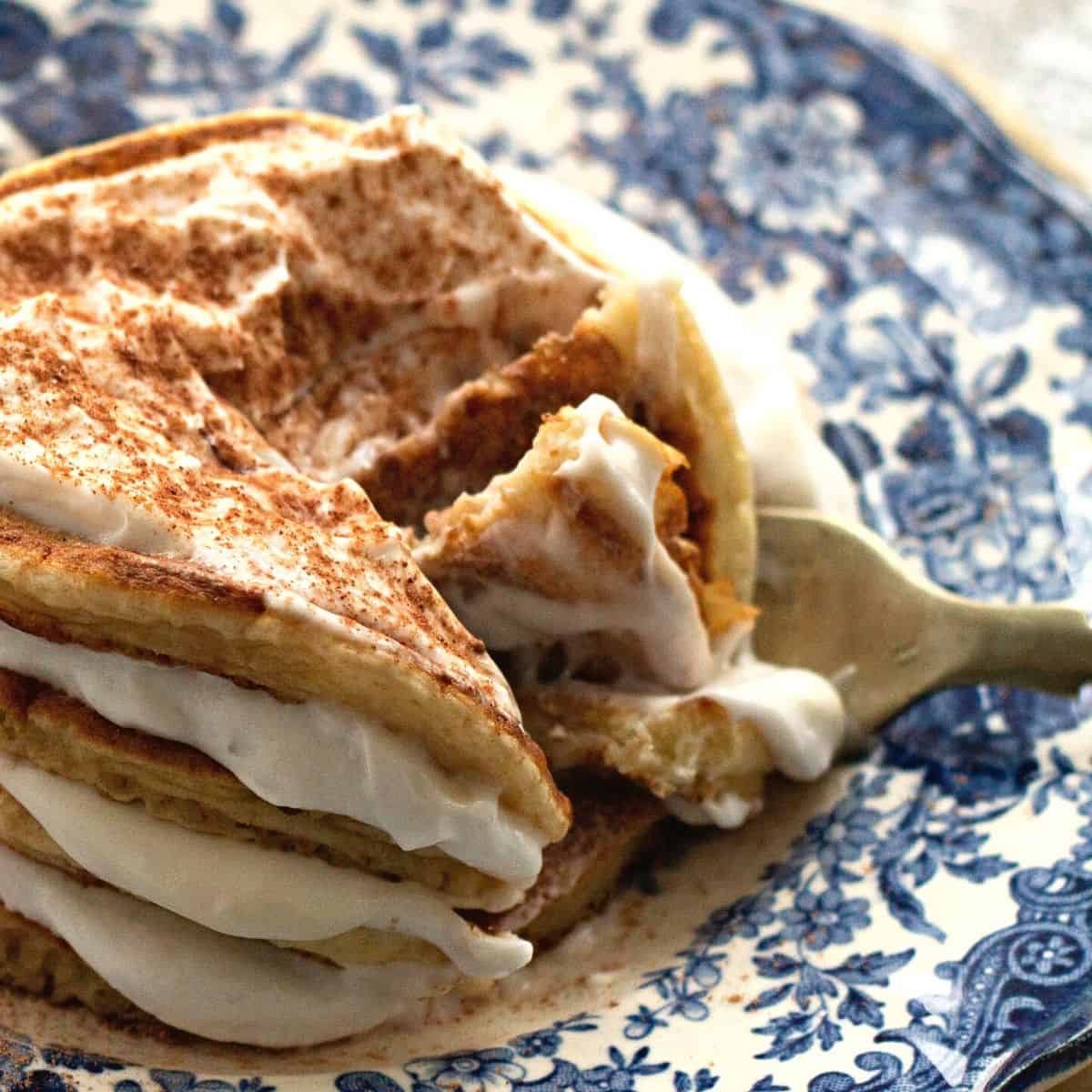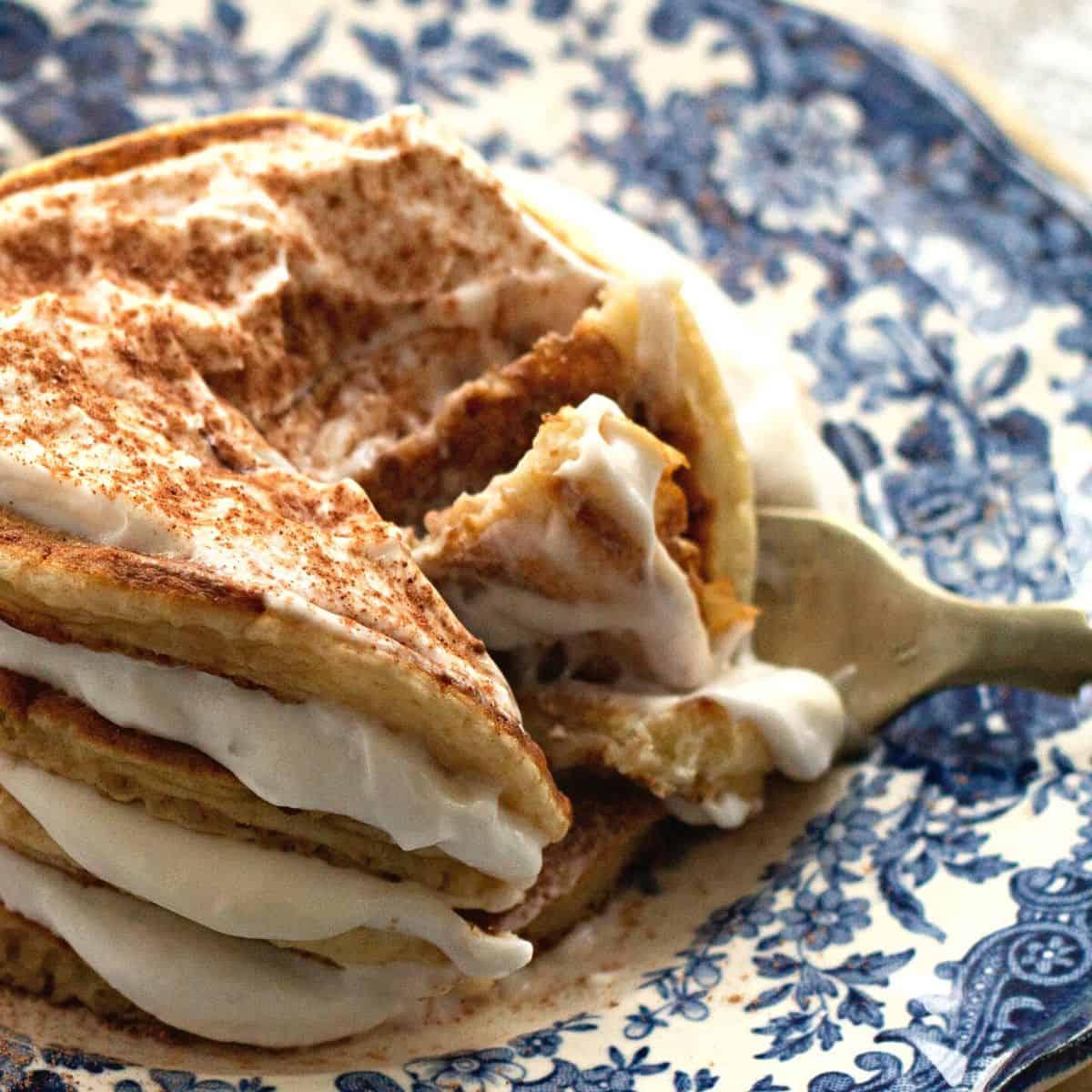 Step 1. Make your Tiramisu Cream. This is a soft, billowy whipped cream cheese, mixed with some coconut cream solids, stabilised with a little icing sugar, and flavoured with vanilla extract. This replicates, to a degree, the mascarpone cream of a traditional Tiramisu.
Step 2. Make your pancakes. My pancake recipe has no sugar or oil in it, so is a great pancake option for people to adapt.
Step 3. Leave pancakes to cool a little. If they are too hot, the cream will melt and slide off when you start to layer.
Step 4. Brew some strong black coffee. Add a little sugar if you like. Leave to cool.
Step 5. Trim the pancakes to size (optional), then quickly dip in your coffee.
Step 6. Layer up with cream, dust with chocolate, eat!
Try these other delicious vegan recipe ideas
Vegan Tiramisu Pancakes
A simple breakfast recipe that is low fat and low sugar too!
Ingredients
Pancakes
1¼

cups

Plain Flour

1

teaspoon

Baking Powder

¼

teaspoon

Bicarbonate of Soda

¼

teaspoon

Salt

1¼

cups

Soy Milk

-

or plant based milk of your choice

1

teaspoon

Apple Cider Vinegar

1

teaspoon

Vanilla Extract
Tiramisu Cream
½

cup

vegan Cream Cheese

½

cup

Coconut Milk

-

solids only

1

tablespoon

Powdered Sugar

½

teaspoon

Vanilla Extract
To Assemble
½

cup

Black coffee -

strong, cooled

Cocoa Powder

-

for dusting
Instructions
Pancakes
Pour the milk into a jug, add the vinegar and leave for 10 minutes.

Whisk together the dry ingredients in a large bowl.

Make a well in the centre of the dry ingredients, and add the milk and vanilla extract.

Whisk until combined and no more lumps are visible.

Cook the pancakes according to your favourite method.
Tiramisu Cream
In a small mixing bowl, whisk the cream cheese until light and fluffy.

Add the coconut cream solids, vanilla and powered sugar and whisk well until thick and fluffy. I find that an electric hand whisk works best for this.

If you make this in advance, cover with clingfilm and chill until ready to use.
To assemble
This is an optional step, but if you find that your pancakes are not all the same size, I use a round cutter, about 4" dia (or close to the size of your pancakes) and cut out circles from each one, so that they will be uniform.

Brew some black coffee and pour into a shallow bowl.

Take one pancake and dip in quickly into your brewed coffee. Place on your serving plate.

Spread a layer of the Tiramisu cream on top. You might find you get a nicer finish if you pipe the cream, although I just used a small pallet knife.

Repeat for 5 pancakes, layering up, and ending with a layer of cream.

Dust thickly with cocoa powder and serve immediately!
Please note that where the recipe asks for milk, butter or yogurt, this refers to any plant-based version that you prefer.
Nutrition Facts
Vegan Tiramisu Pancakes
Amount per Serving
% Daily Value*
* Percent Daily Values are based on a 2000 calorie diet.