Deliciously Crispy Vegan Cornmeal Waffles Recipe
This post contains links to affiliate websites, such as Amazon, and we receive an affiliate commission for any purchases made by you using these links. We appreciate your support!
Crispy vegan cornmeal waffles recipe. I love cornmeal. I have written about cornbread here, my first taste of this sweet, delicious, and naturally gluten-free flour.
If you've enjoyed polenta, you will understand the whole sweet/savory vibe that cornmeal rocks, in the same way as fresh sweetcorn, and this is what makes it such a fun ingredient to work with.
Cornmeal not only adds a natural sweetness and unique flavor to baked goods, but it also adds a delicious crunch, making it great for cookies or bakes that don't require fineness of texture.
Regular readers will know that I love waffles, and am constantly trying to find the best waffles recipe (we've got close here though with my recipe for vegan fluffy waffles!), and adding cornmeal to waffle batter was like an epiphany!
It adds the perfect level of both sweetness and crunch that a good waffle needs, thereby allowing you to reduce the amount of sugar in the recipe! Furthermore, these are egg-free, dairy-free, and could be made gluten-free too!
What is Cornmeal?
Yellow Cornmeal is made from ground yellow corn and comes in a few different textures, ranging from coarse to fine. For this recipe, we want the crunch of cornmeal, so we're using coarse. Real Simple breaks down the different types of cornmeal, including how and when to use them, here.
Polenta can be used if you can't find Cornmeal in the supermarkets. Again, it is made from yellow corn but is coarser still.
Is Cornmeal Gluten-Free?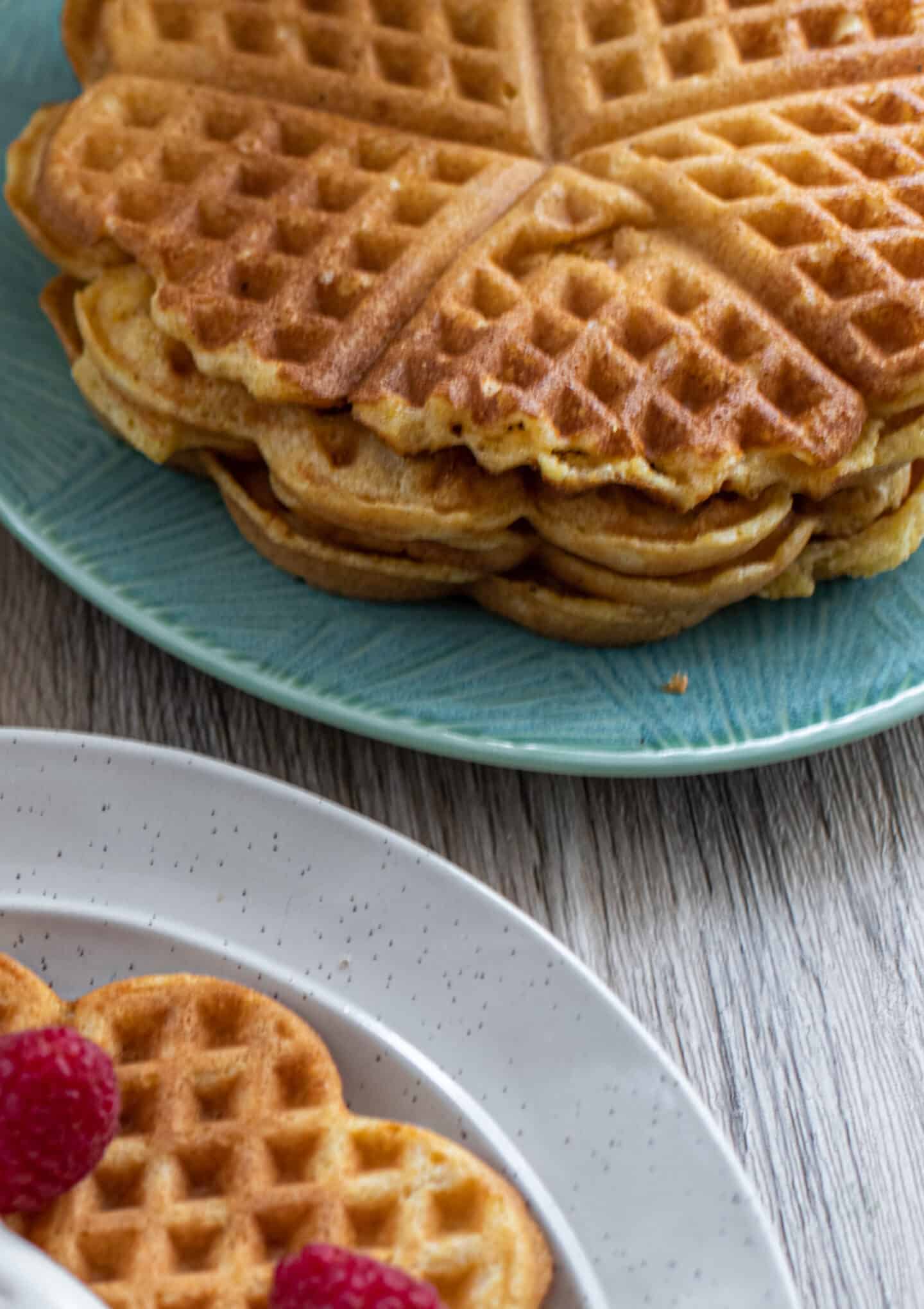 Yes, it is 100% gluten-free because it is just made from dried corn!
How do you make vegan cornmeal waffles?
As with most waffle recipes, you place your dry ingredients (plain or all-purpose flour, baking soda, cornmeal, sugar, salt) in a large mixing bowl. Then you add the wet ingredients!
My waffle recipe doesn't use egg replacer, flax eggs, or additional yogurt, getting their rise from the baking soda.
OK, so there's a little bit more to it than that, but not much!
Ingredients and Modifications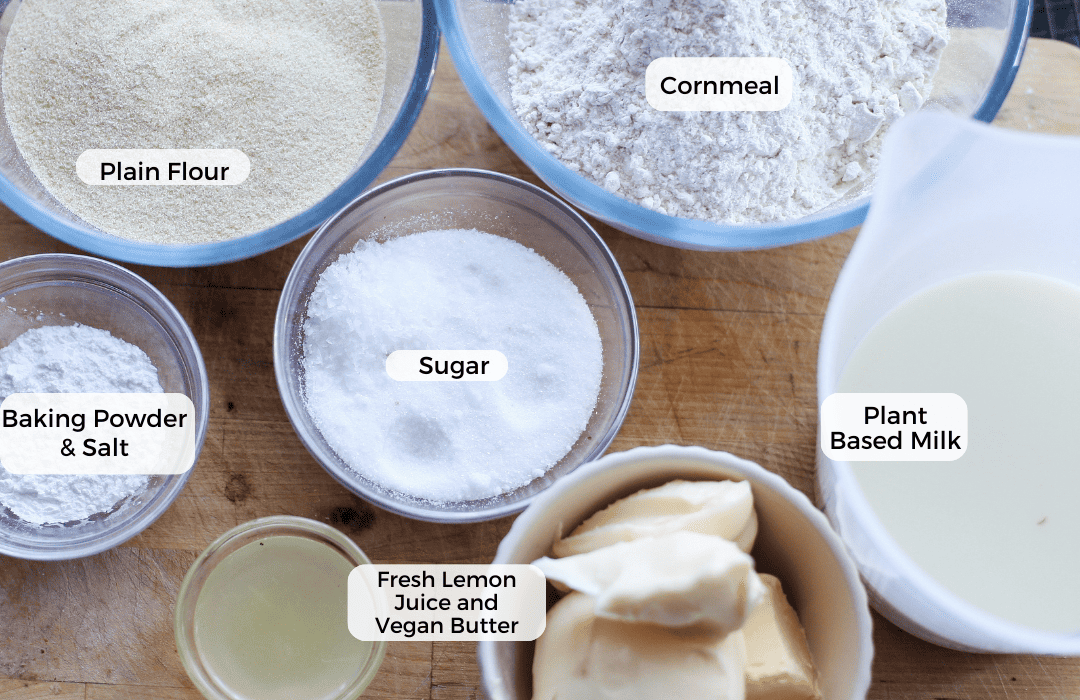 Cornmeal (polenta). You can use coarse or fine. The coarser you use, the crunchier the texture of the waffles.
Flour, I use plain, but you can use gluten-free flour too.
Baking Powder. This helps with a light, fluffy waffle.
Plant-based milk.
Fresh lemon juice (or you could use apple cider vinegar), to help curdle the milk for that buttermilk flavour.
Melted vegan butter. You can use salted or unsalted vegan butter.
Sugar. This enhances the natural sweetness of the cornmeal. You can omit, reduce or use a sugar replacement if you prefer.
You can easily modify these cornmeal waffles! Try:
Adding a tablespoon of chopped green onion to the batter
Adding a quarter cup of fresh corn kernels to the batter
Stir a tablespoon of chopped fresh herbs, like parsley or a little thyme
Add a chopped red chili for some heat!
Add a teaspoon of cinnamon for a little spice
Add a teaspoon of vanilla extract for a sweet waffle
Instructions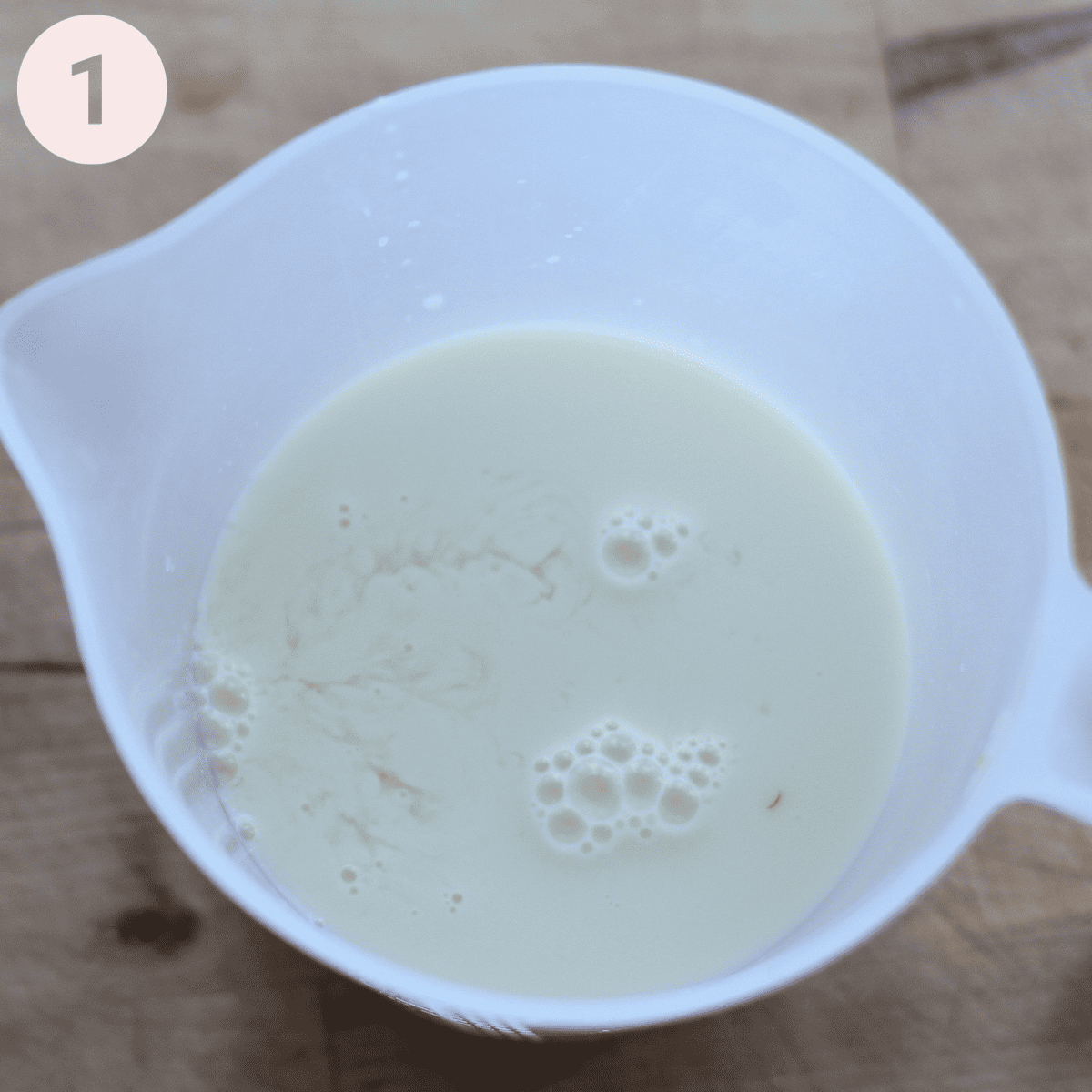 You need to first turn your non-dairy milk into "buttermilk" by adding the juice from half a lemon to it, You will see it start to curdle almost instantly. I use soy milk, but you could use almond milk, coconut milk, or any plant-based or nut milk of your choice.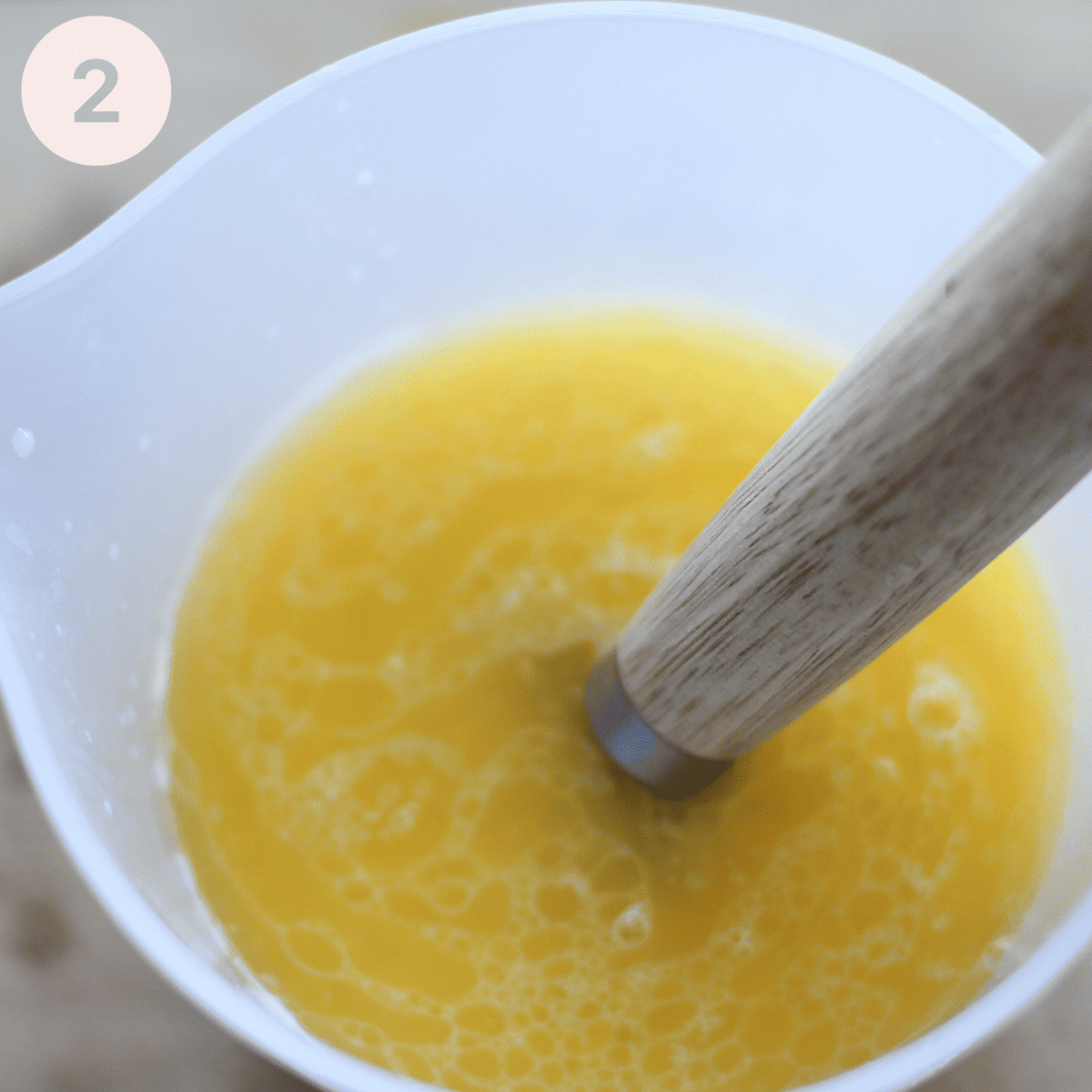 While your milk is curdling, if you are using coconut oil or vegan butter, melt this in a small bowl in the microwave. Let cool slightly before adding the melted butter or coconut oil to the milk, along with vanilla extract (if using).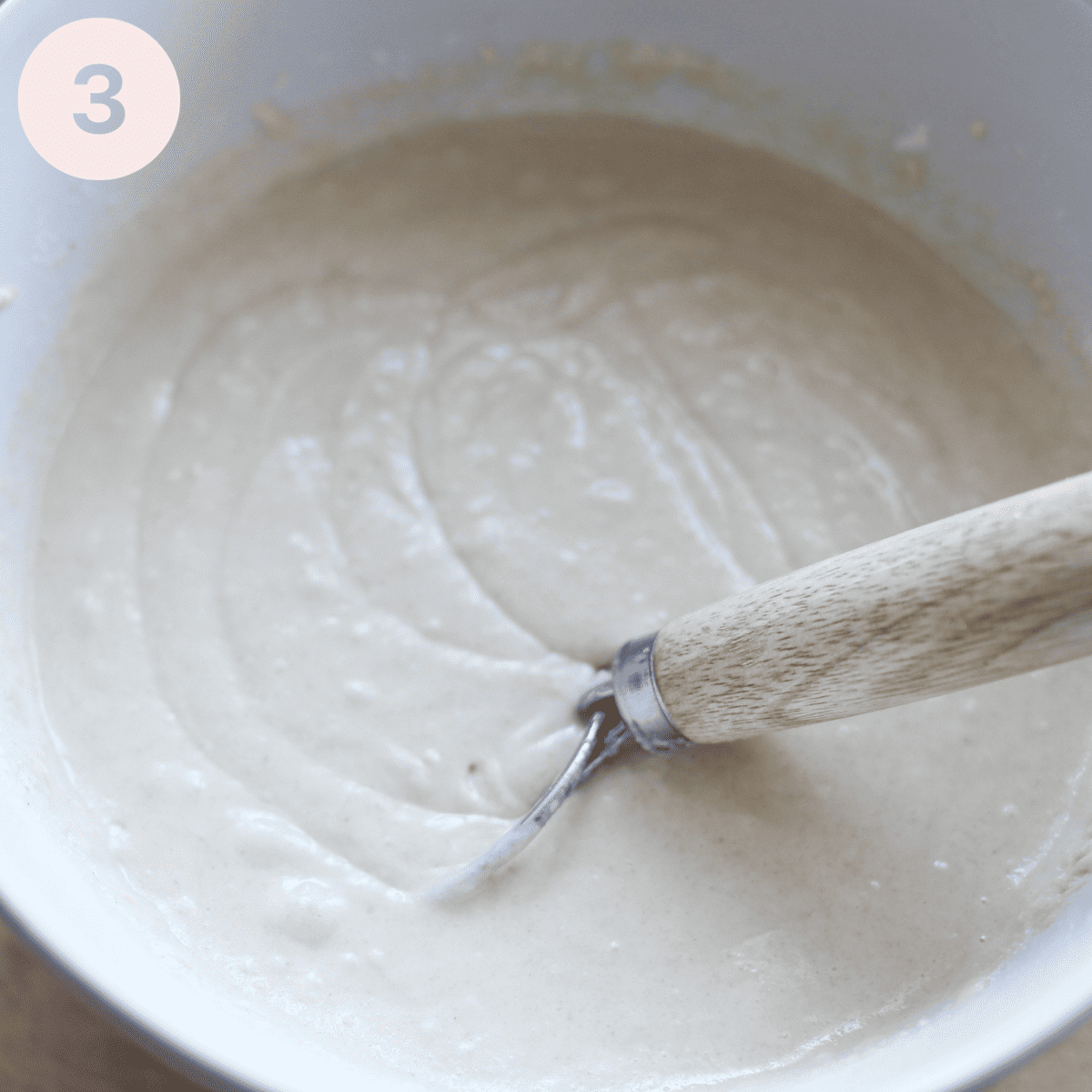 Whisk this mixture then pour into the dry ingredients. Stir gently until you can't see any more lumps of flour.
Leave to stand for about 5 minutes at room temperature. This activates all the rising agents in the flour and baking soda, helping to promote light crispy waffles.
Tip! At this point, you can clingfilm the bowl and place it in the fridge overnight, ready for the next day!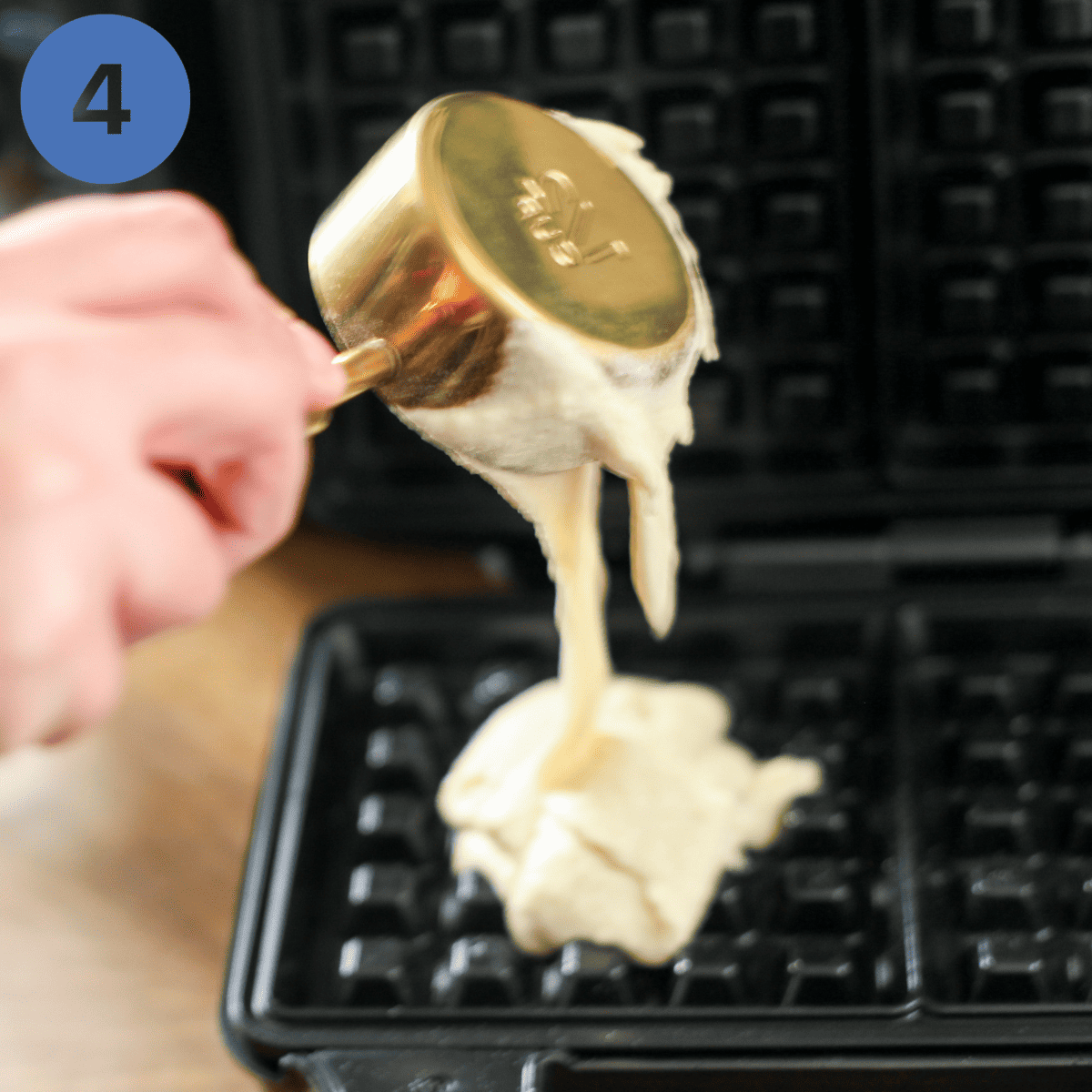 You can now make your waffles in accordance with manufacturers guidance for your waffle machine. As a rough guide, I use 3/4 cup of batter per waffle.
How do you serve Vegan Cornmeal Waffles?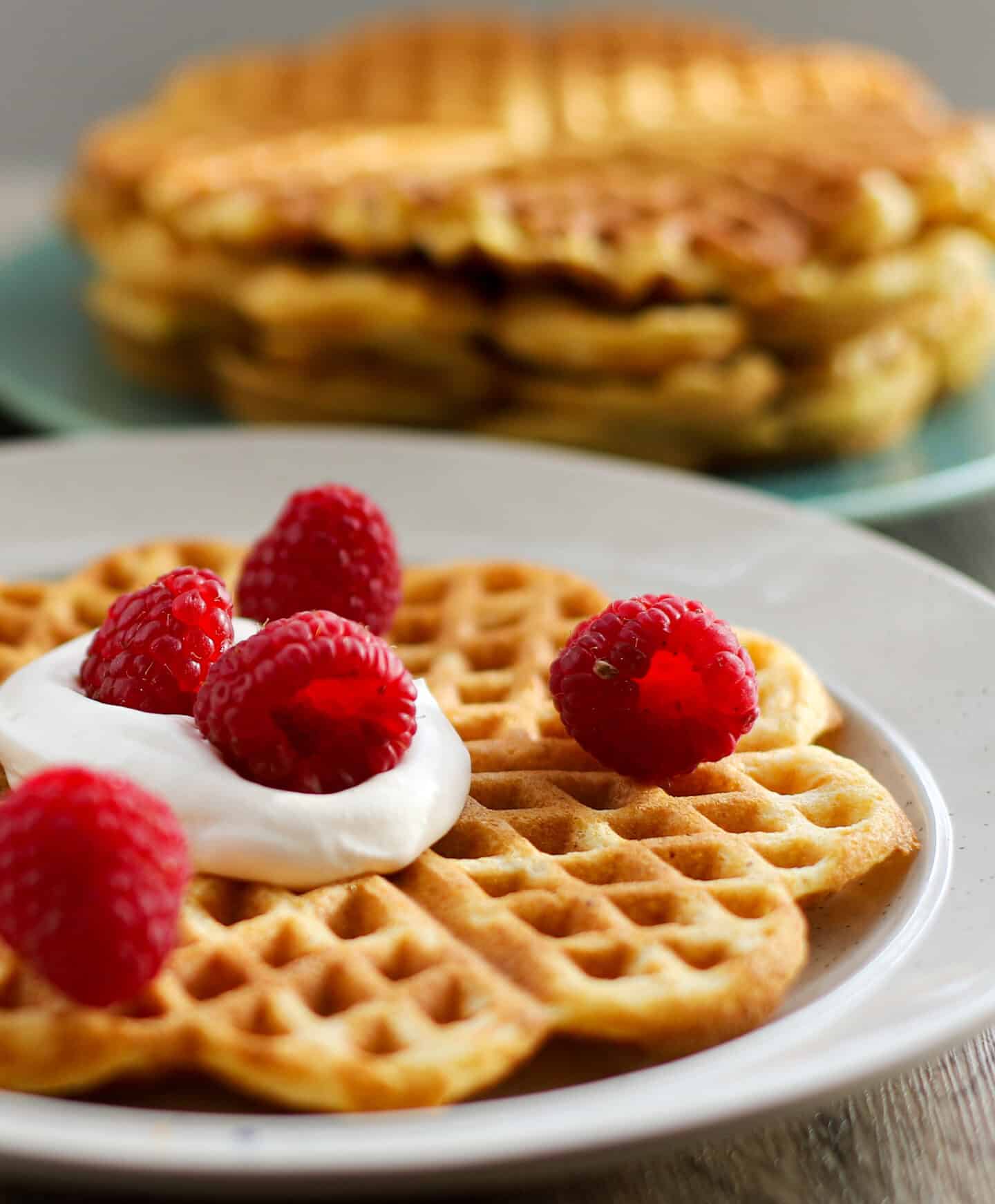 You can serve these as savory waffles, with some vegan sausage, tofu scramble, or cheeze melted on top, or serve them sweet, drizzled with some pure maple syrup or coconut whipped cream and fruit.
Try my other delicious vegan breakfast recipes
Vegan Cornmeal Waffles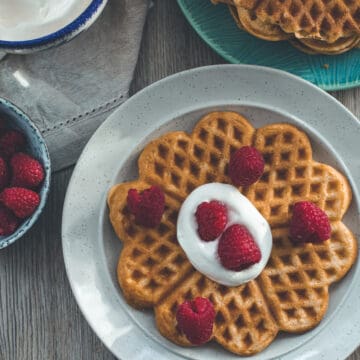 A simple recipe for these deliciously flavoured waffles
Ingredients
1½

cups

Plain Flour

3

tsp

Baking Powder

1

cup

Cornmeal

-

coarse

4

tsbp

Sugar

½

tsp

Salt

2

cups

Soy Milk

-

or plant-based milk of your choice

2

tbsp

Lemon Juice

¾

cup

Butter

-

vegan, melted
Instructions
Add the milk and lemon juice to a large jug. Leave to stand whilst you prep the dry ingredients

In a large bowl, mix together flour, baking powder, cornmeal, sugar and salt

Add the melted butter to the milk/lemon mixture and mix

Pour this into the dry ingredients and gently stir until there are no patches of dry flour

Cook on your waffle maker, again, as per manufacturers instructions
Please note that where the recipe asks for milk, butter or yogurt, this refers to any plant-based version that you prefer.
Nutrition Facts
Vegan Cornmeal Waffles
Amount per Serving
% Daily Value*
* Percent Daily Values are based on a 2000 calorie diet.