How to Make Vegan and Gluten Free Cornbread
Vegan and gluten free cornbread, a simple yet delicious savory, cakey bread, perfect to serve with gumbo, or chili. This cornbread is quick and easy to prepare, eggless, dairy-free but full of flavor!
I tried cornbread about twenty years ago, from a Jiffy packet mix. You mix it all up with milk and an egg and bake it a muffin pan, or just a square cake tin. Back then one of the ingredients was lard, although they have since produced a vegetarian packet mix too. Unfortunately, it's not gluten free, and furthermore, not available over here in the UK anyway (well, it is, but at some cost for shipping etc). So, I decided to take matters into my own hands and to learn how to make cornbread from scratch. And furthermore, how do you make vegan cornbread?
I love to serve this cornbread with my vegan gumbo recipe here, and some smokey collard greens on the side!
I remember trying Cornbread for the first time, dripping with butter, and stirring it into Gumbo. It was so good. Quite unlike anything I'd even had, a deliciously grainy texture, delicately flavoured with corn.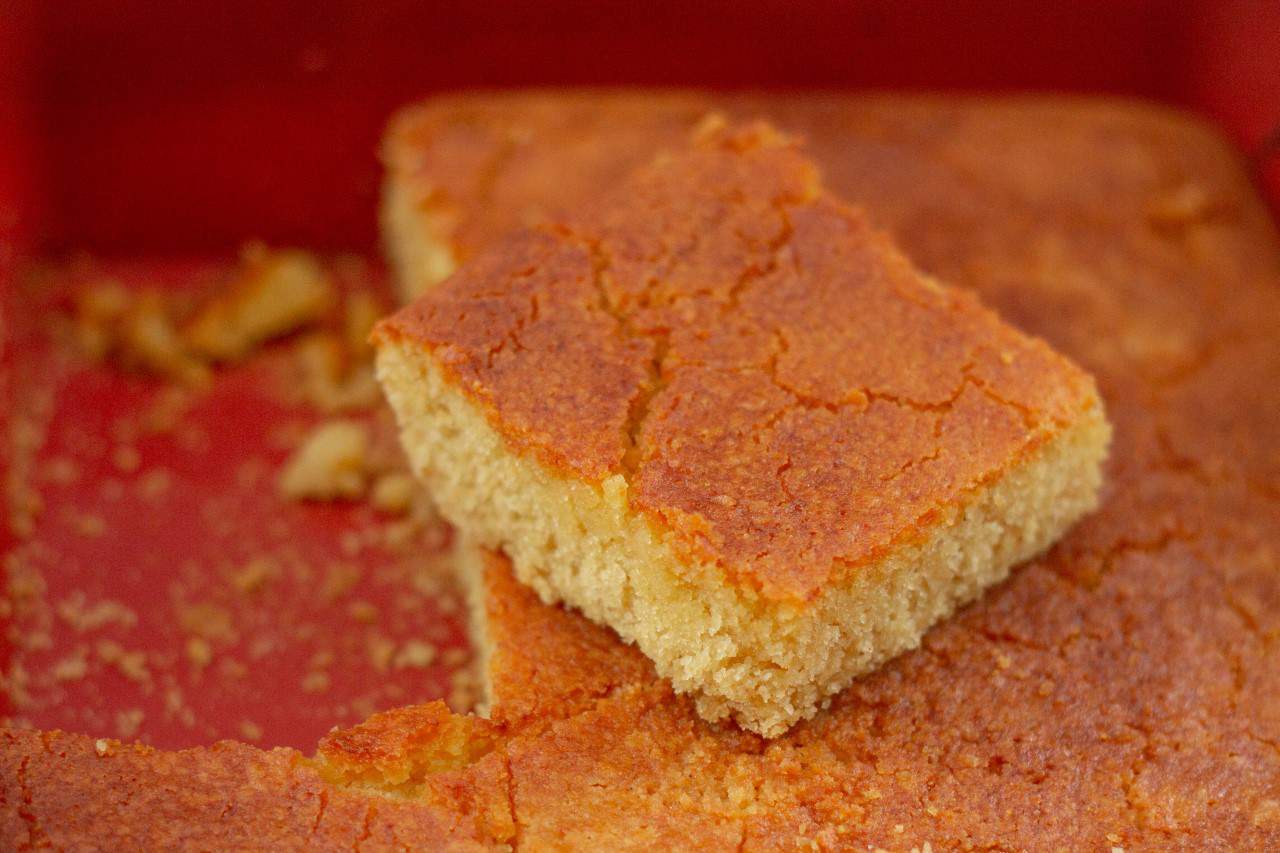 What is Cornbread?
Traditionally it was made in a blackened or seasoned skillet, years of cooking flavouring it indelibly, yet not imperceptibly. It seems like it has been around in the Americas for thousands of years, perhaps 6000, and its roots are traced back to the Tehuacan Valley of Mexico. Roasted corn was ground up into a coarse meal and then mixed with, assumedly water or lard, and formed into a patty that was baked over open fire. Of course, without the benefit of the leavening of eggs or flour, the corn cakes would stay flat, but nutritious.
Over time, and with the benefit of adding flour and egg and baking powder, the cornbread become the cakey delicacy that we enjoy today.
Interestingly, because this recipe uses flour in addition to the cornmeal, plus the rising agent of Baking Soda this is sometimes referred to by Southerners as Yankee Cornbread as this version originates from the North of the country and it is not considered true Cornbread. These additions make the Cornbread more 'cakey' and it loses that delicious, slightly grainy texture that true Cornbread has.
Actually though, I would defy anyone to not love this tasty variation, traditional or not, because it combines everything that's great about baking and cooking: cake, hot chilies and cheesy topping. It's what I dream about.
How Do I Make Vegan Cornbread?
Use vegan butter instead of dairy butter. You can use coconut or vegetable oil if you'd rather, but it gives you a less buttery taste (as you might expect!)
There are no eggs in this recipe!
Use vegan yogurt, (I like Alpro plain yogurt) instead of buttermilk
Use dairy-free milk instead of dairy milk.
Gluten-Free Flour instead of Regular Plain Flour (however, this recipe works just as well with plain flour)
You can use Polenta or Cornmeal for this. Both are actually the same thing, but do try and get coarse, as it gives the Cornbread it's distinctive texture.
What Can I Eat Cornbread With?
You can use it, crumbled up, to make a stuffing for Squash or Peppers, mixing it with sauteed onions or peppers.
Served with Chilli
Served with Gumbo
Served with your favourite Soup, I love it with my Green Chilli Hominy Soup
Eaten on it's own, warm and dripping with syrup and vegan butter
The method is incredibly easy. You simply melt your butter and sugar in a microwaveable jug, and add it to the dry ingredients, then pour into your prepared baking dish.
How Can I Improve My Cornbread?
Try adding all or any of the following to your cornbread batter:
Grated Vegan Cheese
Tinned or freshly hulled Sweetcorn (use about half a cup)
Some chopped vegan bacon
Chopped Spring Onions
Some freshly chopped herbs, I suggest parsley or chives for a great flavour
You can even bake your cornbread mixture on top of your chilli! Make a chilli, spread that out into a baking pan and top with cornbread batter. Sprinkle with grated vegan cheese. Bake at 200c for 30 minutes, or until the cornbread is baked through.
Vegan and Gluten Free Cornbread
How to make vegan and gluten free Cornbread
Equipment
6" square (or round!) baking pan or 12 cup muffin pan (not jumbo), lined

Microwaveable Jug or dish
Ingredients
½

cup

Butter

vegan

½

cup

Granulated Sugar

¾

cup

Soy Milk

or unsweetened plant-based milk of your choice

½

cup

Soy Yogurt

Natural, unsweetened

1

cup

Plain Flour

gluten-free brand of your choice (or use regular plain flour if not gluten intolerant)

1

cup

Cornmeal

coarse

3

tsp

Baking Powder

½

tsp

Bicarbonate of Soda

1

tsp

Salt
Instructions
In a microwaveable dish, melt the butter and sugar together, about 30 secs

Stir in the yogurt and milk

In a large bowl, whisk together all the other ingredients. Make a well in the centre

Pour in the wet ingredients and gently mix until combined. Don't worry about a few odd lumps here and there.

Add in any extras you might like to add at this point.

Pour into your prepared lined baking dish or muffin tin.

Bake in a preheated oven at 200c for 35-40 minutes or until golden brown.

Leave to cool in the pan for about 5 minutes before cutting into squares or lifting out the muffins
Nutrition Facts
Vegan and Gluten Free Cornbread
Amount per Serving
% Daily Value*
* Percent Daily Values are based on a 2000 calorie diet.