If you've ever wondered how to cook collard greens, particularly if you are from the UK, wonder no more - my simple braised collard greens ensures that you have a tender green, full of flavor but no bitterness. A perfect side for any meal!
Have you ever wondered what collard greens are? Maybe you've read about them in an American cookbook and thought, do we have collards over here (in the UK).
Jump to:
On trips to the US, I was lucky enough to find some canned collard greens, and these are really delicious, although impossible to find over here. Furthermore, they are not vegan (or even vegetarian) friendly, so let's look for another option!
This was inspired by my dirty rice recipe, and also pairs well with with my delicious vegan and gluten free cornbread recipe or my braised red cabbage.
What are Collard Greens?
Firstly, let's explain what collard greens are. The collard is a loose leaf vegetable, meaning that, unlike cabbage, it doesn't grow in a tight "ball" of leaves, you can just pick them, much like spinach. The word collard comes from a charming medieval word, colewort, meaning a non-heading brassica.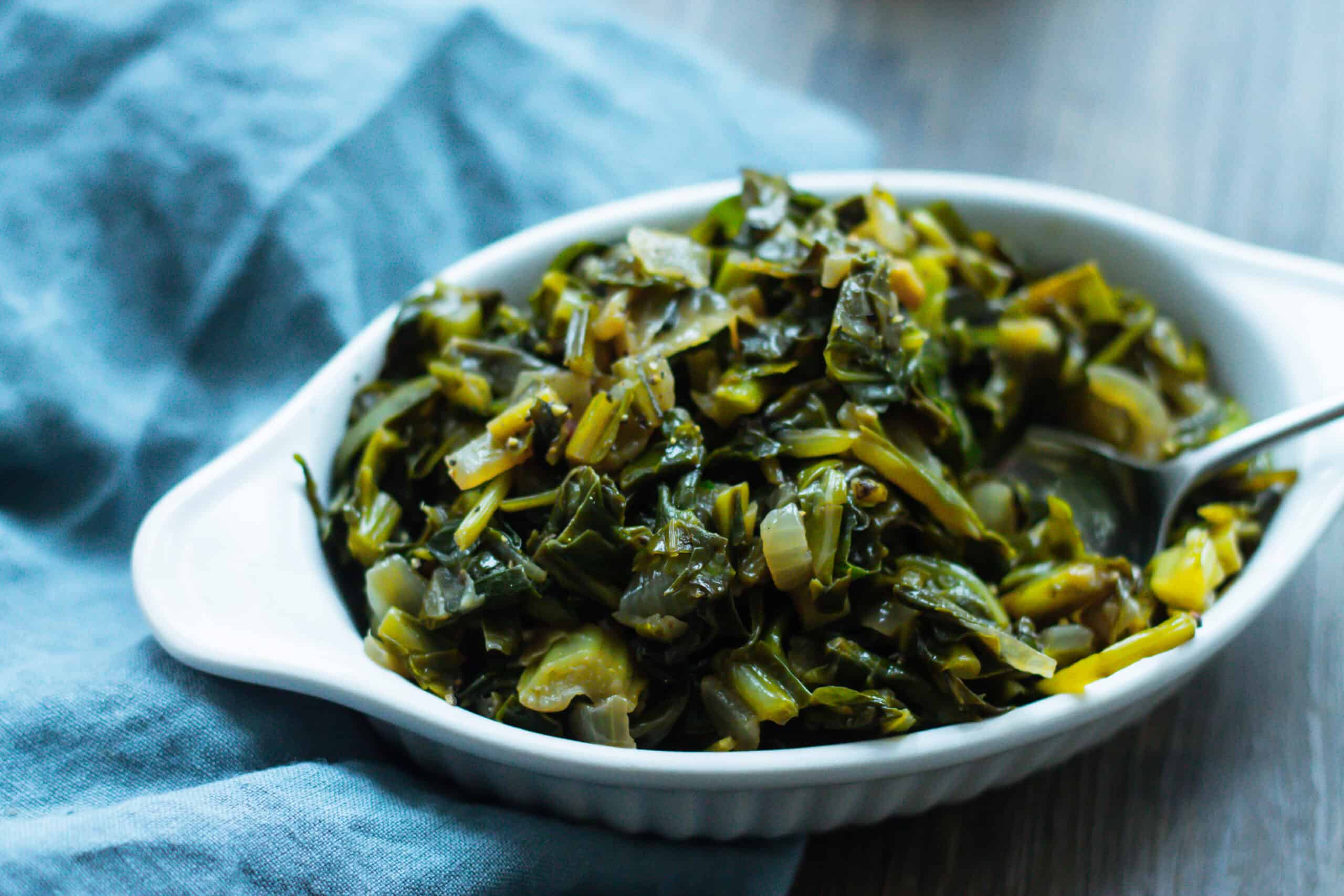 They have been around for a long time, some reports say more than 2000 years, when the ancient Greeks first cultivated them.
They are a staple ingredient in southern cooking, beloved in Turkey and East Africa, but are not very popular in the UK. Perhaps this is in part due to their slightly bitter and tough texture, or perhaps because kale or spinach or spring greens are preferable.
A glance through old recipe books shows that collards have never really been utilised at all in the UK, although we have the perfect climate for growing them. I had kind of written off being able to eat collards over here until I found that Natoora sell them, and they're grown in the UK! You can buy them easily on Ocado if you're tempted to give them a go. You'll be rewarded with a rich tasting green, with a buttery texture, somewhat akin to spring greens but with more of an iron tang.
How do you cook Collard Greens?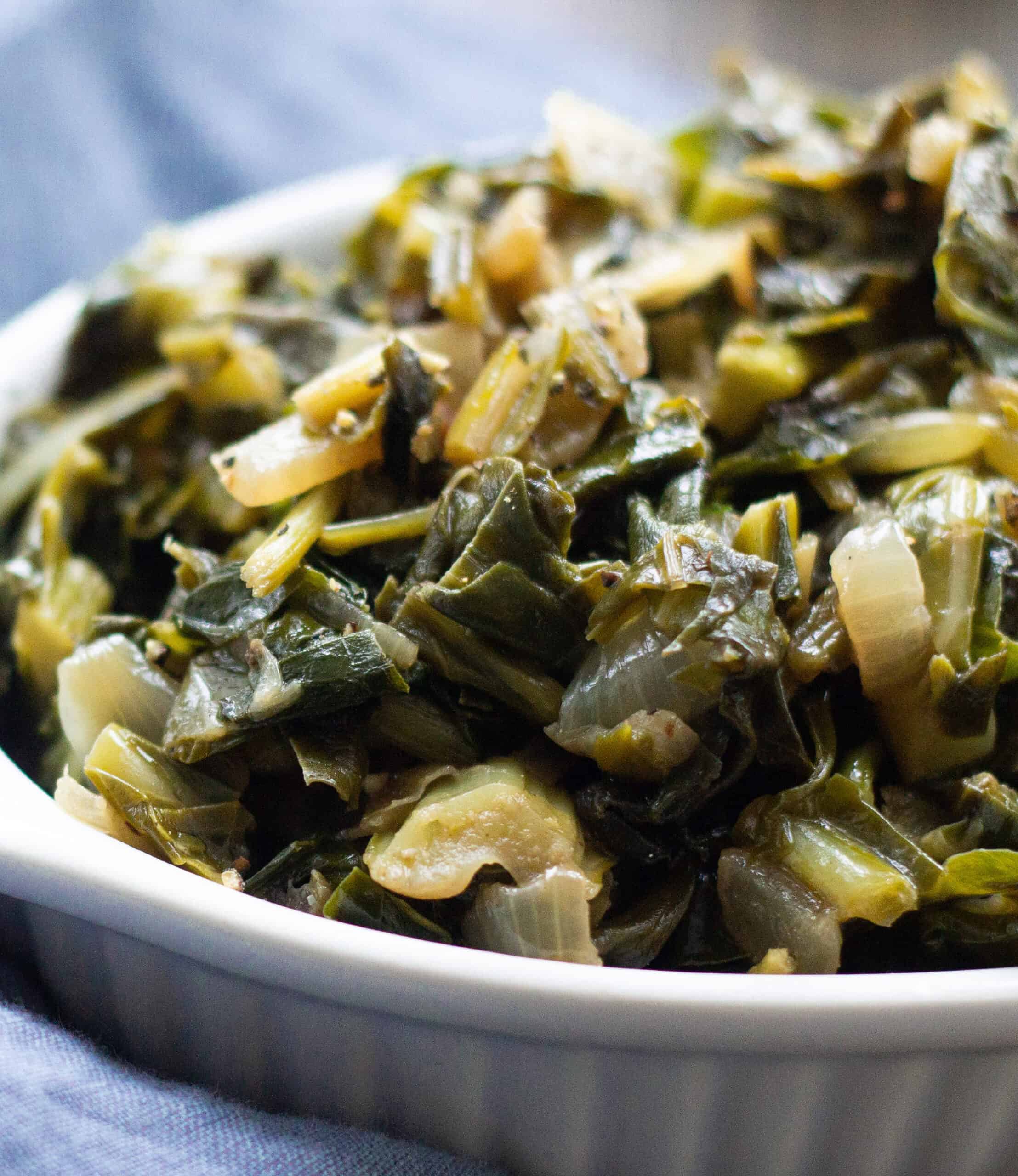 Long and slow brings out the unique buttery, velvety texture of collard greens, but you can also use them as you would cabbage leaves, stuffed and baked, or even as a filling for ravioli.
Ingredients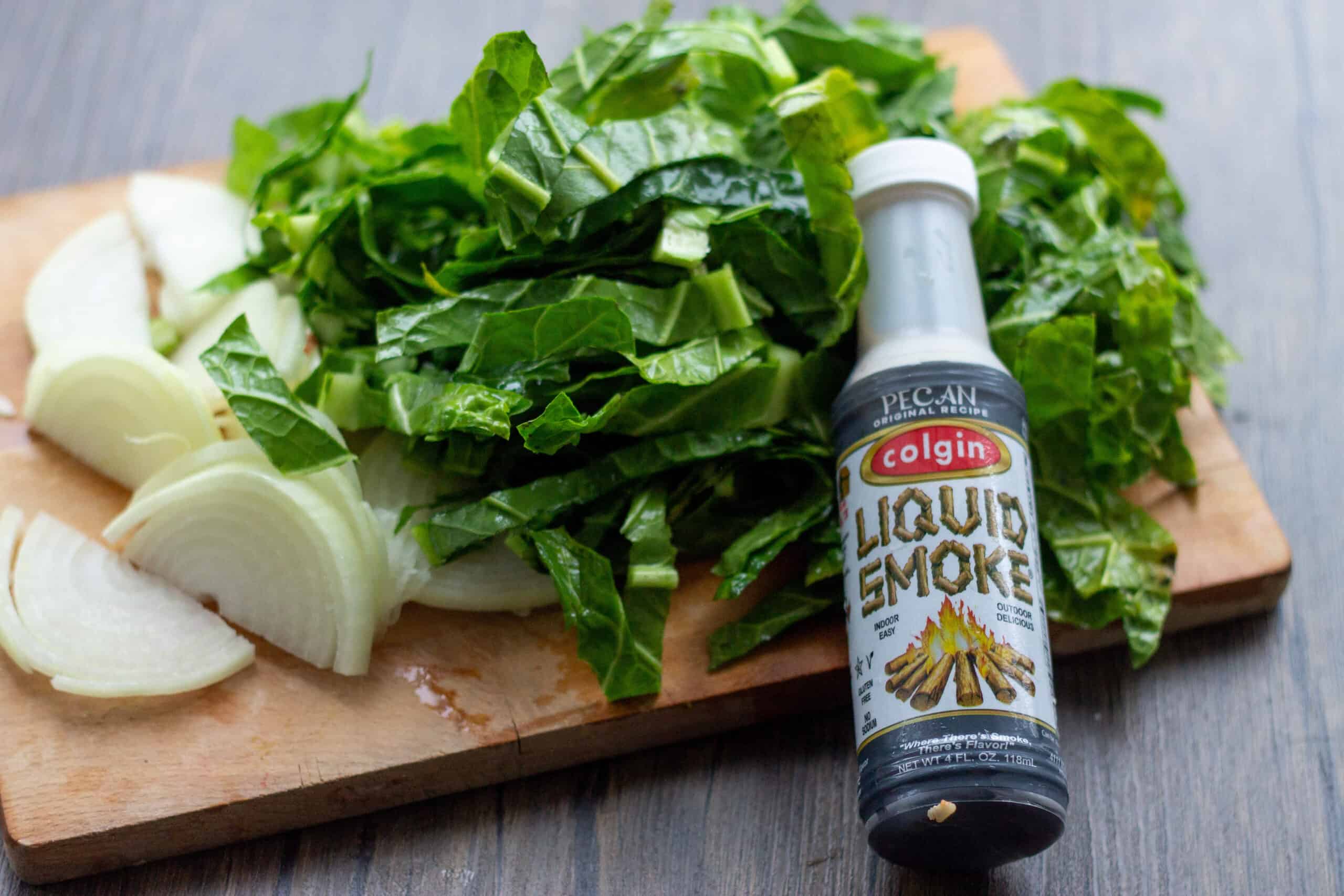 collard greens
liquid smoke
onions and garlic
See recipe card for quantities.
Instructions
Place the collard leaves in a large bowl of cold water and leave to soak for five minutes or so. Rinse and drain, then chop into shreds.
Meanwhile, sauté onion and garlic until tender.
Add the shredded collards and cook until they just start to wilt.
Cover with some water, put a lid on the pan, then leave to gently simmer until tender.
Add a little liquid smoke (to taste), seasoning and tabasco, then serve.
Substitutions
You can certainly use spring greens instead of collard greens. They're not quite the same, perhaps a little tenderer, but you can make a comparable dish.
Variations
Spicy - add chili pepper flakes while cooking to imbue heat into the dish, or banana peppers
Deluxe - add some chopped fried vegan bacon and fried onions
Storage
Store in the fridge once cooled, and these will be good for 2-3 days.
Once cooled, place cooked collards in a ziplock bag and freeze for several months. To thaw, place in a bowl overnight, then reheat in a saucepan.
Top tip
Make sure to wash your collard greens in a large bowl of water, rinsing a few times. They can harbor grit, which is really unpleasant!
📋 Recipe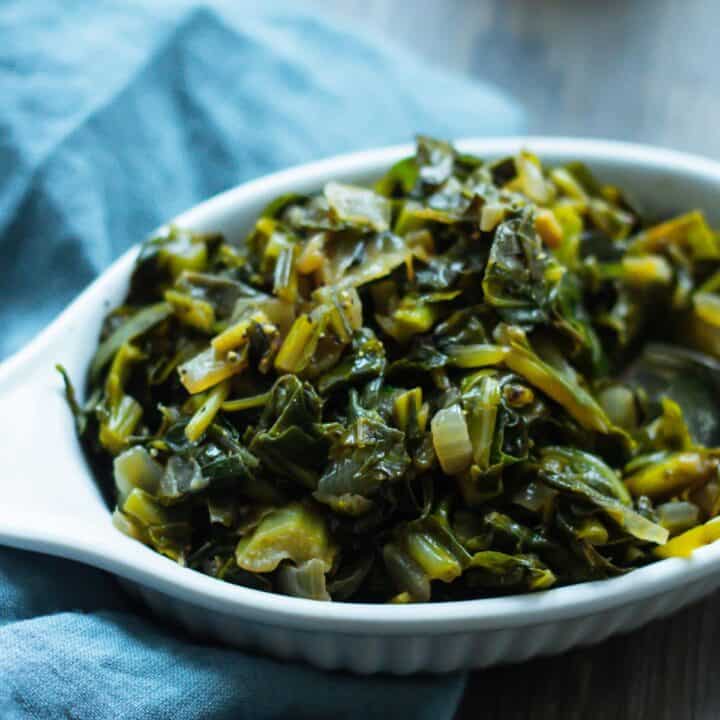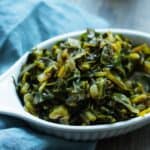 PRINT
A delicious and simple recipe to bring out the flavor of collard greens
Ingredients
500

g

Collard Greens

fibrous stalks removed and leaves roughly chopped

1

Onion

small, chopped finely

2

Garlic

cloves, peeled and finely diced

1

tablespoon

Olive Oil

1

teaspoon

Liquid Smoke

1

teaspoon

Salt

1

teaspoon

Black Pepper

Tabasco Sauce

to taste
Instructions
Add the olive oil to a large saucepan and add the onion and garlic. Sauté gently until tender and translucent.

Add the chopped collard greens and stir well. Allow the greens to wilt in the heat of the pan, then add a quarter cup of water. Cover.

Cook until the collard greens are completely tender and buttery in texture. Add the seasoning, liquid smoke and tabasco sauce to taste.
Nutrition
Calories:
85
kcal
|
Carbohydrates:
10
g
|
Protein:
4
g
|
Fat:
4
g
|
Saturated Fat:
1
g
|
Polyunsaturated Fat:
1
g
|
Monounsaturated Fat:
3
g
|
Sodium:
607
mg
|
Potassium:
319
mg
|
Fiber:
6
g
|
Sugar:
2
g
|
Vitamin A:
6277
IU
|
Vitamin C:
47
mg
|
Calcium:
302
mg
|
Iron:
1
mg
Tried it and Loved it?
Mention @sweeterthanoats or tag sweeterthanoats!