Vegan Rice and Bean Salad – full of veggies and protein!
This post contains links to affiliate websites, such as Amazon, and we receive an affiliate commission for any purchases made by you using these links. We appreciate your support!
Vegan Rice and Bean Salad – it sounds about as veggie as it can get, and you'd be right! This delicious "salad" is made from brown rice, kidney beans and lots of delicious sautéed veg! Served hot or cold, it's a family pleaser whichever!
I call this is a salad, notably because the old cookbook I found it in (The Bean Book by Rose Elliott) called it thus. However, I'm not I'd really call it a salad, although what would I call it? It's served cold, has vegetables in it, but it's cooked. Well, let's not dwell on the semantics of the name and instead marvel at this deliciously savoury recipe.
This was inspired by my bulgur wheat with roast veg, you can definitely serve this in the middle of summer OR winter. I also love to serve it alongside my vegan meatballs, instead of spaghetti!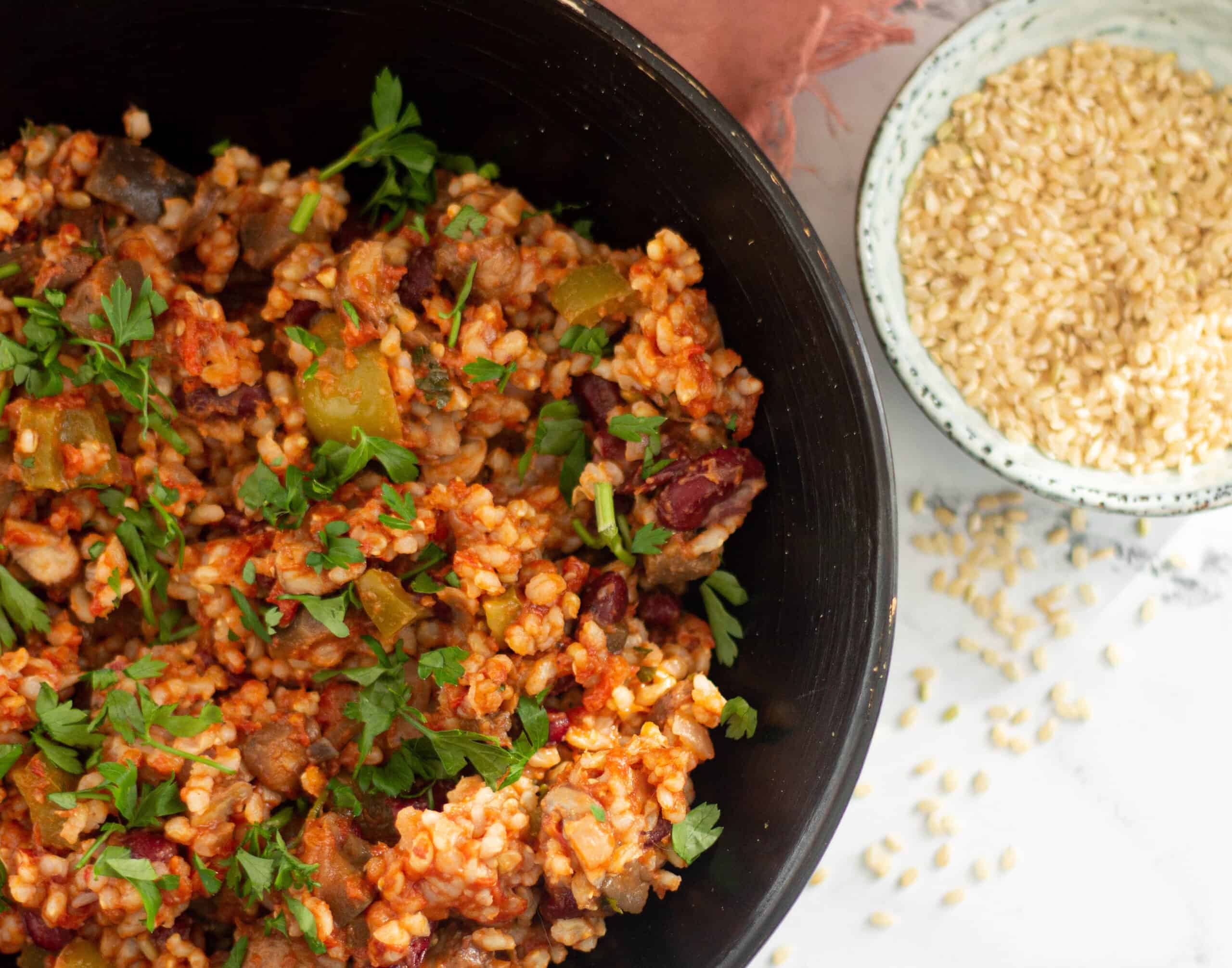 Made with cooked brown rice, kidney beans, mushrooms, eggplant and tomatoes, and seasoned generously with tabasco for a spicy kick, you can modify this to your heart's content. Don't like eggplant? Use zucchini. Don't like mushrooms, use more eggplant (or zucchini). And this is versatile stuff. I sometimes mix some vegan feta into it, and then stuff peppers with it, and bake them. The recipe makes quite a large quantity, so it's nice to be able to use it for more than one dish.
Ingredients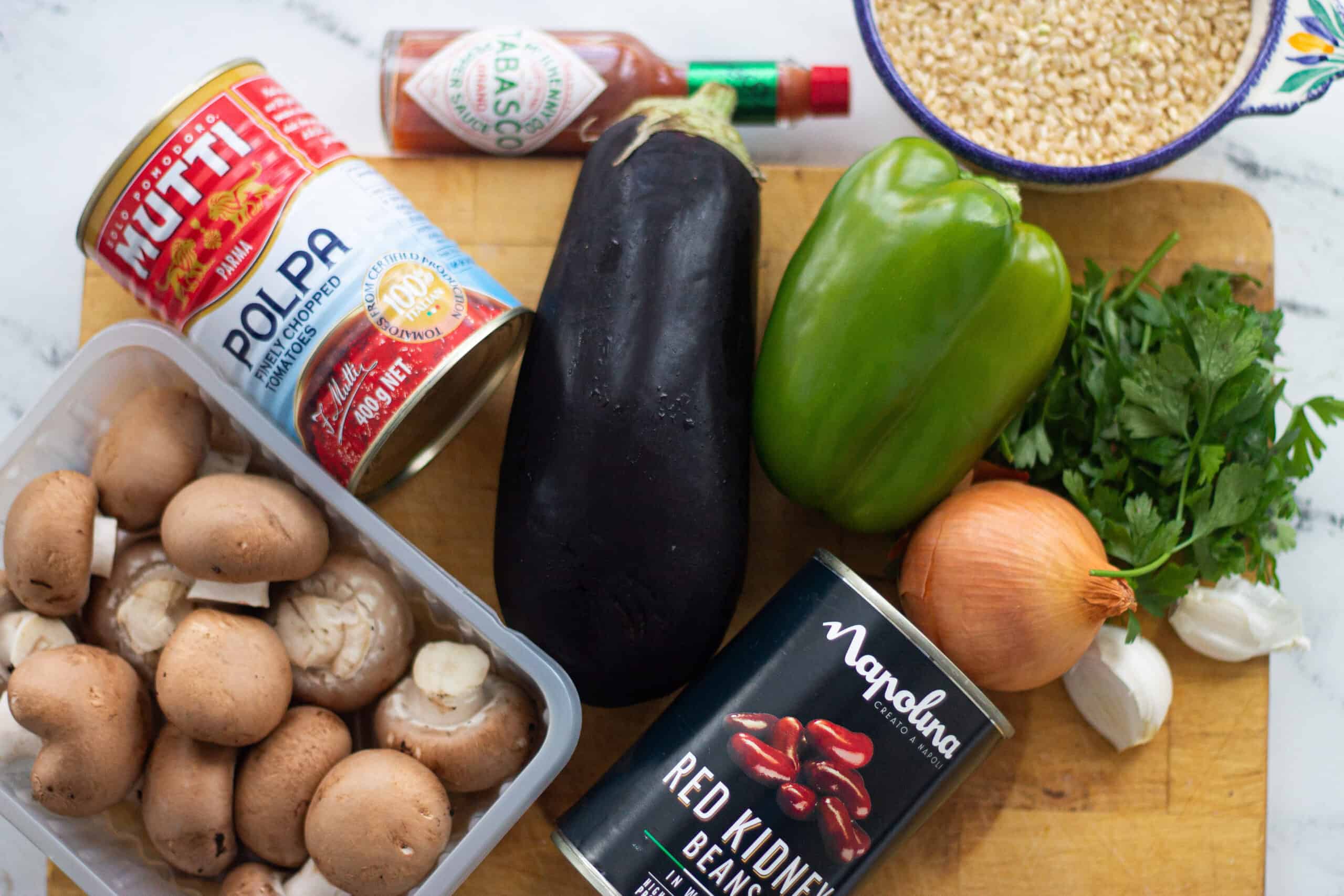 brown rice. I used short grain as that was all I had, but feel free to use long grain
kidney beans, canned, drained. The original recipe suggests cooking your own, but life is too short!
eggplant.
mushrooms
bell pepper
See recipe card for quantities.
Instructions
Chop eggplant into cubes and sprinkle with salt. Leave to drain in a colander.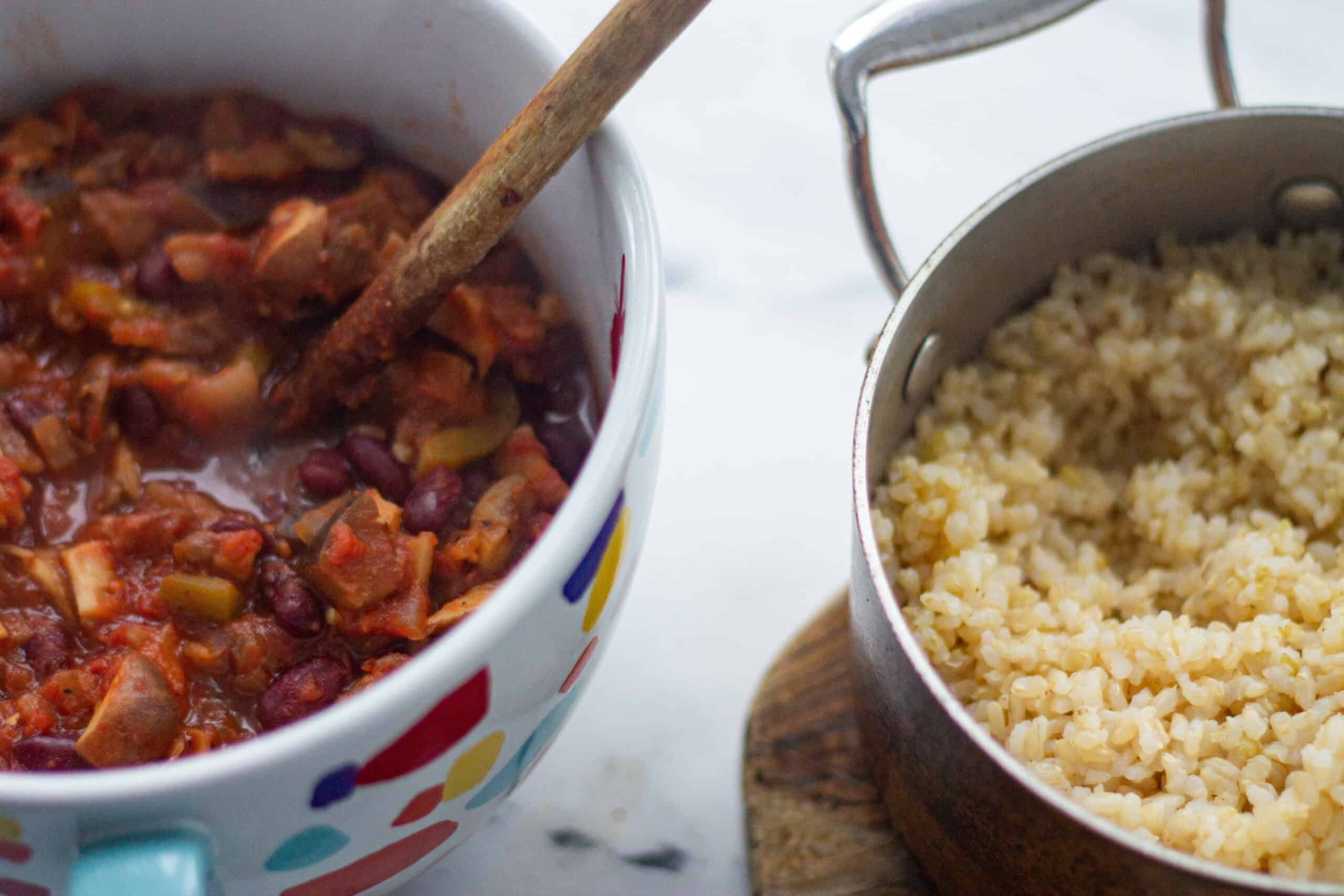 The cooked rice and sauce ready to combine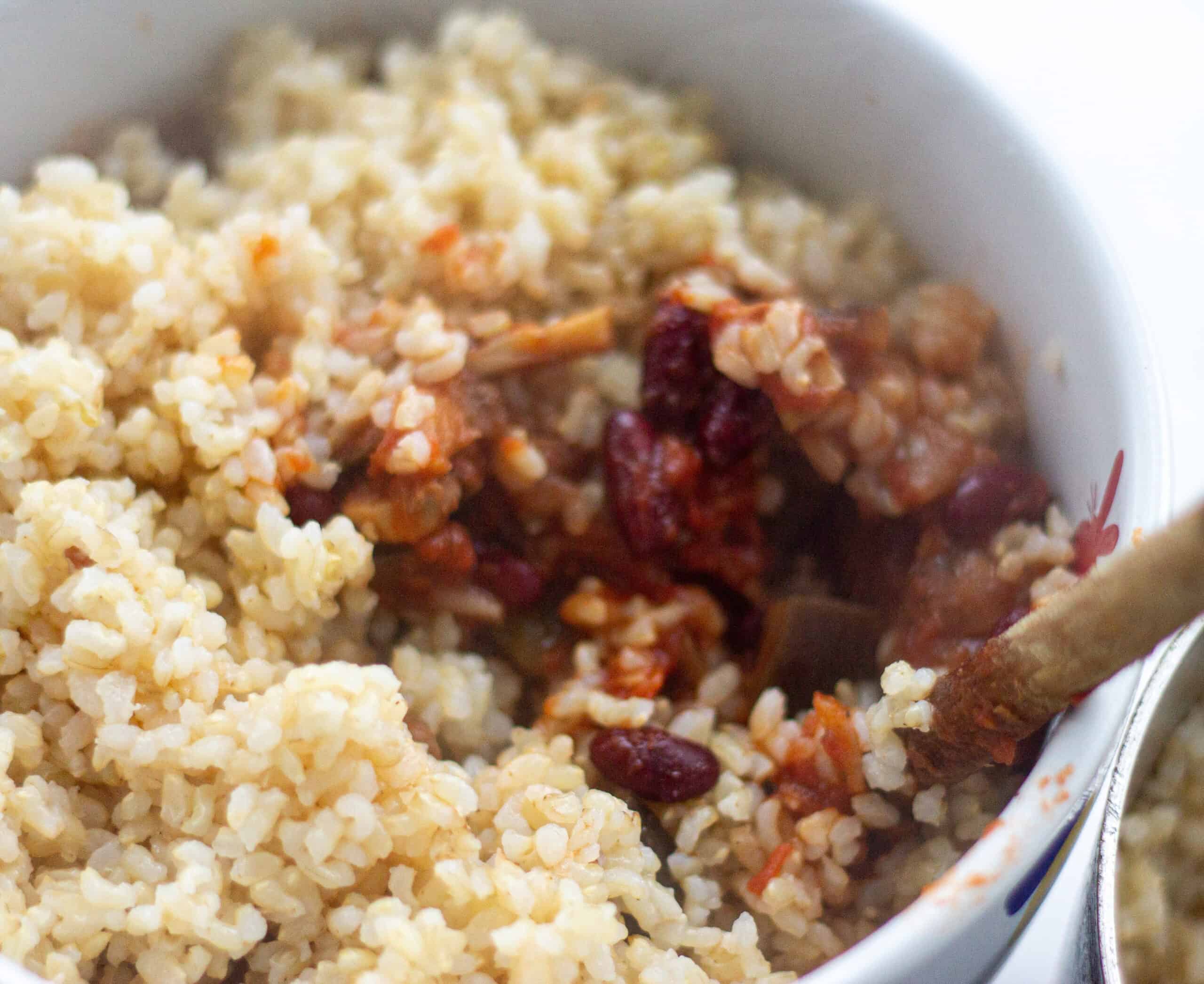 Gradually add the rice into the sauce and mix gently until combined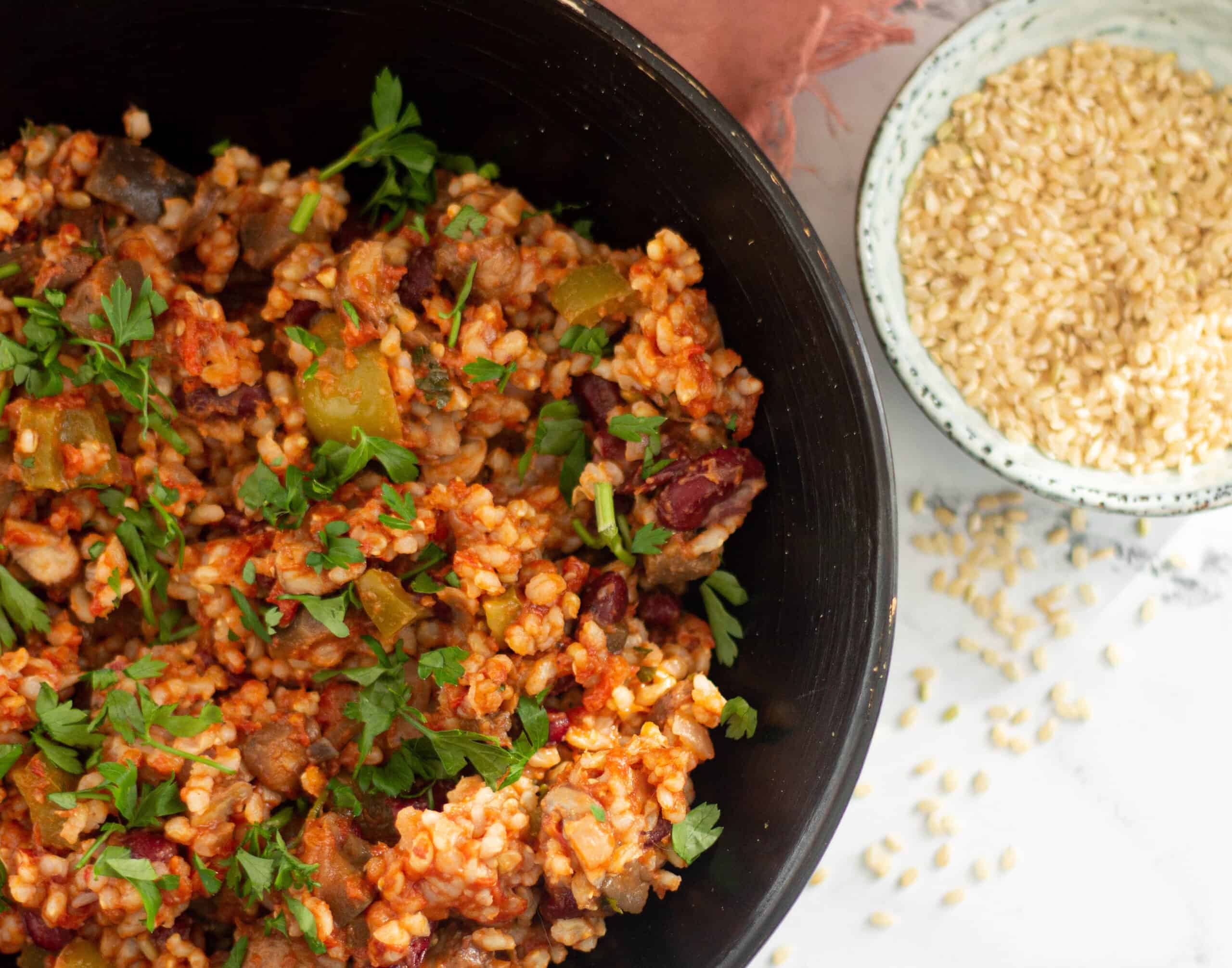 Ready to serve!
Firstly, cook the rice. Use my guide here as to how to cook certain types of rice, if you're using something other than brown. Normally when I cook brown rice, I use three times the volume of water to rice. So, if I use a cup of rice, I use 3 cups of water.
Hint: you can also use a ready cooked pouch of rice if you're just not confident cooking rice, don't worry about heating it up.
While the rice is cooking, prepare your sauce.
Sauté the onion, garlic and chopped bell pepper in a little olive oil until soft and translucent.
Add the eggplant and mushrooms and sauté lightly for another 5 minutes, until the eggplant is softened.
Add the canned tomatoes, kidney beans and some salt and pepper to taste. Don't worry too much about seasoning at this point, you will be needing to add more once the rice is added.
Simmer this for 20 minutes (or longer if you like), until you have a thick, rich sauce.
Remove from the heat and stir in the cooked rice. Taste again for seasoning, add the chopped parsley and, if using, add as much or as little tabasco sauce as you like.
Leave to cool completely before serving.
You can also serve this hot, alongside some steamed veg or braised tofu.
Substitutions
If you know how to make the recipe fit a certain diet, let the reader know here. Don't fake it – only provide guidance on topics you have actual experience with.
Tinned Tomatoes – add some fresh chopped tomatoes if you have a glut of delicious ones
Eggplant – use zucchini (courgette) instead. If you use eggplant, chopped into small dice, place in a colander and sprinkle with some salt. Leave for at least 15 mins, then drain and rinse. This removes any bitterness from the eggplant.
Kidney Beans – use black beans, cannellini beans, chick peas, whatever canned pulses you have in your store cupboard
Variations
This recipe lends itself to variations, so go ahead and experiment!
Spicy – add chili pepper flakes while cooking to imbue heat into the dish, or banana peppers
Deluxe – serve with some grated vegan cheese on top or some vegan sour cream
Storage
Good for at least 2-3 days stored in an airtight container in the refrigerator.
I don't recommend freezing.
Top tip
This can be served warm as well, or used as a stuffing for peppers or tomatoes, then baked in the oven!
If the tinned tomatoes are a little wishy washy, add some tomato puree or ketchup to give the sauce a little more flavor.
Vegan Rice and Bean Salad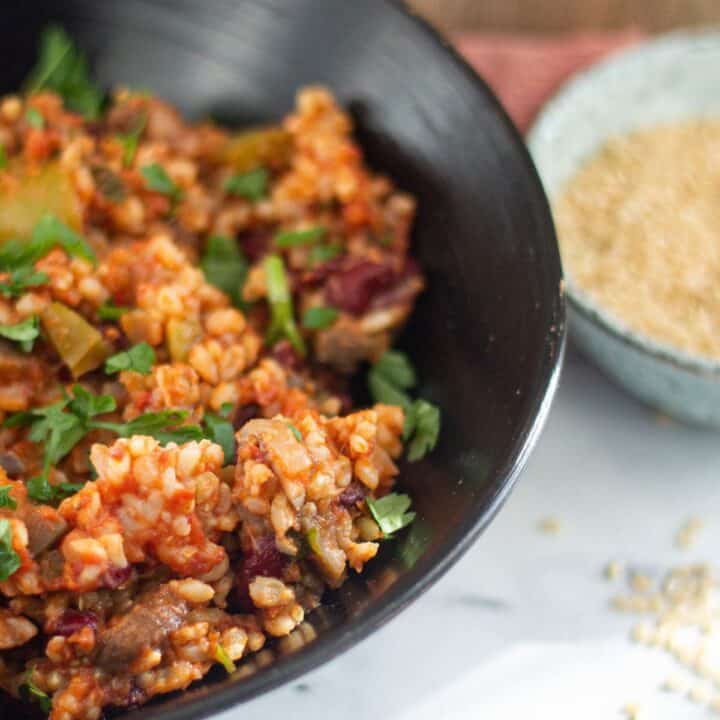 A delicious salad that can be served hot or cold
Ingredients
15.5

oz

Kidney Beans

-

tin, drained

15.5

oz

Tomatoes

-

tinned

225

g

Brown Rice

1

Eggplant

-

medium, cut into dice and sprinkled with salt

1

Bell Pepper

-

green, diced

1

Onion

-

medium, peeled, diced

2

Garlic

-

cloves, peeled, finely chopped

250

g

Mushrooms

-

finely chopped

1

tbsp

Parsley

-

fresh, chopped

2

tbsp

Olive Oil

Seasoning to taste

½

tsp

Tabasco
Instructions
Firstly, cook the rice. I pour the measured rice into a cup or small mixing bowl. Add this to the saucepan. Then fill the same cup or mixing bowl with water 3 times and add this to the pan. If you are using a different rice, you will need different quantities of water.

Bring to a boil, then cover and turn down to the lowest setting and simmer until tender. Brown rice can take up to an hour to cook to tender.

Whilst the rice is cooking, prepare the sauce. Add the olive oil to a large saucepan, and add the onion, garlic and chopped bell pepper.

Sauté

until tender.

Add the mushrooms and eggplant and

sauté

for another 5 minutes.

Finally, add the tinned tomatoes and kidney beans, and simmer for another 20 minutes until all the flavours are fully amalgamated.

Taste sauce for seasoning and add salt, pepper and tabasco to taste.

Once the rice is cooked, stir this into the sauce. Taste again for salt.

Sprinkle over the parsley and stir through.

Leave to cool completely and serve.
Please note that where the recipe asks for milk, butter or yogurt, this refers to any plant-based version that you prefer.
Nutrition Facts
Vegan Rice and Bean Salad
Amount per Serving
% Daily Value*
* Percent Daily Values are based on a 2000 calorie diet.
FAQ
Can I use other beans or chick peas?
Yes, go ahead and use whatever canned pulses you have in the cupboard, or use a mixture!