Vegan apples in the French style recipe. This is a quick, informal dessert, adapted from Nigel Slater, and which I have renamed Apples in the French Style A La Mode. It is simply apples cooked in a brandy sozzled syrup, served over warm croissants, topped with your favourite vanilla, plant based ice cream.
Jump to:
I was so happy to see the Pret a Manger vegan croissants in the freezers of my local Tesco, but if your local store doesn't stock these, the ones that Pillsbury do in a can are also vegan!
I love this vegan apples in the French style recipe because it tastes so chic, so Parisienne and is a quick, easy vegan dessert.
What Are The Best Cooking Apples?
I use Bramley cooking apples because they have the best flavour and retain their shape during cooking. Also, you get a lot of apple for your buck with these huge cooking ones!
I don't recommend eating cooking apples raw as they are quite tart, and taste quite different to smaller eating apples, however they are so perfect for baking or cooking. However, some cooking apples do tend to leach a little more liquid than eating, or can go a little "foamy" when you first start to cook them. This can cause the infamous soggy bottom in apple pies!
However, because we are simply cooking them in a buttery, caramelly sauce, we don't need to worry too much here.
If you only have eating apples in your fruit bowl at home and can't be bothered to go and find some Bramleys, don't worry! These will be just fine. You may need to use a couple more, as they are much smaller than cooking apples, and they make take a little longer to cook down, but they will work fine.
Do not use crab apples. These are really best in a jam or chutney, where they have been cooked down slowly with lots of sugar and other flavourings to minimize the deeply astringent flavour.
How Do I Make Vegan Apples in the French Style?
Method
Peel your apples, core them, then cut them into quarters. Then cut those quarters into quarters! If you are using a smaller apple, you may not need to cut your apples so fine. You are aiming for an apple slice about ½" thickness.
Add the slices in a single layer to some melted vegan butter and make sure they are coated. Let them cook slowly for a minute or two and then sprinkle over some brown sugar.
Cook for a little longer then turn up the heat an add a splash of brandy or apple juice or cider and let whoosh up. This will help the butter and sugar sauce amalgamate and become unctious.
Then, slice your croissants, not all the way through, but lengthwise and open up like a book. Warm gently under a grill.
Drizzle your apple slices and sauce over your opened, warmed croissant and top with your favourite vanilla ice cream.
Are Croissants Vegan?
Yes! And no. Traditionally, croissants are made with a butter-rich pastry and brushed with butter to give them a rich shine. However, Pillsbury crescent rolls are accidentally vegan, and Pret a Manger have recently produced a range of pastries in the freezers, including vegan croissants (only available at Tesco stores)! Another UK brand, La Boulangere (seen in Sainsbury), also do a decent range of vegan pastries, including croissants and brioche buns. These proprietary pastries have simply replaced normal butter, with vegan ingredients, so you still have that familiar buttery croissant deliciousness.
For another simple but sophisticated sweet, click here for my vegan Florentines recipe. They would be delicious served alongside this!
📋 Recipe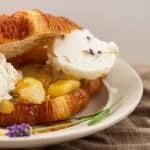 PRINT
Vegan Apples in the French Style Recipe
A deliciously simple yet decadent dessert
Ingredients
2

large

Apples

cookers, cored, quartered, then quartered again

5g

Vegan Butter

vegan

2

tablespoon

Golden Caster Sugar

tablespoon

Brandy

use apple brandy if you have it. If not, use apple juice instead

2

Croissants

vegan

Vanilla Ice Cream

Plant-Based
Instructions
Melt the butter in a sauté pan

Once starting to gently sizzle, add the apple slices.

Cook until starting to go golden on each side, no more than five minutes

Add the sugar and brandy, let it all whoosh up and coat the apple pieces

Cook gently for another couple of minutes.

In meantime, split the croissants and warm under a hot grill, do not toast though.

Pour the bronzed and sticky apples over the split, warmed croissants and put a couple of scoops of ice cream on each half.
Nutrition
Nutrition Facts
Vegan Apples in the French Style Recipe
Amount per Serving
% Daily Value*
* Percent Daily Values are based on a 2000 calorie diet.
Nutritional Information Disclaimer
The automated nutritional information on my recipes can often be inaccurate due to the limitations within the programming. For exact measurements, there are lots of apps and websites that can calculate this information more accurately.
Tried it and Loved it?
Mention @sweeterthanoats or tag sweeterthanoats!