Easy Vegan Quiche – you won't believe that it's eggless!
Easy vegan quiche recipe. Yes, it IS possible to make an eggless, dairy-free quiche AND it tastes delicious! Read on to find out how!
PIN my Vegan Quiche to make later
I love to serve this alongside my creamy vegan pasta or with my sweet potato warm salad. And if you love easy vegan tarts, try my tomato, cream cheese and caramelised onion tart too!
Quiche was a dish that I've eaten for as long as I can remember. My Nan used to bake it, and my mum too, and it was for special occasions only. On Boxing Day, we'd have quiche. On birthdays or family get-togethers we'd have quiche. And because it was so sparingly shared with us, it was honestly the most delicious thing I'd ever tasted.
It was always the most popular dish on the buffet table, and therefore, you had to act quickly, and with your stomach, to ensure that you got a large enough slice (or two if you were really skilled), and then you could scurry away with it in the corner, smugly watching the other losers having to eat cheese and pineapple on sticks instead, because they were too slow, or too absorbed in boring stuff like talking about football.
What is Quiche?
Most of you will know Quiche as an eggy baked flan, enriched with cream, often cheesy, sometimes with bacon, but always lots of eggs. A sort of savoury set custard, but denser, and in a shortcrust pastry case. As you might guess from the name, it is of French origin; however, the British were making similar baked tarts in the middle ages too. According to Wikipedia, the word Quiche may come from the German for Cake or flan, Kuchen, but that is merely conjecture. It is always romantic to think that these words originated somewhere, but we don't know where from. Was it from a novel, or a place, or maybe it was just a nickname.
How do you make a Vegan Quiche?
I often wondered to myself, how do you make a quiche vegan? So, to make a I often wondered to myself, how do you make a quiche vegan? So, to make a vegan quiche, you firstly need to remove the egg and cream elements. Egg typically offers a firm structure that binds everything together as it cooks. Vegan Quiche with egg replacer? You can buy egg replacers or use flaxseed egg, but for something where the egg is the main textural element, you need a comparable element with more bulk, and here is where silken tofu plays the role of egg to perfection. A tofu quiche is truly amazing!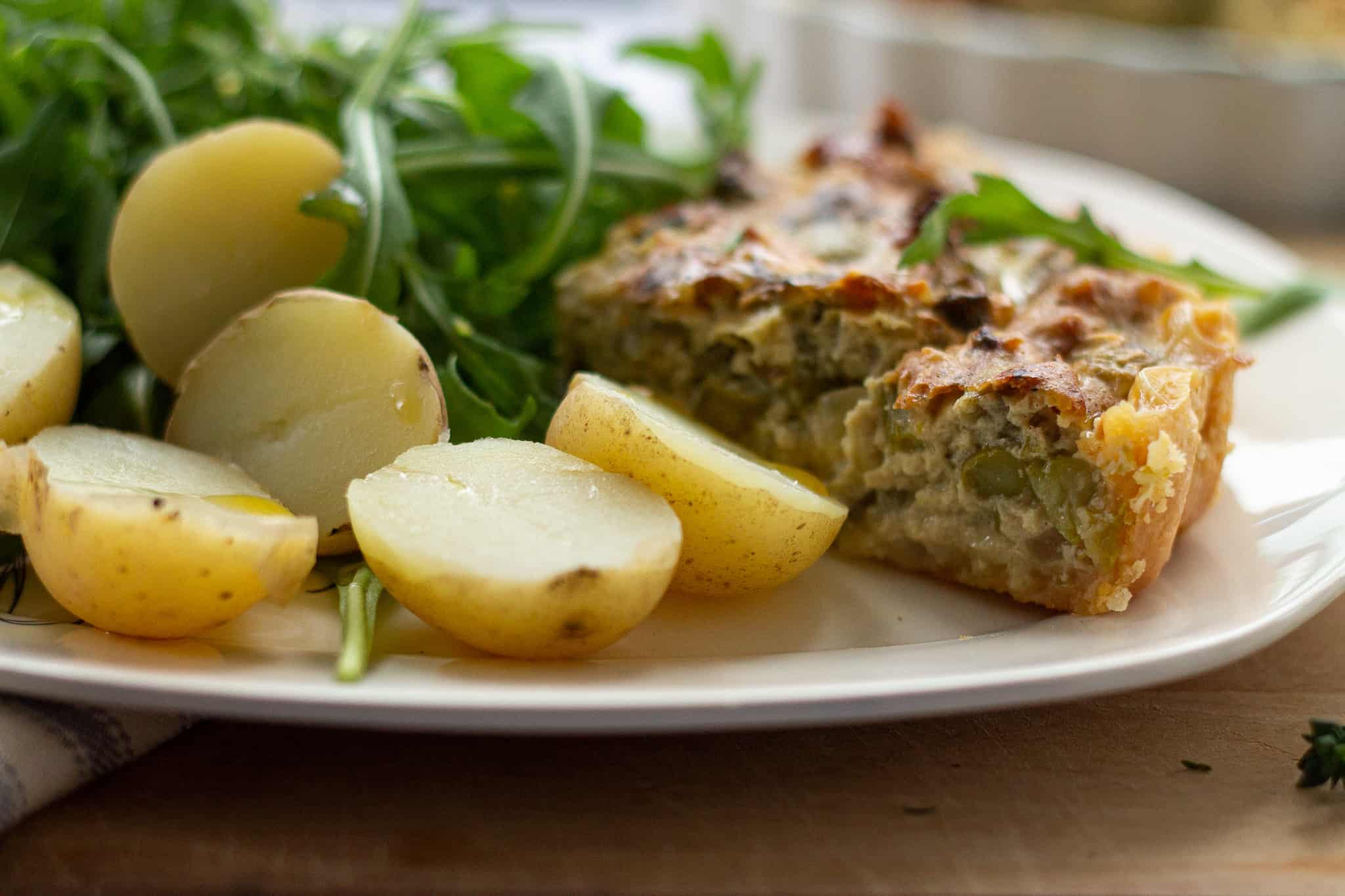 If you want a firmer textured quiche, rather than slightly creamy, you can use firm tofu or even extra firm tofu if you'd prefer. I added a couple of additional ingredients that add both an eggy taste, and a cheesier flavour. The thing that can be tricky when replacing eggs, is to ensure that you add a lot of flavor to your dish. Furthermore, the tofu means that this dairy-free quiche is also high protein!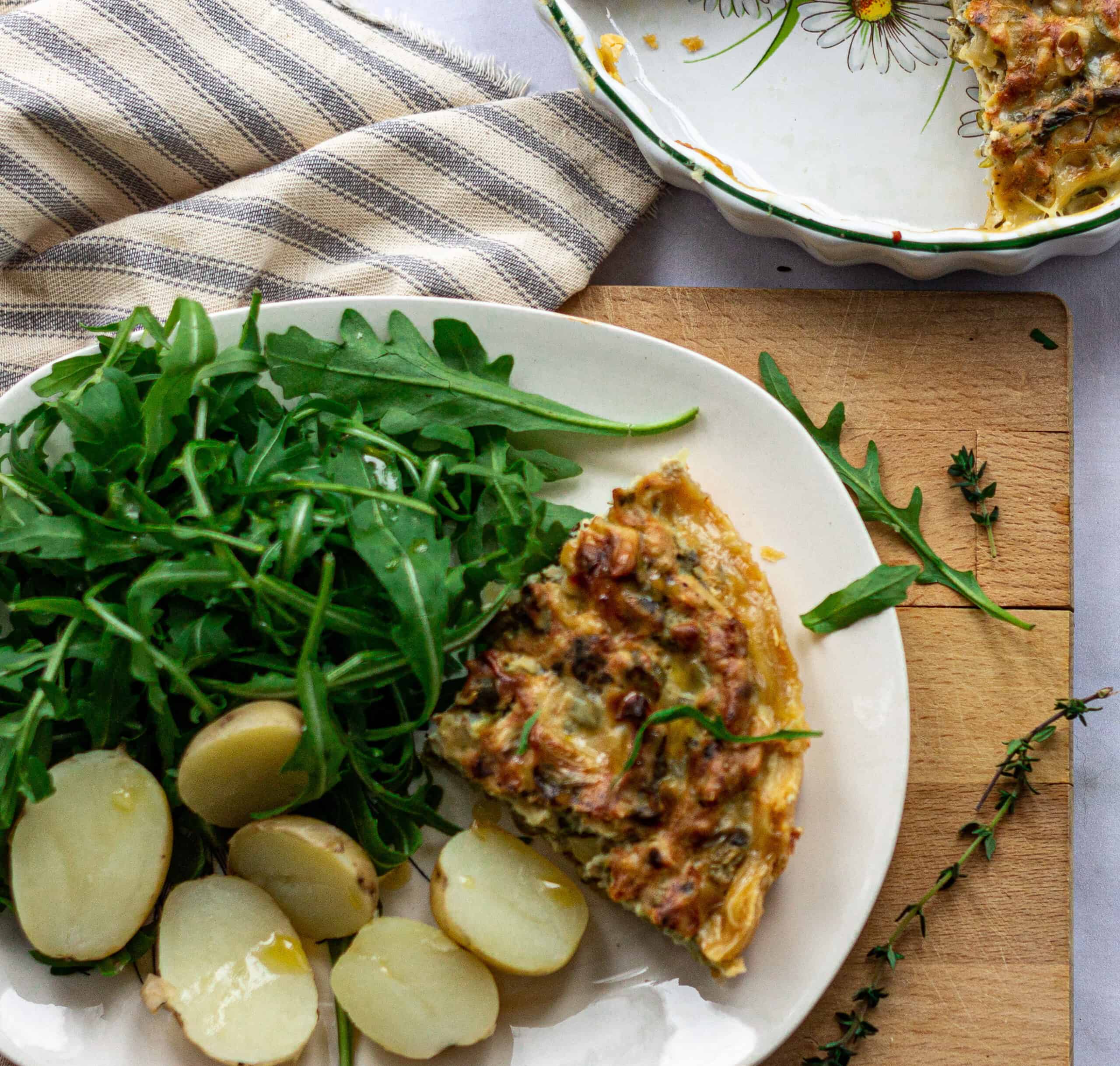 The Pastry Case
If you are able to, use a prebaked savoury shortcrust pastry crust. I could only find sweet pastry crusts in my local store, so I bought some premade pastry and blind baked the crust first. To bind bake, roll out your pastry so that it is a couple of inches diameter wider than your quiche dish and line your dish with it. A little overhang is fine, the pastry will shrink during cooking. Prick all over the bottom of the pastry with a fork (this stops the pastry from puffing up during baking) and bake for 20 minutes at 180c.
It is important to blind bake your pastry before adding the filling because the filling is quite wet, and might inhibit the cooking of the base properly. No one wants a soggy bottom!
Ingredients
Dijon mustard gives a little bit of colour and flavour
Asafoetida adds an eggy flavour (you can also use black salt or kala namak)
Nutritional Yeast adds a cheesy flavor, and again, adds colour
Vegan Blue Cheese, but use whatever vegan cheese you prefer, but do make sure it has a fairly strong flavour
6″ Vegan Pie Crust (or baked pie shell). I sometimes use a bought pastry for this if I'm pushed for time, but feel free to make your own.
Silken Tofu, to replace the egg element. Other egg replacers, such as a flax egg, won't work in this dish.
Sea salt and black pepper
Asparagus
Onion
Fresh Thyme
Instructions
Much like traditional quiche, my quick and easy vegan quiche is really simple to put together, although the procedure is somewhat different. The vegetable element is sautéed, the tofu element is blended and then this is all mixed up together in a bowl. And of course, the texture is different to a raw quiche mix, it is thicker, and you will be able to spoon it in your prepared pastry case, rather than pour it in.
In a blender or food processor, blend up the drained tofu, nooch, mustard and seasonings.
Add to the mixing bowl along with the grated cheese and sautéed veg
and mix until thoroughly combined.
Place the mixture in your pastry case and bake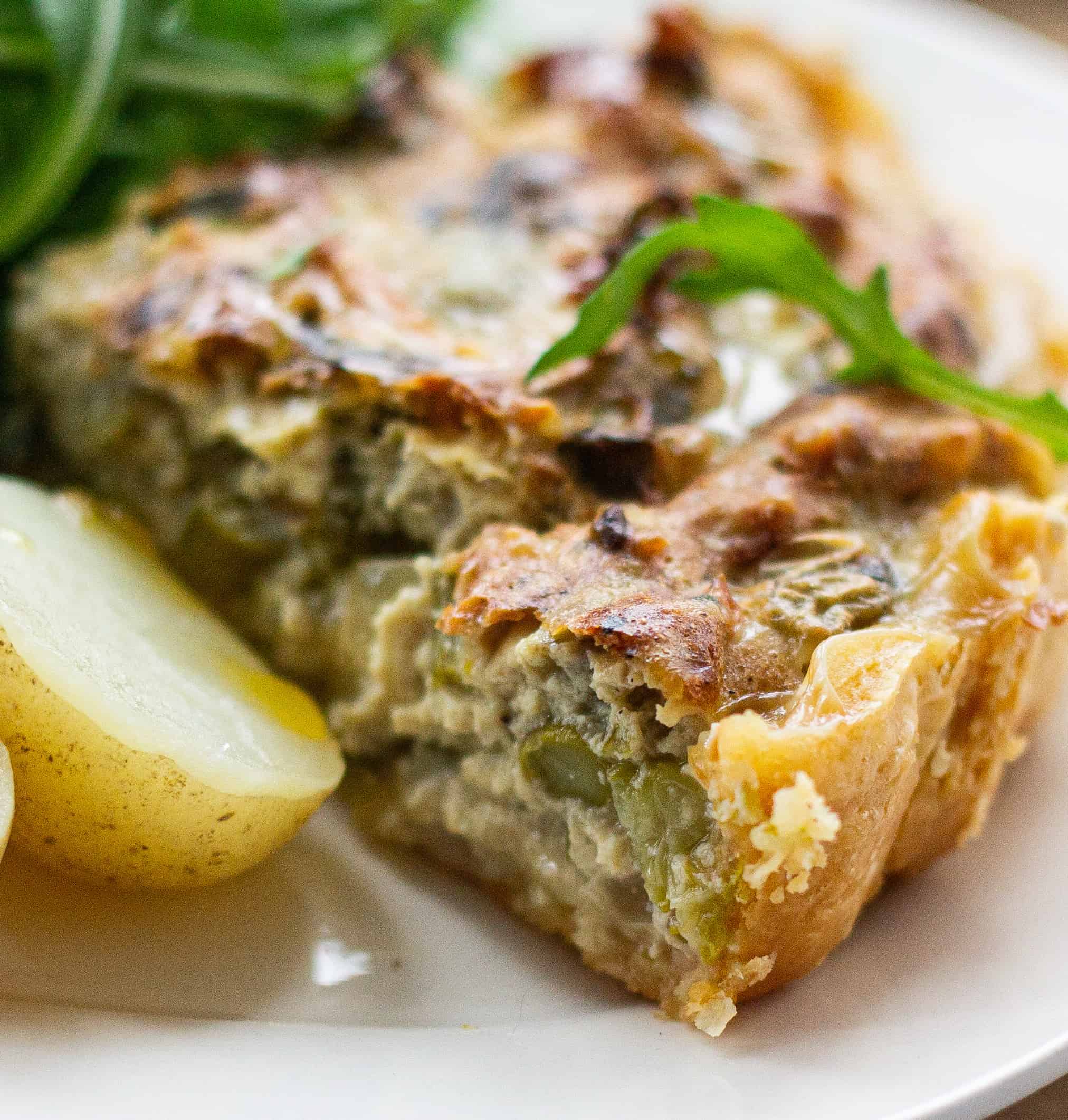 Modifications
Whilst tofu is one of the main ingredients, adding fresh vegetables to the quiche filling adds further flavor and texture.
Replace the asparagus with any veggies of your choice: peas, green beans, cherry tomatoes, red bell pepper, sauteed mushroom, broccoli, cauliflower, baby spinach, mixed herbs
Add some diced vegan ham or vegan bacon, omit the cheese and you have a vegan Quiche Lorraine
Make a Spanish style quiche using cubed potato sauteed with onion and red pepper
Sara has a delicious Mushroom, Asparagus and Tomato Frittata recipe over at Cooking with Fudge!
Once you have the basic recipe perfected, you can personalize it as much as you like! I hope you enjoy trying my eggless quiche recipe!
Try my other delicious vegan recipes
Asparagus and Blue Cheese Vegan Quiche
How to make a delicious vegan supper dish
Ingredients
1

6" dia

Shortcrust Pastry Case

pre-baked

280

g

Silken Tofu

drained and dried on kitchen roll

1

bunch

Asparagus

about 12 stalks, rinsed, chopped into small rings

1

Onion

small, finely diced

½

Teaspoon

Thyme

chopped

2

tbsp

Parsley

chopped

1

Teaspoon

Olive Oil

2

tbsp

Nutritional Yeast

¼

Teaspoon

Cayenne Pepper

¼

Teaspoon

Asafoetida

1

Teaspoon

Dijon Mustard

Salt and Pepper

50

g

Blue Cheese

vegan, grated (or vegan cheese of your choice)
Instructions
Preheat oven to 180c.

In a pan, gently heat olive oil.

Saute the onion and chopped asparagus until softened, About 10 mins.

Add the fresh Thyme, chopped Parsley and season.

Add to a large bowl to cool whilst you prep the other ingredients.

In a blender, whizz up the drained and dried tofu, the Nutritional Yeast, Mustard, Cayenne Pepper, Asafoetida and some more seasoning.

Add this to the bowl.

Finally, add the grated cheese and mix all the ingredients together until thoroughly combined.

Pour this into your pastry case, and bake for about 50 minutes or until browned on the top.

Leave to cool completely before cutting and serving.
Nutrition Facts
Asparagus and Blue Cheese Vegan Quiche
Amount per Serving
% Daily Value*
* Percent Daily Values are based on a 2000 calorie diet.