Easy and Delicious Vegan Baked Rice Pudding
This post contains links to affiliate websites, such as Amazon, and we receive an affiliate commission for any purchases made by you using these links. We appreciate your support!
If you're looking for a simple and classic vegan dessert, my easy vegan rice pudding is the perfect recipe! Simple and delicious, rice pudding is perfect for satisfying your sweet tooth. Using simple store cupboard ingredients like rice, plant-based milk, sugar and nutmeg and cooking the rice slowly in a low oven until soft and creamy. Serve warm or chilled, this simple, yet tasty vegan dessert feels like a hug in a bowl.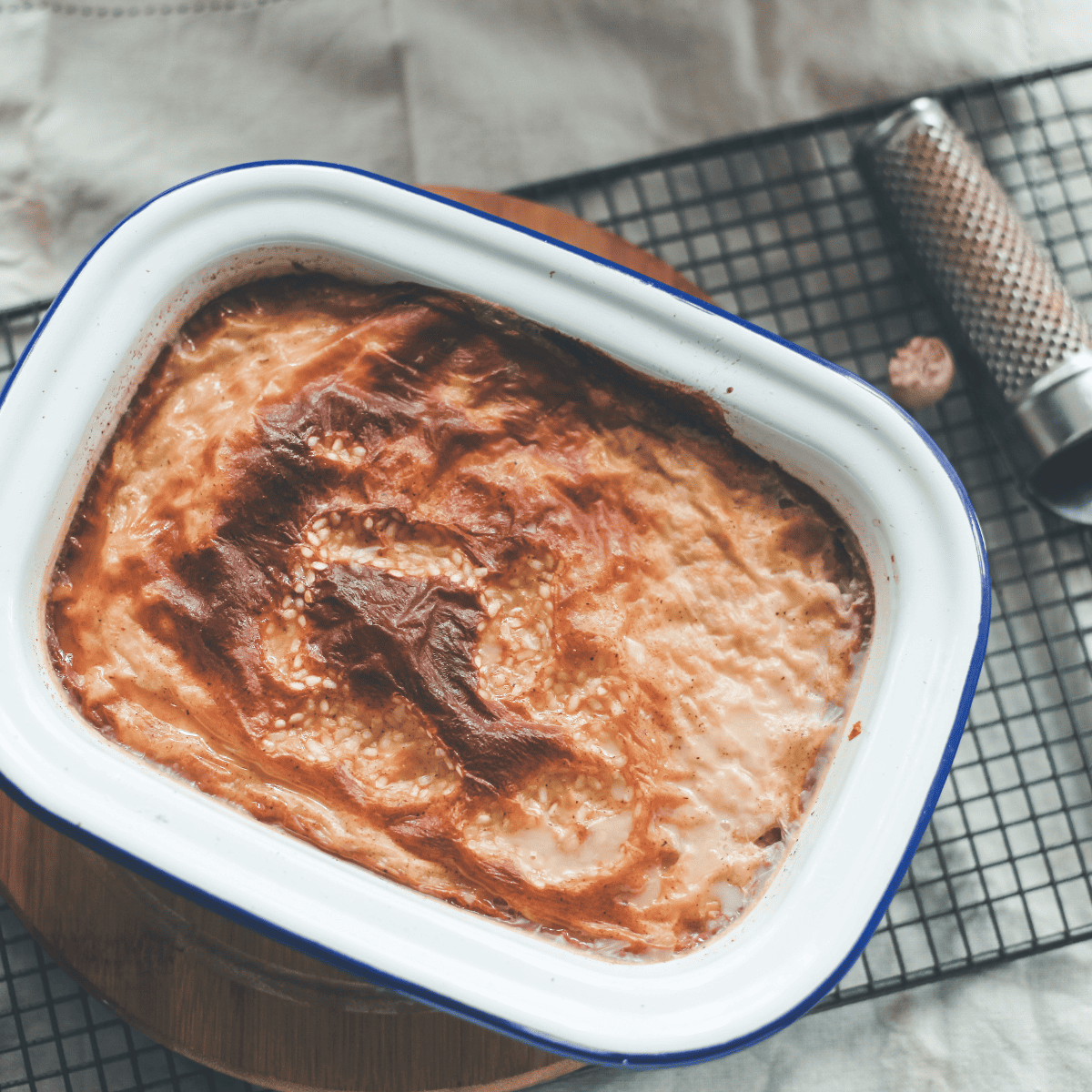 Rice pudding is one of those desserts that sends you back to childhood. Creamy, sweet, simple and so old fashioned, but in the most perfect way.
Why You'll Love my Easy Vegan Rice Pudding
Quick 2 minute prep
Comforting childhood pudding
Economical ingredients
Eggless and Dairy free recipe
To me rice pudding means cosy, comforting and gentle, a somewhat plain dessert that is like your favourite blanket or pillow. A dessert that my mum would make during the winter school holidays or when she'd had the oven on for something else. Back then, she would drizzle it with condensed milk, making it even creamier.
What is Pudding Rice?
Traditionally made with pudding rice, a short-grained rice that lends a creamy texture to puddings, you could also use risotto or any short-grain rice, gently cooked in milk sweetened with sugar, and topped with a small flurry of grated nutmeg. This is such an easy dish to make, simply pop all the ingredients in a baking dish, place in a low oven and forget about it for an hour or two. Once baked, it will have a sticky sweet skin from the baked milk, and a tender texture.
I usually find pudding rice in the section of my local supermarket alongside things like tinned rice pudding, semolina and flan cases, a sort of miscellaneous baking section.
Rice pudding is a universally loved dish, with many different, delicious variants from across the world. In Scandinavia, Julerisengrod is traditionally served on Christmas eve, enriched with cream, and topped with raspberry syrup. My vegan Mexican sweet rice (arroz con leche) recipe uses either basmati or risotto rice, whilst my mango coconut sticky rice used sushi (although traditionally should be Thai sticky rice).
It's important to note that different types of rice will require slightly different cooking times, and probably varying amounts of milk too. I would recommend periodically checking your rice pudding during baking to see if it looks like it's drying out and needs more milk adding to it. If the rice still seems a little al dente (or underdone) but there's not much liquid left, add another quarter cup of milk, and then check again after another 15 minutes or so.
Some rice puddings can be made in a pan on the hob, much like risotto, I suppose, and these are much, much creamier and don't have the distinctive skin on the top. They also require a little more baby sitting than a baked rice pudding, although they are just as delicious!
Ingredients and Substitutions
pudding rice. You can use risotto rice instead if you can't find pudding rice.
dairy-free milk, use your favourite plant-based milk
sugar, I use white granulated but you can use a sugar-replacement too.
nutmeg, fresh. This adds a delicate, fragrant spice to the dish that is so delightfully old-fashioned.
You could also add some grated lemon zest, vanilla extract, cinnamon or even diced apple to your rice pudding!
This is ONLY a list of ingredients for the recipe; please see recipe card below for complete printable recipe.
Instructions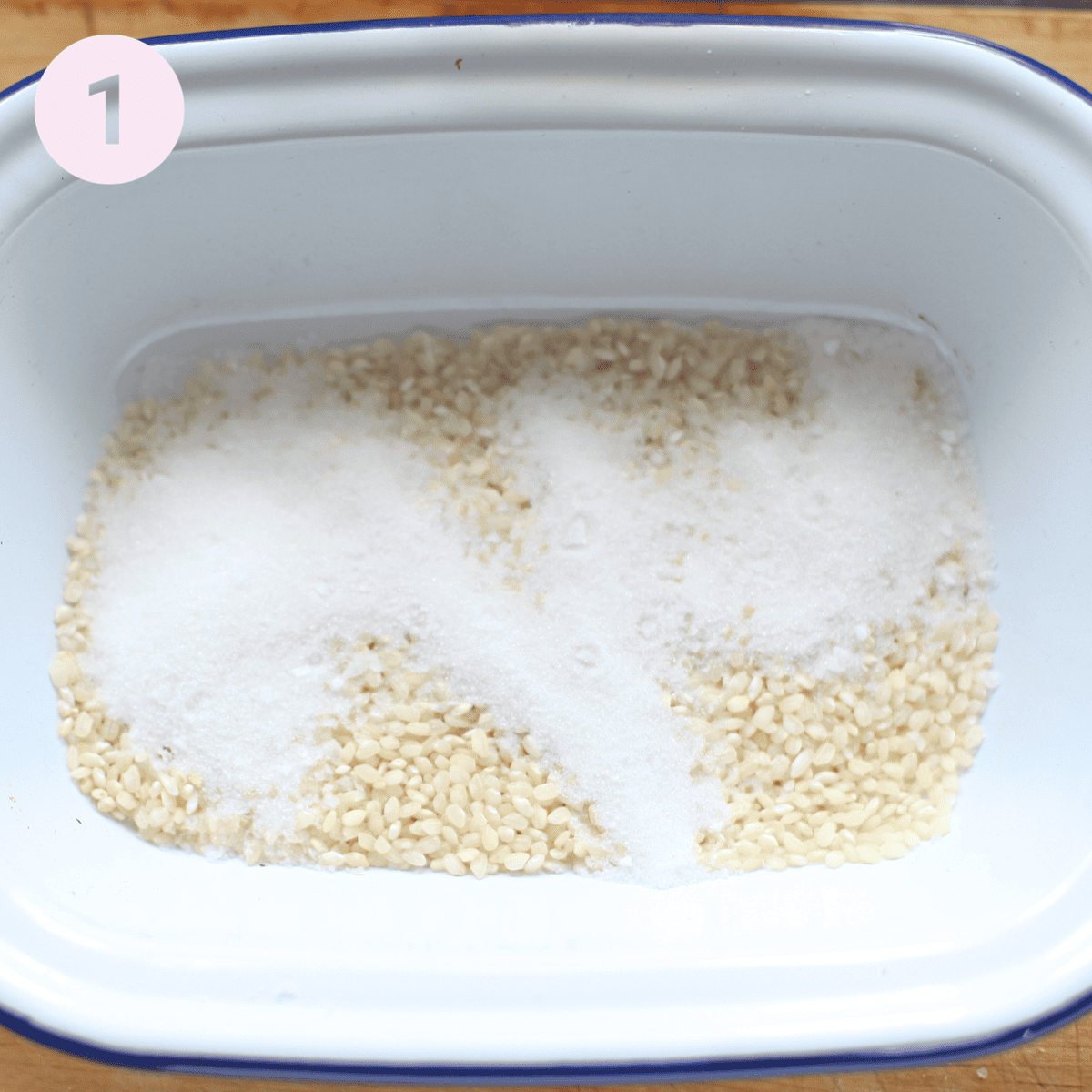 In a baking dish, add the rice, salt and sugar.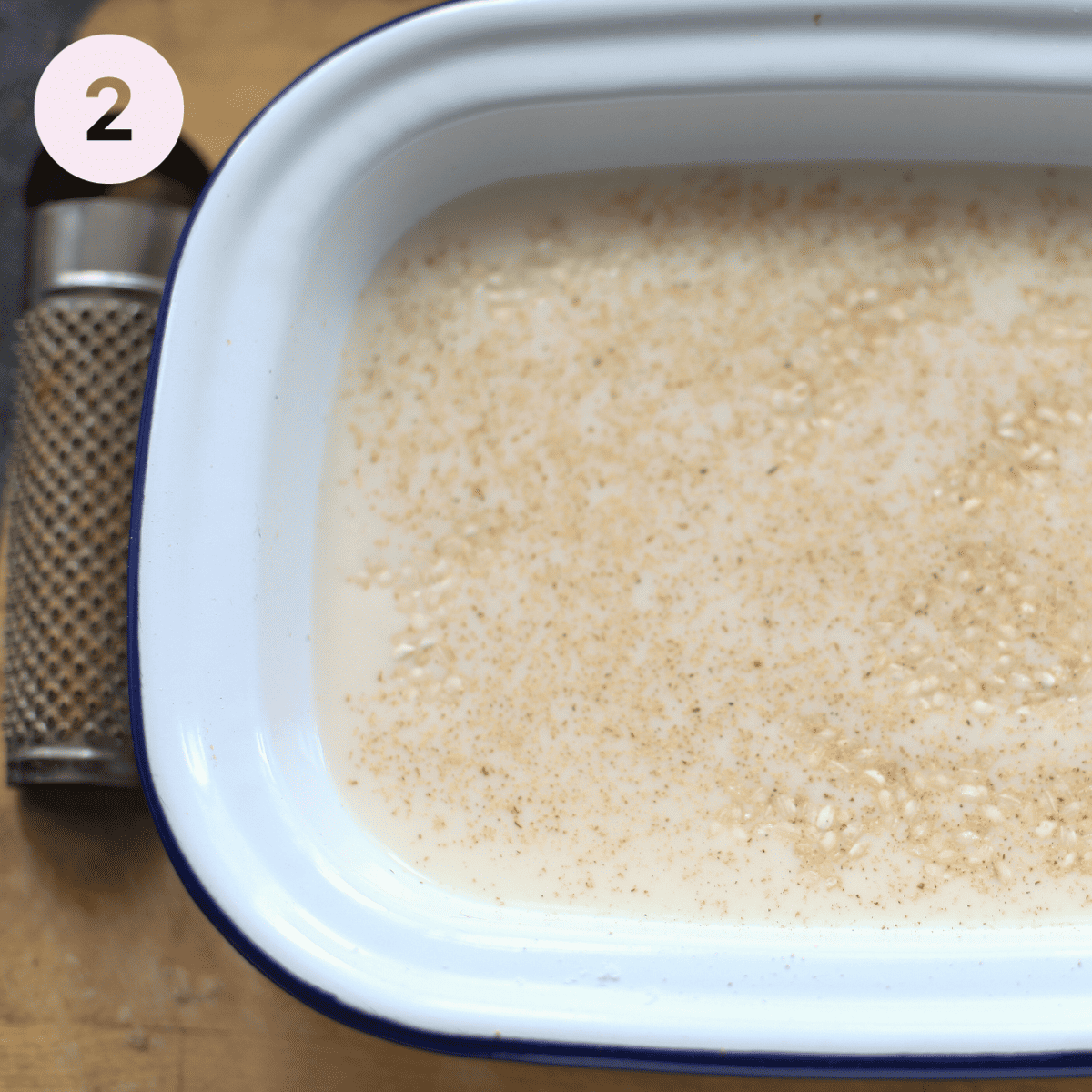 Pour over the milk and grate with a little nutmeg.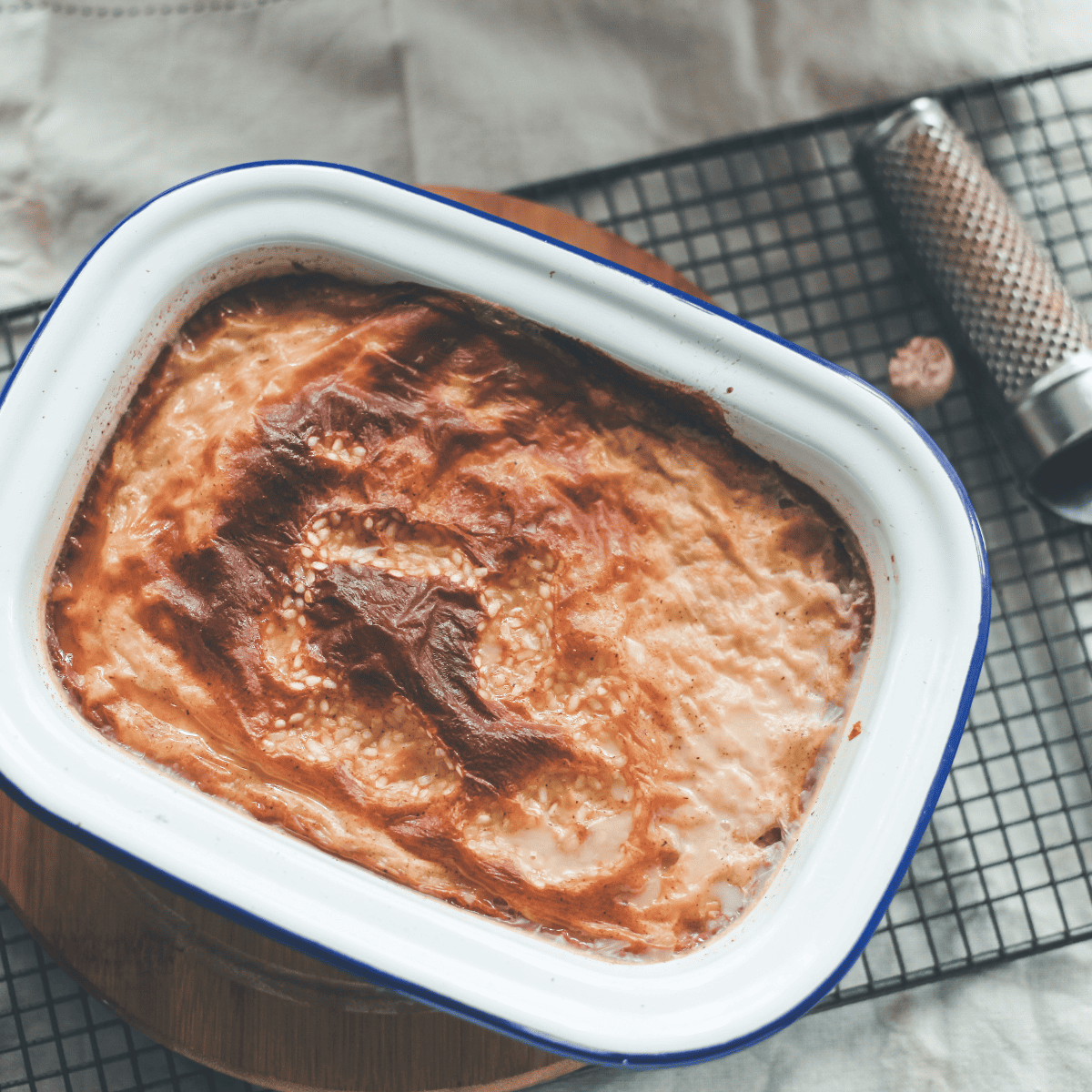 Bake for 2 hours in a low oven.
Serve with some cream or jam.
Storage
You can store the cooled rice pudding in the fridge for 2-3 days, gently reheating when needed. You may need to drizzle a little more milk over the top, as the rice continues to absorb the moisture from the pudding.
Rice pudding doesn't freeze very well, so I wouldn't recommend it.
Top tip
Try adding a teaspoon of vanilla to make a vanilla rice pudding.
Easy Vegan Rice Pudding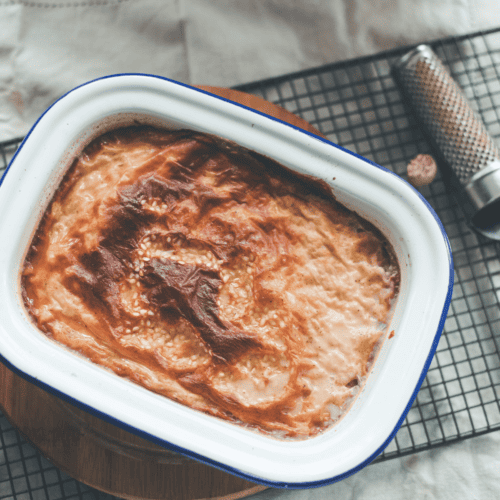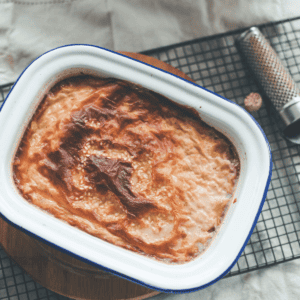 Quick to prep but slow to bake, this traditional rice pudding recipe is the ultimate comfort food!
Ingredients
850

ml

Milk

-

plant-based

2

tablespoons

Sugar

100

g

Rice

-

pudding

⅛

teaspoon

Salt

Nutmeg

-

fresh, grating
Instructions
Place the rice, sugar and salt in your dish.

Add a grating of fresh nutmeg.

Bake for 1½ hours on a low oven or until the rice is tender and creamy.
Notes
Check the rice after about half an hour. If it seems a little dry and the rice still seems a little raw, add another half a cup of milk. If a skin has already formed, simply prick a few holes in the skin and then pour the milk over the top.
Please note that where the recipe asks for milk, butter or yogurt, this refers to any plant-based version that you prefer.
Nutrition Facts
Easy Vegan Rice Pudding
Amount per Serving
% Daily Value*
* Percent Daily Values are based on a 2000 calorie diet.