Vegan Truffled Sourdough Crouton Crumbles
This post contains links to affiliate websites, such as Amazon, and we receive an affiliate commission for any purchases made by you using these links. We appreciate your support!
Truffled sourdough Crouton Crumbles sound incredibly cheffy and posh, but in fact they are incredibly easy, but add a delicious (and luxurious) flavour to soups or salads.
I have used these crumbles with my family favourite, Jerusalem Artichoke Soup, and it transforms an already luxurious soup into a dish perfect for a festive starter!
How do you make Sourdough Croutons?
Easy! Because sourdough is quite open textured, and a little dryish, you don't really need to let the bread dry out as you would normal bread. I like to tear the sourdough into smallish chunks, and some crumbs as well, to give a great mix of textures. When this is stirred into the soup, it tastes amazing!
I crumble the croutons directly into my olive oil/truffle mixture, give them a quick toss, and then saute them over a moderate heat. Do not leave them unattended though as they can burn quickly!
Note: you can buy a reasonably priced jar of Salsa Truffina here.
Can I use other bread to make croutons?
Of course! If you are gluten-free, go ahead and use your favourite GF loaf. If you only have ciabatta or brown bread, or even a cheapo white loaf, they will all make fabulous croutons. However, I would recommend leaving the bread out of the packaging to dry out for a while, otherwise the croutons may be a little soggy!
Truffled Crouton Crumbles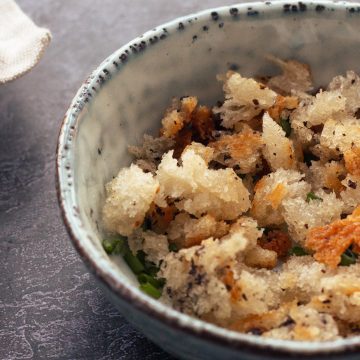 A delicious topping for soups or salads
Ingredients
¼

cup

Sourdough Bread

-

crust cut off

1

tbsp

Olive Oil

1

tsp

Truffle Paste

-

or ¼ teaspoon truffle oil

1

tsp

Chives

-

chopped

⅛

tsp

Black Pepper
Instructions
In a smallish bowl, whisk together the olive oil, truffle paste or oil and black pepper.

Crumble your sourdough into smallish pieces and crumbs directly into your olive oil mixture.

Gently coat the bread pieces in the oily, heady mixture

Heat a frying pan over moderate heat, and fry the breadcrumbs until they are toasty and starting to brown. Take care to move them frequently to avoid them burning.

Once crisp, turn them out onto some kitchen paper to drain, sprinkle with chopped chives and they are ready to serve!
Please note that where the recipe asks for milk, butter or yogurt, this refers to any plant-based version that you prefer.
Nutrition Facts
Truffled Crouton Crumbles
Amount per Serving
% Daily Value*
* Percent Daily Values are based on a 2000 calorie diet.