Easy Vegan Spaghetti Bolognese – a comforting family favourite
Vegan spaghetti Bolognese recipe – simple, comforting, the perfect food to transport you back to childhood. My Bolognese is ready in less than half an hour, and makes more than enough to freeze for another day!
See my spicy version of this recipe aka red chili or use this sauce to make a delicious vegan lasagne.
OK, so by the time I moved into my first (rented) house, I had a reasonably solid repartee of recipes (read: spaghetti Bolognese, lasagne, chili, a curry non-specific and all the other usual suspects). However, I have always had an over-whelming desire to cook mountains of food for people. This is somewhat of a non sequitur because I am not particularly sociable.
I enjoy the preparation of food, and I enjoy people enjoying my food but I find having to be polite to work colleagues or old friends who you haven't seen in quite a few years to be a bit of a chore. I suppose if you produce a bountiful tableful of food, then you're at least halfway there. Essentially, food and eating IS a social matter and to be honest, I do like cooking for my family although their dietary requirements can be tedious.
Many people learn how to cook through example as children, and I spent much of my childhood chopping onions or peeling garlic or stirring tomato sauce alongside my mother. I don't wish to sound as though my mother put me to use in some sort of child labour, far from it. I have always felt at home in the kitchen, even other people's – I suppose I'm a sort of portable kitchen utensil that can be used to rustle up a meal if everyone else is too lazy/drunk/incompetent.
If you grow up in a household where a kitchen is used for (gasp!) cooking and not just for microwaving ready meals or warming socks in the oven or looking like a showroom, you automatically become used to home cooking and nothing else will do. You utilise age-old family recipes, each generation adding their own minor adjustments to suit their lifestyle and that is how family histories are made.
So many families have an old cookbook that Great Great Aunt Dottie started in 1850 and although some of the recipes, like those for brawn or pigs trotters stewed in blood of hare are not likely to be made anytime soon, there are recipes for fruit cakes, sponge cakes, peppermint creams, stews and casseroles, that are the best you will ever taste.
Unfortunately in my family, all the recipes are scrawled on pieces of paper that my mother fastidiously filed away in a special recipe binder. Some are written in faded pencil so it's pot-luck as to whether it calls for 2 tbsp or 2 tsp of baking powder. Many are splashed with milk or stock or chocolate icing.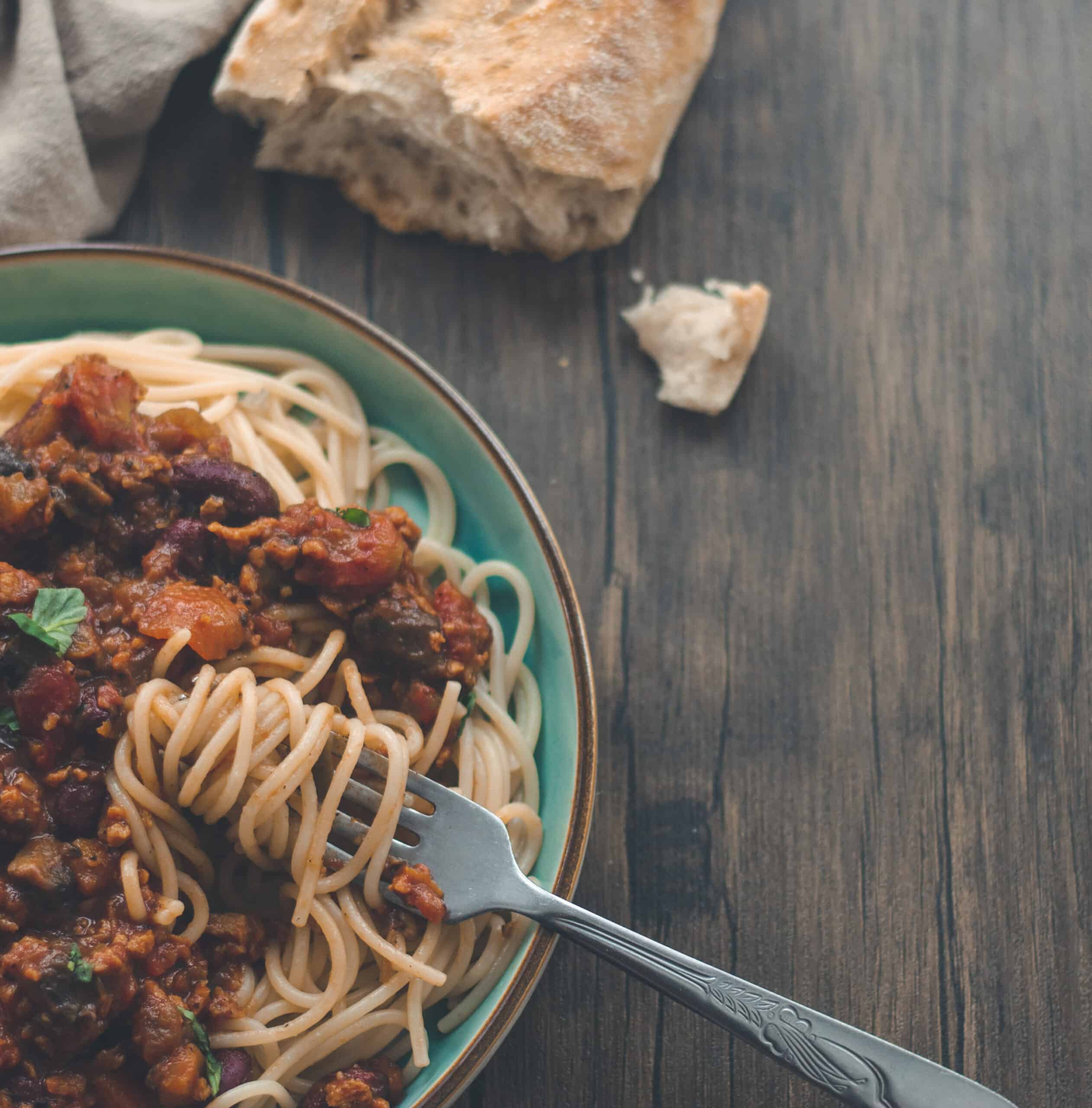 I imagine that there is not one child from the 1970s who wasn't served Spaghetti Bolognese on a regular basis and it was only recently that I discovered that this ISN'T the traditional meal of Italy (in fact it was developed outside of Italy, possibly in America during the 1950s as an extension of Spaghetti and Meatballs). Whilst Spaghetti benefits from delicate, herb-infused sauces, Spag Bol is a young kid's dream food. My easy vegan Spaghetti Bolognese recipe combines tomato sauce (and there are not many children that don't love tomato sauce) and the permission to be messy when eating.
It is also a good way to disguise such horrendous vegetables as carrots, or celery (both of which give tomato sauce or ragu a delicious, multi-layered flavour). Here is the Erickson family recipe for tomato sauce, veganised for my fellow minced beef haters (n.b. If you add chili powder and kidney beans, it becomes a completely bastardised but still tasty chili con carne, and in fact my mother also adds a touch of cinnamon and a couple of squares of dark chocolate).
A traditional bolognese sauce looks a bit like this, but I think it such a versatile dish that a little modification here and there is forgiven.
Ingredients
Large Onion, carrot, celery and 3-4 Cloves garlic, chopped finely. This makes a classic mirepoix. I like to use the pre-chopped kits you can get in the supermarket. Not only are they pretty cheap, they are often reduced, you can freeze them, and it saves SO much time chopping.
Mushrooms, finely chopped. I often buy a punnet of reduced ones, but just whatever is available will work. I wouldn't worry about using fancy ones.
TVP or your favorite veggie mince replacement. I find that adding this helps the sauce to stick to the pasta much better.
1-2 tins Tomatoes
canned Kidney Beans, optional but adds a little extra nutrition.
Tomato Puree or ketchup. This helps deepen the tomato flavour.
Malt Vinegar (I have known orange juice to be used in the place or vinegar or red wine, it's really just a hidden, pleasurable depth of acidity needed). Balsamic Vinegar would also work.
Herbs. I use dried. Oregano, Italian mix, basil.
Milk, plant-based. Yes milk. The milk protects the TVP from the acidity of the tomatoes which ensures a sweet ragu. Trust me on this.
See recipe card for quantities.
Instructions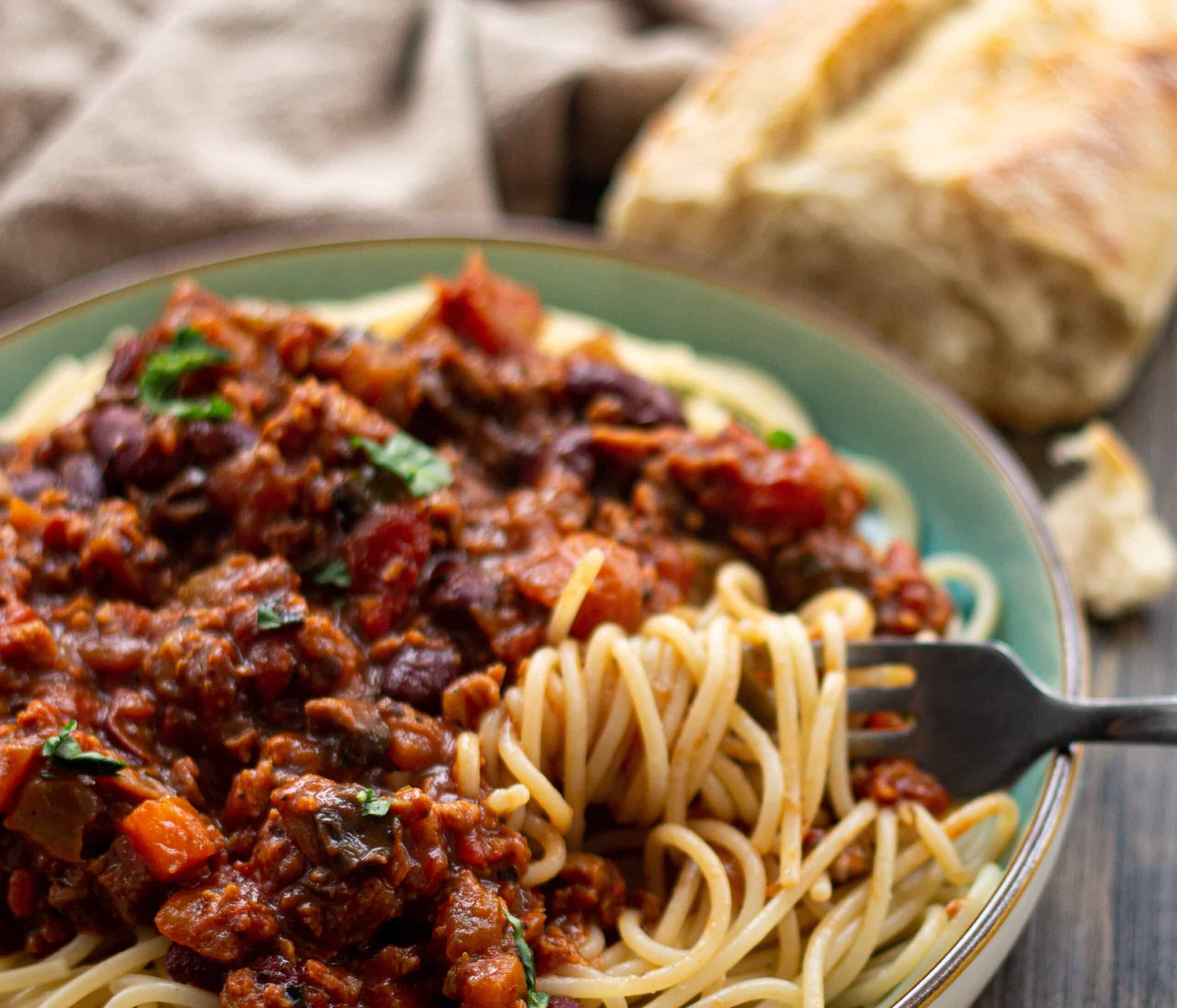 Sauté the onion, celery, carrots, chopped mushrooms and garlic in a little olive oil over a low heat until soft and translucent.
Add the tinned beans and TVP and stir well.
Now here's the weird bit. Cover the meat with about 150ml of milk. Simmer until the milk is absorbed.
Add the tinned tomatoes and break up with a wooden spoon.
Turn the heat up midway. Once the mixture starts to bubble, add a squish of puree, a splash of vinegar (malted or red wine vinegar will do), a good teaspoon of salt to taste, and, if you like your tomato sauces sweet, as I do, a little sugar (and by a little, I mean less than half a teaspoon, add more if you need it).
Let this mixture simmer until the watery liquid from the tomatoes has evaporated and you are left with a thick, rich red sauce. At this stage, taste again and add more salt or sugar if necessary.
Gently saute your mirepoix vegetables until softened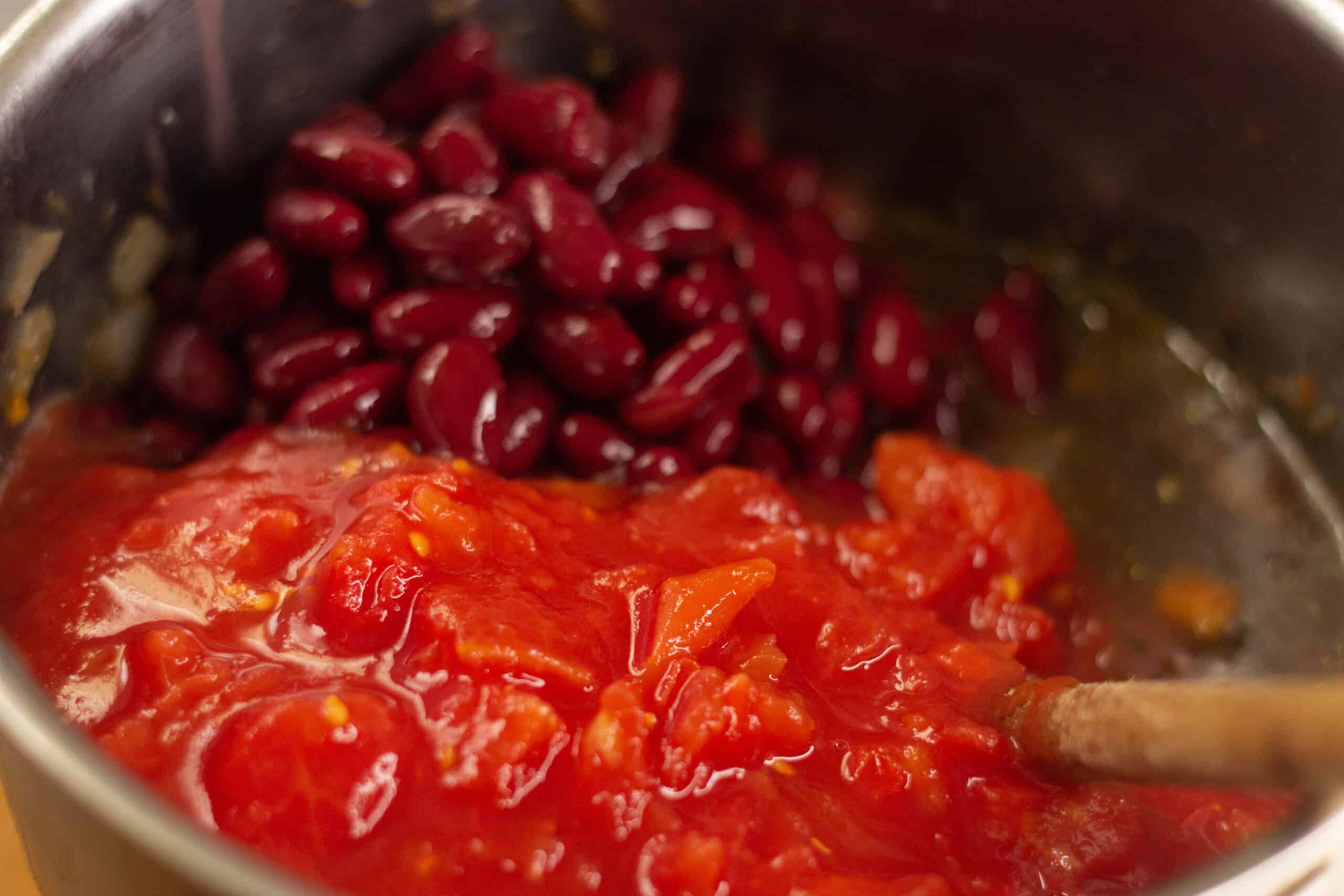 Add the tomatoes and beans…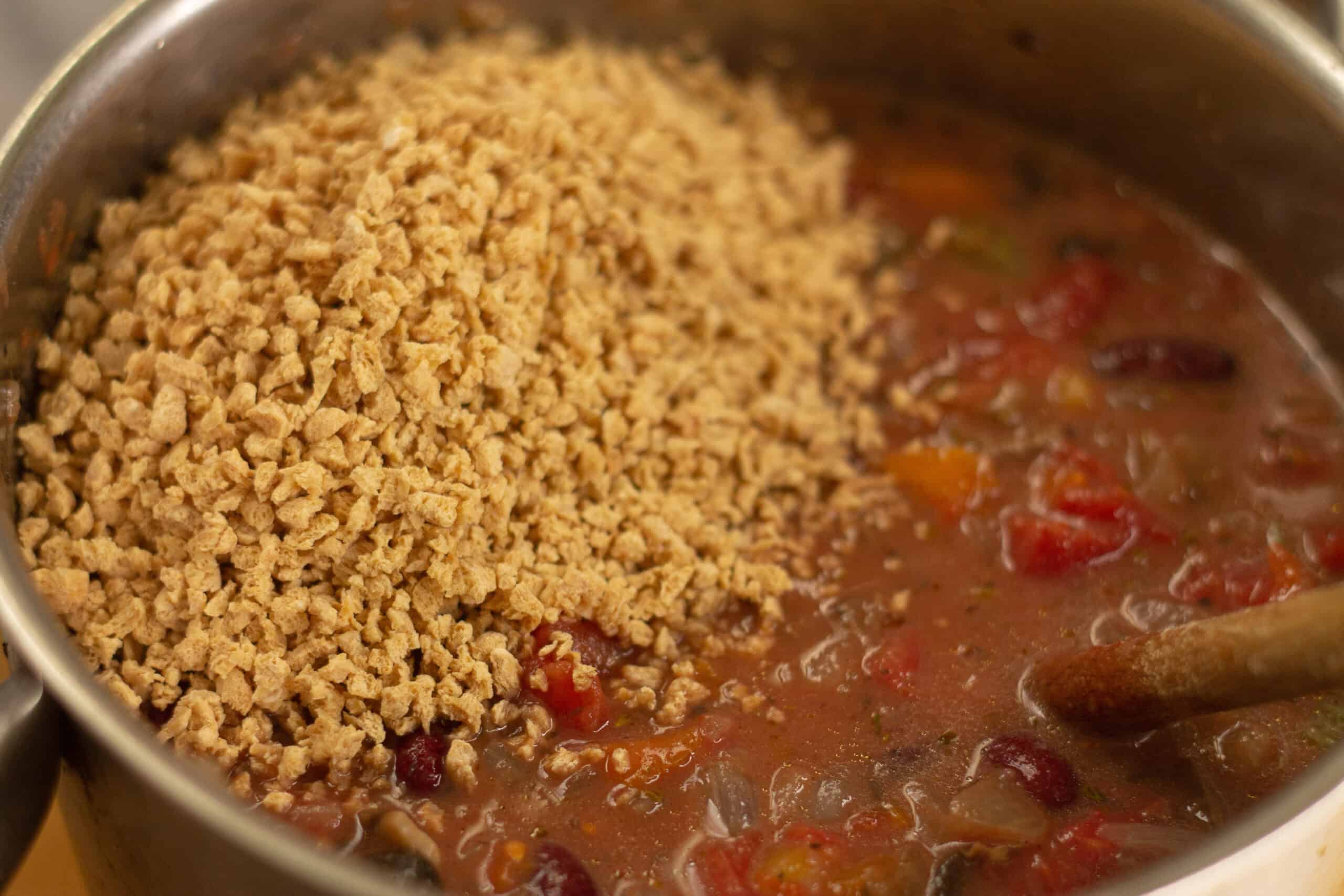 …and the TVP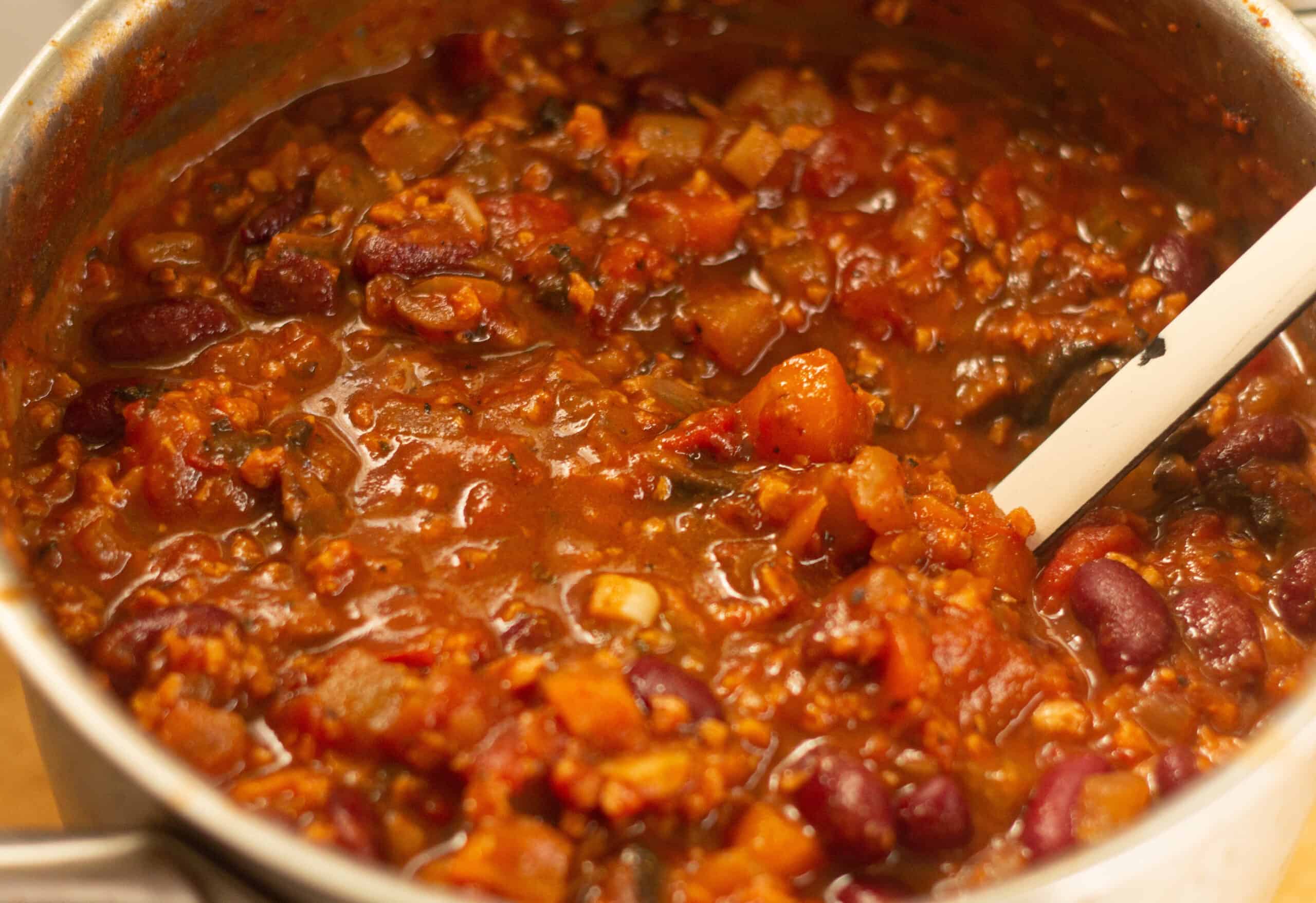 The finished sauce!
Hint: once sauce is cooked, I inevitably have made too much, so I like to divide them up into portion size containers and freeze them for an easy meal on a stressful day.
Substitutions
This vegan spaghetti Bolognese recipe is naturally vegan and gluten free!
TVP– use your favourite ground meat substitute
Beans – use your favorite type of canned bean, or omit altogether. Just add a bit more meat substitute instead.
Variations
Spicy – add chili pepper flakes while cooking to imbue heat into the dish, or banana peppers
Deluxe – serve with hot crusty vegan garlic bread
Kid friendly – the hidden veg make this perfect for sneaking added vitamins into a fussy kid's menu!
Storage
Good for up to 4 days in refrigerator. Freezes really well for ages, in airtight containers once thoroughly cooled.
Top tip
This sauce tastes much better the next day, so I recommend making it one day, and reheating and serving the next. It gives the flavors time to get to know each other!
Easy Vegan Spaghetti Bolognese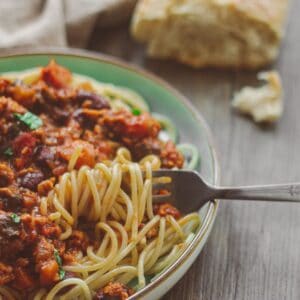 The old family favourite, classic comfort food at it's best, but make it vegan and simple!
Ingredients
2

tbsp

olive oil

1

onion

-

large, chopped finely

1

carrot

-

large, chopped finely

1

celery

-

stick, chopped finely

3

garlic

-

cloves, chopped finely

1

cup

TVP

-

or use ground meat substitute of your choice

200

g

mushrooms

-

chopped finely

400

ml

tomatoes

-

canned

400

ml

kidney beans

-

canned (optional)

2

tbsp

tomato puree

-

or use ketchup

¼

cup

milk

-

dairy-free

1

tsp

dried oregano

1

tsp

vinegar

1

tsp

sugar

1

tsp

salt

1

tsp

ground black pepper

spaghetti to serve
Instructions
In a large saucepan, gently heat the olive and add the finely chopped onion, celery, carrot, garlic and mushrooms. Sweat down for about 10 minutes until soft and translucent.

Add the TVP and canned beans (if using, don't worry about draining) and stir well.

Add the milk and simmer until the liquid has mostly been absorbed

Add the canned tomatoes, puree, dried herbs, vinegar, sugar and seasoning.

Bring to a brisk simmer, then turn down to bubble gently until thick and unctuous. This might take 20-30 minutes.

Taste for more seasoning and adjust as necessary.

Cook your spaghetti according to manufacturers instructions.

Serve with the sauce ladled over the top and some thick crusty bread.
Please note that where the recipe asks for milk, butter or yogurt, this refers to any plant-based version that you prefer.
Nutrition Facts
Easy Vegan Spaghetti Bolognese
Amount per Serving
% Daily Value*
* Percent Daily Values are based on a 2000 calorie diet.